It is mainly important to block the cold or cold airs outside the doors when willing to keep your home interior or room cold or warm in summers and winters, respectively. So, How to make a draft stopper? do this with these DIY door draft stopper ideas that can simply be placed to cover the gaps underside the doors or windows to keep the cold or warm air outside. They are mostly stuffed with custom materials like dried beans, so they gain a lot of weight, so they will be there in place even when the wind is blowing outside. Just take a tour of these 18 DIY door draft stopper tutorials that are quite something quick and easy to sew and will make the best handmade gifts too to neighbors and friends.
They are actually one of the most amazing stash buster projects that every sewing lover can do with great ease.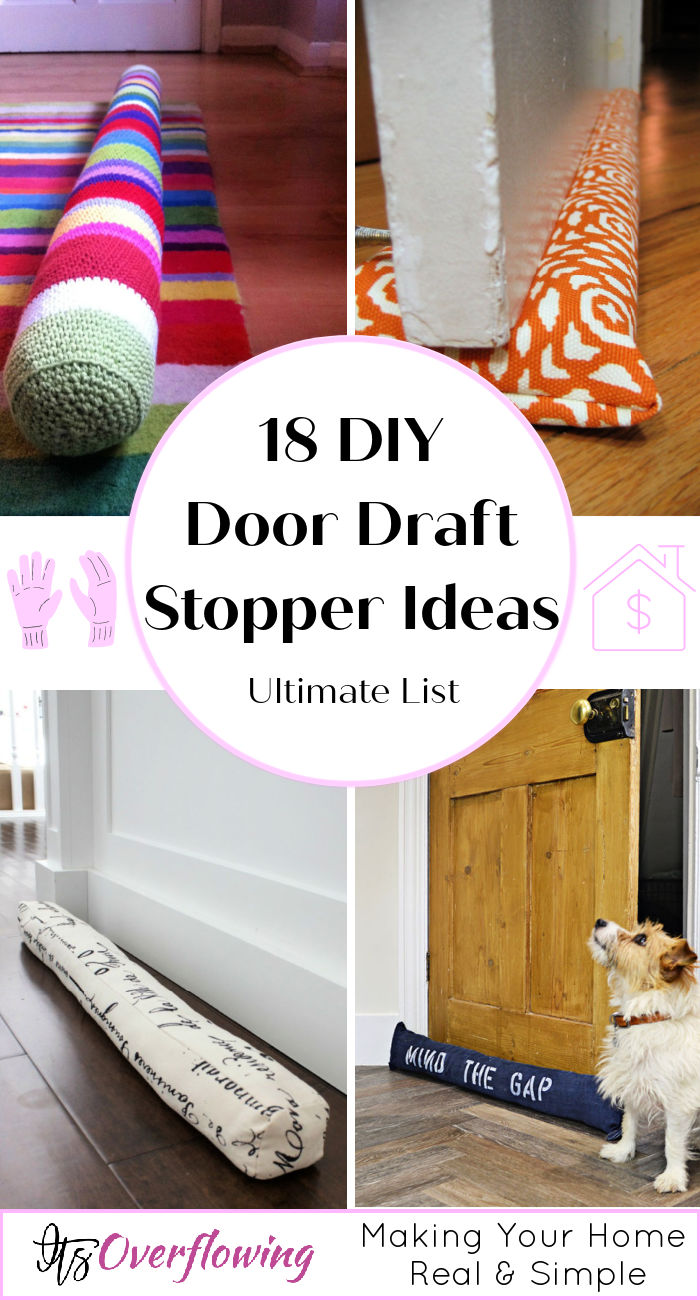 The first thing you need to make any of these door stoppers is a fabric tube. Sew a fabric tube by yourself using old and leftover fabric. Next, cut down the sleeves from your old sweaters and t-shirts too to get instant fabric tubes. Along with sewing, opt for a crocheting medium too to crochet some chunky and colorful yarn tubes to make these draft dodgers. This list of easy to make DIY door draft stopper will put a shine on all these ideas and will provide step-by-step instructions, visual tutorials too to make a draft blocker like a pro.
Choose the dried beans as heavyweight stuffing for these door draft stoppers. The rice, popcorns, and other grains of this kind will make an ideal choice. Further, you can also head over to copper pipe insulation tubes and batting to stuff the fabric tubes.
1. How to Make a Draft Stopper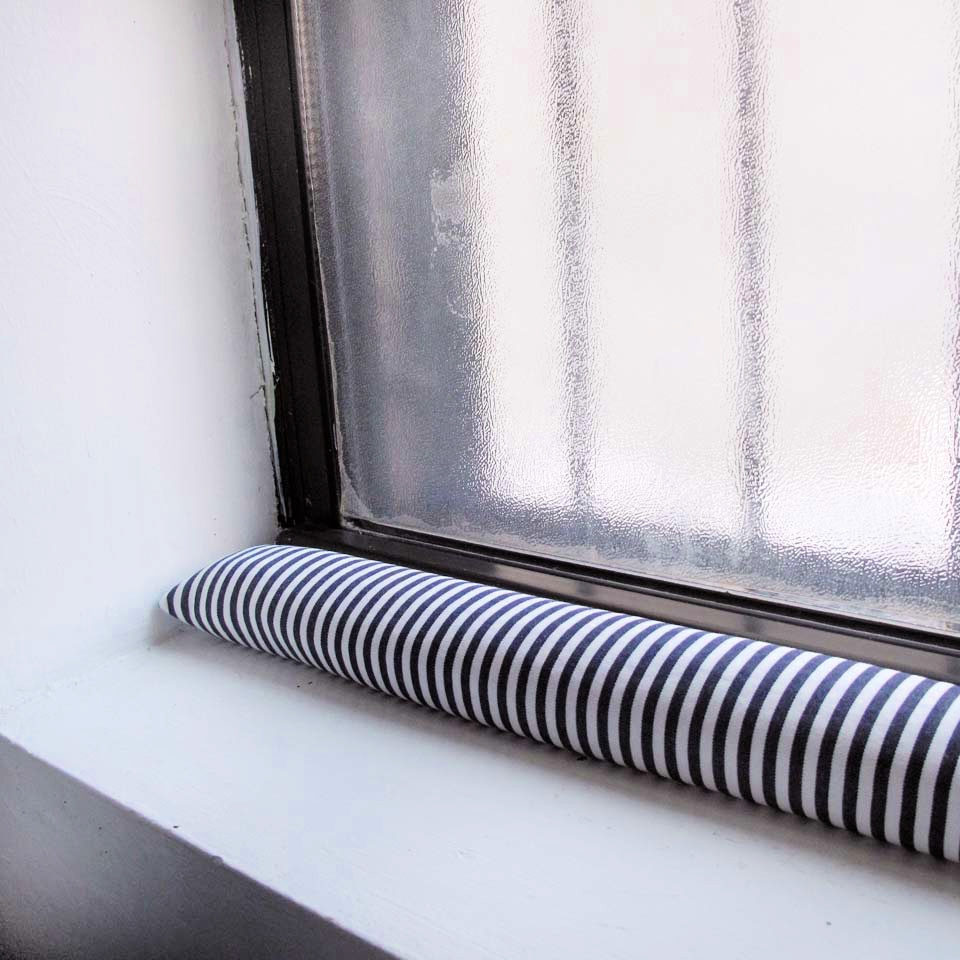 Don't let the cold winter airs enter your home or room that may cause a big inconvenience. Use this draft stopper to block off the warm and cold airs from entering the home through windows. Sew a large tube using a piece of old fabric and then fill it up with rice and put it in front of the window. Details here thelittlehousein
2. DIY Door Socks Draft Stopper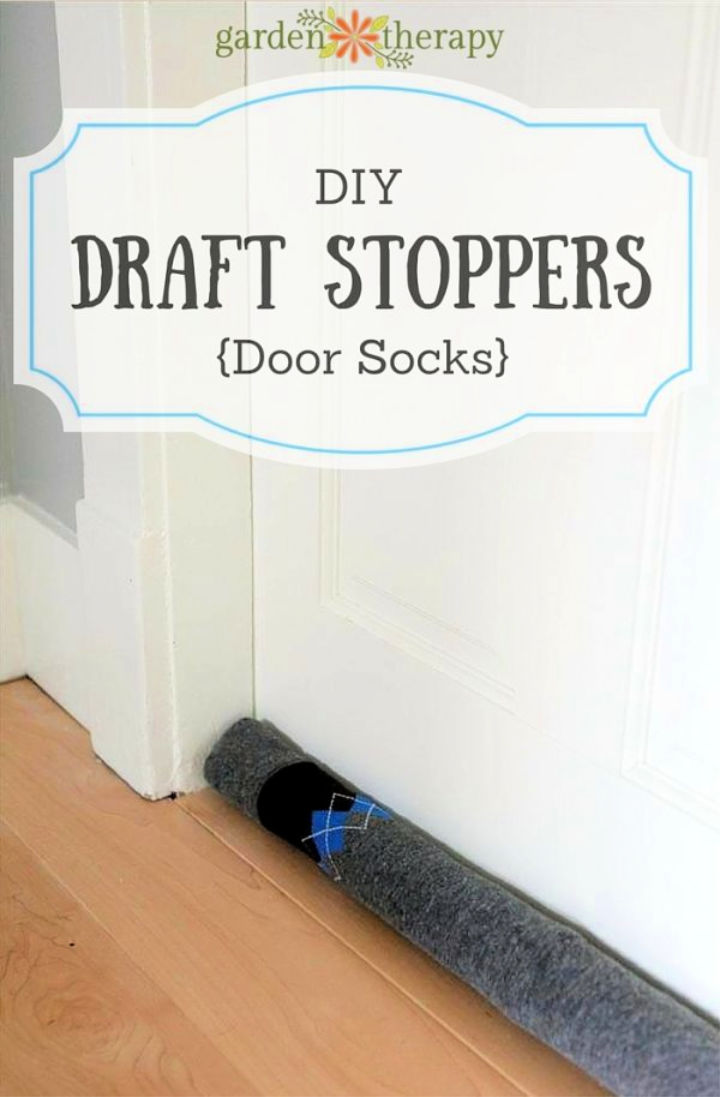 Another one of the cutest door draft blocker that is having length more than 1" the width of the door. Again, sew a long tube using old or leftover fabric and make sure it is 10" wide. Fill this tube with popcorns and other dry stuffing and finally cover with the socks. Details here gardentherapy
3. The Striped Draft Stopper
This striped draft stopper that comes with 18 color stripe lines will be a lovely indirect way too to bring colors to a decided interior. Just crochet first, a longer tube should be a little more than the width of your door. Crochet Rowan Handknit Cotton and Drops Paris with a 4mm hook for this draft stopper. crochetime
4. Double-Sided Draft Excluder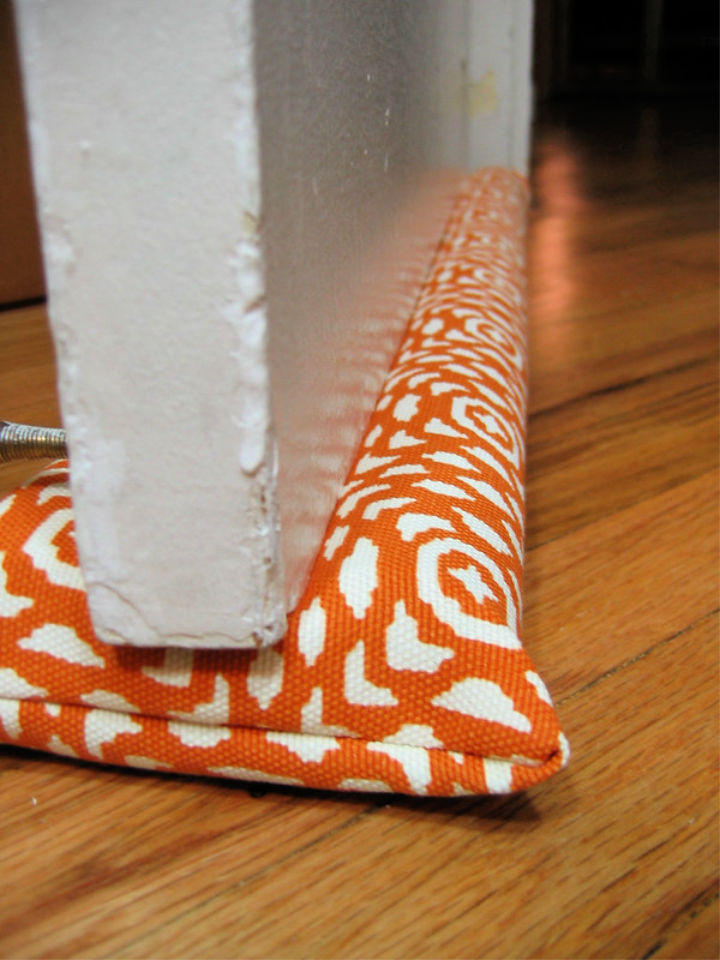 For door having 2" gap underneath, this double-sided draft excluder will really rock. You need only 1/2 yard of fabric to sew this draft stopper. After you sew the longer fabric tube, just stuff the 1" copper pipe foal insulation. These double-sided draft stoppers will make a sweet handmade gift too. flickr
5. Sew a Useful Tree Branch Draft Dodger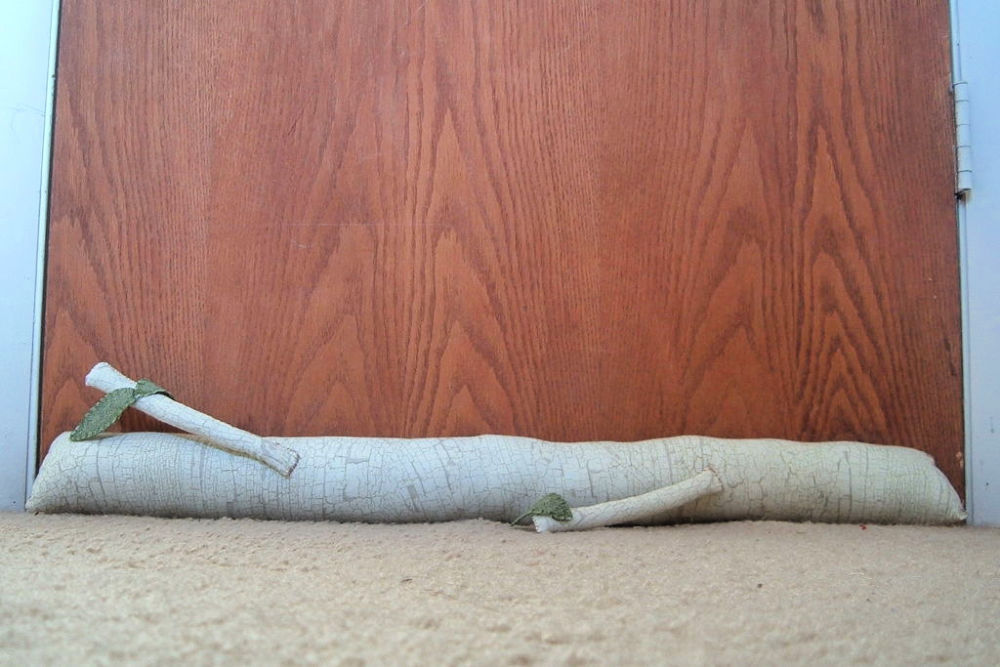 Block off the cold and warm airs outside the windows and doors using this tree branch draft dodger. It will work great for 2" gap underside the window or door and actually is made of fabric. Grab 1/4 yard of a fabric with tree branch texture, next get the fabric for leaves and use your own favorite stuffing. instructables
6. Dodging a Winter Draft with a Draft Stopper
Reuse your old sweater, t-shirts, and other fabric scraps to quickly make some lovely draft stoppers. Cut down a sleeve of your sweater, stuff it up with batting, and with dried beans and sew the ends closed. Next, also stuff the readymade draft dodges in self-sewn fabric covers to make instant beautiful draft dodgers. inmyownstyle
7. Handmade Door Draft Blocker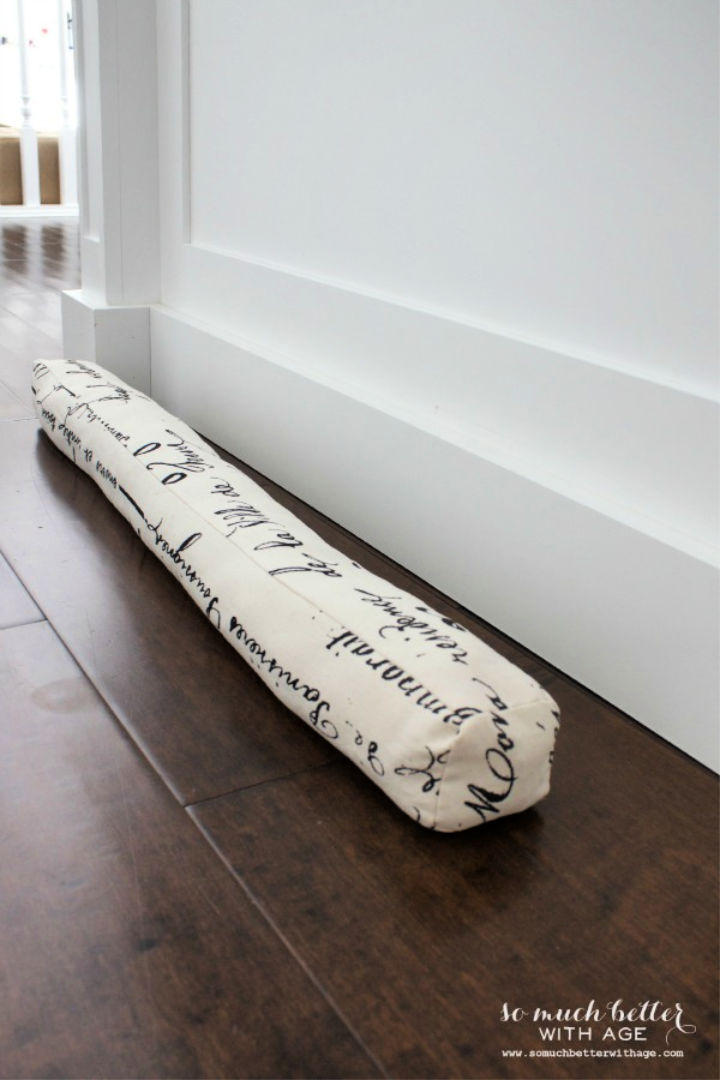 Get here free, easy instructions to sew a draft blocker instantly at home for your door or window. First, measure the width of your window or door and cut the 4 fabric pieces to this size, maybe 1 or 2 inches more. Next, you need two fabric pieces of 3" x 3" size, cotton batting, dried beans, and iron board to make it. jenniferrizzo
8. Door Draft Stopper Sewing Project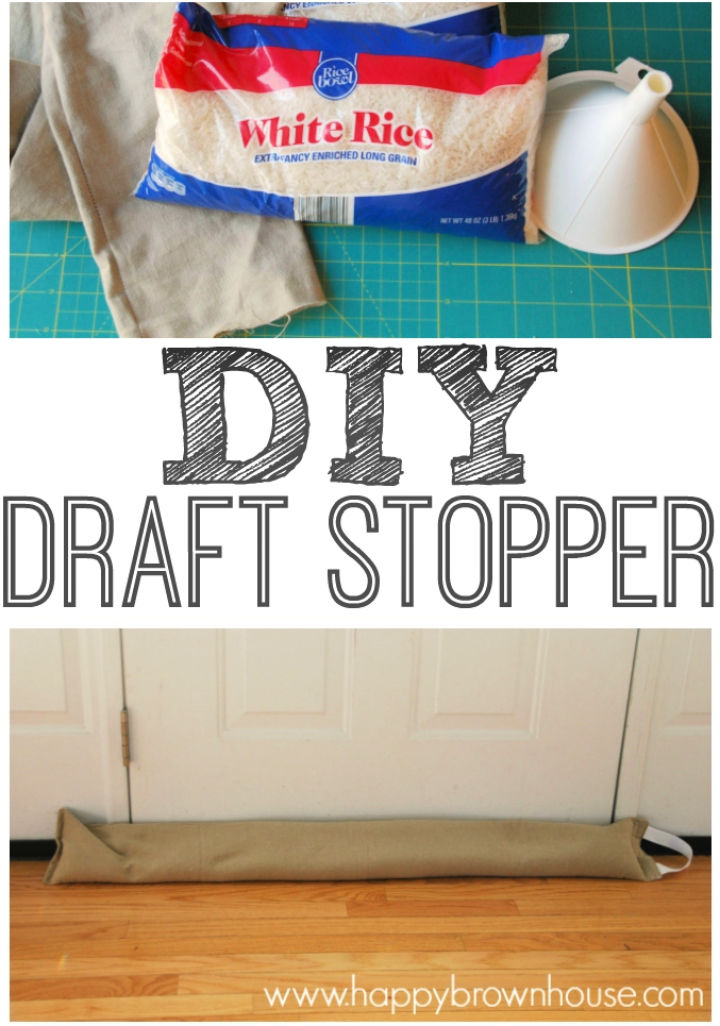 Get here the easy sewing pattern for a door stopper. It will work up in 15 minutes and will cost you $10. here you need fabric, sewing machine, rice, twill tape, and a measuring tape to make this door draft stopper. Make it for yourself for a beloved one neighbor. Details here happybrownho
9. Draft Stopper from Flannel Shirts for Rustic Decor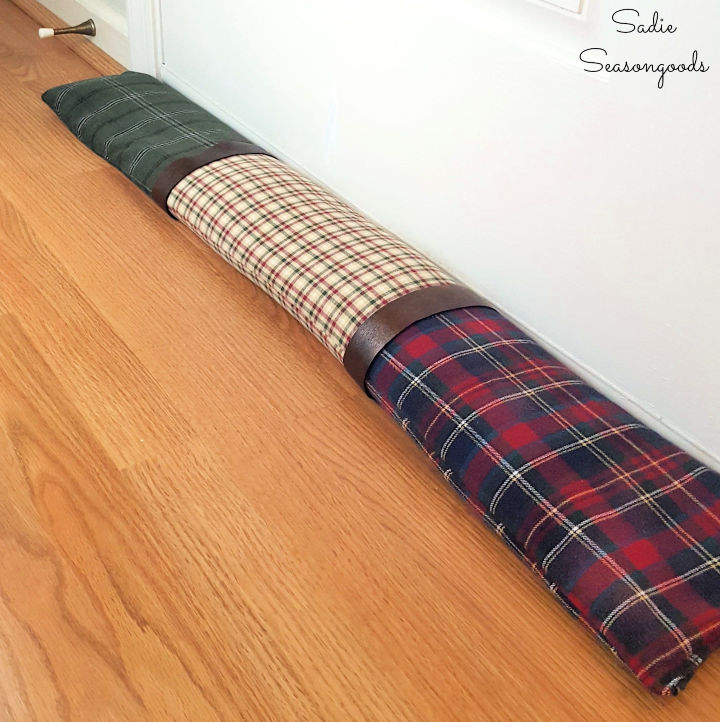 Put your old t-shirts to some really good uses by making these draft stoppers. Repurpose your flannel shirts and sew this draft stopper, will not let the cold or warm airs to spoil your room comfort. They will be your next most rustic type of decor, too, in the room. An easy sewing project. Details here sadieseasongo
10. Draft Stopper for Windows and Doors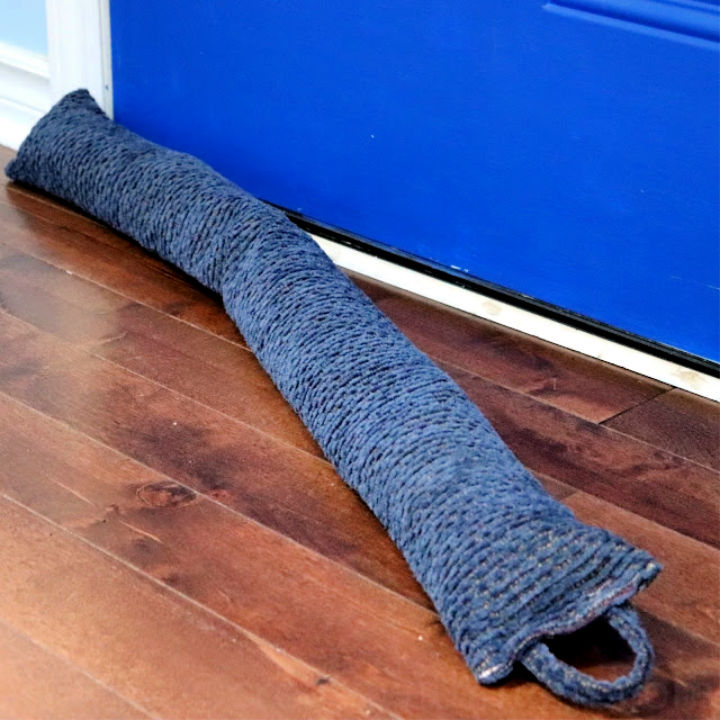 Keep the cold air out of your room or house using this draft stopper, will rock for both windows and doors. Choose it to cover the 2" or more underside door gaps. The finished size of this draft stopper is 36" x 8" around the circular width. Fill this draft stopper with little stones. Details here createwithmom
11. Fabric Door Snake Draft Stopper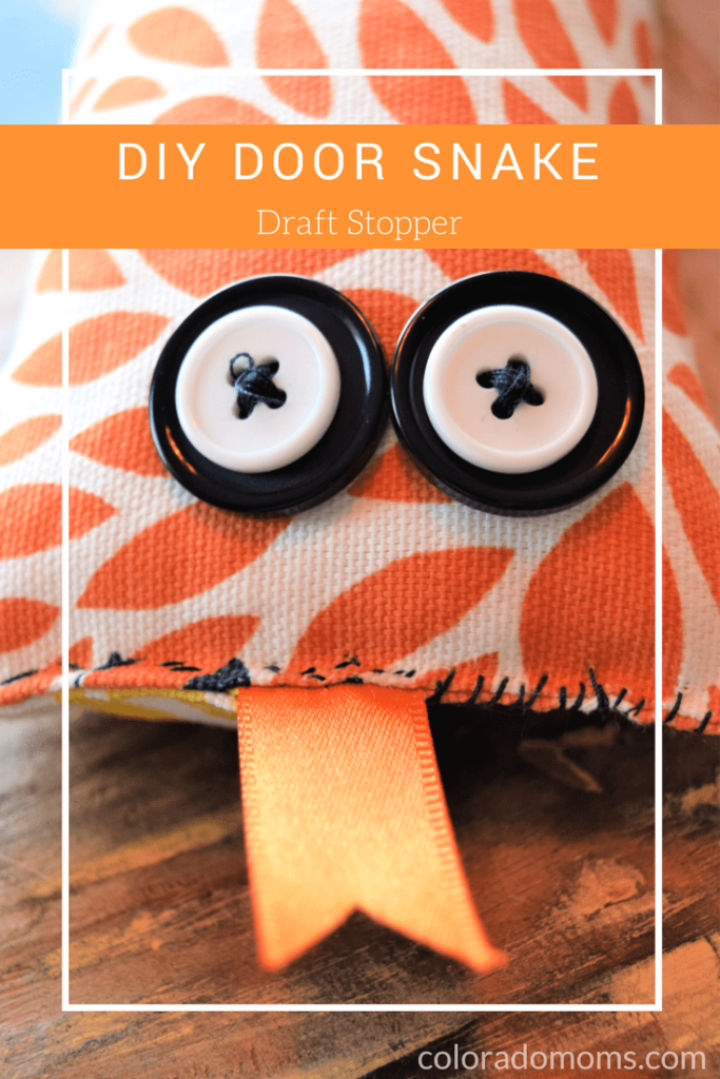 This door draft stopper will create too much fun while being inside the room. It looks like a snake and comes with button eyes to be a great toy for the kids too. Use the fabric again to sew a longer tube should be 8" or more in width. Stuff it up with rice and make this lovely draft stopper. coloradomoms
12. 30 Minute Draft-busting Door Snake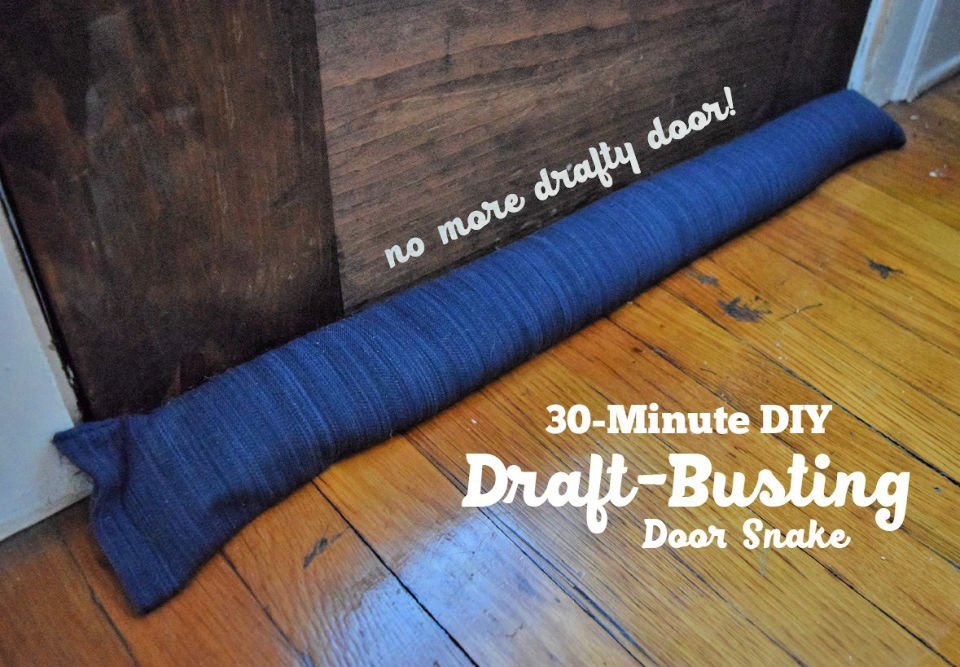 You will make this draft busting door snake in just no time. Time to block off those warm and cold airs in a fun way. Grab a thick-ish fabric 3′ long and 8" to sew a long tube and next stuff it up with kitty litter or sand to make an instant beautiful door stopper. Also, sew the velcro tape on it alwaysmakingth
13. Personalized Denim Draught Excluder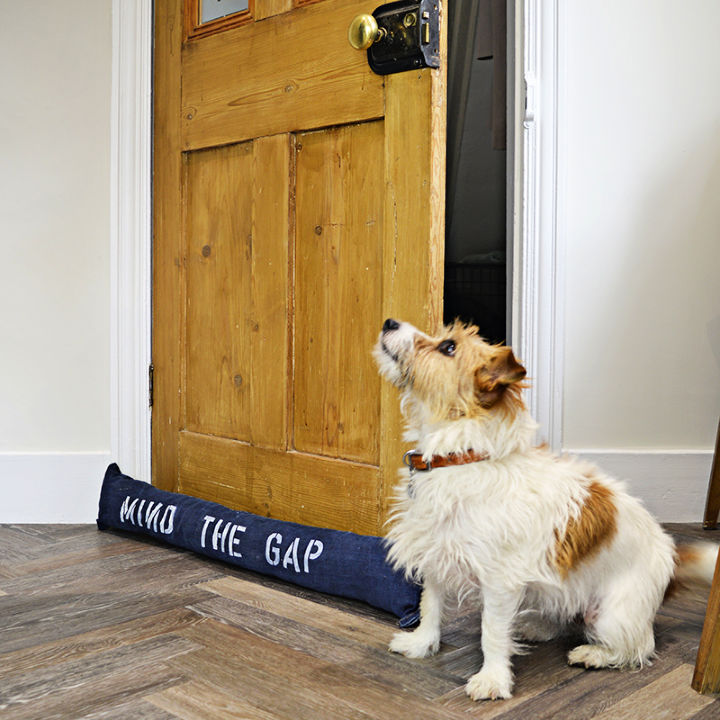 Make this super durable denim draught excluder with the recycled jeans. Just cut the legs down and then re-sew them to get into a long tube form. Stuff with fiberfill and personalize with letter stencils to make this draft stopper. This denim draft dodger will cost you nothing. pillarboxblue
14. DIY Door Draft Stopper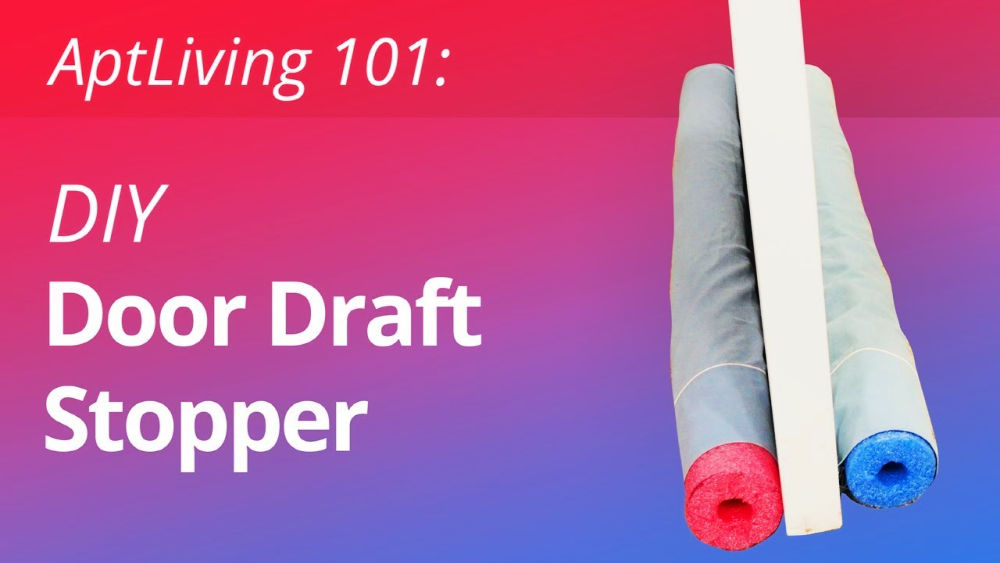 You will love this door DIY Door Draft Stopper Idea that does involve filling the weighty materials. Just take the pool noodle lengths equal to your door width. Wrap the fabric around them and keep them united with fabric. Then unroll the fabric to create a gap in which the bottom of your door fits best. Now slide this draft stopper on to the bottom of the door and enjoy it. youtube
15. $7 To Make a Custom Draft Stopper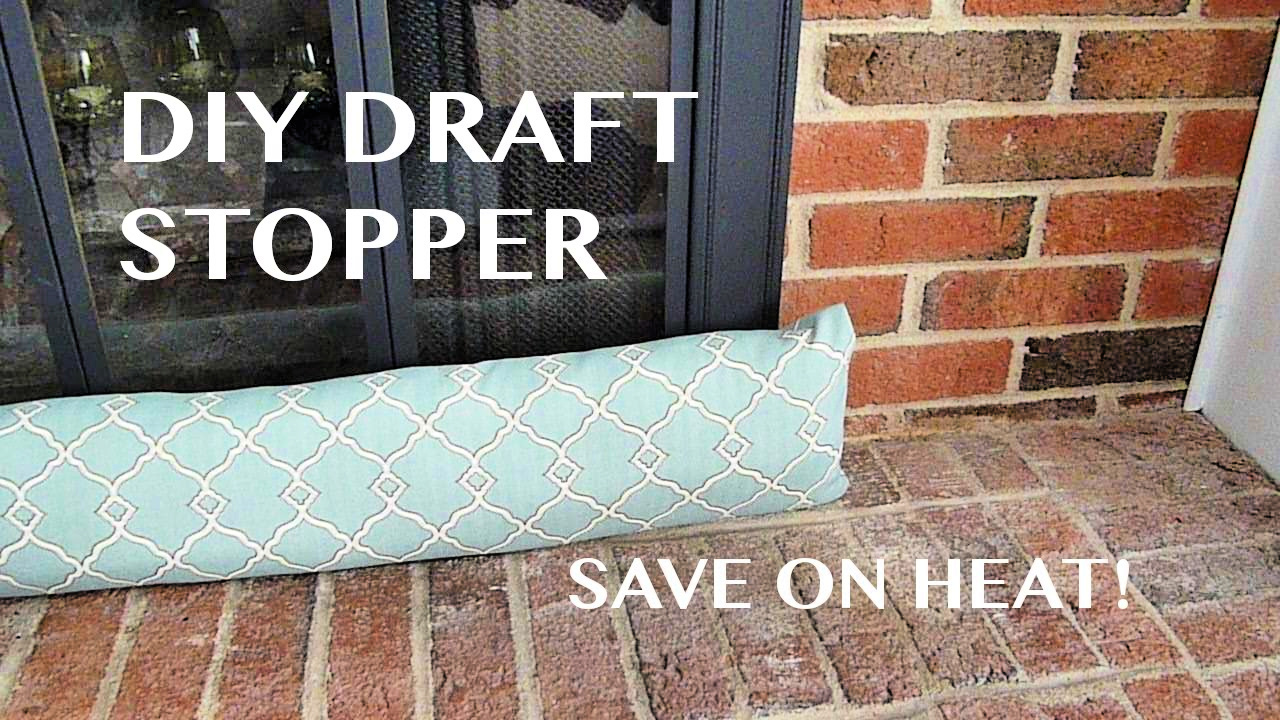 Building this draft stopper is a beginner sewing project, and here the rice is to use as the best stuffing. Just sew your leftover fabric to gain a big fabric tube that you can fill then with the rice to make the draft stopper. Make sure you have sewn this draft stopper in such a way that it should come with 8" height. youtube
16. Mismatched Door Draft Guard Pattern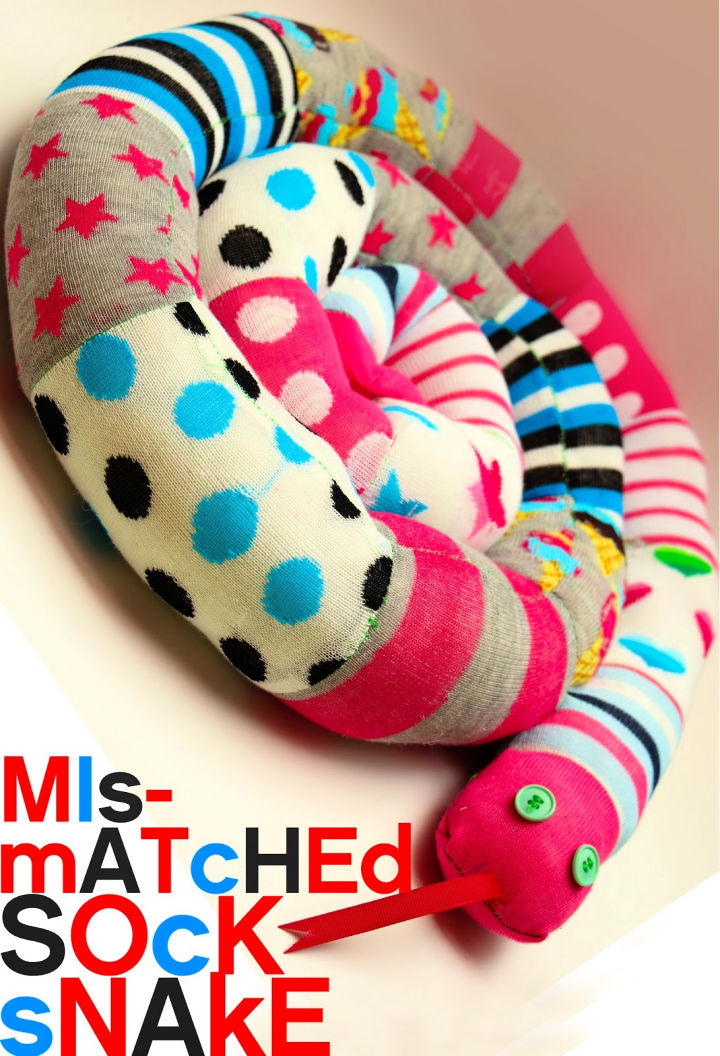 This snake style door draft guard will make a cute handmade gift to a homey person and is something quite quick to build. Just sew together the 10 socks and then start stuffing the completed snake, pillow stuffing will rock. Add buttons as eyes of a snake and finish and use a piece of red ribbon to add as the tongue of the snake. grosgrainfab
17. Patchwork Draft Excluder
Block the hot or cold air outside the door using this patchwork draft excluder. Grab 6 fabric rectangles of 16cm x 20cm and sew them together to sew a large fabric patchwork tube. Stuff the fabric tube with stones or sand then finish with cut out fabric appliques. Details here homemakerma
18. Door Draft Stopper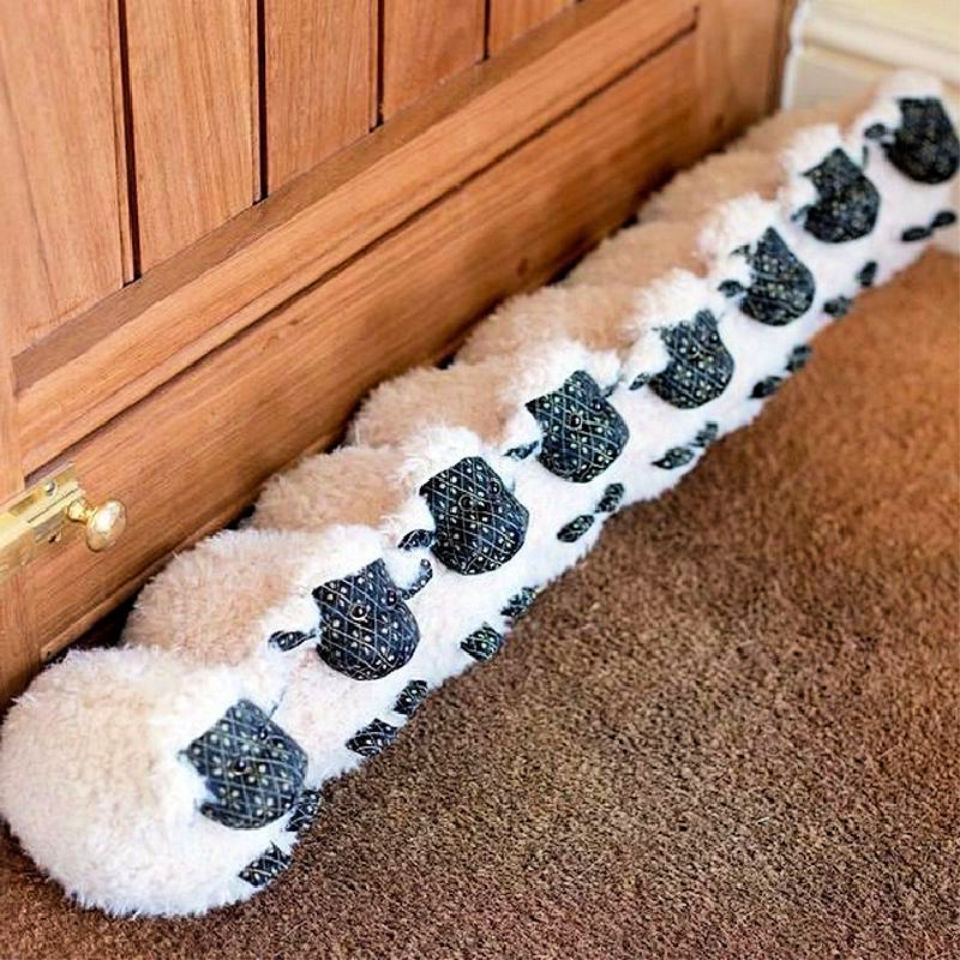 Boost your home decors while block the hot and cold airs outside the home using this little sheep draft stopper will make a cute handmade gift. This door draft stopper is pretty cute and will bring tons of focal stimulation to an indoor. One of the best DIY Door Draft Stopper Idea.
19. No Sew Draft Stopper
If you don't know how to sew, you can still make lovely draft stoppers, will make cute handmade gifts for friends. Just grab the chevron fabric and make a tube in a no-sew way and then make it gain some weight using custom stuffing. You will love the way it will serve in a home.
Conclusion:
The gaps under the doors or windows are often the culprit that you can't get the room warm or cold when using the heaters and air conditioners in winters and summers, respectively. So, filling those gaps nicely will demand these DIY draft Stoppers that are easy sewing project that everyone can do with great ease. These door draft stopper ideas will share every creative way to make a draft stopper at home using all from fabric scraps to old t-shirts to crocheted yarn tubes. Go with your own favorite stuffing and start making these draft blockers now.