Accomplish your mission of saving lots of bedroom floor space while bringing in a big wow factor with these 25 simple DIY floating nightstand/side table ideas that are simply unbelievable. There is a huge variety of designs to choose from, and DIY hacks allowing you to customize your designs will surely impress you. Time to jump on these minimal floating nightstands if you have bored from traditional nightstands that take a lot of floor space and are often hit by your legs. Just make the best use of wall space and install the mini shelf style, box style, or wall hanging cabinet style floating nightstands, will take good care of your night supports. They will be super-duper in services even with the minimal designs.
Browse this list of 25 DIY floating nightstand plans and see a wide variety of readymade samples that will surely wow you with the DIY creativity. Time to make highly required items of bedroom furniture while being short on budget or on wood supplies. These ideas will leave you with no excuse to miss out on a cool functional design of nightstand in your bedroom.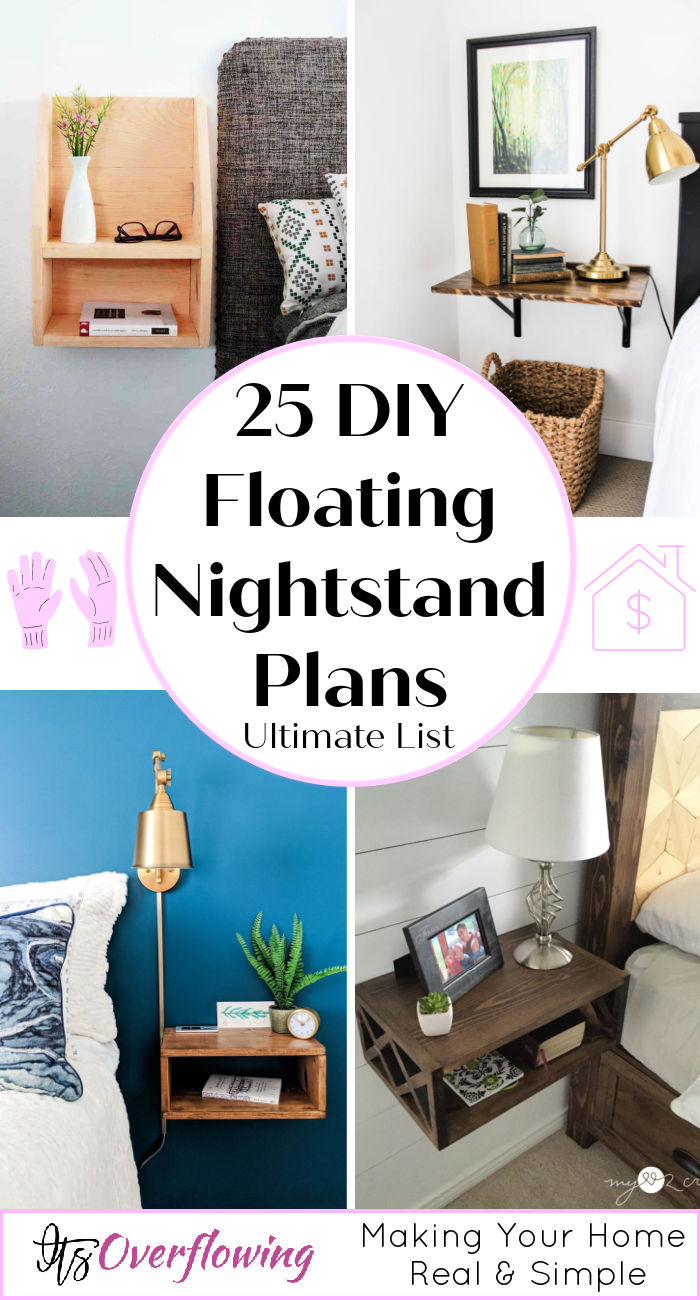 Repurpose the old wooden crates to build a quick floating nightstand and build the custom tiered shelving units to install as storage-friendly nightstands. Opt for a swing nightstand that is all about to make with a piece of wood and some rope and also use the copper pipes and wood to install semi-floating nightstands will organize your night supports nicely. Use plywood to walnut slabs to MDF boards to build a wall hanging bedside table. This not ends here, use the IKEA components, too, like IKEA Kallax inserts to make modern and functional wall mounted nightstands.
1. DIY Minimalist Floating Nightstand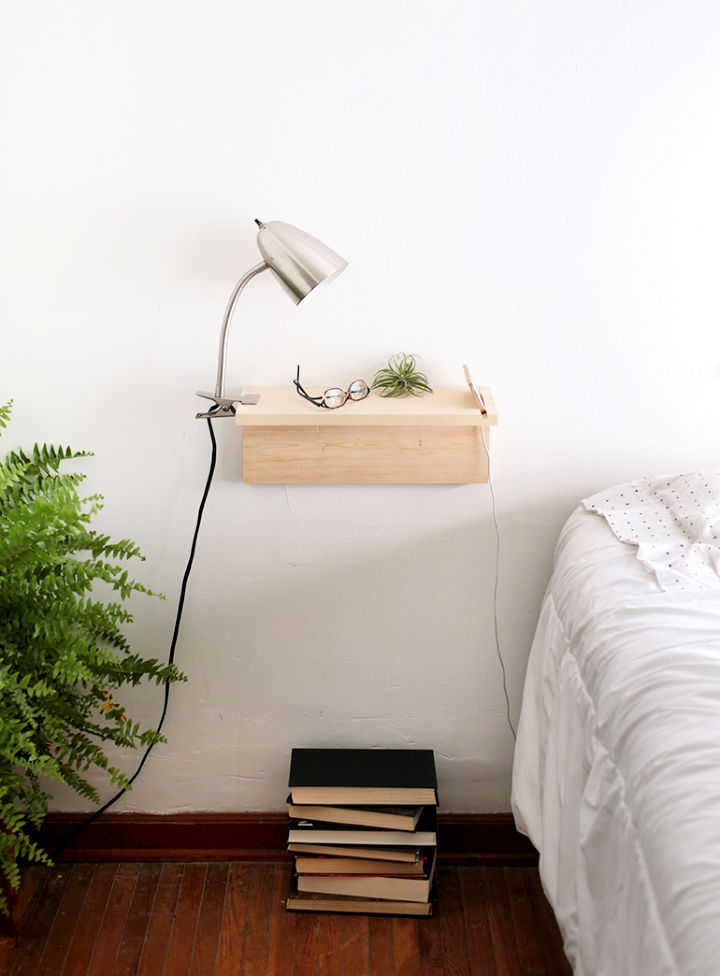 Don't want to load a lot of furniture in your master bedroom? Then play in a smart way and install this minimalist floating nightstand. It will take good care of your night supports without using any floor space. Make it using a few leftover pieces of wood and cut a slit to hold your mobile phones. themerrythought
2. DIY Floating Side Table
This floating nightstand looks like an empty wooden box and will bring the modern vibes to your bedroom. Install it to free up lots of bedroom space. Make it using 1x10x8 and finish with paint or stain and also with polyurethane for too much shine on wood grains. Details here craftedbythehu
3. Floating Storage Nightstand
How about this floating nightstand, featuring a rustic tone of the wood, will be a smart addition in the shabby chic bedrooms. This nightstand is storage-friendly and can be given a modern paint finish too. Get crafty with the 1x3s and 1x4s wood planks to build this floating storage nightstand. Details here shanty 2 chic
4. Floating Stand for Master Bedroom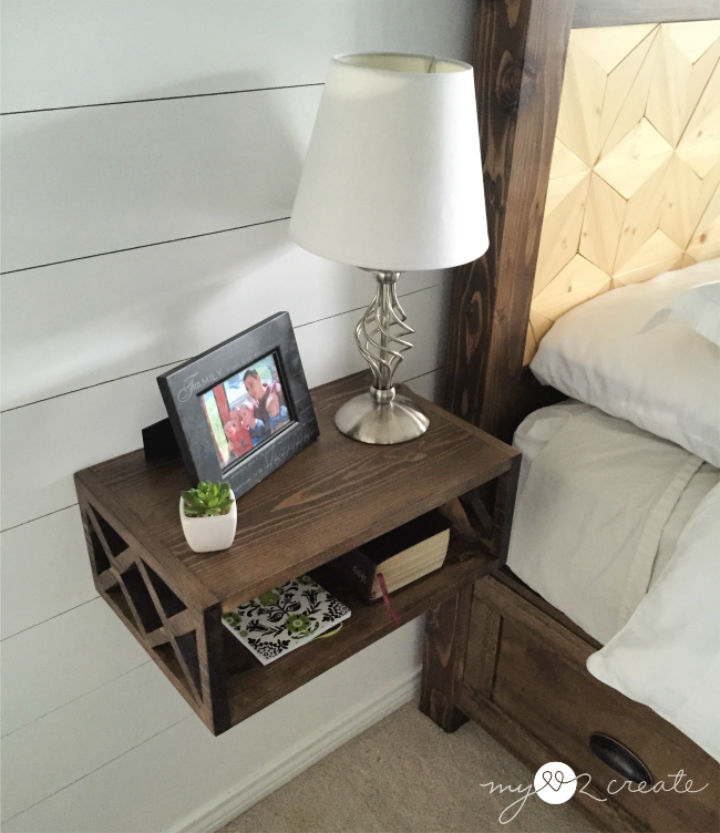 Willing to gain a space-savy nightstand model that will serve enough in your master bedroom? Then do build this floating nightstand that comes with so many built-in storage options. Make it using a single length of 1x8x8 and give it a custom wood finish for amazing shine on wood grains. Details here mylove2create
5. Floating Stand With Brackets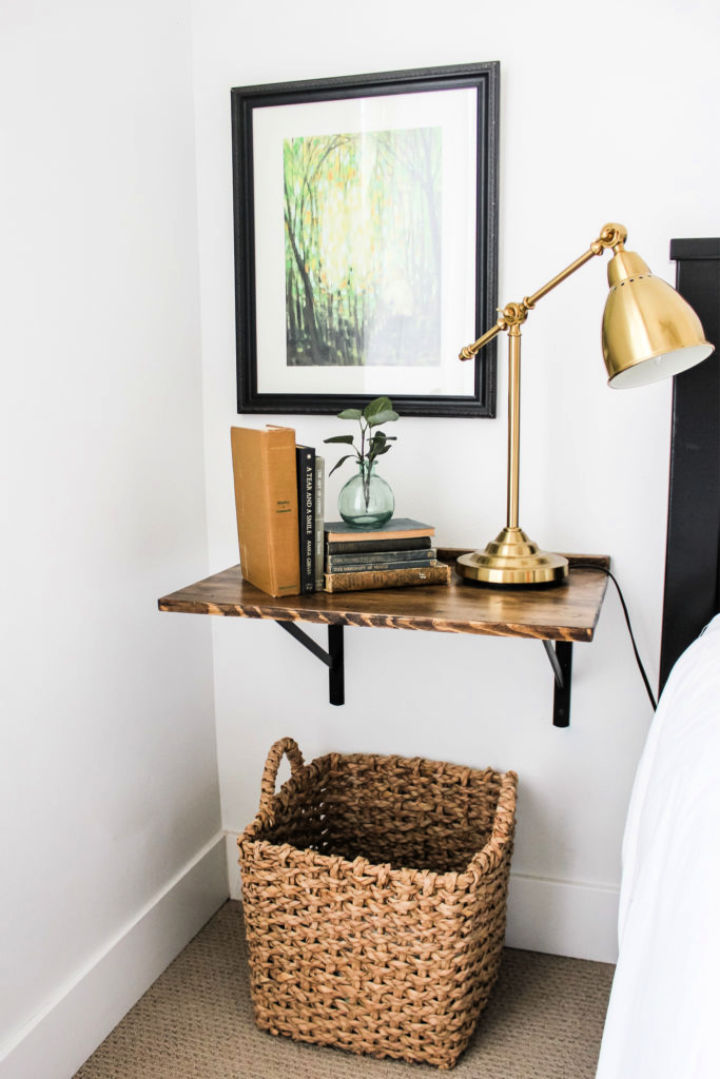 Opt for this simple yet beautiful floating nightstand, will bring a great industrial touch to your master bedroom. Build this nightstand, a great combo of wood and metal using a piece of lumber, 1x2x8, and metal brackets. Use a wood conditioner, stain, and polyurethane for an amazing finish. Details here project636
6. Simple Floating Nightstand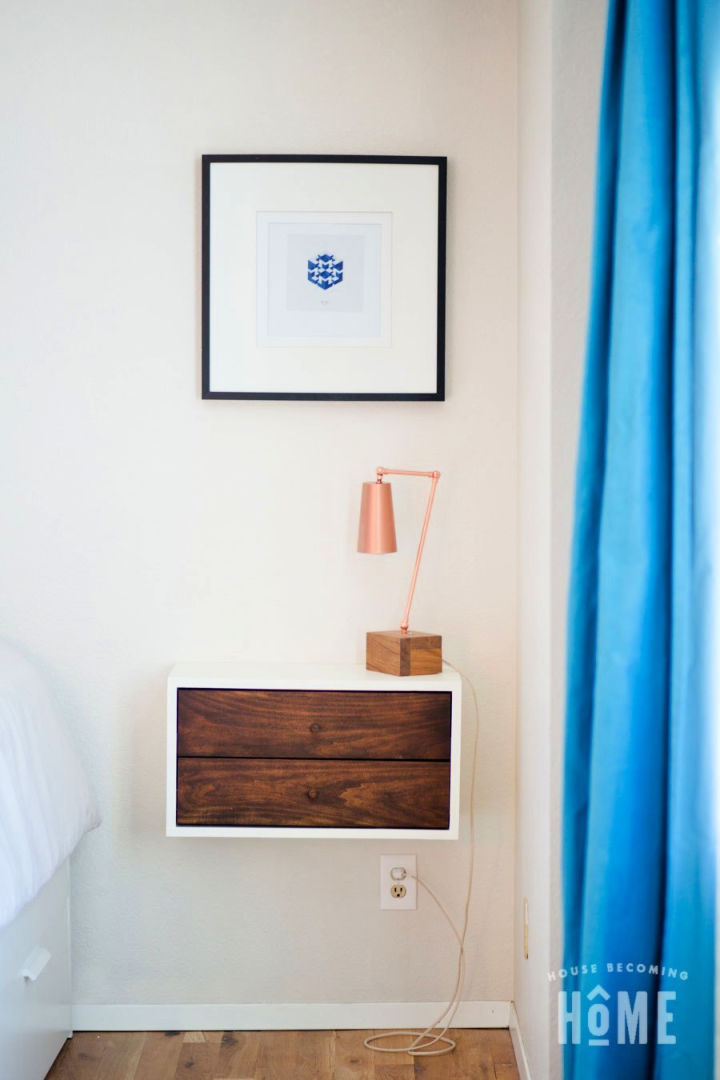 Bring a big wow factor to your master bedroom by adding this floating nightstand that is rustic yet modern. It comes with chic white casing while with a rustic drawer fitted inside. Make using 1x12x6′, 1x4x8′, plywood or MDF, 1/4"x2'x4′ and poplar hobby stock. Details here housebecoming
7. Floating Stand with Shelves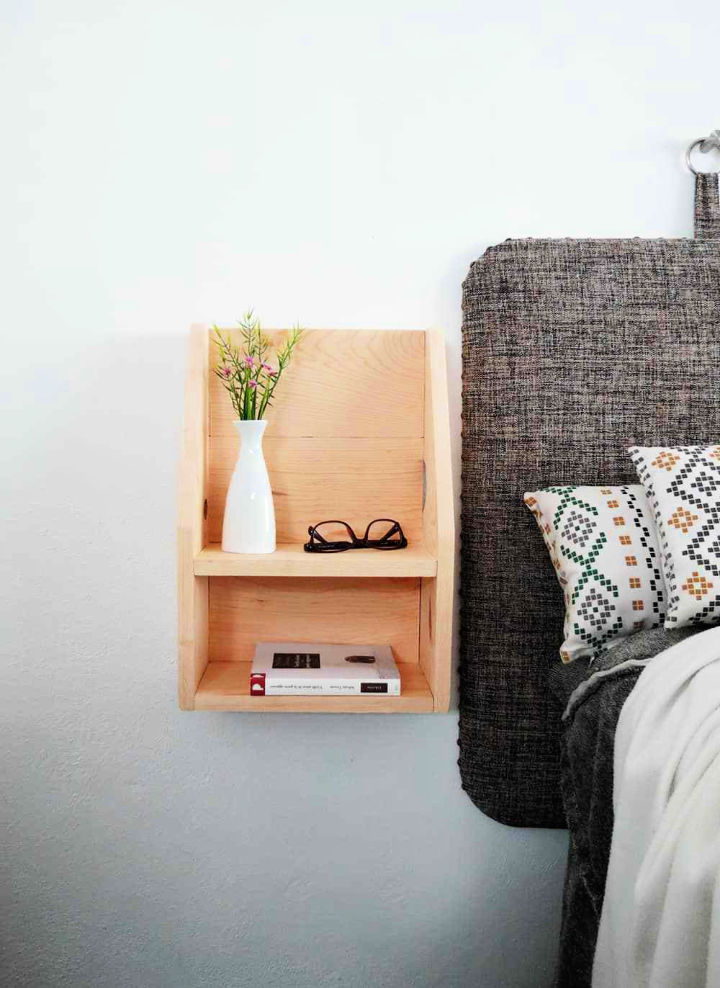 This floating nightstand features a rick wooden appeal and is like a 2 tier wooden caddy. It will not only store the night materials but will create a cool display of your bedroom decors too. Use the plywood and custom wood planks to build this floating nightstand with shelves. Details here ohohdeco
8. Walnut Slab Floating Stand
Get your bedroom impressive with these semi-floating walnut slab nightstands. They are quite inexpensive to make. Grab a 1 1/2" thick walnut slab of 40" x 9" size to do this floating nightstand project. Use the copper pipe tubing and couplings to install it on the well. Details here woodandfaulk
9. IKEA Hacked Floating Nightstands
Willing to build a modern floating nightstand in your bedroom? Then get here the perfect IKEA hack for a floating nightstand. Grab the IKEA kallax shelf insert, laminate shelving, L mounting brackets, two furniture braces, screws, and wall plugs to build this floating nightstand with storage. thesorrygirls
10. Wood Crate Floating Stand
Build floating nightstands should not cost you big. Get here a terrific DIY Floating Nightstand Idea that involves creative recycling. Just grab an old wooden crate, recondition it using wood stain, paint, and a wood finish and then install on the wall to serve as a floating nightstand. Details here elahtree
11. Easiest Floating Night Stand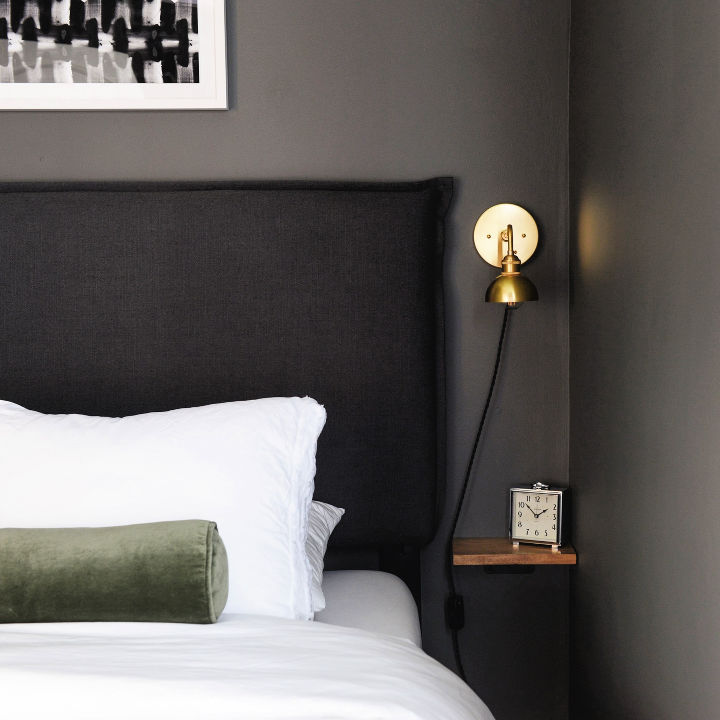 You just no need to buy a nightstand super expensive, even a leftover piece of wood to play the functional role of nightstands in your bedsides. Just install the custom supports or hardware brackets on the wall and manage to hold a piece of wood plank, will be your next floating nightstand as you can see. yellowbrick
12. $30 Wall Mounted Stand
Building this wall mounted nightstand will cost you less than $30, and you will love to own it in your bedroom. You need a 20" x 10" piece of wood and unfinished wood plaques to build this floating nightstand, impress with its chic white appeal. Details here rachelschultz
13. DIY Wall Mount Side Table
Check out here the best to get out of the leftover wood. A wall-mounted side table will rock as a minimal wooden nightstand too. Just support a miniature wood shelf on the wall by installing a bracing wooden length and get a quick floating nightstand. Give it a nice wood finish and enjoy it. Details here poppytalk
14. Minimal Hanging Night Stand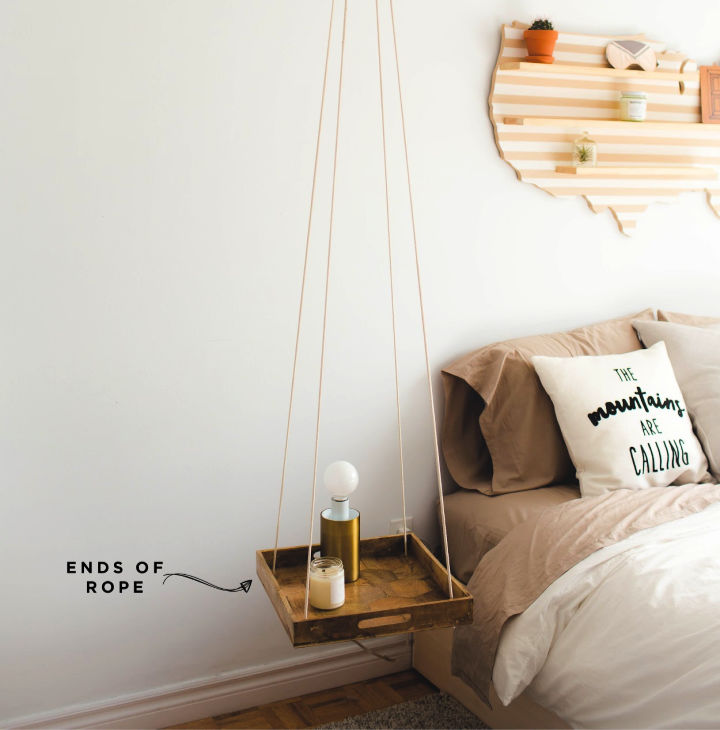 Impress every guest with a one-of-a-kind nightstand that is graceful and is to make with a tray and rope. It will cost you $10-$15 and will work up super quickly. You need a C-hook, a tray, and a poly-cotton blend rope to install this swing style minimal hanging nightstand. Make also a tray using leftover wood. Details here thesorrygirls
15. Copper & Wood Side Tables
A big thanks to wood and copper for this adorable semi-floating nightstand. Just grab a piece of wood of custom size to build this floating nightstand. Next, use the copper pipe and custom fittings to support it floating on the wall. Use a floor flange for fixing the metal pipe support in the wall. Details here treasuresandtra
16. Floating Wood & Brass Shelf With Built In Light
Opt for this cool floating nightstand design that comes with a built-in light bulb. Build this nightstand using 1×6 board cut to 14" length. Next, you need a cord, sock, Edison light bulb, and hangers to complete this wood and brass shelf. Here you need to install an external lamp. Details here cocokelley
17. Floating String Stand
Take your bedroom decors to the next level by adding a hanging floating nightstand, will surely impress at a very first look. Just grab a round wooden disc and get it in the air using the rope and gain a swing-style floating string nightstand. Make it hold your pots and custom items of decors, and that's it. monsterscircus
18. Homemade X Floating Stand
The X design of this floating nightstand will surely impress at a very first look. This 2 tier wooden floating nightstand is something super quick and easy to build even for a beginner. Build this X floating nightstand using 1x12x6′ and 1x2x6′ wooden boards and give a custom wood finish. Details here joyfulderivati
19. Modern Floating Stands with Wireless Charger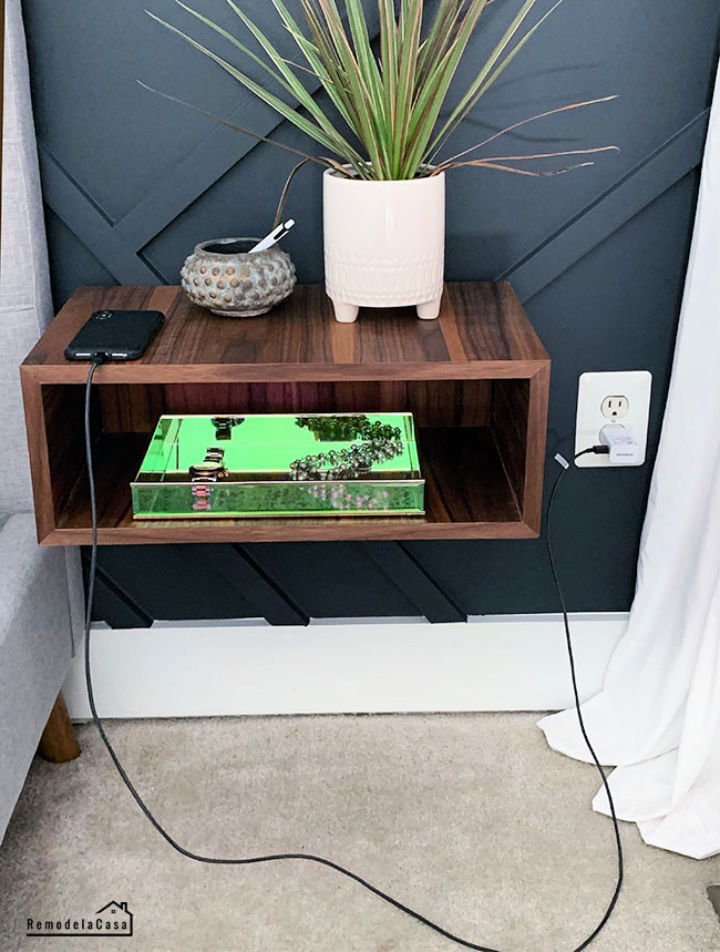 Take your bedroom decors to the next level with this cool addition, the modern floating nightstand that comes with wireless charger. Build this box-like floating nightstand using a 1/2 sheet of plywood 3/4" x 2ft x 8ft. Next, you need walnut edge banding, tung oil, and wireless charger to complete it. remodelandola
20. How to Build a Floating Nightstand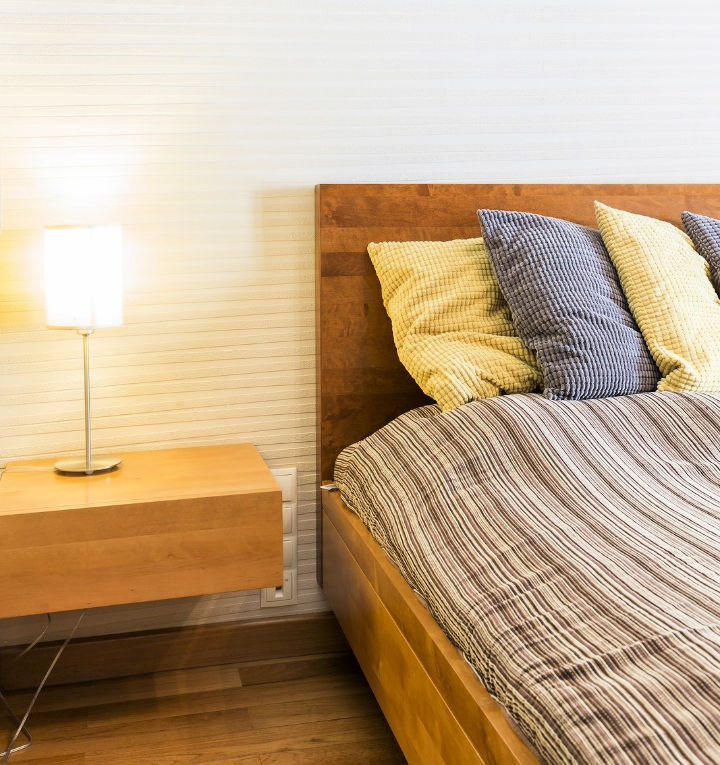 Build this modern floating nightstand using some wood, L-brackets, wood glue, and some finishing nails. You need a beginner skill level to build this floating nightstand, will take good care of your night supports. install a lamp on the top for more graceful design appeal. Details here housetipster
21. Floating Bedside Tables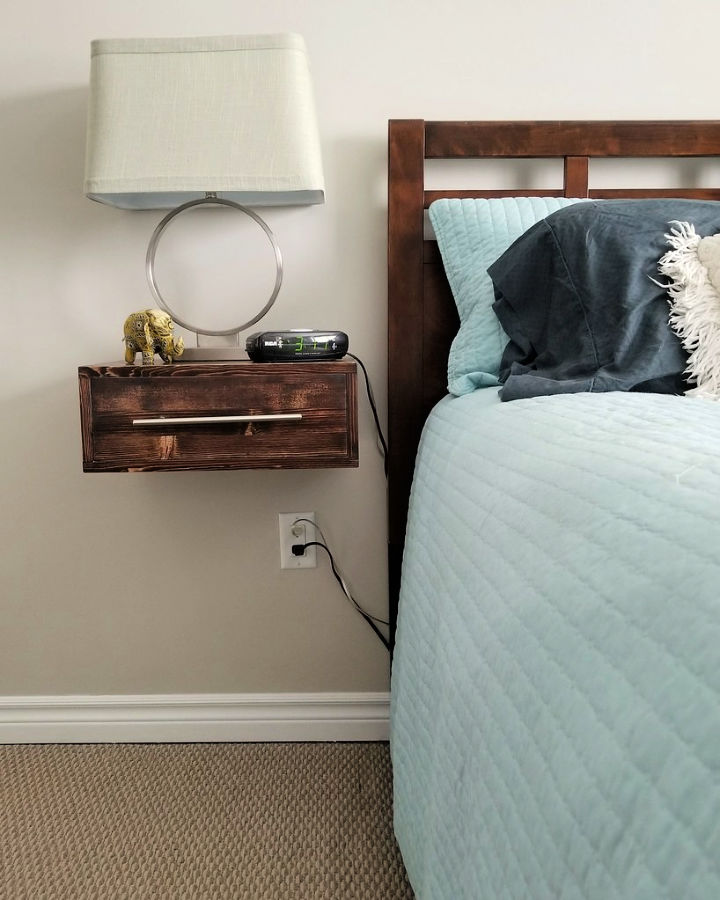 This handsome floating nightstand table comes with a built-in drawer. The dark tone of the wood, make this bedside table appears extra beautiful. The metallic handle gives an accent metal touch to the wooden grace of this bedside table. Build this floating bedside table is a beginner project. Details here turtlesandtails
22. Rustic DIY Floating Nightstand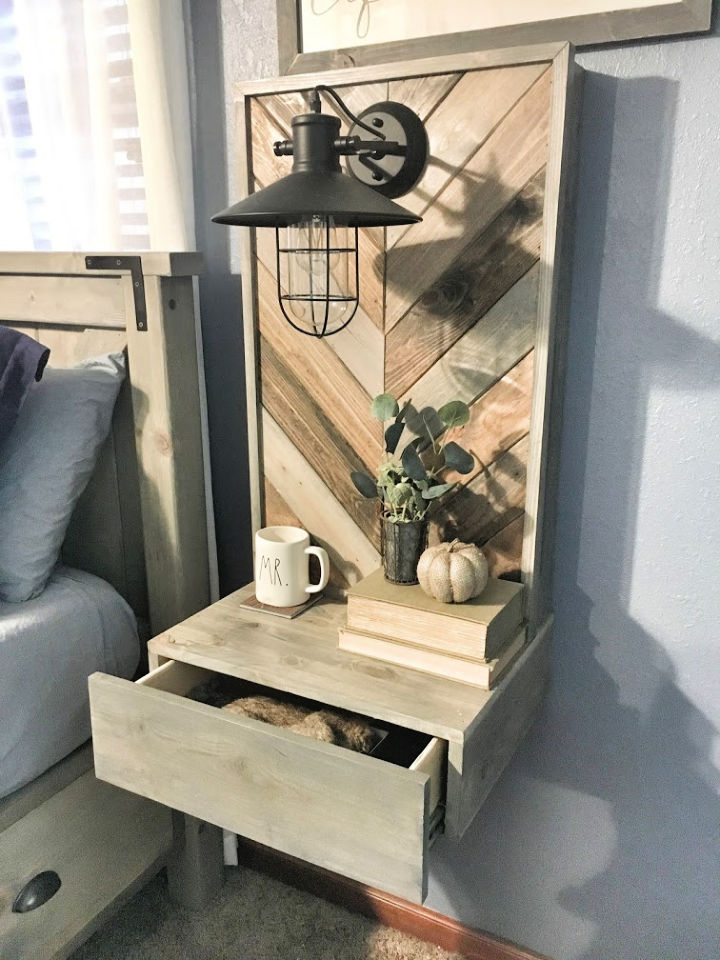 Bring tons of rusticity and antiqueness to your modern bedroom by adding this super adorable floating nightstand that is made of wood. It provides a big chevron back has a built-in drawer to its bottom side. Install an antique pendant lamp to the top side of this floating nightstand, and that's it. Details here ashleydianndes
23. Wooden Floating Nightstand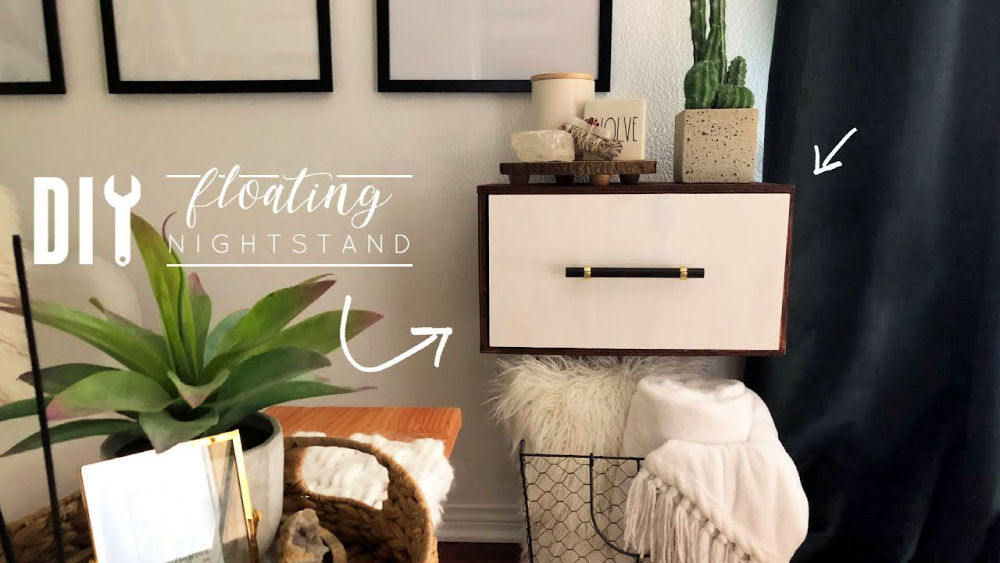 You will feel great while building this floating wooden nightstand. It provides a built-in charging station and custom spaces to hold your modems and other items of this kind. Start making this adorable wooden floating nightstand by building a big wooden box. Add a front lid that comes with a metal handle. youtube
24. DIY $10 Floating Nightstand
Get here free plans to build a floating nightstand in less than $10. Grab an $8 piece of pine and take it into L-shape that you can fix on the wall as a floating nightstand. Cut a groove or slit on one side of the top to gain space for holding your mobile phones. install a lamp to one side, and that's it. Details here youtube
25. How to Make Floating Nightstand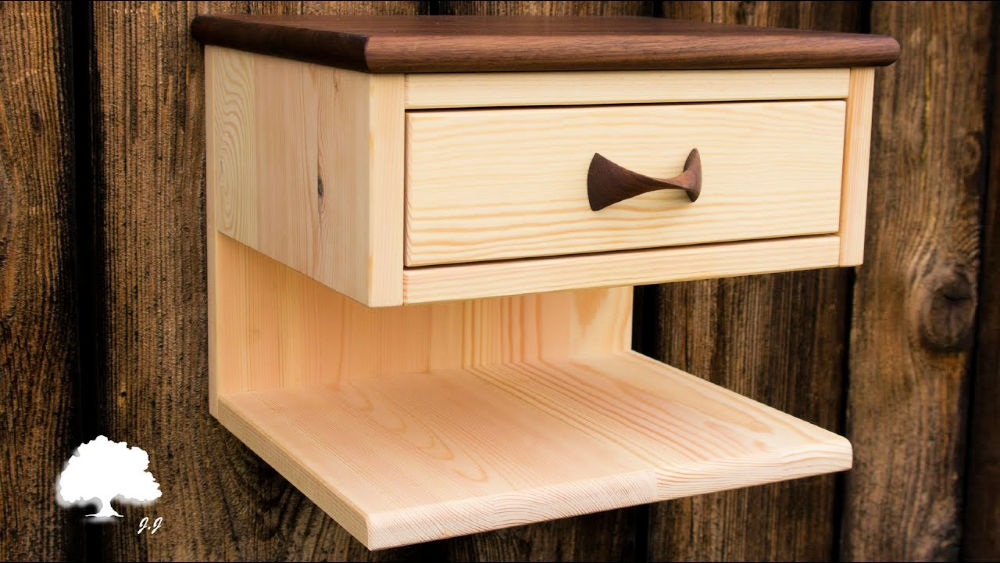 This super handsome design of nightstand impresses with a built-in drawer and will make a great handmade gift too. Build it using wood of choice like lumber and pine boards and give it a satin finish, paint finish or leave it blank in a natural blank tone of the wood. Lower shelf will work great to hold your night supports. youtube
Conclusion:
A nightstand is a big need that allows you to keep your reading books, weapons, medicines, and even the mobile phone in arm reach without making a big mess. If you want to save a lot of floor space, then opt for these DIY Floating Nightstands that are budget-friendly to build and can be achieved with minimal supplies of wood.
Most of these projects require a beginner skill level, and you can use the IKEA components also to build beautiful instant nightstands in a blink of an eye. Moreover, these walls mounted bedside tables will add lots of visual details to the entire bedroom ambiance.
Related DIY Projects: