Having a pantry is highly required in kitchen storage management. This subsiding kitchen space will help organize all those food stocks, beverage stocks, glassware, silverware, tableware, and also the occasionally used appliances. So, learn how to build pantry shelves with these 30 useful DIY diy pantry shelves that will help you easily install every shelf design and style into your pantry.
Choose a diy pantry shelving project according to your kitchen storage needs, budget, and skill level and there is a big array of styles to choose from. From sliding pantry shelves to portable pantry shelves to industrial pantry shelves, this list of 25 inexpensive DIY pantry shelves includes all styles to satisfy different tastes. All these DIY shelf ideas will help you build an airy, stylish, and fully customizable pantry where you can timelessly store and pick the food and beverage items.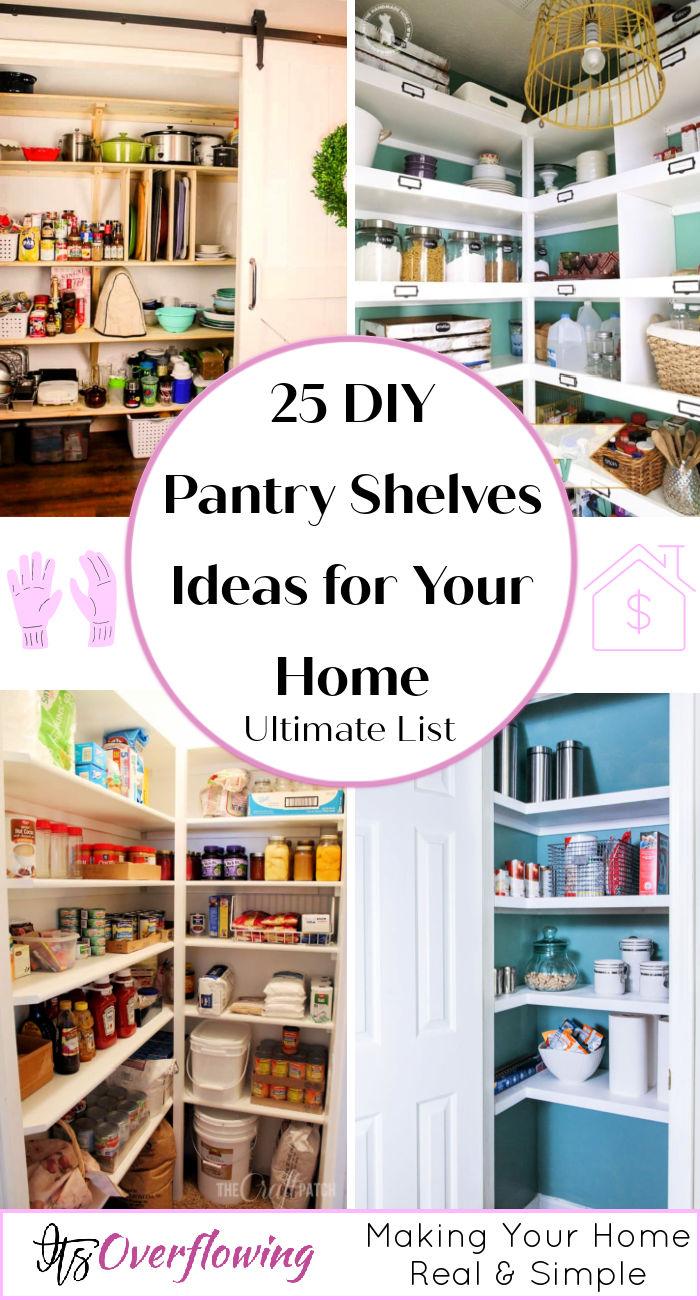 The list will cover projects too that will help update or replace your old pantry shelves. You will get the professional hacks to install the corner built-in pantry shelves, and finally, there will be detailed diagrams, blueprints, and step-by-step instructions about how to build ultimate customized pantry shelving.
From modern to rustic to farmhouse style shelves, all styles are available to choose from depending on the style of your kitchen. Installing pantry shelves is not more a big hassle with the help of these DIY Panty shelves, sure to maximize your kitchen storage space. Must try out these projects for amazing kitchen and pantry organization.
1. How to Build Pantry Shelves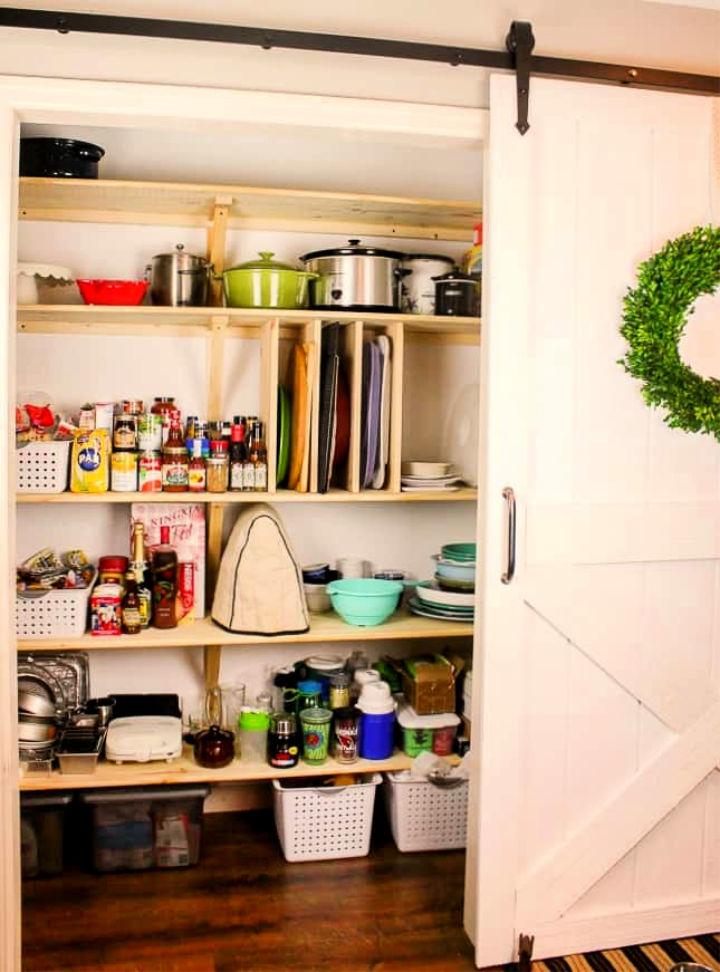 Add in the kitchen storage by building these pantry shelves. They will lend you a big helping hand in instant kitchen organization by digesting all clutter. You need pine boards, 2x2s, 1x2s, L-brackets, and 1x16s to build these pantry shelves. They will manage nicely your stocks of beverages and kitchen food items. Details here aturtleslifeforme
2. Functional Pantry Shelving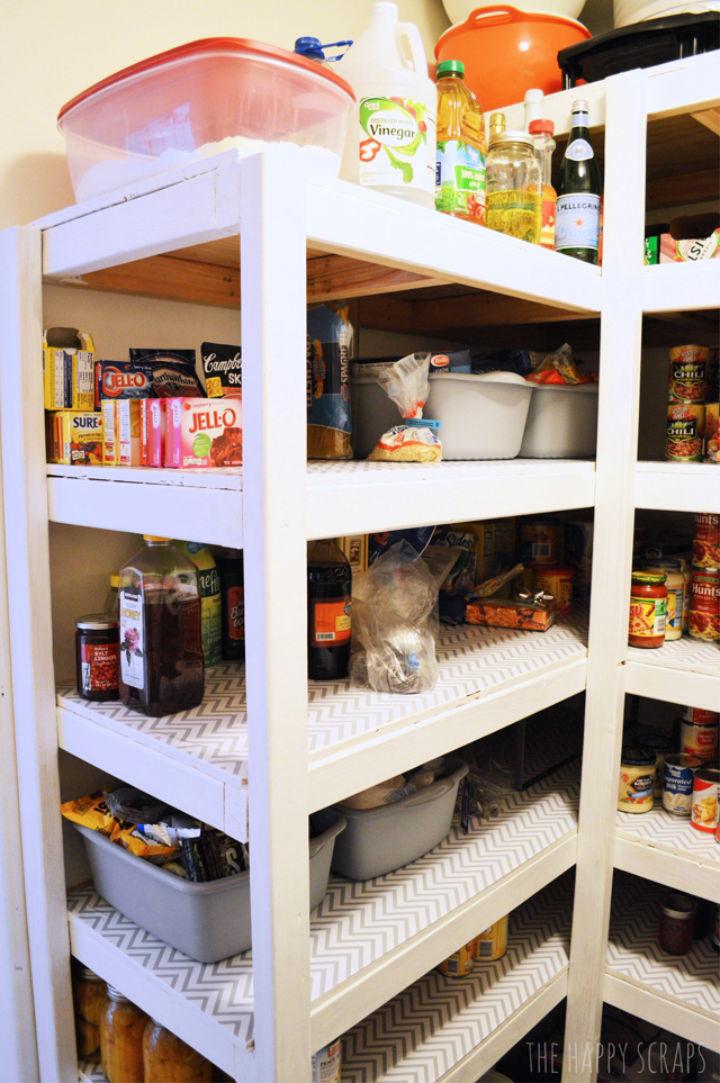 Get the free corner shelves plans here for installing practical and beautiful pantry shelves. First, install the wooden trails on the wall using 2x2s or other boards of this kind. Next, install the shelving frames and finish with plywood shelves. These plans are for functional corner pantry shelving. Finish the shelving with a wallpaper of choice. Details here thehappyscraps
DIY pantry ideas: Pantries are practical additions to any home. From simple solutions to elaborate showcases, here are amazing diy pantry ideas that you can build by yourself.
3. DIY Pantry Shelf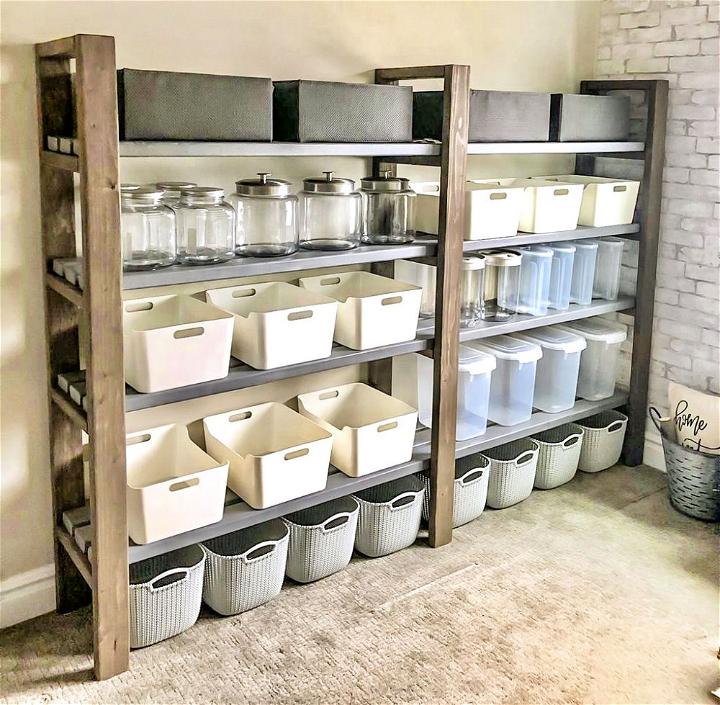 Do duplicate this grand design of pantry shelf that is ideal to store the tableware, glassware, silverware and other households. This is here a 2x4s challenging and you need to build this shelving unit using 22 lengths of 8ft long 2x4s. Next, finis this shelf using paint or stain of choice. A one of the best DIY Pantry Shelving. Details here handmade haven
4. Built-in Pantry Shelves With Drawers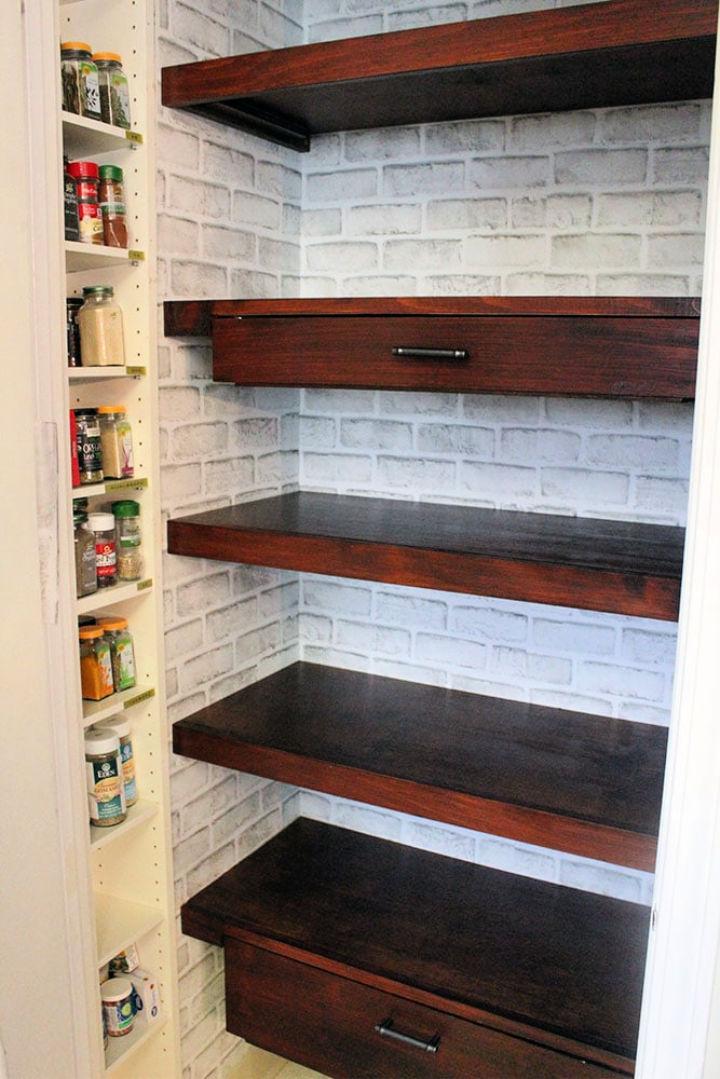 Need more pantry space for your extra stocks of food and beverage items? Then opt for these built-in pantry shelves that come with drawers for a hidden storage of pantry items too. You need 3×4" plywood to build the shelves and use the 3/4" to build the drawers and trim. Finish the pantry shelves with wood stain and wall paper and also with drawer knobs. Details here justmeasurin
5. Build Pantry Shelves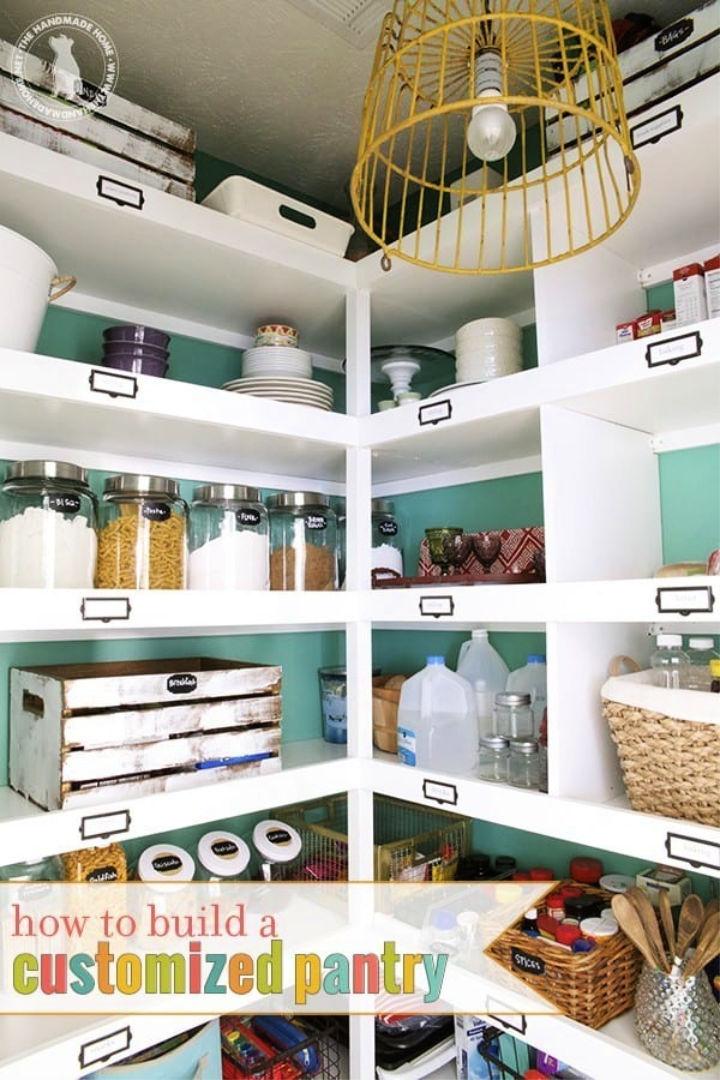 Get here the hack about how to boost the storage capacity of your kitchen pantry so it will store more nicely without making the mess. The idea is to build the corner pantry shelves of your own without hiring a professional. The project involves doing a makeover of old pantry shelves using melamine boards, 2x2s, 1x3s, 1x2s and L-brackets. Details here thehandmadeh
6. Create an Organized Pantry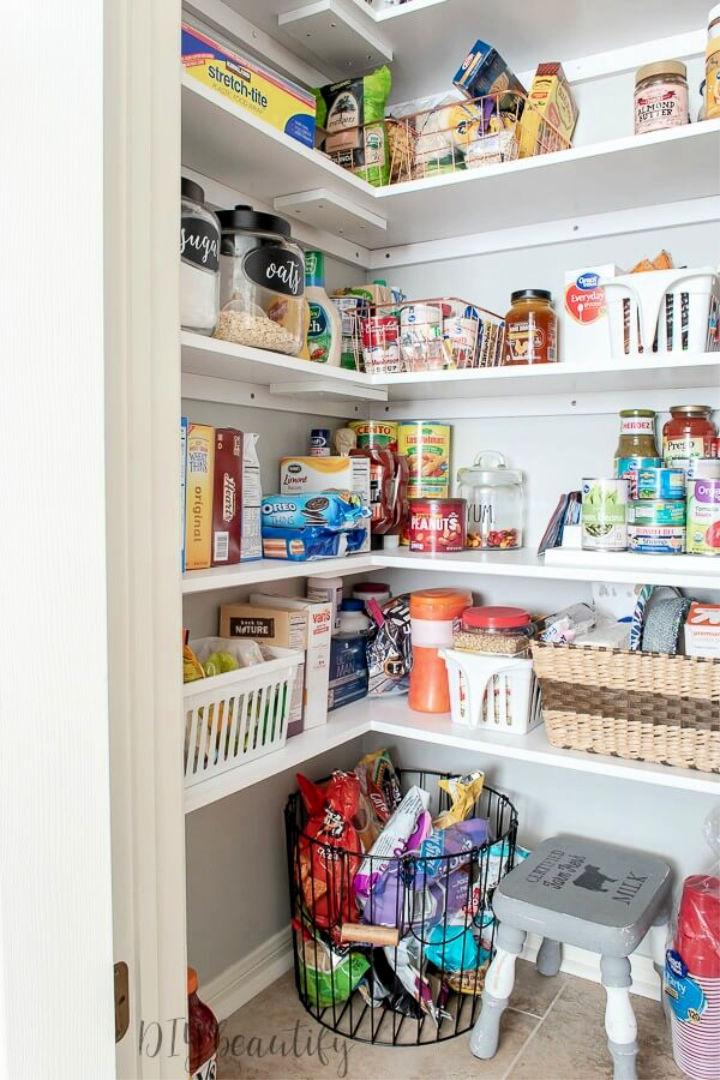 Want to build custom pantry shelves for added kitchen storage space? Then get here free plans for it. In supplies, you need 1/2" thick laminated wood boards, and primed 1x2s trim boards. First, install the shelving supports or rails on the marked shelving lines, next place the laminated wooden shelves on them. Details here diybeautify
7. How to Build Pantry Shelving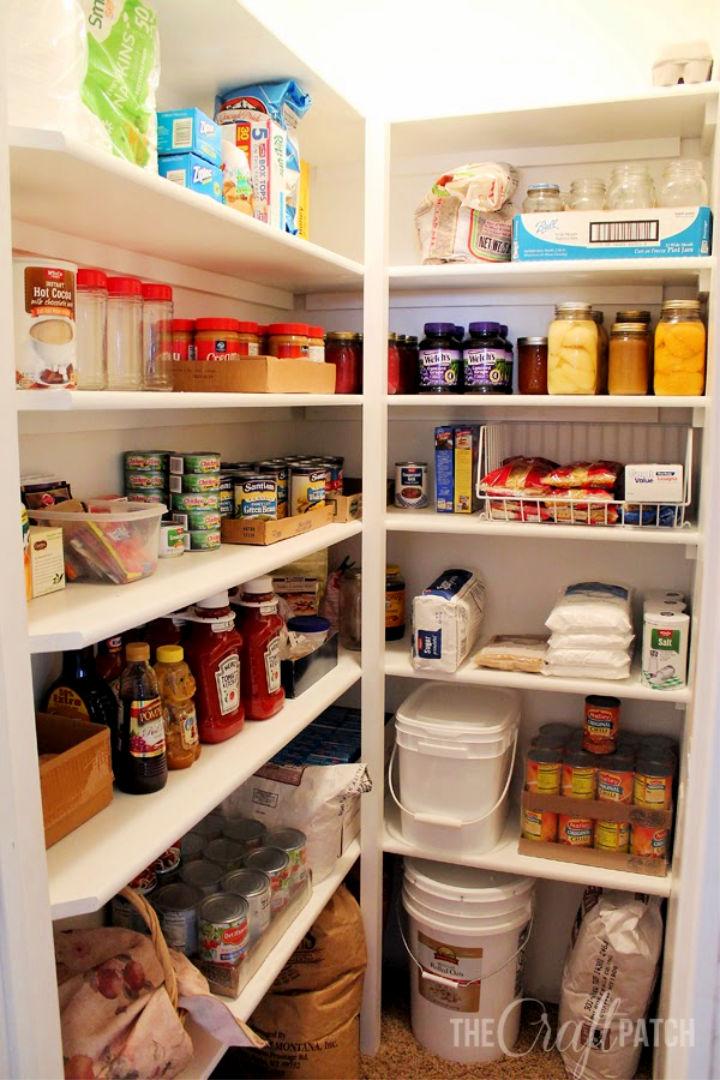 A well organized pantry also gives you the ease to pick and drop the very needed items. So, learn here how to build pantry shelving like a pro to keep a good stock of kitchen food items and other beverage supplies. This pantry measure 3ft x 4ft. First mark the equally spaced shelving lines on the wall, install rails and then make them hold the shelves. Make the shelves out of MDF and use the L-brackets and a long vertical corner 2×2 corner support to assemble them nice in place. Details here thecraftpatch
8. Pretty Pantry Shelves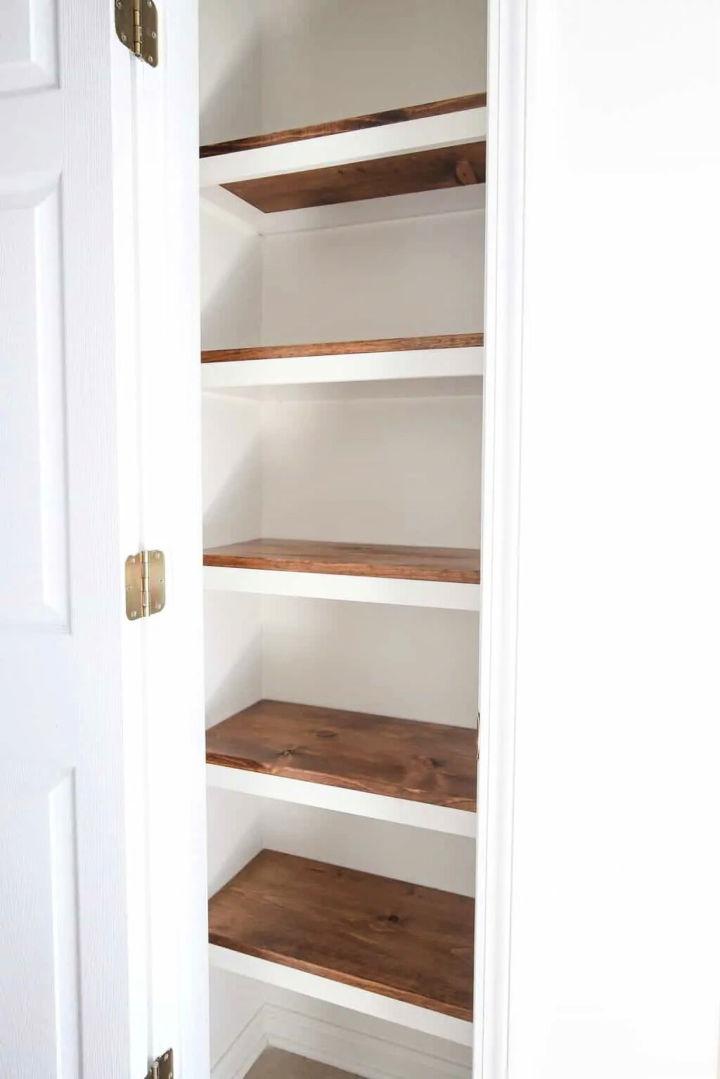 Look at these modern and farmhouse style pantry shelves. Again, a creative makeover of an old pantry. Use the 1×12, 1×2, MDF boards, wood stain, paint and polyurethane to do this project. Use the smaller boards to install the shelving rails and then install the shelves. A smartly creative DIY Pantry Shelving Project. Details here angelamariem
9. How to Replace Pantry Shelving

This pantry shelving project demands for an intermediate skill level. The project will complete in a half day and will cost you much less than you may think. You need plywood, lattice strips, wood or drywall screws, wood filler and nails for this project of replacing pantry shelves. White semi-gloss paint and painter's tape will also be needed. Details here diynetwork
10. The Ultimate Custom Pantry Shelves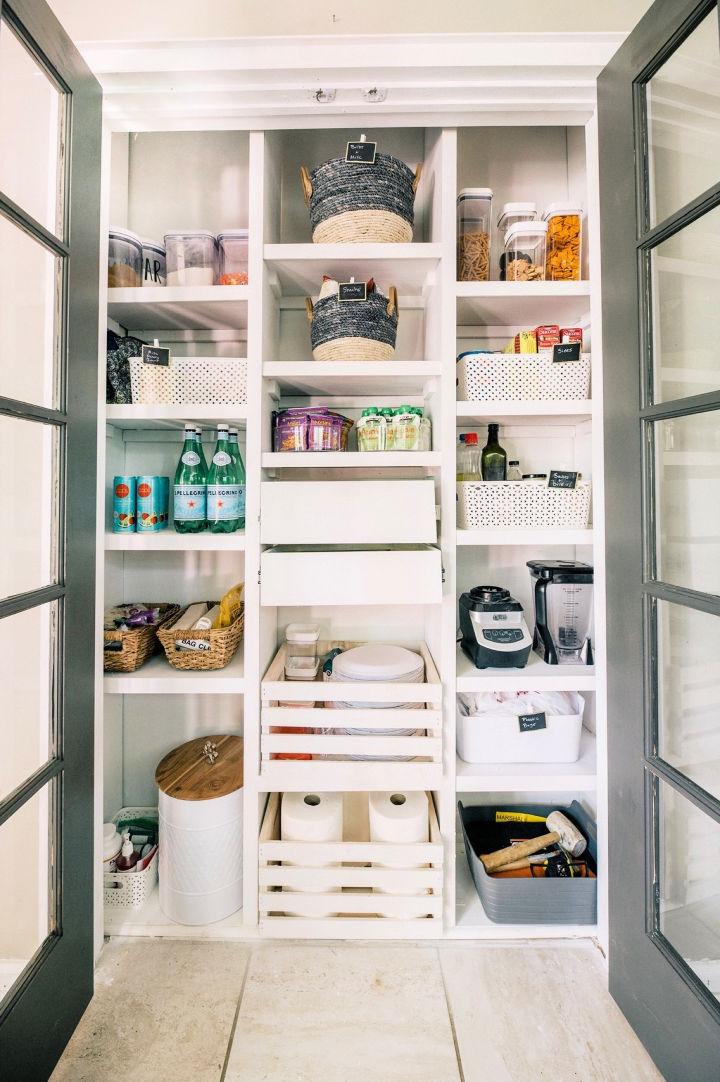 Get here the ultimate directions and instructions about how to build the ultimate custom pantry shelves that will really serve long. Cut the shelving lengths out of plywood and use the lattice wood for trimming them. Further you need 1x3s, primer, white paint, corner brackets, and wood filler for this project. Details here liveprettyonap
11. DIY Built In Pantry Shelving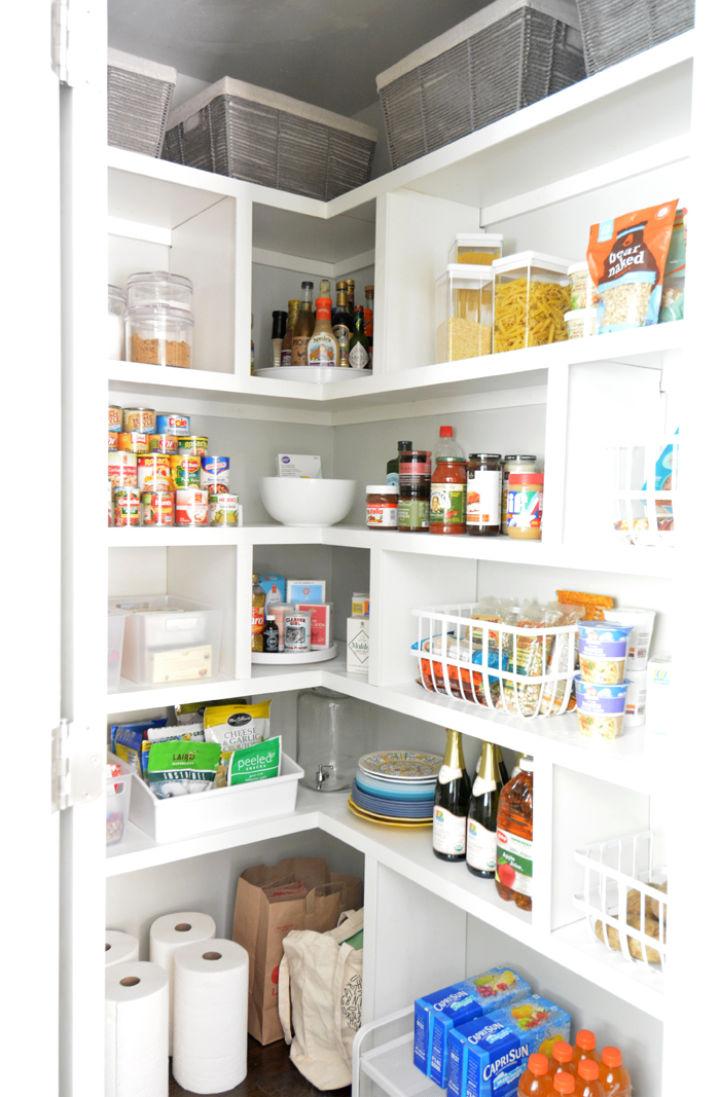 It can make your kitchen look ugly and dirty to not have the right space to store the kitchen staples. So, head over to this built-in pantry shelves for boosting storage space of your kitchen. The projects involves using 12" and 15" deep particle board shelves, 3/4" x 1 1/2" shelf support base, 1 1/2" lattice trim and custom shelving hardware. Details here centsationals
12. Super Easy Industrial Shelving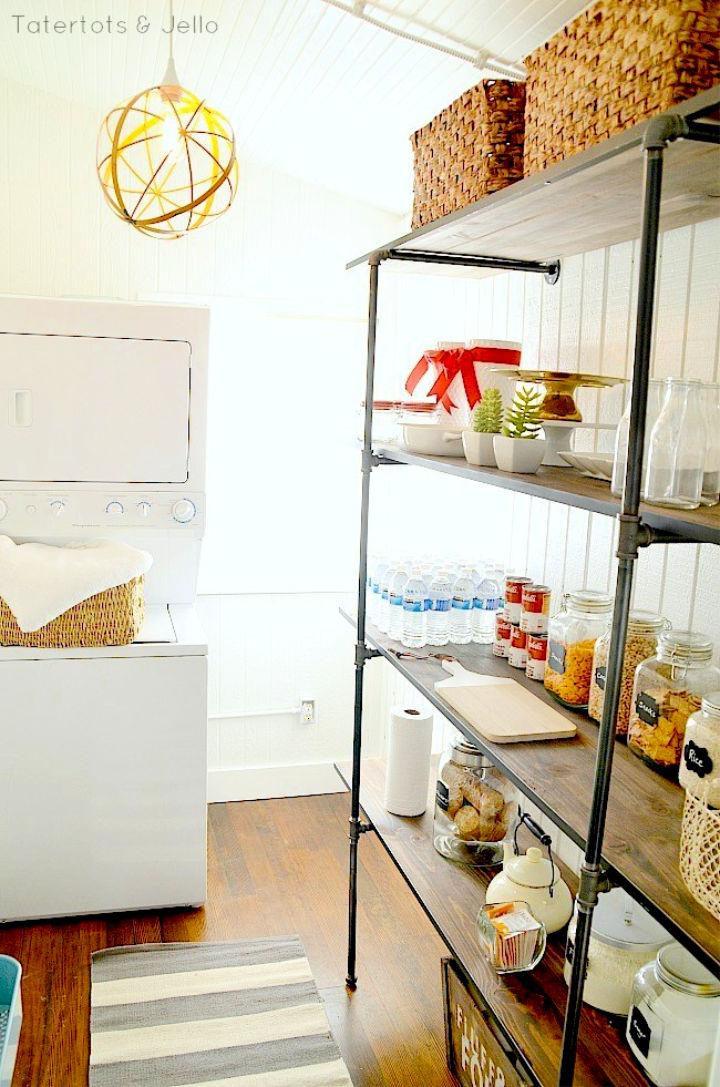 If you are store to a large collection of items over the shelves then opt for this more stabile industrial pantry shelving. These shelves will handle a lot of weight over them. Put together the metal pipes using elbows, floor flanges and T-joints to build the shelving frame. Next, install the pre-trimmed wooden shelves. Use aluminum pieces for shelf trimming. Details here tatertotsandje
13. How to Make Built-in Pantry Shelves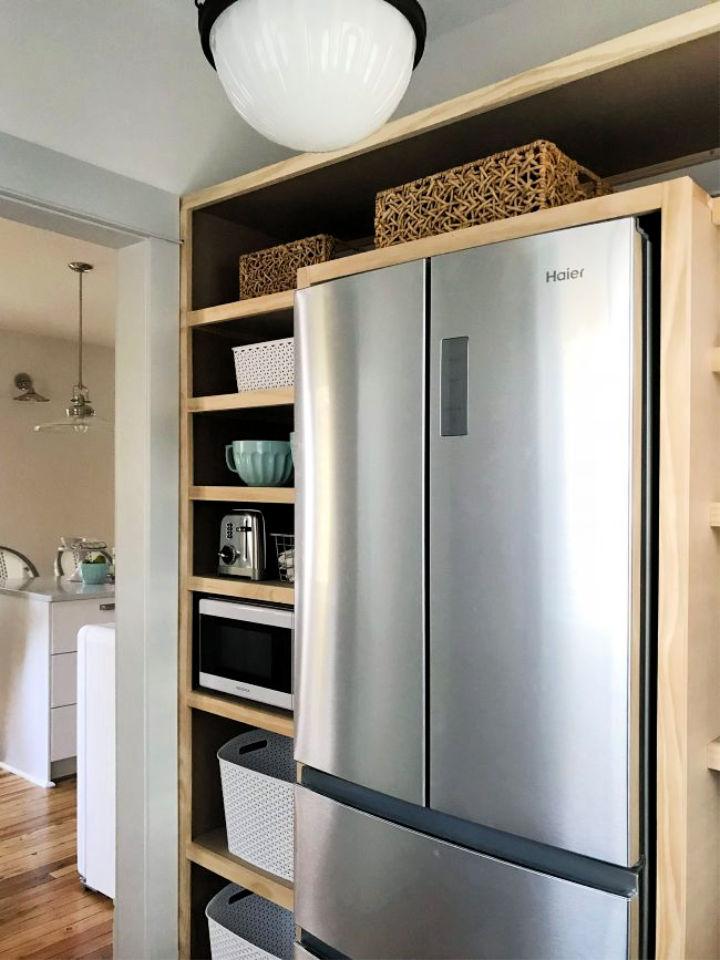 Get creative with the MDF sheets and 1x2s boards also to organize your kitchen. The idea is to build the built-in pantry shelves with them, will provide ample storage space more to your kitchen. Here all these DIY pantry shelves have been built around the fridge and they will bring tons of visual grace too to your kitchen. Details here younghouselove
14. Inexpensive Pantry Shelves

Installing custom built-in pantry shelves can really get expensive when you hire the professionals. So, be your own boss and install expensive looking pantry shelves inexpensively. Grab the 1×12, 1×2 and 2×2 lumber boards to install these pantry shelves, will be more durable than those wire shelves. Details here thenavagepatch
15. Industrial Farmhouse Pantry Shelf

This pantry shelving unit can stand along and can be dragged to any space in your kitchen. To build this movable or portable pantry, you need 2×10, wheels of choice, weldable steel slats, and kreg jig system. Use the custom paint or stain to finish the design for a custom look. The steel slats make a lovely X back that makes the design a lot more prominent. Details here theweathered
16. Sliding Shelves In A Pantry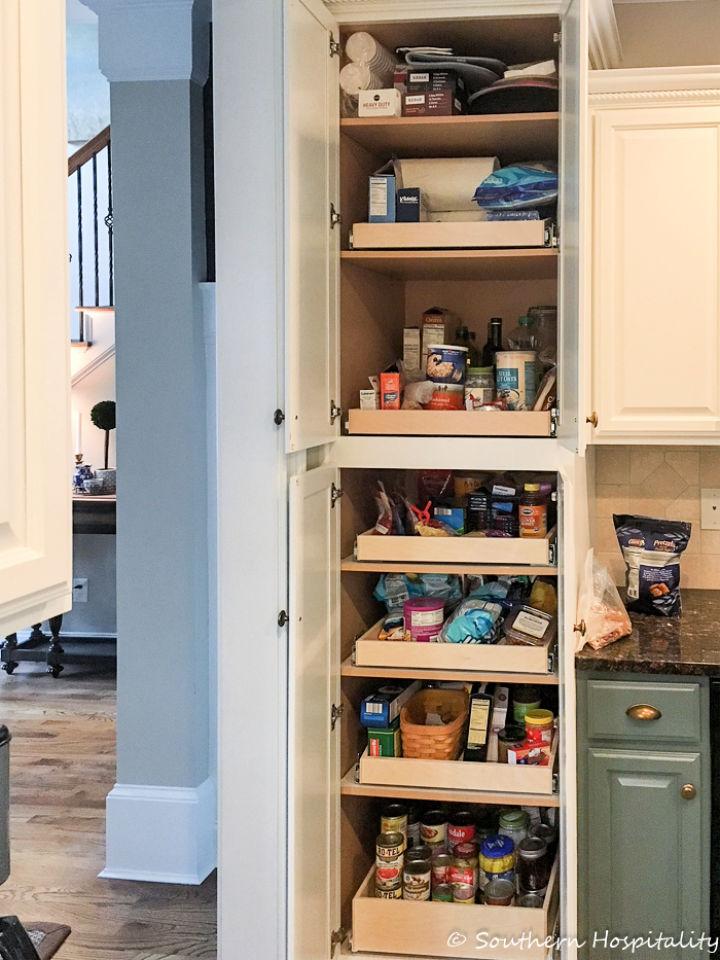 Finally, you have got free built in pantry shelves plans for the ultimate kitchen pantry. With the help of provided guides, you will be able to build the sliding pantry shelves. Here the idea is to install the custom wooden boxes on the already built-in pantry shelves with the help of metal mount drawer slides. So, they will come out nice to serve. Details here southernhospit
17. Basic DIY Closet Shelving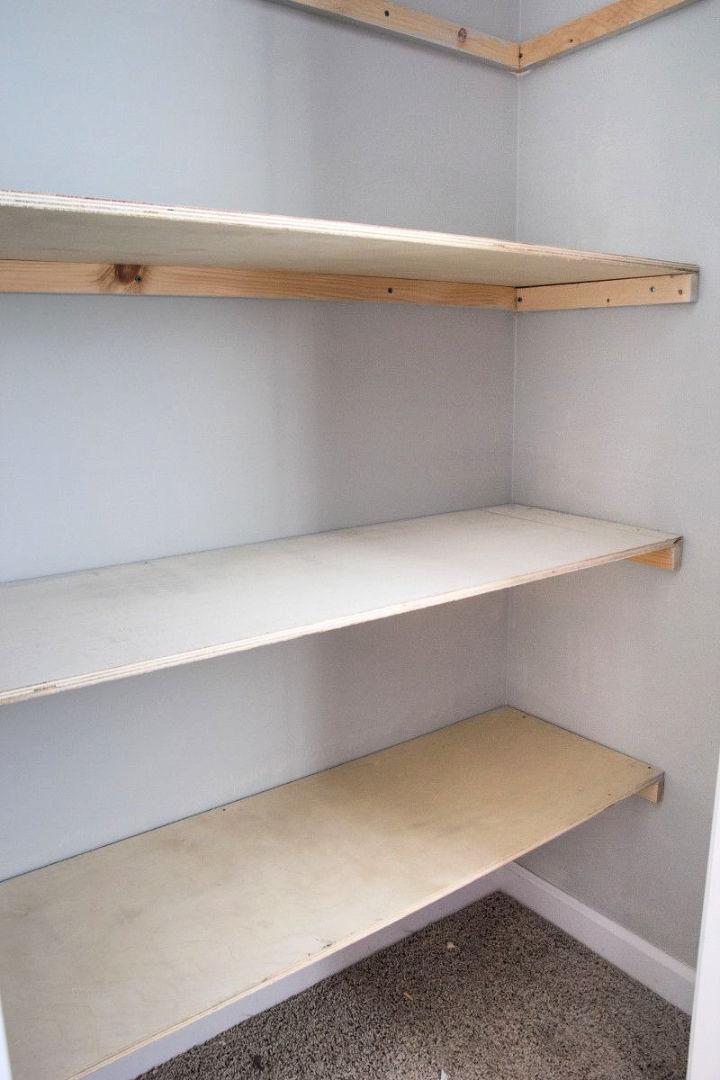 Get here a whole bag of tricks to install the professional style pantry shelves on your favorite kitchen wall. First do some measurements and install the shelving rails on the wall. Next, make them hold your shelves that you can cut also from the MDF or plywood boards. You can cover the shelves with wallpapers too. Details here blesserhouse
18. DIY Custom Walk-In Pantry

Are you having problems in storing more in your kitchen that is highly needed? Then time to start the serves of this custom walk-in pantry that will provide your kitchen flexible storage space. Again market the line for the equally spaced shelving and then install the shelving lines. Further, install shelves and gain a walk-in pantry. Details here stacyssavings
19. Farmhouse Pantry Shelves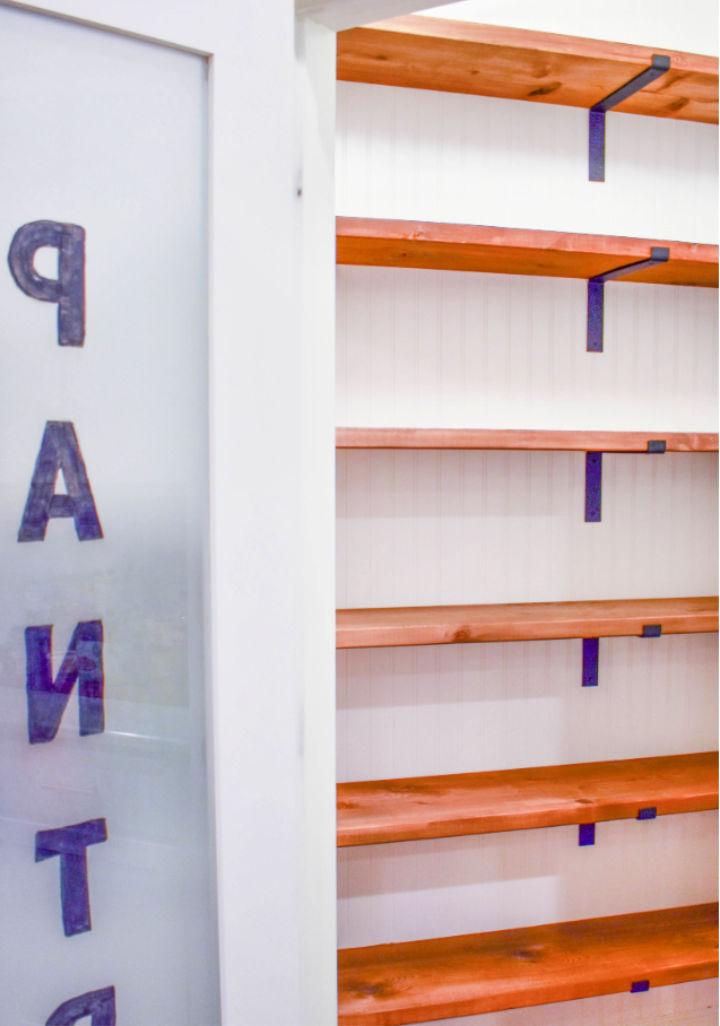 Choose the cedar boards to build these farmhouse style pantry shelves. They are durable and beautiful enough to show off with. This is here a 4×4 corner pantry that comes with a door set on an angle. The idea is to replace the old baskets with the cedar wood shelves, support them in place using the metal brackets. Details here jenron designs
20. How to Build Custom Pantry Shelves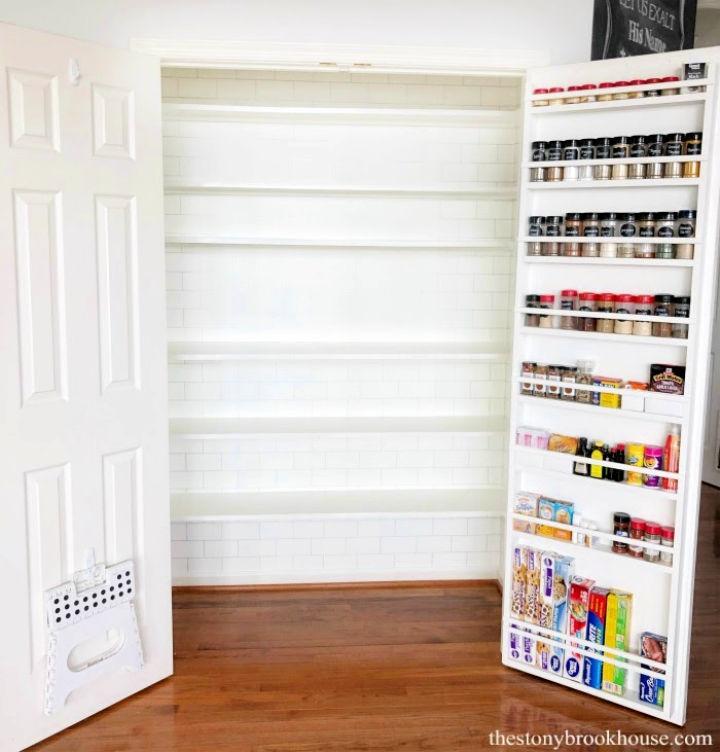 Use the 1x8s and 1x12s board for these pantry shelves. First, plan your area then mark the shelving lines with proper pantry shelf spacing there on the wall to install shelving rails. Make sure they are equally spaced, and next, make them hold the shelves. Stain the shelves if you want to add more unique and enchanting wood tones in the kitchen. Details here thestonybrook
21. Ana White Pantry Shelves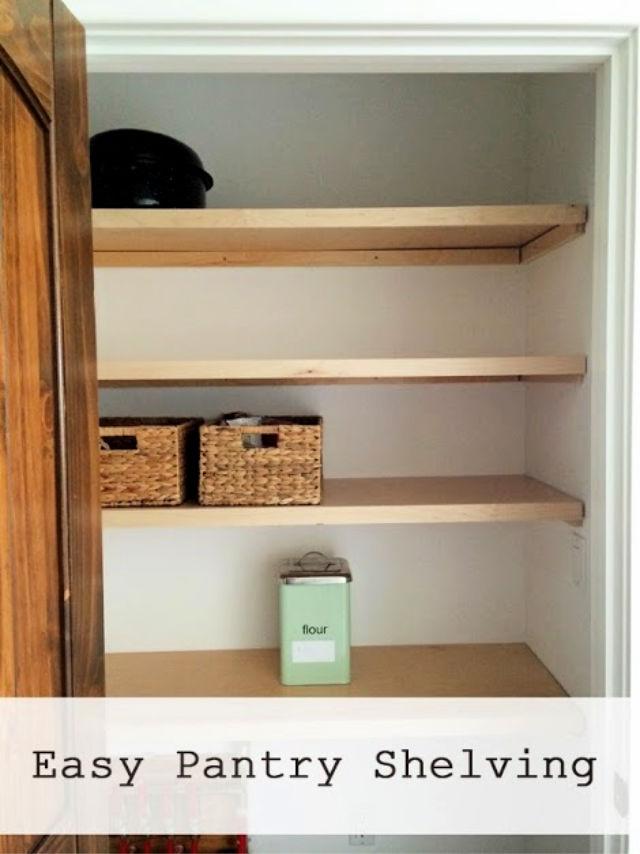 Look at the amazing transformation of a closet into pantry shelves. It is 4ft wide and 2ft deep, and you need the 1x2s and plywood to build these pantry shelves. The plywood shelves look great with 1x2s front trimming. You are all free to prefer your own beautiful hardware hanging system for these shelves. Details here ana white
22. Beautiful Farmhouse Style Pantry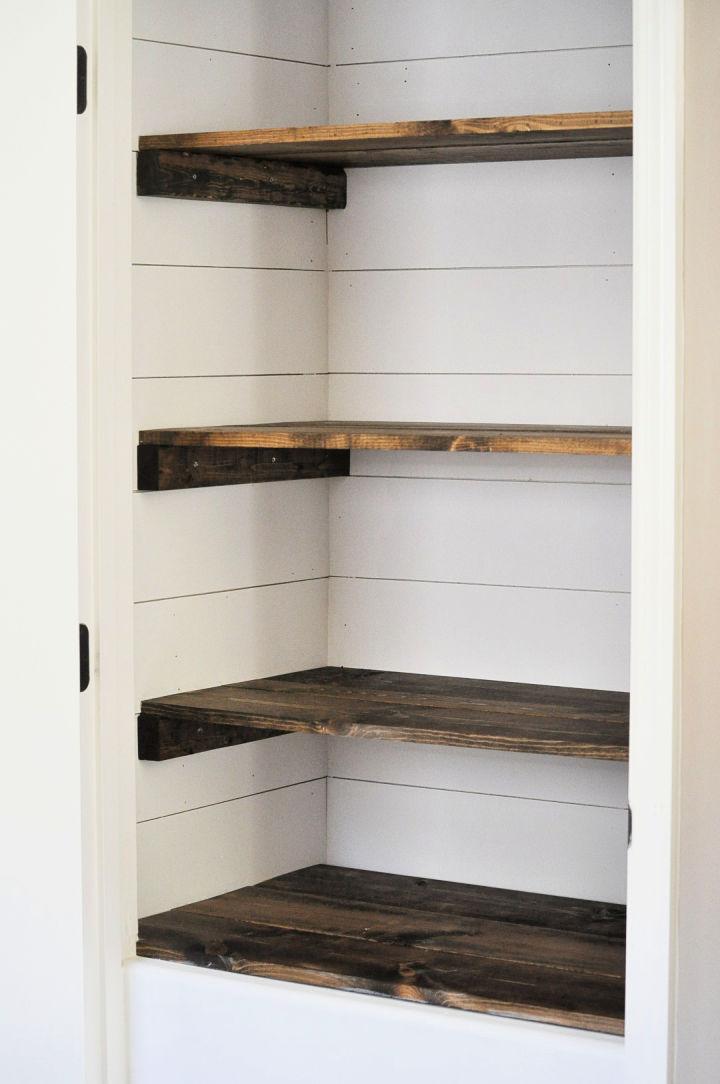 Do a decorative makeover of your pantry by installing stained and shiplap wood shelves that will instantly fancy up your pantry. This makeover helps create a farmhouse style look of the entire pantry. You need the white wood, dark wood stain, stud finder, drill, drywall anchors, level, and white paint, etc. to do this project. Details here littleglassjar
23. Wooden Pantry Shelves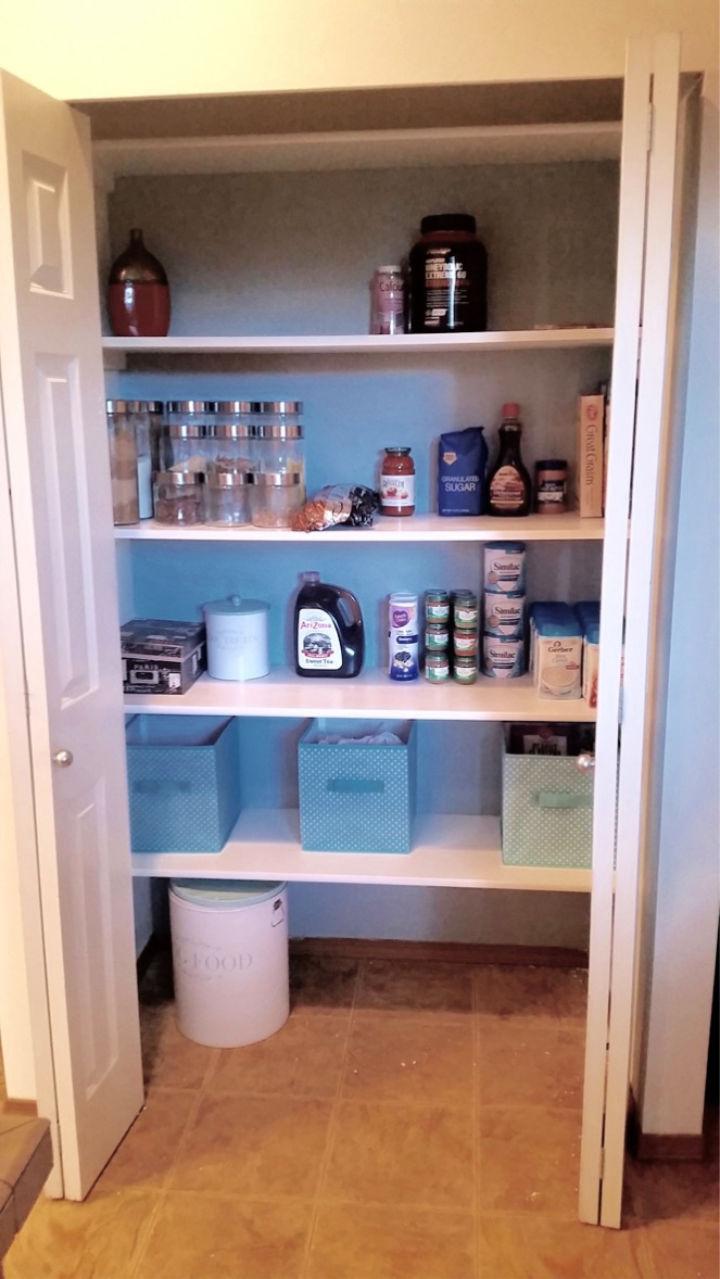 Maybe you are new to install a pantry shelf, having trouble in the installation? Get here free instructions to install built-in wooden pantry shelves. The very first step in the project is to install the shelving rails, then simply set the shelves on them and gain a lovely wooden pantry. Details here homesweet
24. Building Pantry Shelves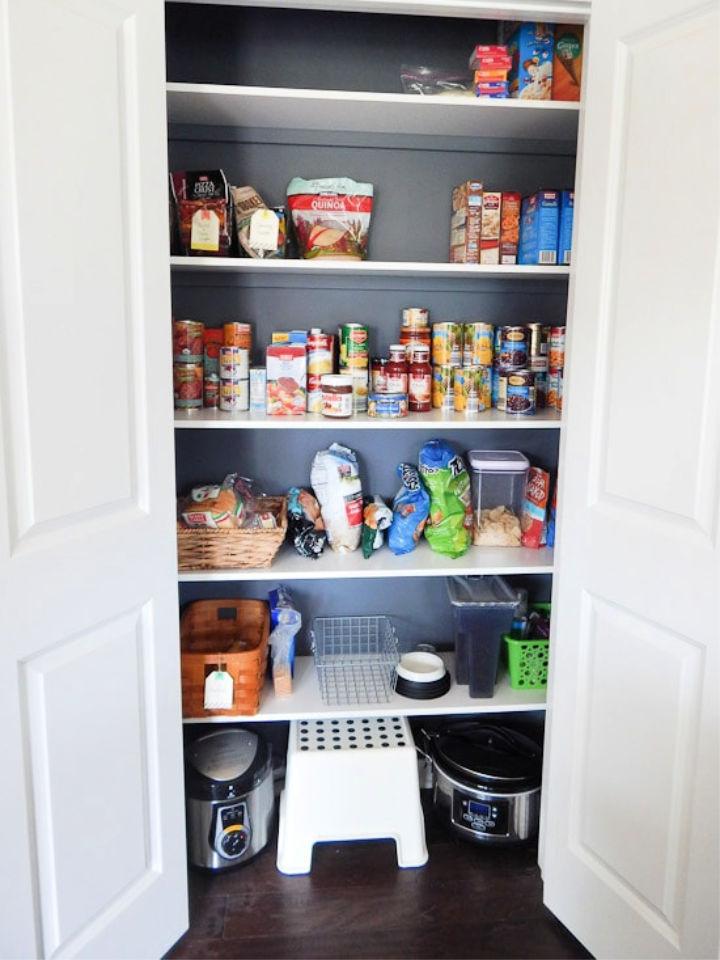 Grab the pre-finished MDF boards and vinyl finished MDF boards to do this wooden pantry shelf project. Install the 3/4" x 2" pre-finished MDF boards to install the shelving rails and next make them hold the MDF shelving boards. 12" x 6′ white vinyl finished MDF will rock for making pantry shelves. Details here keystoinspiration
25. How to Build Pantry Shelves

Grab diy pantry shelving system the 2×4 studs, a sheet of drywall, farmhouse trim, 12" and 16" laminated pine shelving boards, 2x2s, 1x2s, a door, and doorknob to build these fantastic DIY pantry shelves. Build from the frame with the 2x4s and use the 1x2s for installing the shelving rail. Cut the shelves out of laminate boards and place them over the shelving rails. Details here theoldsummers
Conclusion: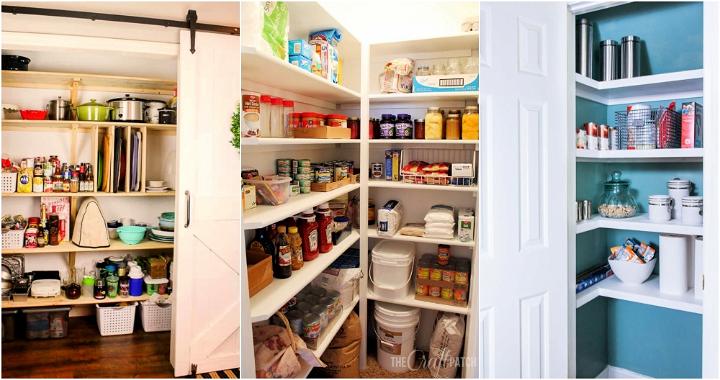 Are you willing to replace your pantry that is messy and ugly? Do you dig through your pantry shelves to find the needed items of beverage and food? Then the time is to jump to a new customized pantry that will give you the ease to pick and drop the items and will help maximize the kitchen storage space too.
Explore these DIY pantry shelves plans to install a pantry of your dreams, that will digest all kitchen clutters along with help you in easy management of kitchen appliances, glassware, and other tools. Time to get an aesthetically pleasing and storage-friendly kitchen without breaking the bank with these DIY pantry shelves. You will get the pantry shelving ideas for every kitchen here.