The entryway is the first place a newly entering person to the home, gets impressed with. So, organize your mudrooms with these 30 easy DIY entryway shoe storage ideas that involve all from shoe racks to mudroom storage benches to shoe storage cubbies. Whether you have a large collection of shoes or a few pairs, there are mudroom shoe storage solutions for all your shoe storage needs.
Learn how to easily organize your shoes with these 30 functional entryway shoe storage ideas for small and large spaces. There are tons of entryway shoe storage ideas to choose from according to the style and space of your entryway.
Explore this collection of 30 DIY entryway shoe storage ideas and see all the homemade creative solutions to tidy up your mudrooms. From building rolling mudroom storage benches to wall mounted shoes rack to epic self-standing entryway benches, get here free plans, step-by-step instructions, and tutorials for all.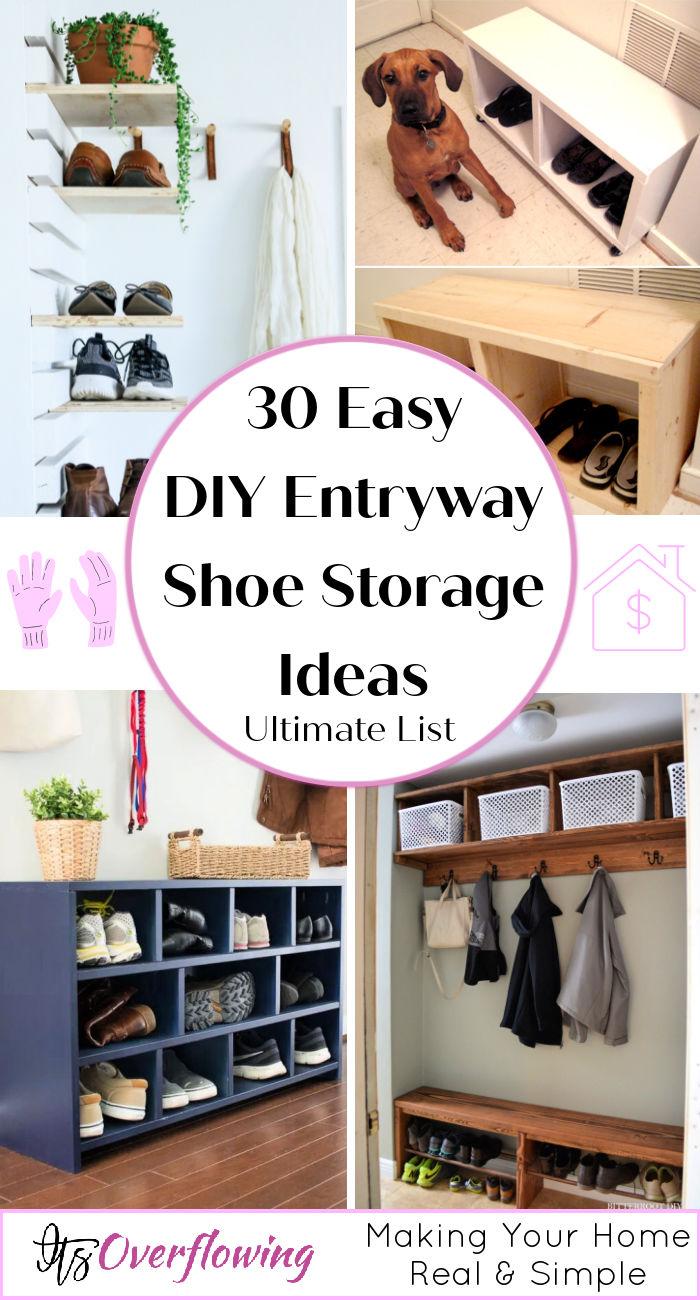 Furthermore, if you have a big obsession with industrial furniture, then do get here ideas to build the lasting longer industrial mudroom shoe storage benches that will serve for years to come. Next, build the hall tree-inspired entryway shoe storage designs, too, will provide built-in storage compartments and coat racks too.
Next, repurpose the old home dressers, chest of drawers, and headboards also to build no-cost yet stylish entryway storage benches. All these small entryway shoe storage ideas will allow you to comfortably wear and take off and also to store your shoes while going in or out of the home. Look through all the shoe storage ideas to get more unique DIY Entryway Shoe Storage Ideas, and they will surely make your life.
1. Entryway Shoe Storage Bench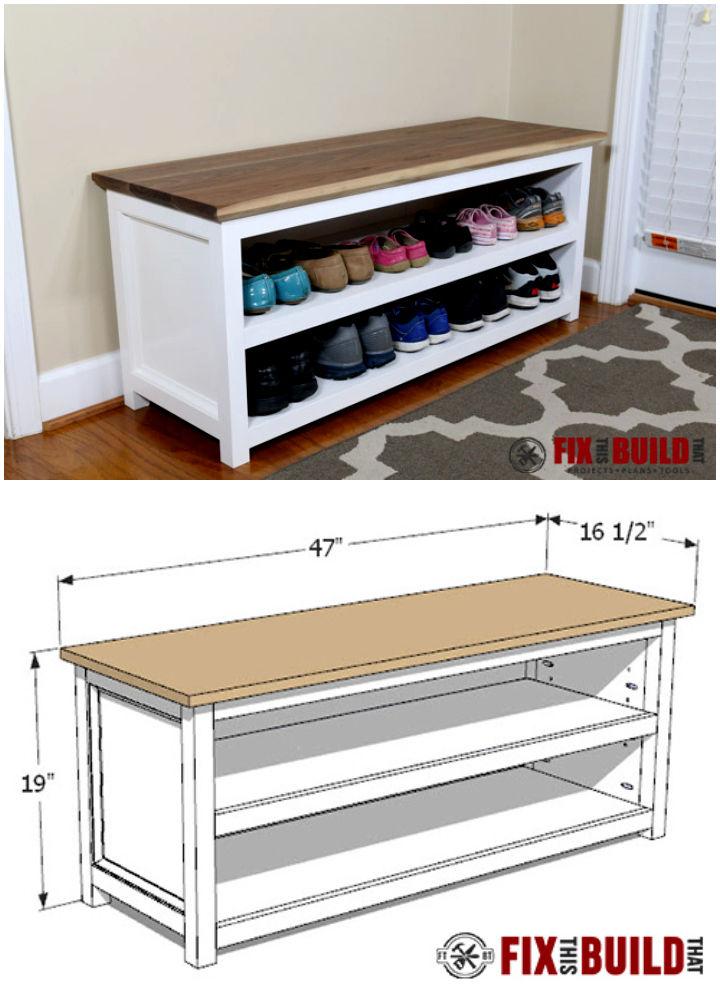 Organize your mudroom by having this entryway shoe storage bench, will lift up the mood of your entrance, too, with a crazy farmhouse style design. Build this bench with two built-in shelves using 3/4" plywood, 1/4" plywood, 1×2, 2×2, cove molding trim, semi-gloss white paint, and stain polyurethane. The finished size is 47" long and 19" in height and is 16.5" deep. Details here fixthisbuildthat
DIY storage bench plans: Build a storage bench for your mudroom, foyer, or hallway using these free DIY storage bench plans, providing hidden storage to stash your extra stuff.
2. DIY Entryway Shoe Storage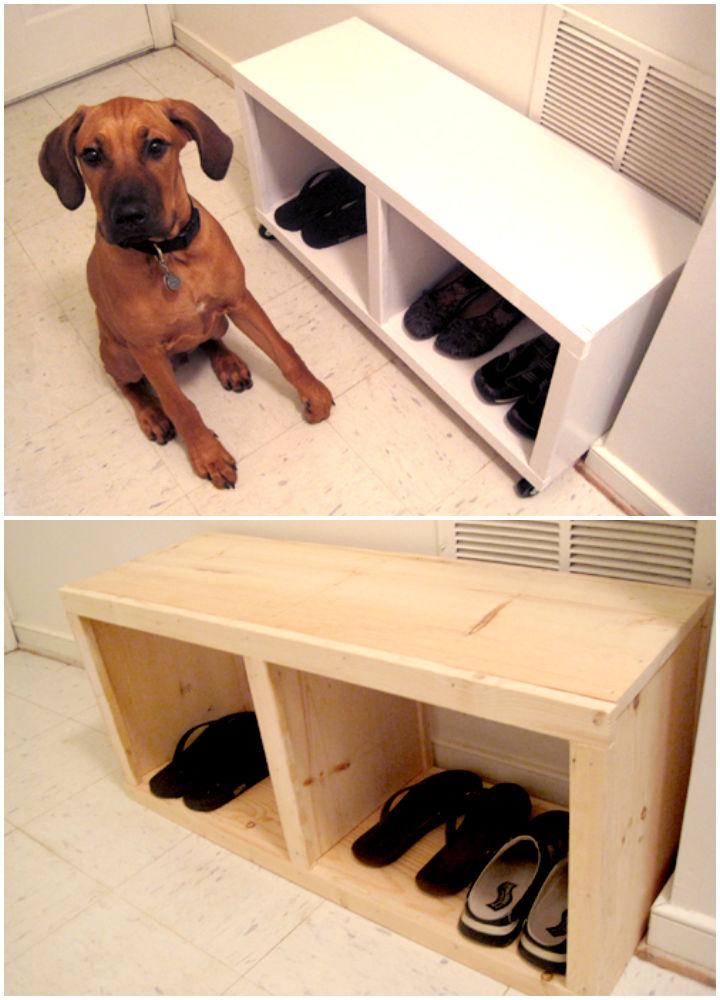 Looking for some great design of mudroom benches? Then do organize your mudroom with this easy to build entryway shoe storage, will be a pleasure to build. This bench is much like a giant wooden crate having two built-in storage compartments. The design is inspired by West Elm rolling furniture and will cost you less than $65. You need wood glue, wood filler, 1×2, 1×12, paint, primer, industrial casters, and finishing nails to build it. Details here jenwoodhouse
3. Entryway Mudroom Tutorial

Get here free plans to build this mudroom using a self-made hall tree. There is a giant white back having a width equal to almost 3 standard size single panel doors. It makes an alluring white background and holds a beautiful green wreath in the center. Finally, there comes a built-in bench having built-in storage compartments stuffed with woven wicker baskets. Details here sarahanndesi
4. Shoe Storage Bench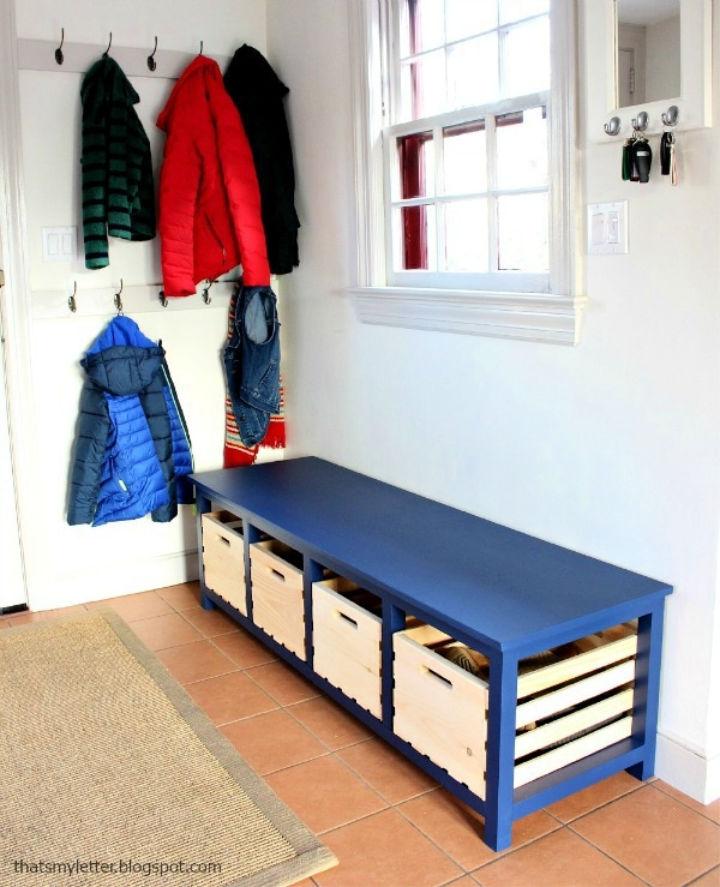 Head over to this slime long storage bench that is having underside filled with 4 wooden storage crates. The 4 crates are actually 4 different storage options letting you store a variety of items and shoes. You need plywood, pallet wood crates, 2×2, wood glue, wood screws, and pocket hole screws to build this storage bench. Details here jaimecostiglio
5. Entryway Shoe Storage With Cubbies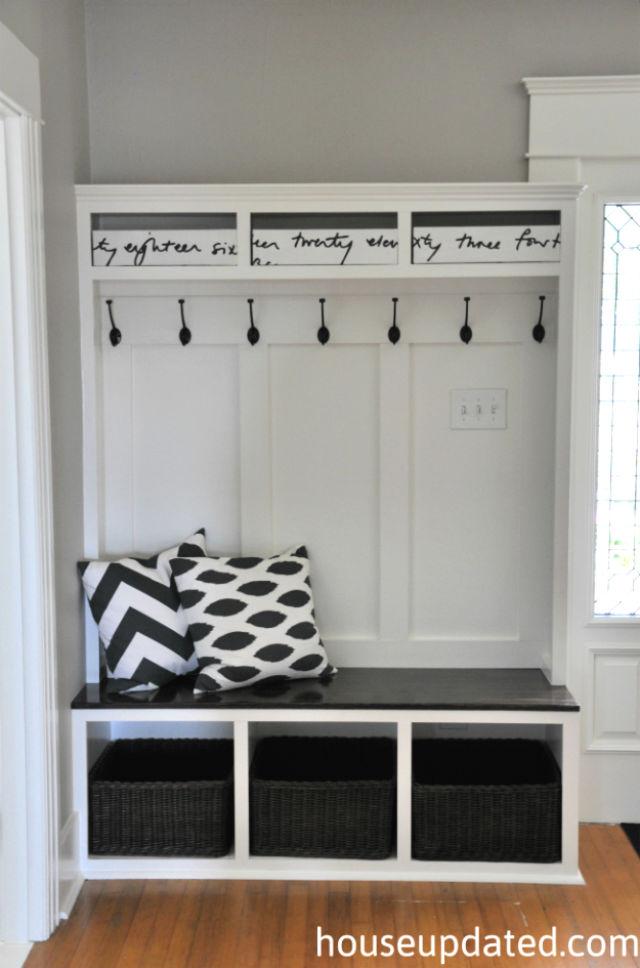 Leave a great impression on your guests by building this entryway console, provides smart storage space in the form of built-in cubbies. The design is much like a hall tree and provides a giant back loaded with hanging hooks. Construction will demand MDF, 1x2s, 1x3s, cove molding, brick molding, crown molding, hooks, lattice boards, primer, and paint to build it. Details here houseupdated
6. Headboard to Shoe Storage Bench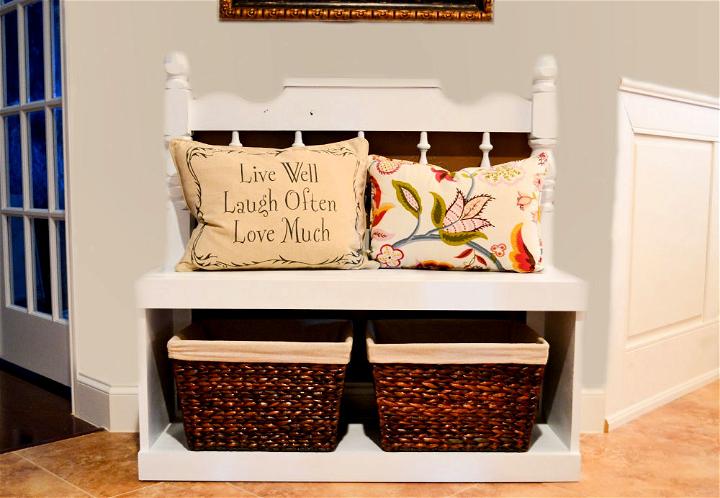 Recover the amazing items of furniture out of leftover, old, and crumbled items of furniture. Make this shoe storage bench out of a headboard, will help organize a whole mudroom efficiently. You need a twin size headboard with spindles, and build the front storage-friendly seat out of the wood of choice. Add as many built-in compartments as you need. Details here jenandjercook
7. Handmade Entryway Shoe Storage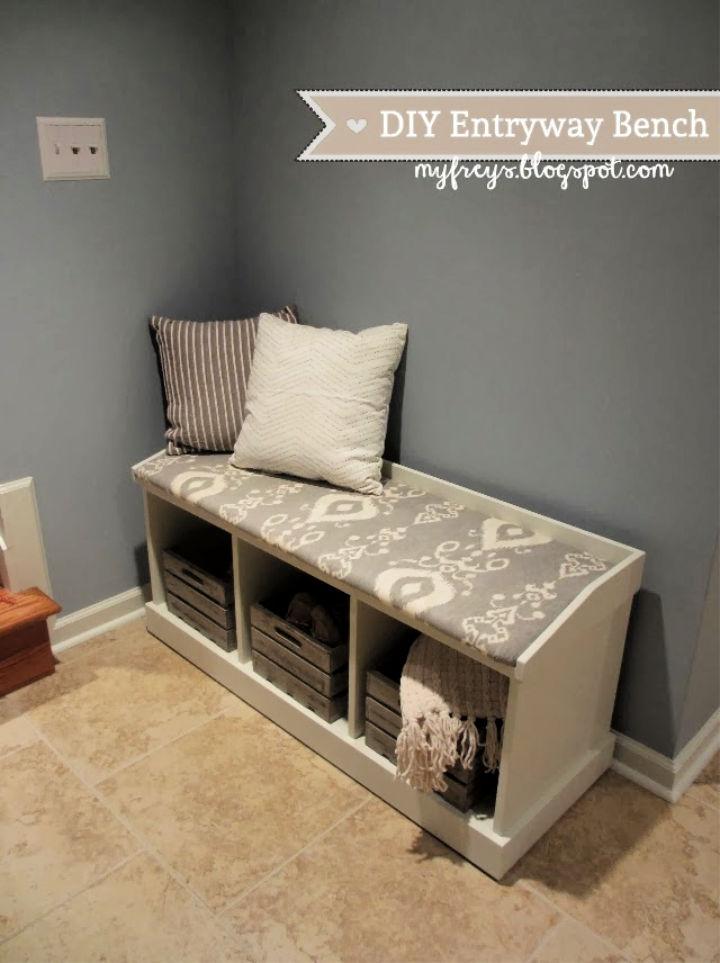 Wishing to fancy up your entryway more? It is darn possible if you go with this entryway shoe storage, provides a hot seat to sit, and some lovely built-in compartments. It comes with a tufted top and is sure to be a great seat at mudroom. Build this fantastic entryway shoe storage bench with MDF and lumber wood boards. Use the upholstery techniques to make the tufted top. Details here myfreys
8. Easy Shoe Storage Bench

Looking for the best plans to build a shoe storage bench inexpensively and like a pro? Get here instructions to build a lasting longer industrial style shoe storage bench. You need hanging storage baskets, 2x6s, mending plates, trigger clamps, galvanized pipe, floor flanges, and wood stain of choice to build this stylishly beautiful entryway console. Details here bobvila
9. DIY Shoe Bench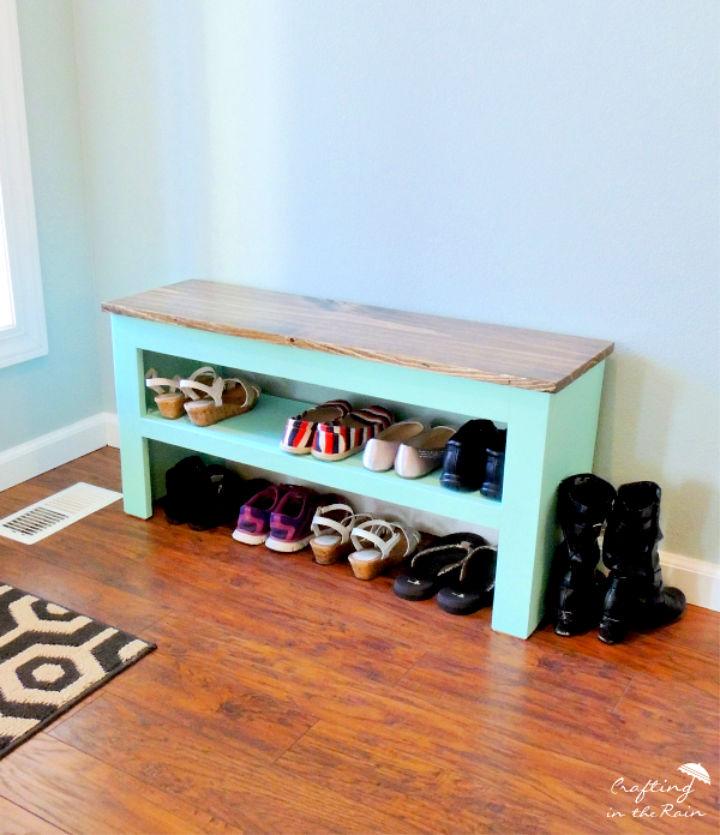 You are often to take off your shoes in the mudroom before entering the further sophisticated home interior. This can be a smart step to keep the environments healthy and hygienic. This low shoe bench comes with 2 built-in shelves and has a brilliant turquoise appeal to impress. It features a rustic wood top that goes amazing with the painted top. 1×12, 1×10, 1×3, and 1×2 to build this shoe bench. Details here craftinginther
10. Industrial Shoe Rack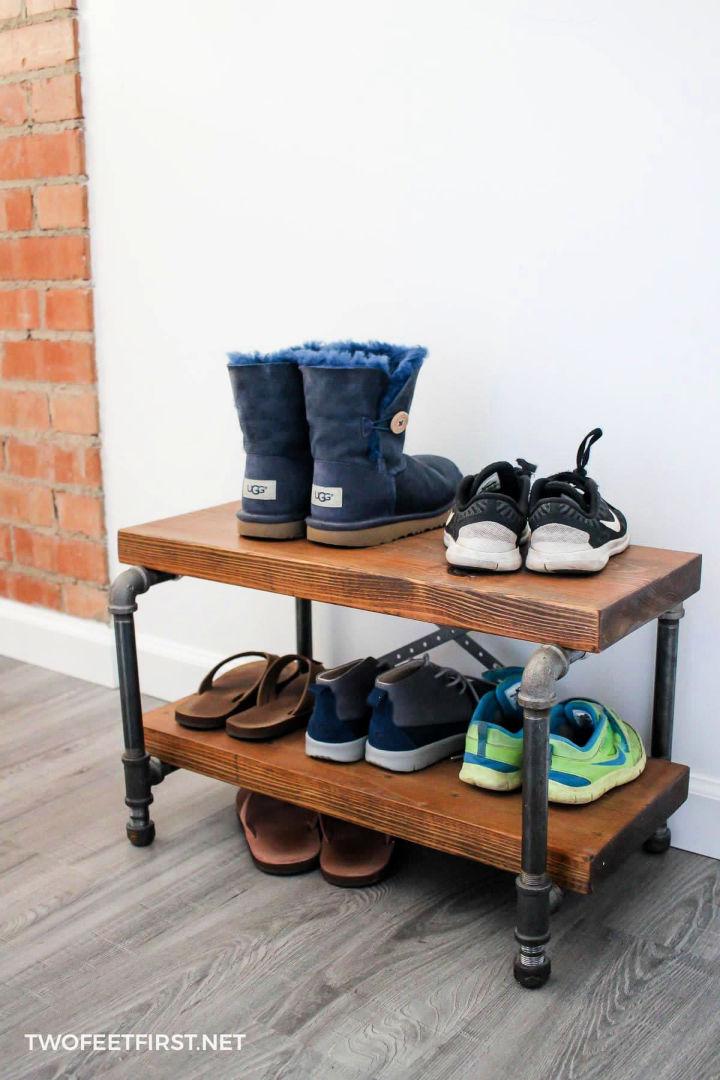 Bring a great industrial touch to your mudroom by building this industrial shoe rack, will make a bench too. Build the base using the 1/2" pipe, 1/2" floor flanges, pipe nipples, pipe tees, and elbows. Opt for the 2x10s wooden boards to build the top and bottom shelf of this industrial shoe rack. Finish the rack with stain and polycyclic. Build X back using strap ties. Details here twofeetfirst
11. Iron Pipe Shoe Rack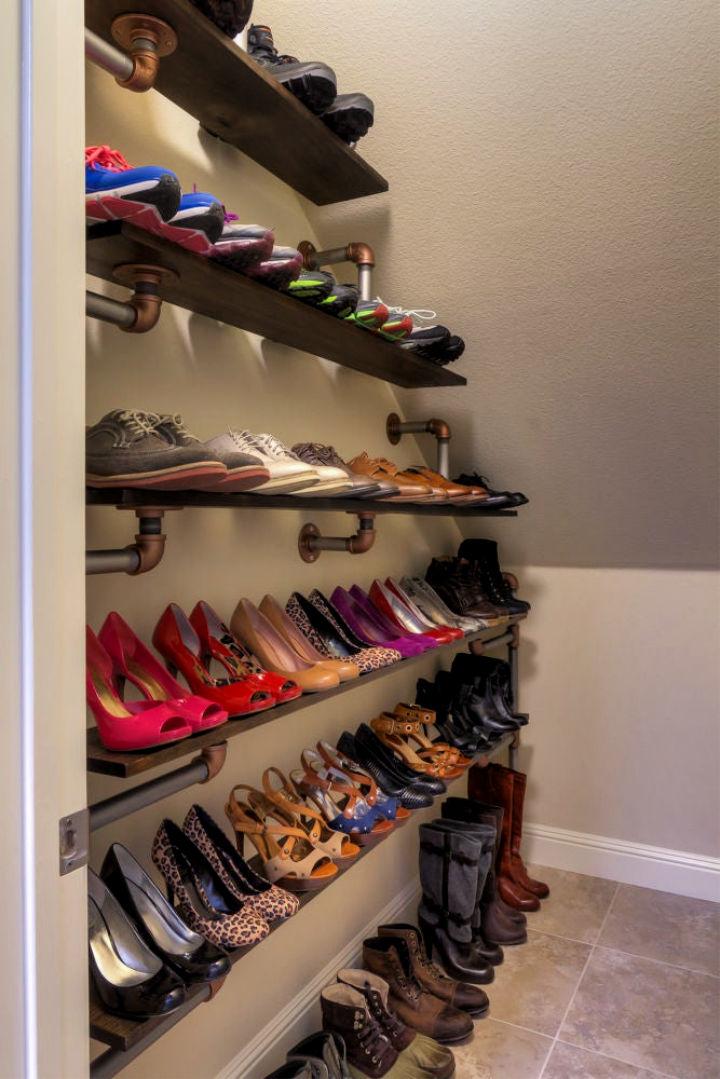 Looking for smart ways to store shoes at the entryway? Then consider building this space savy shoe rack, will create a boutique-style look of your mudroom. Without hiring a professional, the rack is super easy in construction and will be a cheap investment to rank up your entrance. This industrial iron pipe shoe rack has each wooden shelving level supported with an iron pipe and floor flange hooks. Details here
12. Super Sized Shoe Rack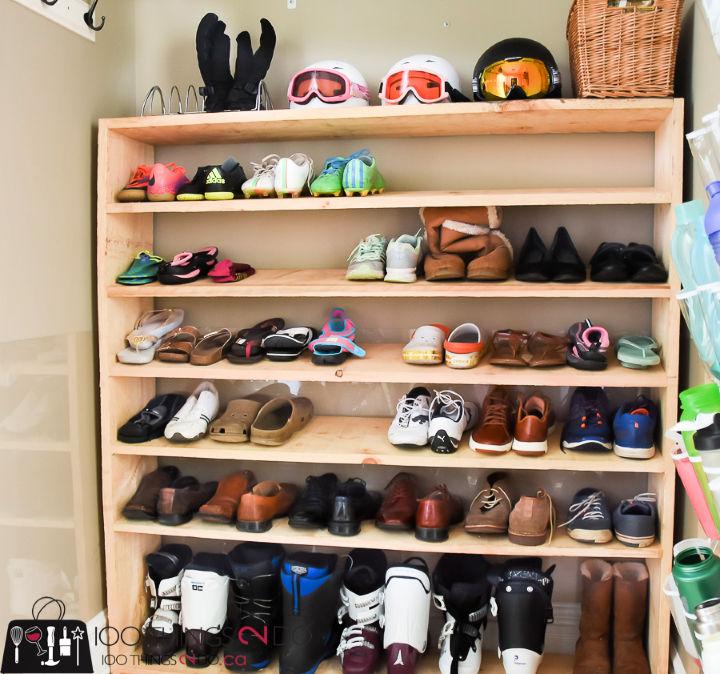 Have you set the rule to enter the home barefooted to keep the spaces dirt-free? Then you must build functional entryway shoe organizers, and racks will nicely organize your shoe piles. Build this lasting longer shoe rack unit out of 1x12s wood boards. It measures 56 1/2" in length and 58 1/4" in height. Opt for the pocket hole joinery system to assemble the rack with making the hardware visible. Details here jenwoodhouse
13. Entryway Shoe Storage Rack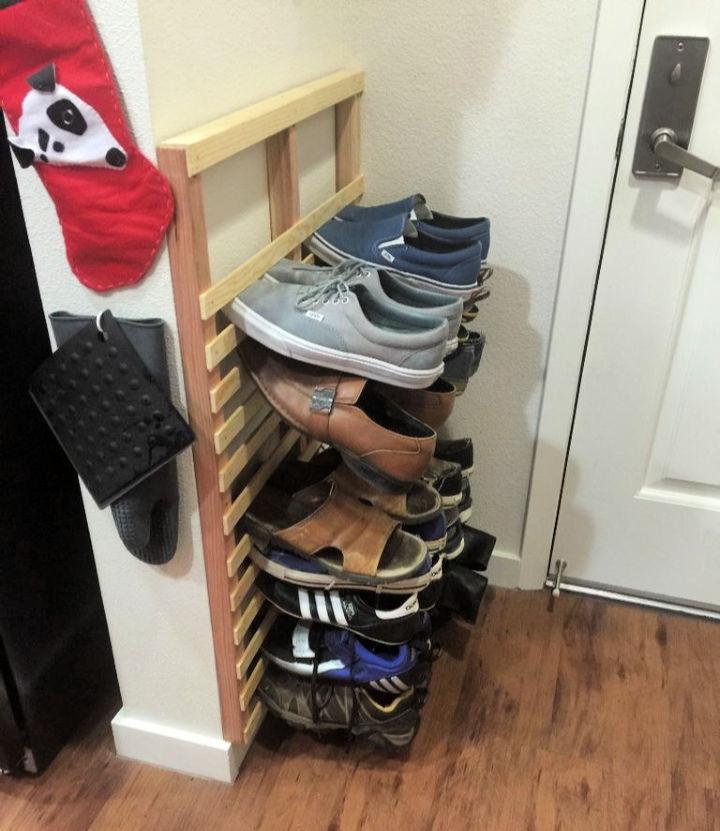 Clone this another quick to build design of entryway shoe storage rack that will not take much space. It is wall-mounted and comes with a slatted front. The slats have enough in-between space to hold the shoes in a nice hanging position. Build the overall frame using 2x2s and then cover the front with slim slats of choice. Details here instructables
14. How to Make a Shoe Storage Bench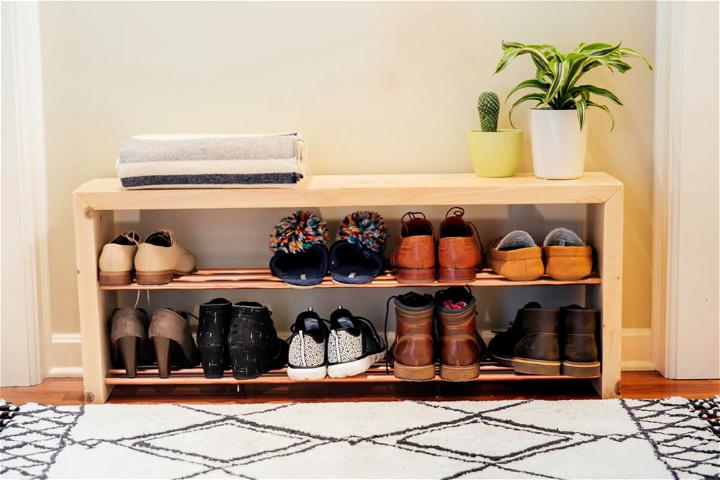 Make it a delight to take off and wear the shoes by building this shoe storage bench. It provides two built-in shelves to organize the shoe stacks. The construction is beginner-friendly and budget-friendly, and you will complete this project in just 4 hours. You need 2×10 and 1/2" copper to build this fantastic entryway shoe bench. Give a polyurethane finish. Details here dunnlumber
15. Mudroom Bench With Shoe Storage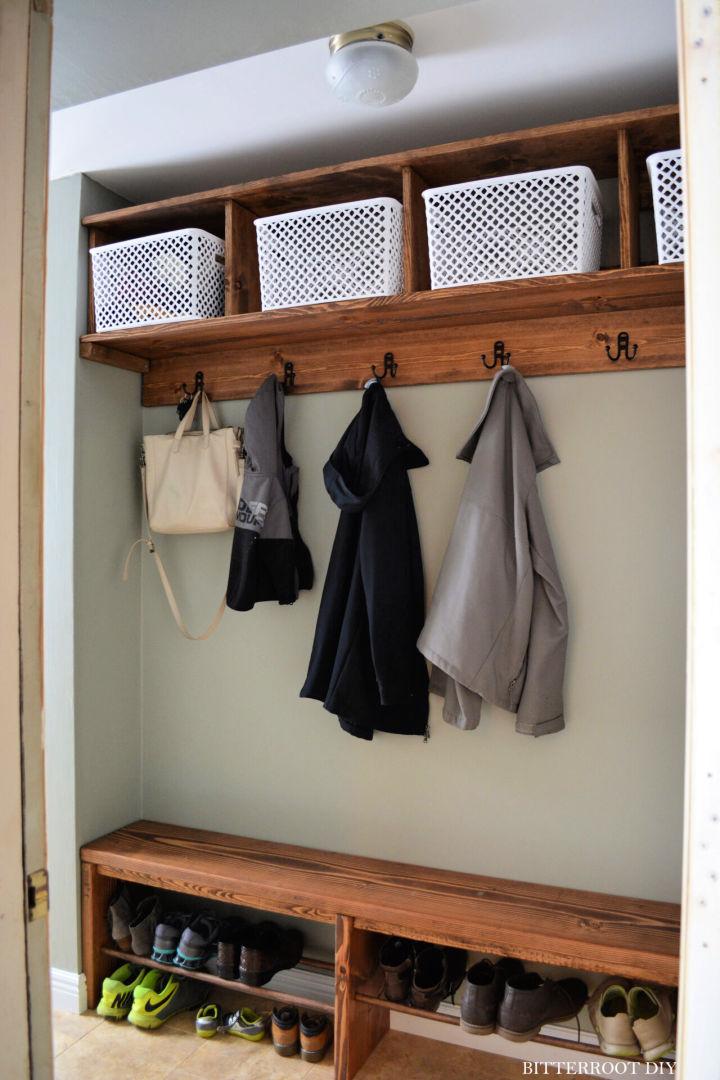 Are you wishing to style up your mudroom then must go with this plan that involves building a mudroom shoe storage bench and a coat rack having built-in basket storage on its top. Get crafty with the 2×2, 2×12, 3/4" wooden dowels to whip up this enchanting design of mudroom shoe storage bench. Details here bitterrootdiy
16. Mudroom Bench Plan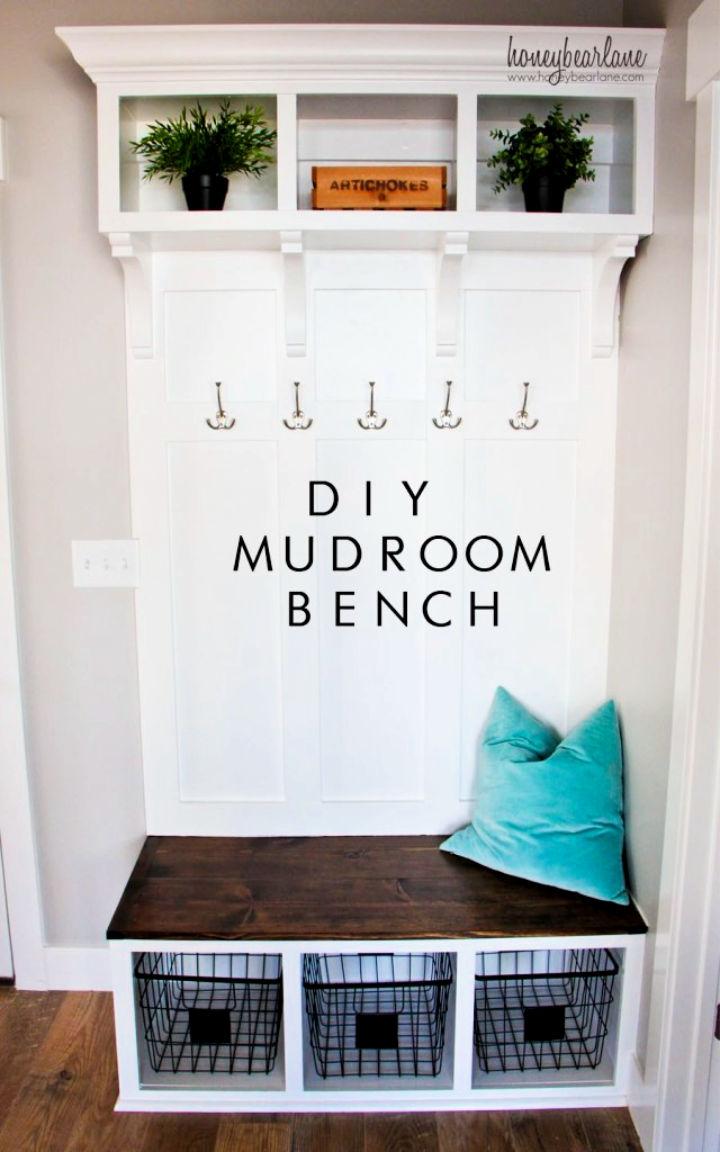 Are you in dire need of an entryway organizer? Then do fancy up your entrance by installing his mudroom bench, which will be super doable with the help of provided free plans. Build this bench with MDF, pine corbels, wood lattice, crown molding, 1x2s, 1×10, and quarter-round. Finish this bench with stain or paint and gain a custom look spicing up your mudroom. Details here honeybearlane
17. DIY Entryway Bench

Rock your entrances with this smartly build a wooden entryway bench, providing cool storage options. It provides two built-in storage shelves and provides a big basket compartment for storing extras. Paint the entire model white and then the top for a striped look. Before use, leave the painted bench over the night. One of the best DIY entryway bench designs ever built. Details here darlingdoodles
18. Headboard to Entryway Shoe Storage

Go handmade with old recycled headboard and accomplish your entryway shoe storage needs building a great entryway shoe storage bench. Grab an old headboard with spindles and then add up with a front crate like seat that will have a custom built-in storage compartments. Paint the completed design for a chic white finish. Details here jenandjercook
19. Entryway Shoe Storage Bench

Look at this mini but great looking shoe storage bench. The crate, like base standing on gorgeous wooden bun feet, makes the design a bit more elegant and cuter. The bench provides a rustic stained top that creates a precious farmhouse style look of this storage bench. Go handmade with 1×8, tempered hardboard, pine trim molding, bracket plates, paint and stain to build this shoe storage bench. Details here remodelaholic
20. Build an Entryway Shoe Rack Bench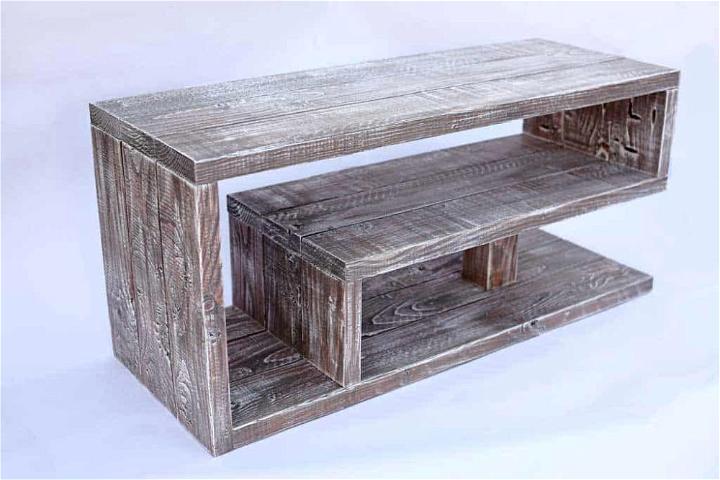 Do you love furniture with stylish curves? Then you will surely fall in love with this shoe rack bench that impresses with its highly sophisticated modern design. The design is assembled with pocket hole joinery, and you need 2x6s, 4x4s, and wood screws to build this entryway shoe rack bench. The finished design is 44" long, 20" high, and 16/5" wide. Details here thediyplan
21. DIY Entryway Shoe Shelf

Create a handsome boutique style display of your shoes by building this entryway shoe shelf. It comes with a number of elegant floating shelves painted in black. Hence they pair up beautifully with the white painted background wall. Fix the shelf brackets on the wall and then make them hold the 1x12inch shelving boards. Details here brickandbanis
22. Entryway Bench With a Shoe Rack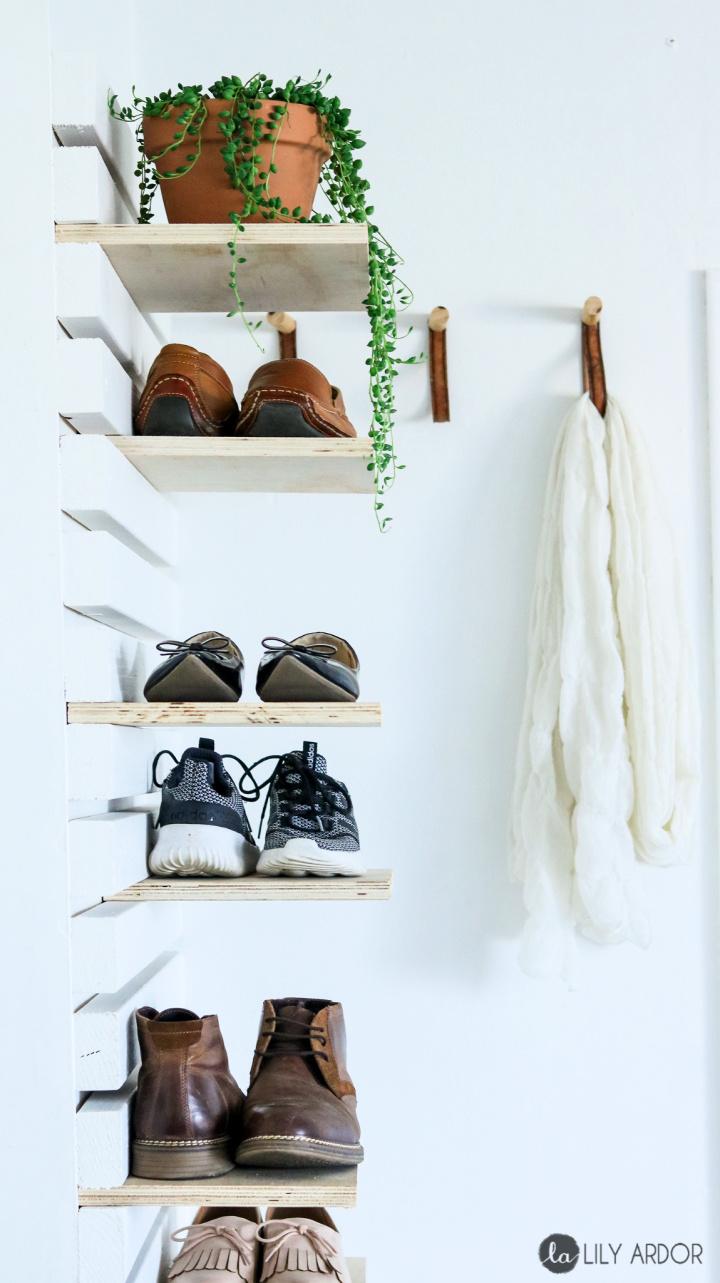 Are you on a mission to organize your mudroom? Then take a better start by building this entryway bench with a shoe rack. It will be an elegant store and display your shoes and will provide a comfy seat allowing you to take off and wear the shoes comfortably. Build this shoe storage bench using 2x3s and plywood. Mount the 2x3s horizontally on the wall with space to fix the shelves inside, to gain a wall-mounted shoe rack, will display the shoes nicely too. Details here lilyardor
23. How to Build a Shoe Cubby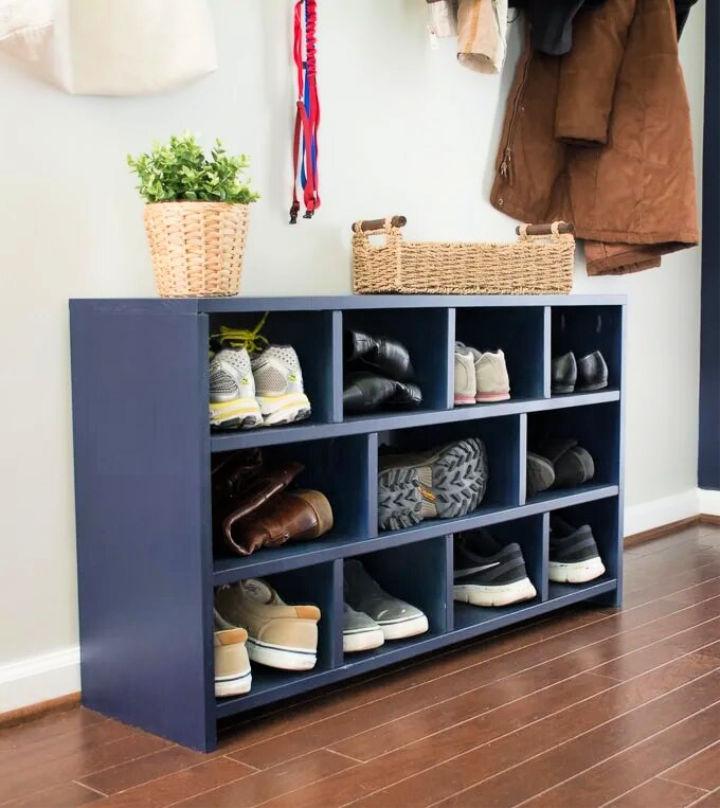 Get here free plans to build nice and elegant cubby storage for your shoes. Build this entire model of shoe cubby with the pinewood boards and finish it with the primer and paint of choice. You are all free to create a custom look of it that will fancy up the mudroom more. The design is too elegant to make you say a big wow. The 1x12s and 1x10s will rock to achieve this shoe cubby design. Details here bybrittanygold
24. Shoe Rack for The Entryway

One of the most bizarre-looking designs of mudroom shoe rack ever will provide built-in storage compartments to store a variety of shoes, even the rain boots. Go handmade with plywood, wooden dowels to build this stylishly modern design of entryway shoe rack. Finish the design with caster wheels for easy rolling on interior home floors. Details here homedepot
25. Entryway Bench With Shoe Storage

This handsome shoe storage bench will impress with its amazing design curves and is a breeze to build. Go with the wood of choice like with plywood, pinewood boards, or even with recycled wood to achieve this fantastic design of mudroom shoe bench. There are 3 built-in storage compartments to store your favorite shoe pairs. Details here dearjulius
26. DIY Entryway Shoe Rack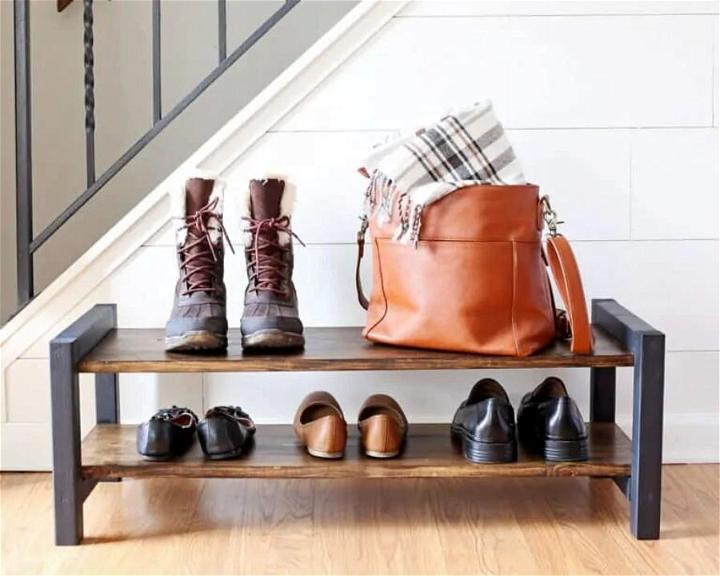 Go handmade with 2×2, 1×12, and other custom cut pieces of wood to build this entryway shoe rack. Build the box style sides out of the 2x2s, and then make them hold the 1×12 shelving boards, the top one will give you the durable berth. This bench will surely make you enjoy the stay in the mudroom when removing or wearing the shoes. Details here angelamarie
27. Entryway Bench With Storage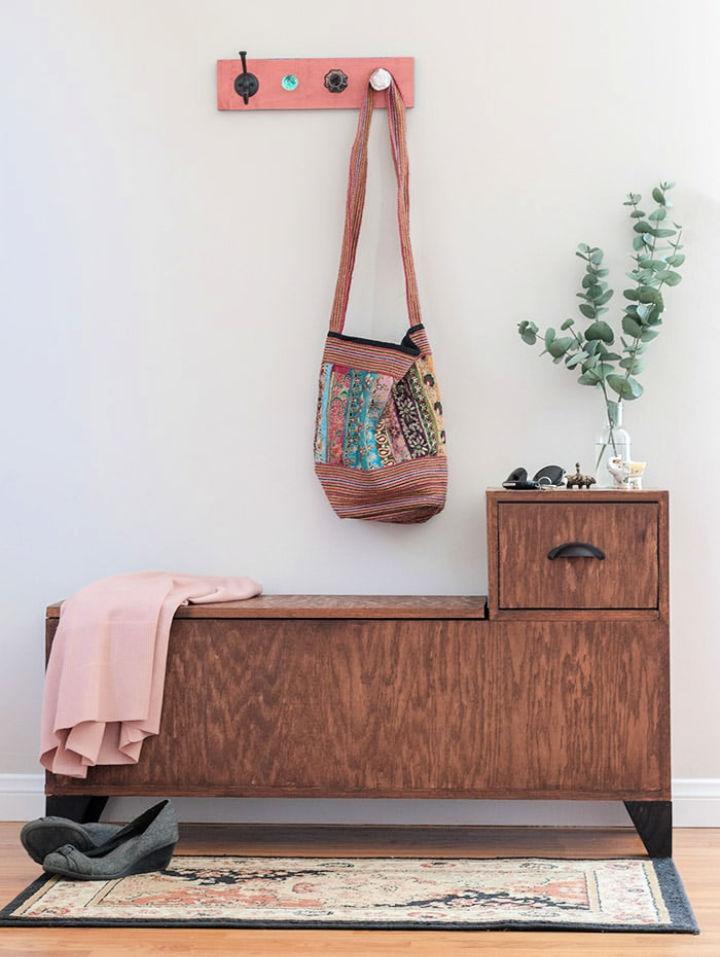 Looking for a stylish mudroom bench to build right in your workshop? Then do clone this fantastic one, gains attention from its solid, covered, and filled appeal. This bench design provides storage options to organize your jackets, shoes, and even the small items like keys and mails. Achieve this bench design using plywood, 1x6s, wood glue, and edge banding. Details here anikasdiylife
28. Entryway Bench With Shoe StorageS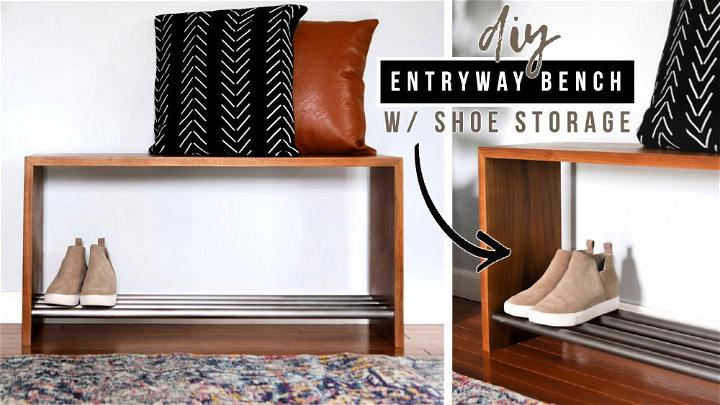 Restore back the functional appeal and stylish look of your mudroom with this handsome waterfall design of the entryway shoe bench. It provides a lower shelf made of metal pipes, will nicely hold the shoe collections. Use the thicker pine wood boards to build this easy waterfall mudroom bench design. Give a custom stain finish to bring shine and weather protection to wood grains.
29. How to Make Entryway Shoe Storage Bench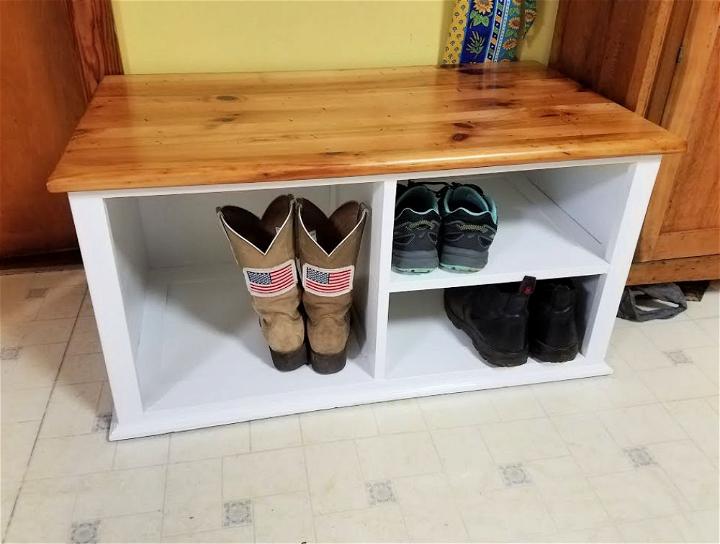 Check out here another creative DIY furniture restoration, a modern farmhouse style shoe storage bench made out of a chest of drawers, and will come in handy to organize all your mudroom shoes. Grab and old dresser or chest of drawers, remove the drawer to custom built-in shoe storage options and then finish the design with a sleek top and also with the white painted base.
30. Shoe Rack with a Unique Finish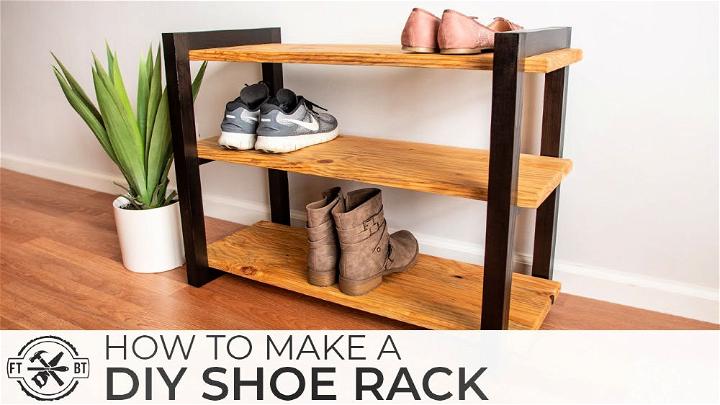 This design of the shoe rack is too beautiful to get ten out ten from you. It has been given a unique finish for lustrous wooden surfaces and gains attention from box style sides. Build the sides using square wooden dowels like 2x2s and then fit the shelves in them, should be equally spaced. This design comes with 3 built-in shelves.
Conclusion: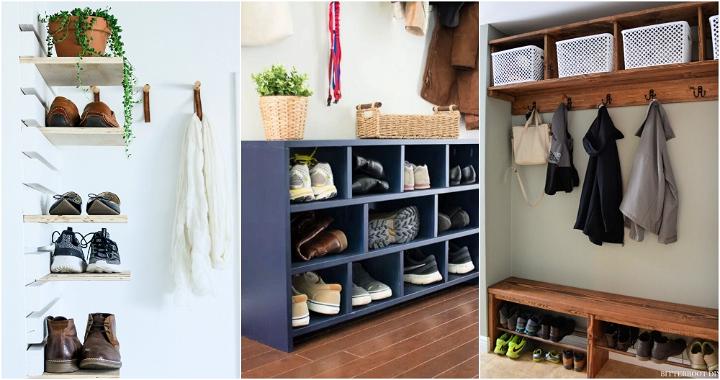 It is always expensive to build a custom storage unit to organize your shoe collection. However, depending on the available space and decor theme of the space, you can build custom mudroom shoe storage solutions with the help of these easy entryway shoe storage ideas sure to leave you stunned.
This list of large and small entryway shoe storage ideas will provide free plans, detailed diagrams, and visual guides to build each listed entryway shoe storage solution. All will complete on a minimal budget, and there are industrial shoe storage shelves, rolling tufted entryway storage benches, wall-mounted shoe racks, and custom build storage cubbies to choose from. There are super space-savvy shoe storage solutions too that will rock for a narrower entryway.