Need the cheapest garden bench? Build a quick and easy Leopold bench for your garden. See these 15 simple Aldo Leopold bench plans that are stylish, comfortable, and easy to build. The feature that is above all, they come with very low price tags. According to outdoor sitting space demands, you can build any size of these benches, and they will just rock for 1 or 2 persons. By looking at these unique Aldo Leopold bench designs, you will surely feel the power of angled cuts. You will be amazed to see how the front legs go straight in an upward direction to support the backrest. They can be wide enough to serve as backrests for a more comfortable sitting experience.
Browse this collection of 15 free Leopold bench plans that share all the hacks to build a unique style of the bench in lots of different ways. There are plans that will help build this bench in less than 30 minutes, and there are also plans that will help you build this bench at just a cost of $30.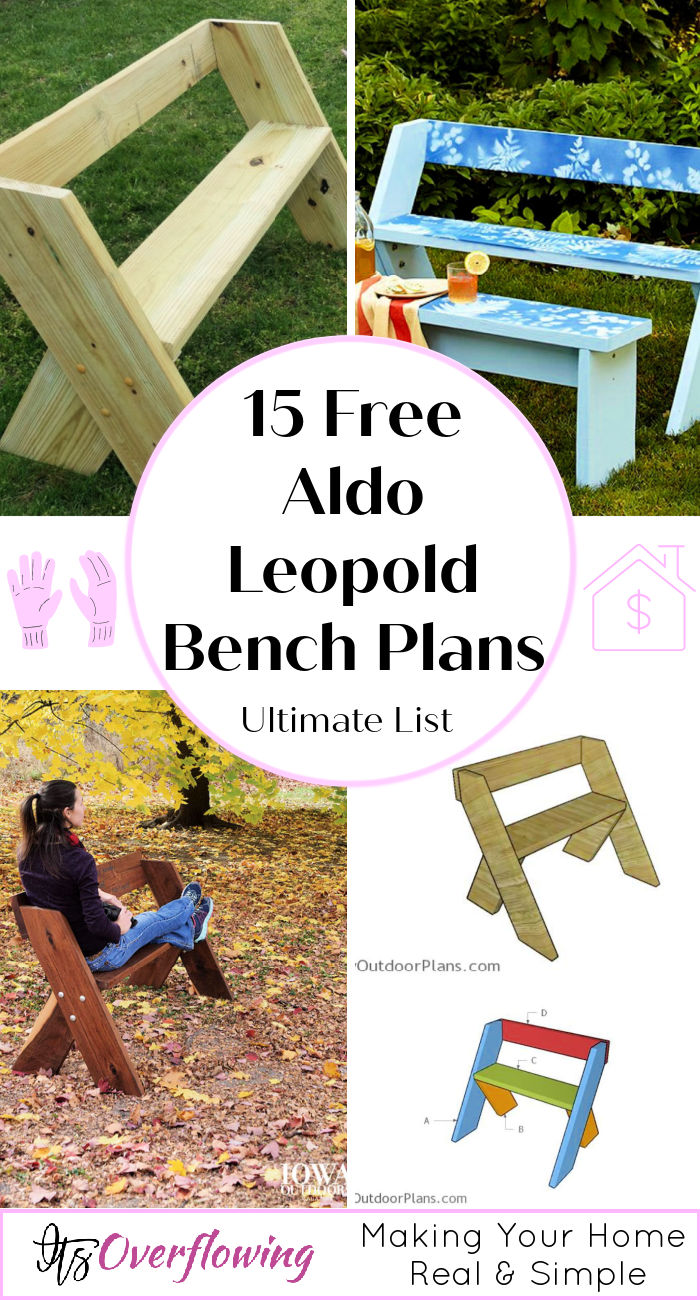 Opt for lumber or pine wood boards like 2 x10, 2×8, 2×6, and 2×14 to build this stylish bench design, will make an adorable gift also for outdoor lovers. From free illustrations to complete measurements to comprehensive cut lists, you will get all here helping every design of this particular outdoor bench design.
This not ends here. You will get the Aldo Leopold bench diagrams, visual guides, and even the free video tutorials to show how to build Leopold bench like a pro. Browse all the Leopold bench plans and pick a one that suits best to your backyard and garden.
1. Leopold Bench Plan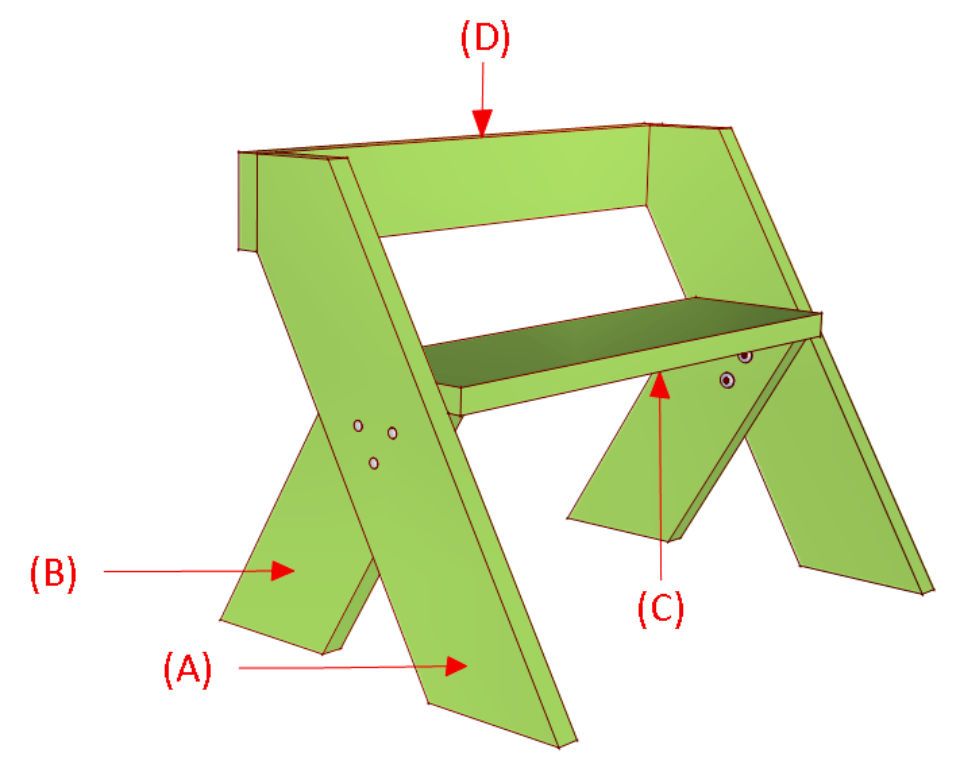 You will love this precious X-frame bench, provides a lovely backrest and seat. It will rock for lightweight outdoor sitting and is a breeze to make. Build it using 2×6, 2×10, and 2×8 wooden boards. In hardware, you need 2 1/2" deck screws and 3 1/2" carriage bolts, washers, and nuts. Details here construct101
2. Heavy Oak Leopold Benches
Take your outdoor sitting experience to the next level of comfort using this heavy oak Leopold bench, will complete super quickly. The seat of the bench is 64" wide and 60" long. Build this bench using 2×14, and 1.5" x 11" boards, and it will complete super quickly. The solid bench design will impress at a very first look.
3. Aldo Leopold Bench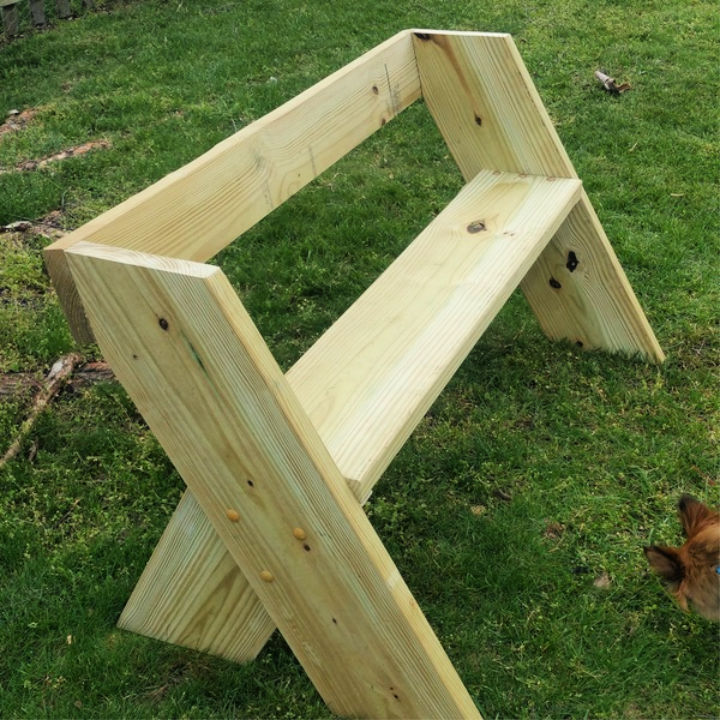 This fantastic Leopold bench will complete in just 30 minutes and will provide a super comfortable style of sitting. You need a beginner skill level and only $30-$50 to build this Aldo Leopold bench, a remarkable handmade gift for an outdoor lover. Paint or stain or leave unfinished. ryobitools
4. DIY Leopold Bench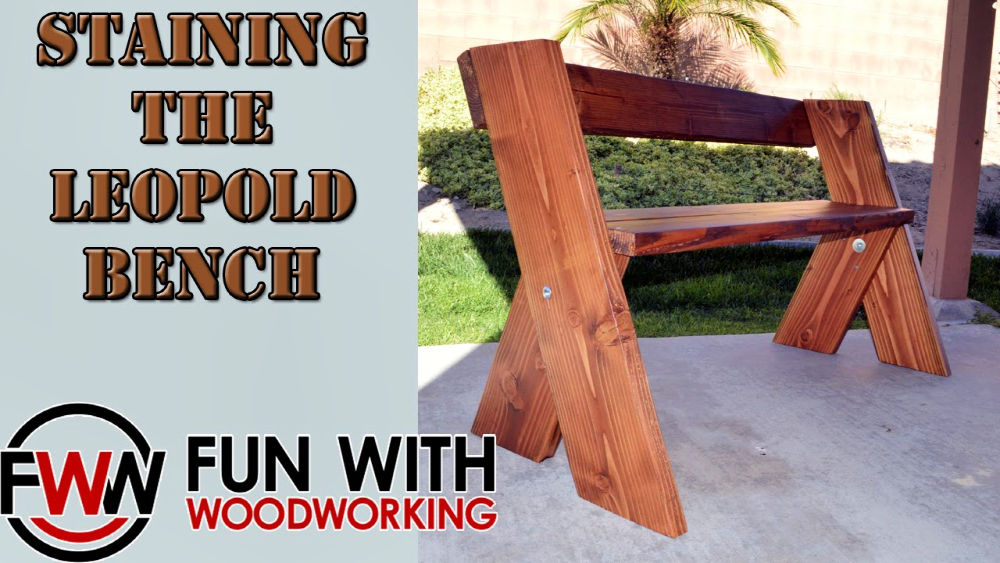 Outdoor furnishings are always to buy expensive but not this very special Leopold bench. Go for an ideal outdoor sitting experience using this Leopold bench. You just need no higher skills to build this very special type of bench, will be a great addition to any outdoor or backyard to enjoy daydreaming. youtube
5. Aldo Leopold Bench Plans
Enjoy staring at the natural green outdoors in style using this Aldo Leopold bench, quite easy to build with the free provided plans. It will be a marvelous addition to a backyard or garden. This Aldo Leopold bench construction is super quick to do also. The criss-cross legs, a stable backrest, and a solid berth are the main features of it. craftsmanspace
6. Leopold Bench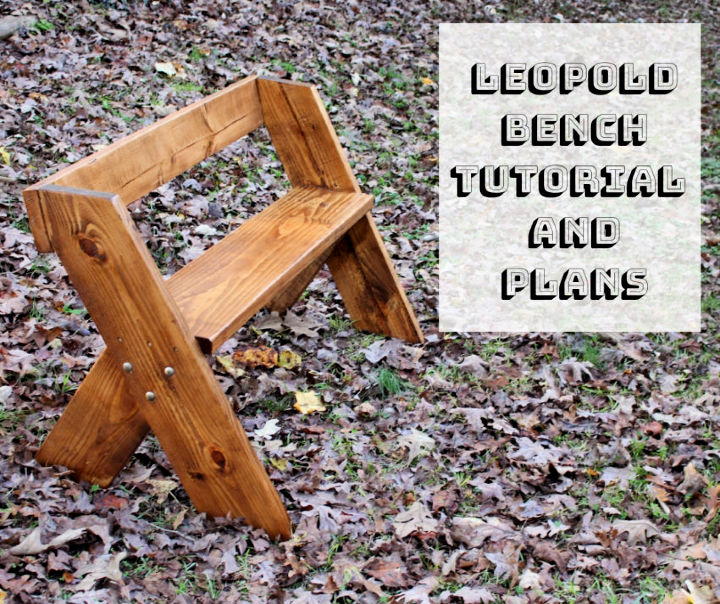 Build this Aldo Leopold bench using untreated lumber or pine wood boards, will cost you between $40-$50. Assemble this lovely Leopold bench using 3.5" long carriage bolts and finish this bench with wood stain and spar urethane. Use custom hand clamps and precise wood cutting tools to get great results. fouroakscrafts
7. How to Make Leopold Bench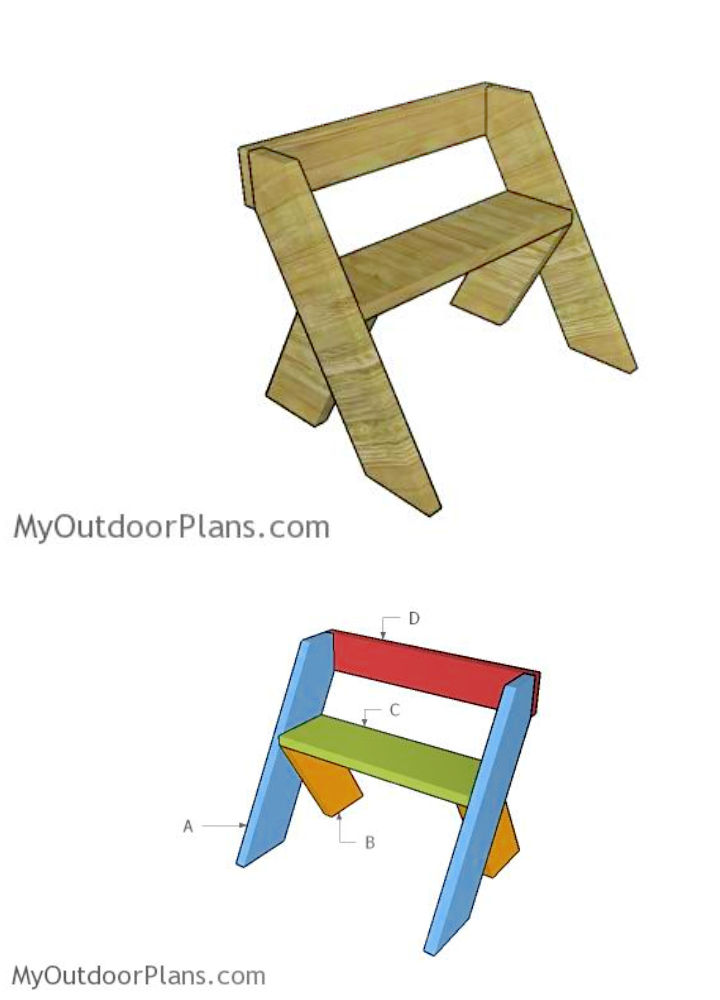 Have you never build an outdoor bench? Build your own park bench! Get the Aldo Leopold bench instructions to build a stylish one super quickly, the Leopold wooden bench that will impress with the X-style sides or legs. You need 2×8, 2×10, and 2×6 to build this fantastic looking bench design that is sure to be an impressive addition to any outdoor. myoutdoorplans
8. Garden Bench Plans PDF
Take our outdoor enjoyments to the next level using this gorgeous garden bench. It will complete in no time and is a breeze to make. Use the pine or lumber wood board like 2×8, 2×10, or 2×6 to build this beauteous model of a garden bench, will give you an amazing sitting experience. iowadnr
9. How to Build a Leopold Bench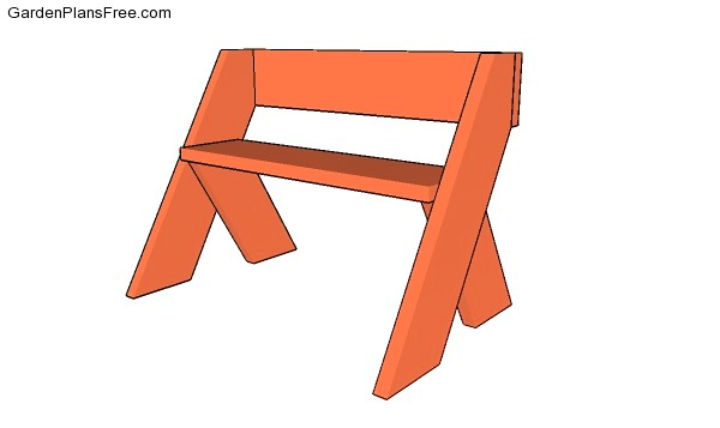 There is a wide range of wooden bench designs to opt for the green outdoors and backyards. But this you can go for a serene sitting experience using this Leopold bench that comes with stylish design dimensions. Assemble this design with long carriage bolts, nuts, and washers. gardenplansfree
10. Leopold Bench with Spike Carlsen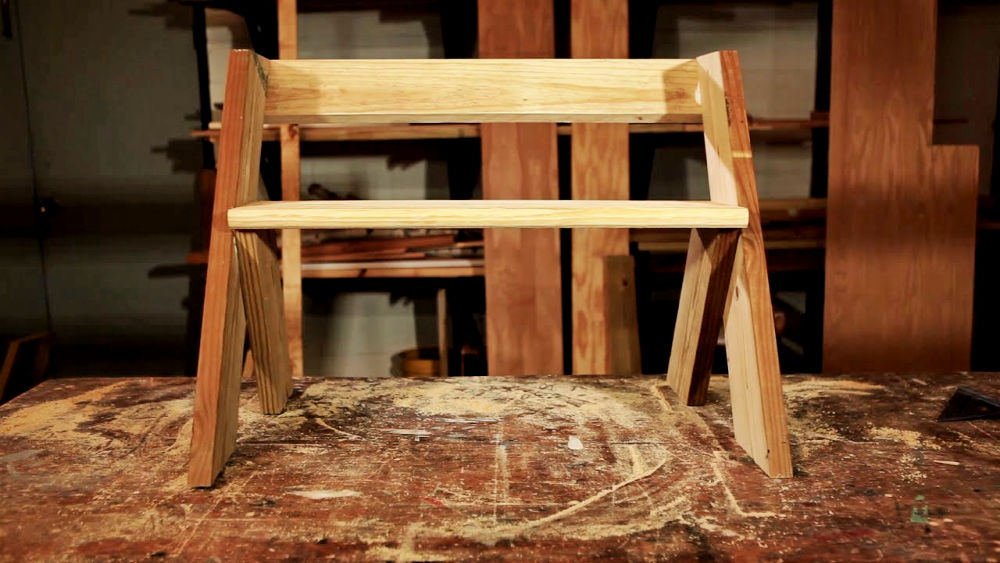 Double up your outdoor entertainments with this amazing Aldo Leopold bench design. It is to build quickly and inexpensively to accomplish your outdoor sitting space needs. A distinguished bench design that gains uniqueness from the criss-cross legs and is just super beautiful to look at. Details here youtube
11. Build a Leopold Bench and Table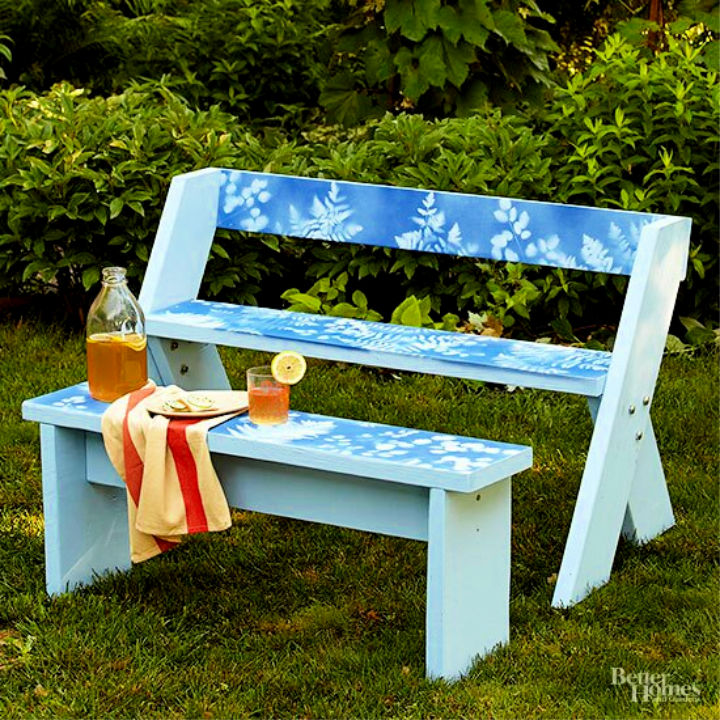 Build this whole set of furniture for your outdoor entertainments, which contains a Leopold bench and a table. It will be a big love of outdoor lovers and will complete in no time. A matching table in front of the bench transforms the bench into a complete sitting plan for 2. bhg
12. $30 Leopold Bench Plan
Maybe you are new to build this very special and unique design of bench the Leopold bench. It will cost you $30 or less and will complete in less than half an hour. You just no need to grab lots of tools to build this fantastic bench, you only need 3 tools to build this superior bench design. rogueengineer
13. Homemade Leopold Bench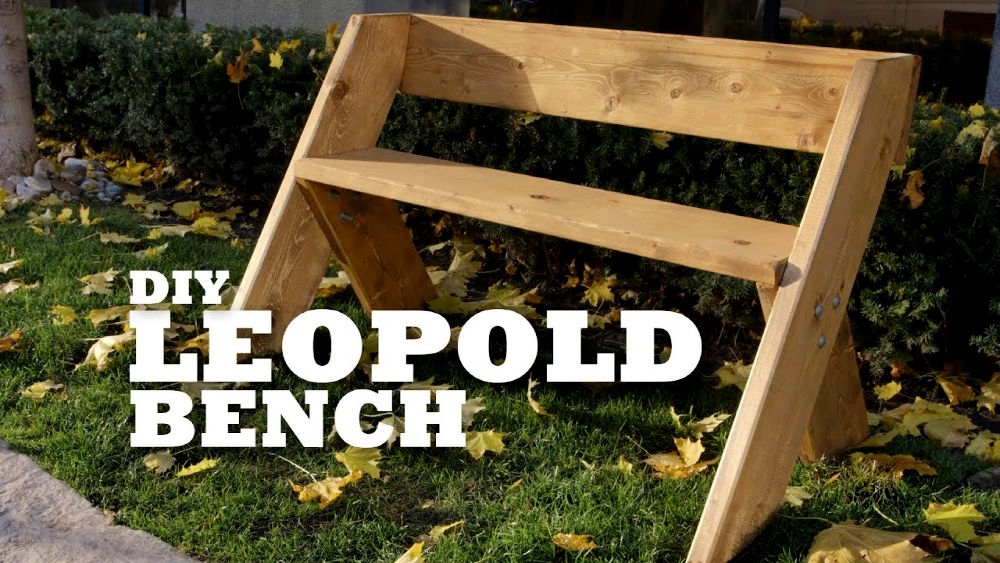 There are so many different ways to build this super unique design of a bench, check out here another one. Use the solid lumber, or pine wood slats and just put them together to make this stylish X-side bench design, will surely make the outdoor lovers live the luxury. Details here youtube
14. Garden Leopold Bench Under 2 Hours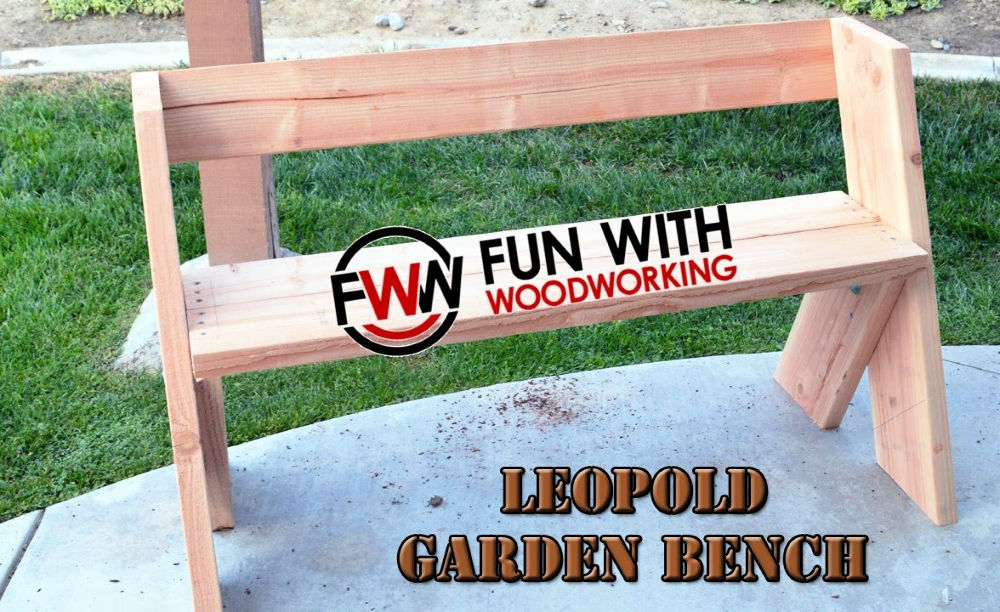 This stylish edition of Leopold bench comes with armrests too and is a breeze to make. Build this stylish and robust bench design will take less than 2 hours, and you will surely enjoy the sitting on this bench. Paint it, stain or leave blank, it will look great in any appearance. Details here youtube
15. Modified Leopold Bench
Get here free video instructions on how you can build a Leopold bench like a pro. Grab the 2x8s wood slats and start building this modified Leopold bench. Start building the legs first that will enchant with their criss-cross design appeal. Paint or stencil your bench design for a personal touch.
Conclusion:
If you love sitting outdoor while enjoying your favorite reading book, a cup of tea, and daydreaming as well, then a cool outdoor seat should definitely be a part of your life. If it is too expensive to buy furniture then follow these low-budget and weather-resistant DIY outdoor furniture to build at home that comes with stylish designs, so consider building furniture at home.
Start from these free Leopold bench plans that are amazingly beautiful and enchanting and will provide an amazing outdoor sitting experience. The design will secure with criss-cross sides and legs. See the list of Aldo Leopold bench plans to get a lot of design variations.