A calendar is a big must-have as it allows you to create great routines of the day along with scheduling our to-do lists. So, do make fabulous and personalized calendars for your spaces using these 30 easy DIY calendar ideas that involve using cheap supplies to make elegant calendars. The diy calendar is the ultimate project for the creative at heart. With a simple idea and some basic supplies, you can create a one-of-a-kind, personalized calendar to suit your needs.
Furthermore, these DIY calendars will be a great addition to your centralized command centers to keep track of due dates. Explore this collection of 30 easy DIY calendar ideas showing you all the hacks to make so many different types of calendars at home like a pro. Most of these calendar ideas are too beautiful to boost your decor. Add them to your home office, study room, and also to the home organization station to plan and schedule your work. They can be wall-mounted, wall painted, self-standing, hanging, and even simple papers to write the dates, days, and months with hands. Finally, get here instructions to make 3D calendars too.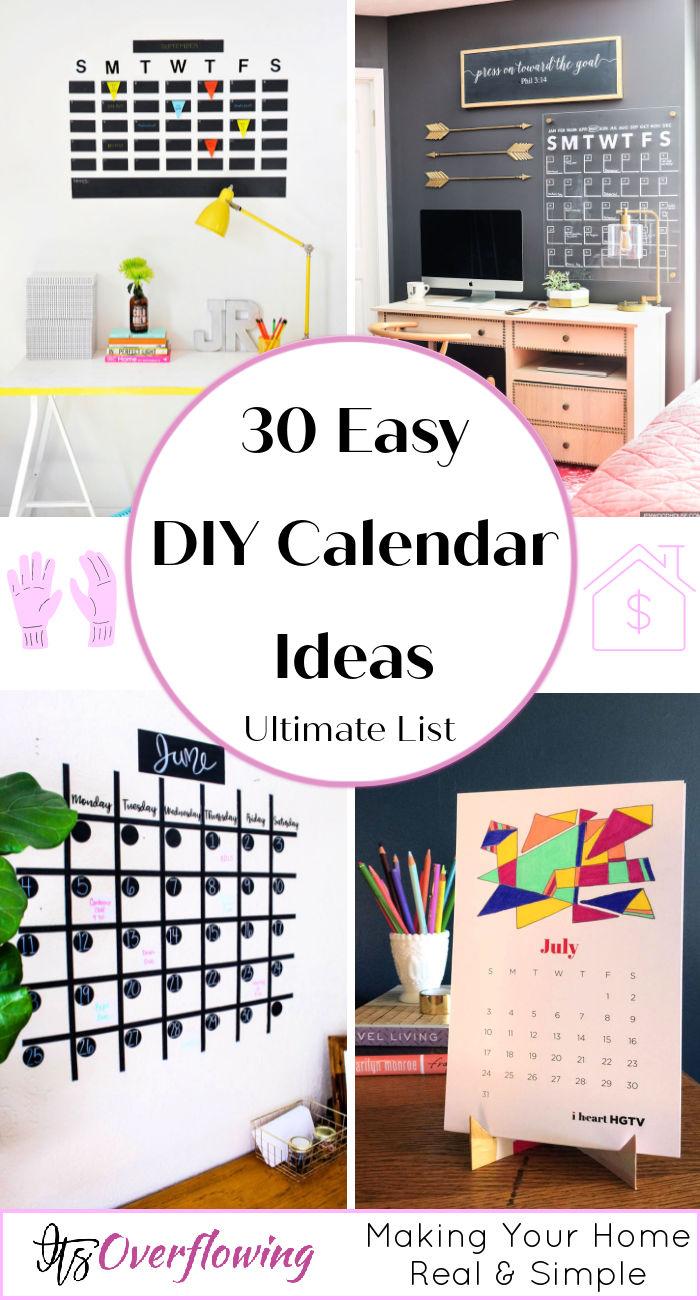 Use the poster boards, acrylic sheets, wooden, and even woodblocks to make outstanding calendars that will simply wow the audience. Get here special calendar ideas for kid's rooms too.
Furthermore, get free diy calendar ideas and tutorials to build sliding perpetual calendars and chalkboard calendars. Finally, get here step-by-step instructions, detailed diagrams, and visual guides for making personalized photo flipping calendars, magnetic calendars, and a variety of reusable wall calendars. Take a tour of the entire collection of these DIY calendar ideas to see more unique versions of homemade calendars, which will organize your life more.
1. Chalkboard Advent Calendar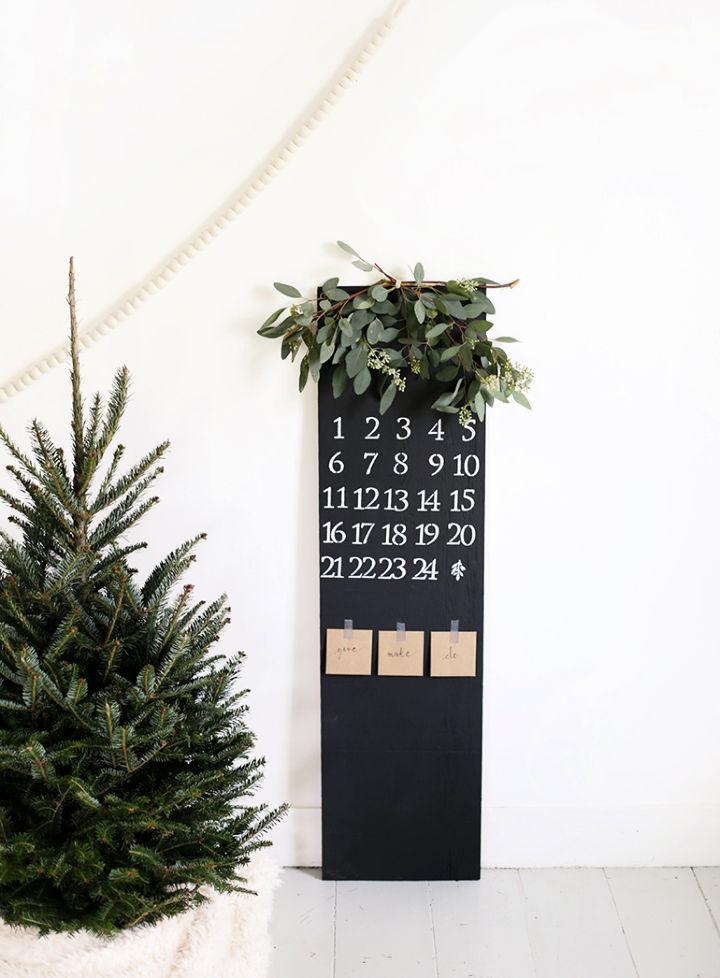 Schedule your routines with this chalkboard advent calendar that provides category envelopes too to get an eye of all your activities of the day. The calendar comes in giant size and hence will be visible from a distance. Make it using plywood, chalkboard paint, number stencils, white paint, envelopes, washi tape and string. Give a glam touch of greenery also to fancy up this calendar. Details here themerrytho
2. Personalized 2020 Photo Calendar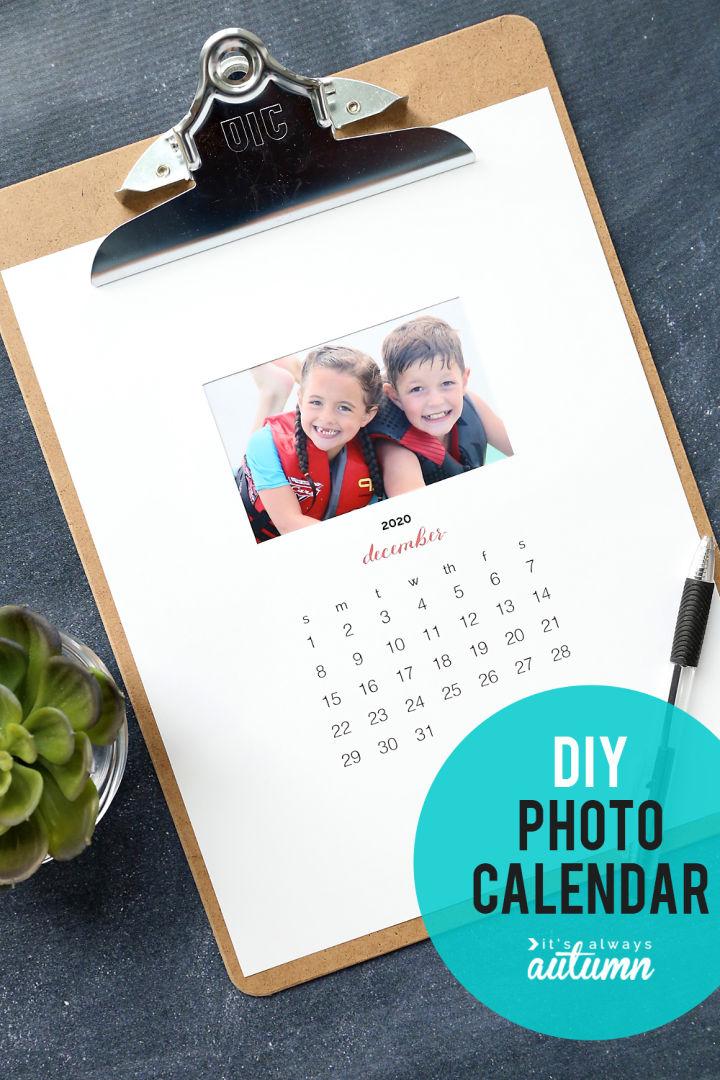 Want to show your photos on the calendar you are following in your home? Then must make this personalized 2020 photo calendar, will be in your hands in no time. The idea is to print your calendar on the heavy duty cardstock and then cut the boxes out from their center and the display the photos through them by adding them from backside. Details here itsalwaysau
3. Sliding Perpetual Calendar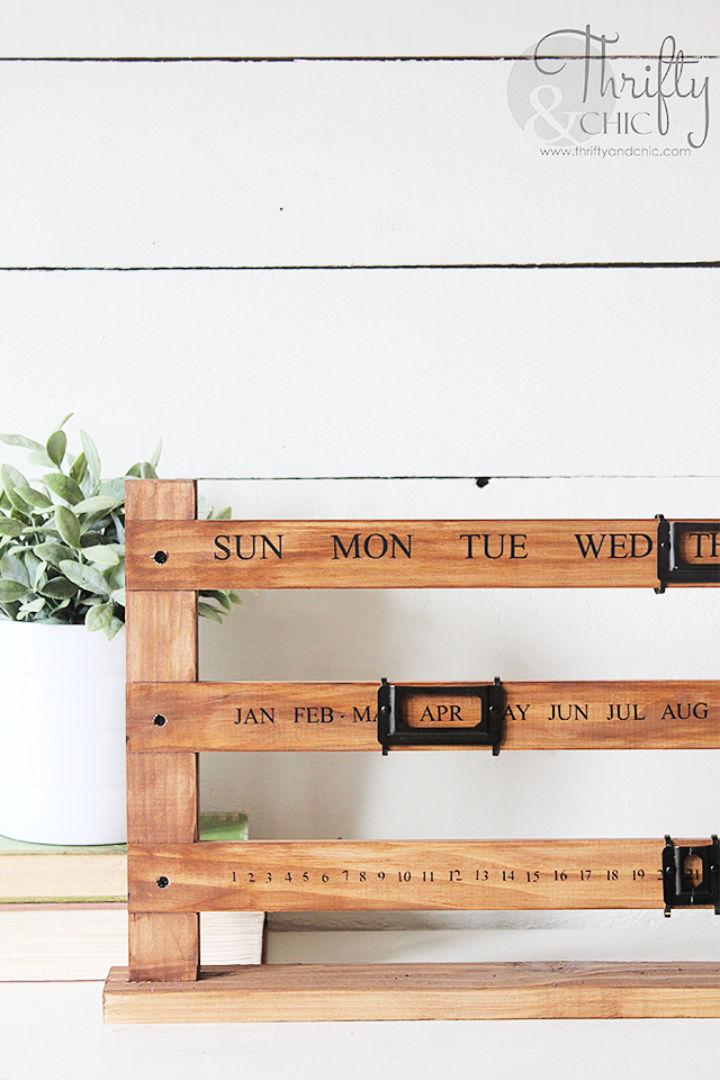 Keep track of your due date by making this very special perpetual calendar, a big hit. Make it using 1×2, 2×2, and 1×3 wooden boards. Further, you need the wood glue, stain, metal flat pieces, metal label holders, spray paint, vinyl, and painter's tape to whip up this perpetual sliding calendar. Details here thriftyandchic
4. Ombre Calendar for Desk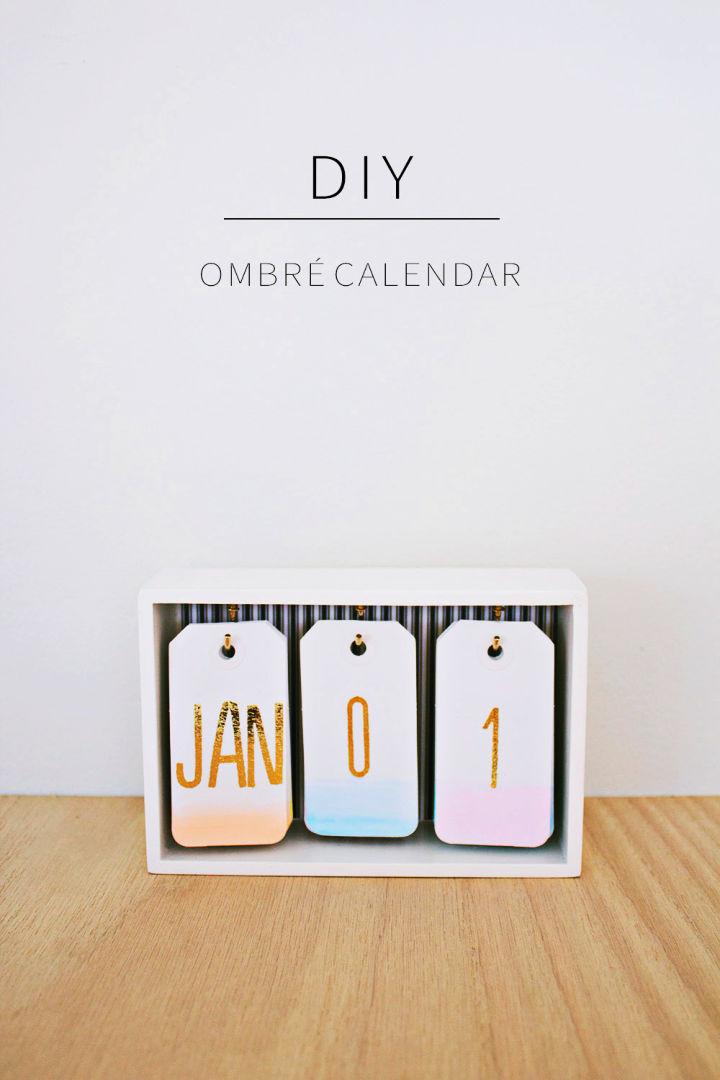 Don't miss out on an important meeting or task again. You have to complete without a due date by making this ombre calendar. It will nicely highlight the day you are waiting for. Duplicate it by having a white wooden box, patterned paper, gold rub-on transfers, c-hooks, eyelet gift tags, mod-podge, sponge brush, watercolors, pencil, measuring tape, and scissors. Details here jsmproperties
DIY Ideas You Will Love To Do:
DIY birthday banner: Birthday banners are a fun way to celebrate any age. They are especially popular for kids and teens. There are many different ways to make a banner, but the most popular DIY ones are made with paper, tape, and scissors. Need easy birthday banner ideas? These DIY birthday banner ideas are simple to make and easily customizable!
Unique save the dates: A DIY save the date is a great way to let your guests know about your upcoming wedding without breaking the bank. It's also a great way to get creative and personalize your save the date. They also give you a chance to create something unique and show off your style. The best part is that it doesn't have to be expensive or time-consuming. Here are some DIY save the date ideas for you!
DIY Desk Organizer: This DIY desk organizer is a simple project you can do in an afternoon, with minimal tools and supplies. These DIY desk organizer ideas show you how to create your own custom desk organizer for your home or office using a variety of materials and techniques. The desk organizer will hold your paperclips, staples, pens, markers, and other small items. It will keep your supplies neat and organized.
Dates to Remember: Check out dates to remember idea for the very best in unique or custom, handmade pieces.
DIY Mouse Pad: A DIY mouse pad is a great gift for anyone who uses a computer. It's also a project that's easy to complete in one evening and very inexpensive! Here are easy DIY mouse pad ideas for your desk.
5. Homemade Printable Calendar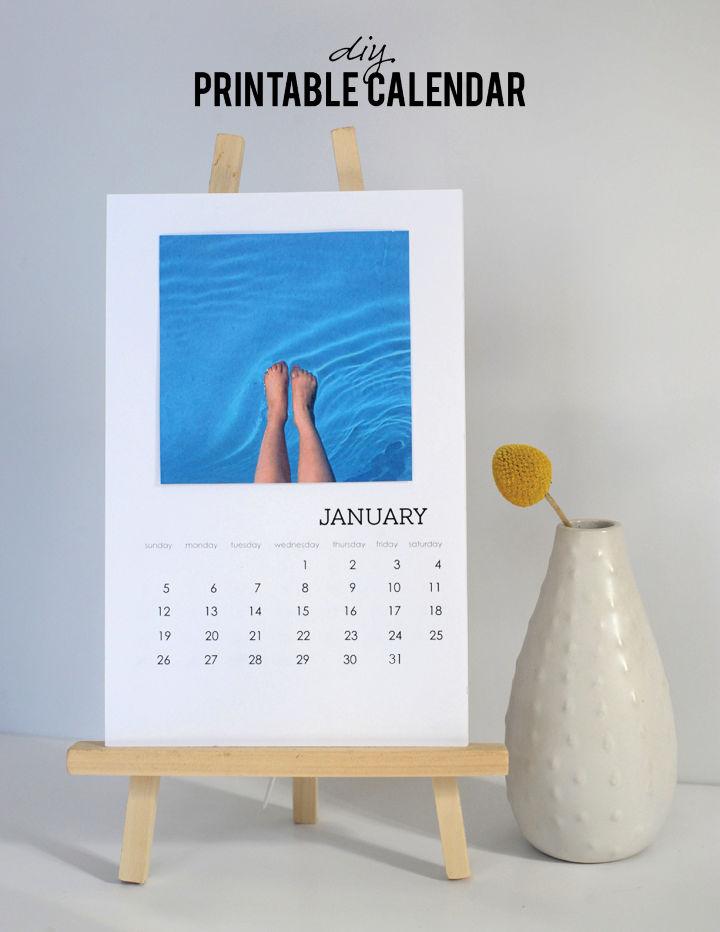 Get here instructions about how to make a customized calendar at home using your favorite photos and calendar font styles. Here you need six pages of cardstock and custom photos of choices to make this calendar. Download the calendar printable for free and simply print it out. Use an IKEA wooden easel to display it nicely on a shelf or desk. Details here aliceandlois
6. DIY Resolution Calendar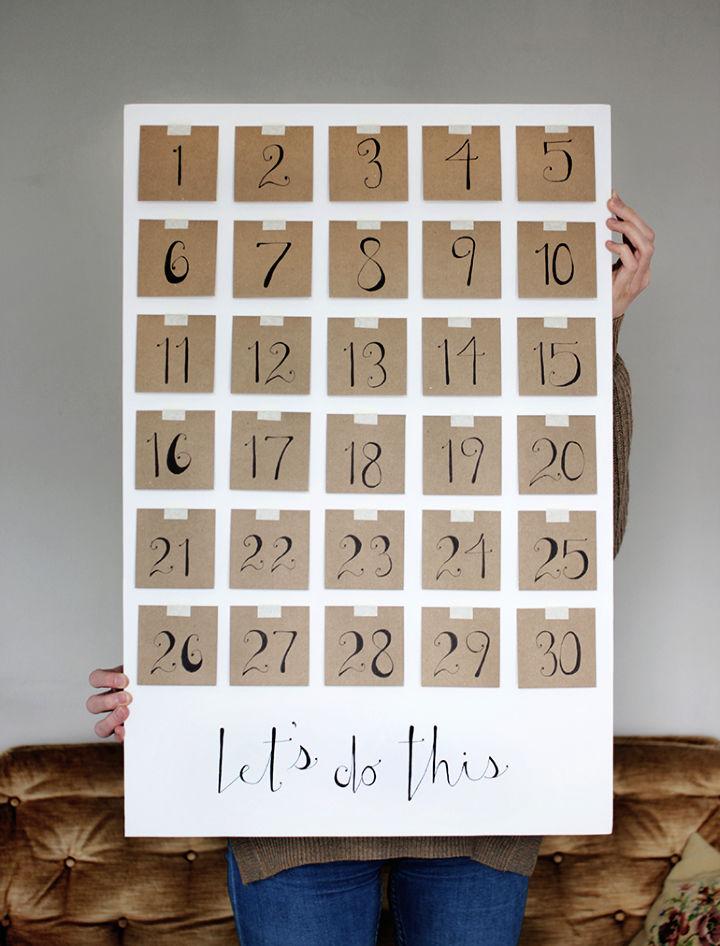 There are never-ending ideas for making calendars at home. See here a unique way more to make this fabulous resolution calendar. It will make you stay on track with your family and individual resolutions, and this calendar is quite cheap and quick to make. Want to duplicate this calendar for your home? Details here themerryth
7. Reusable Wall Calendar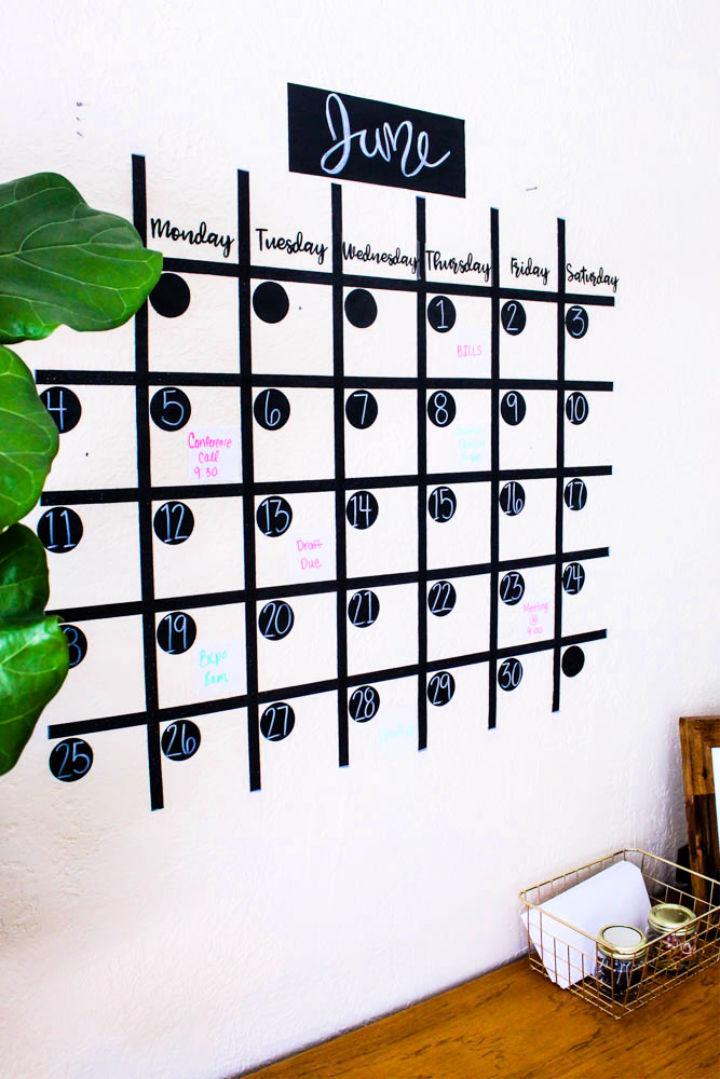 It always makes you feel bad to discard your favorite calendars, you are using from a year, after a year. So, learn how to make a reusable wall calendar. It will make the due dates visible enough to not miss out on any of the important in your life. Grab the clear rectangle labels for the days of the week, chalkboard circle labels for a date, chalkboard sheet for a month, removable square labels, chalk mark, and washi tape for making calendar grid. Details here onlinelabels
8. Watercolor Perpetual Calendar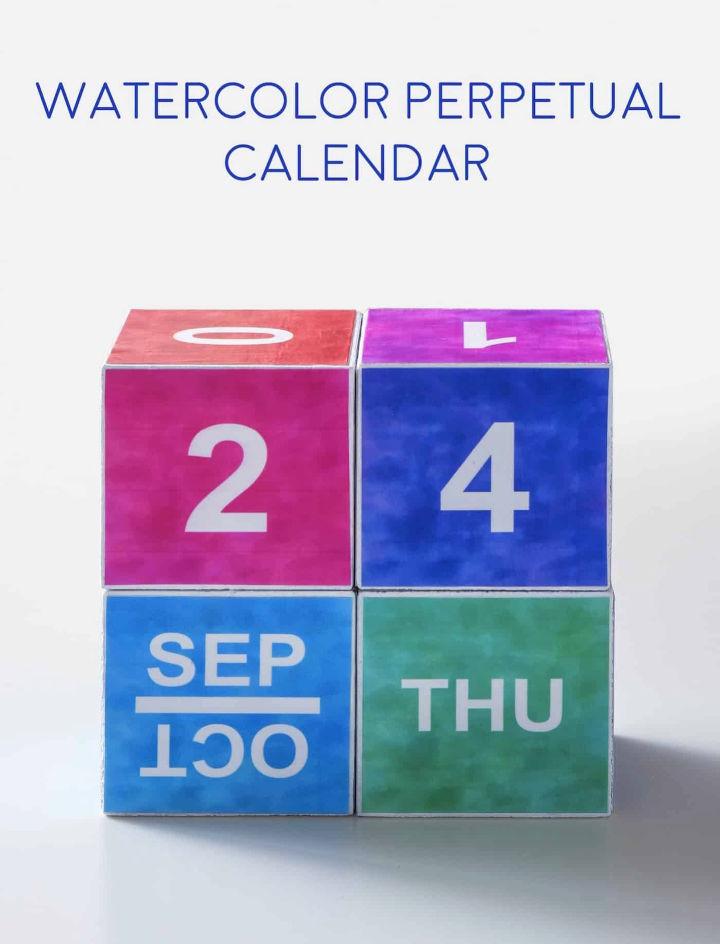 Make the elegant calendar for your home or office space using wooden cubes too. Make this perpetual watercolor calendar using 2" wood blocks. Paint the blocks in watercolors of choice and next print out your calendar on the white cardstock. Paste it on the woodblocks using mod-podge. Details here modpodgero
9. Wooden Desk Calendar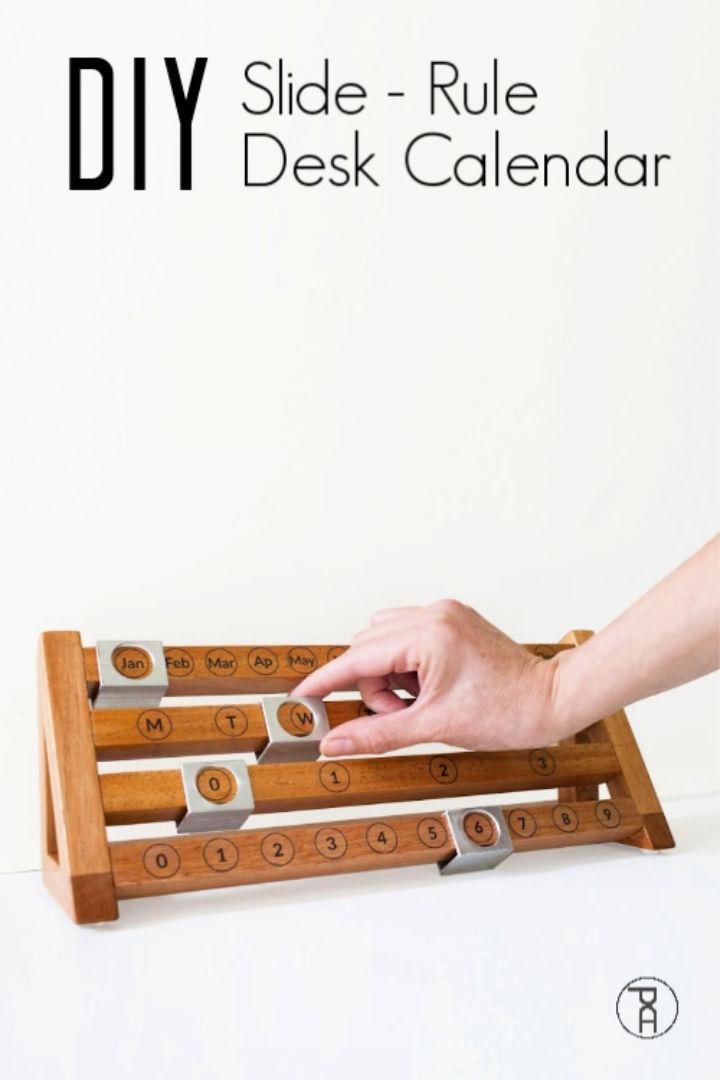 For an office desk to a study table, this homemade wooden desk calendar will be a smart choice. It will definitely help in planning office meetings and study time. Make this calendar using hardwood square dowels and square aluminum or steel tubing. Use the inkjet printer to print all the calendar details like numbers and letters, finish with spray lacquer. Details here pneumatica
10. Dry Erase Calendar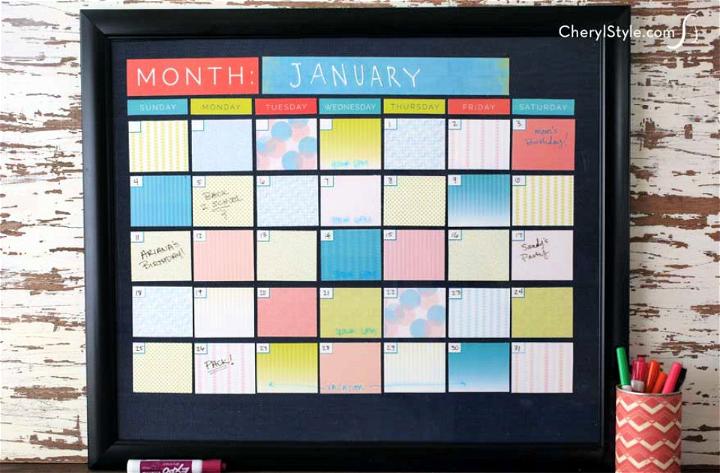 You will surely love having this calendar that you can use for many years to come. Easily erase this calendar and use it for the next month and year. Build it using a picture frame, cardstock, scrapbook paper piece, whiteboard markers, and dry erase calendar printable. Use the spray adhesive and glue stick for your adhesive demands. Details here everydaydishes
11. Modern Desk Calendar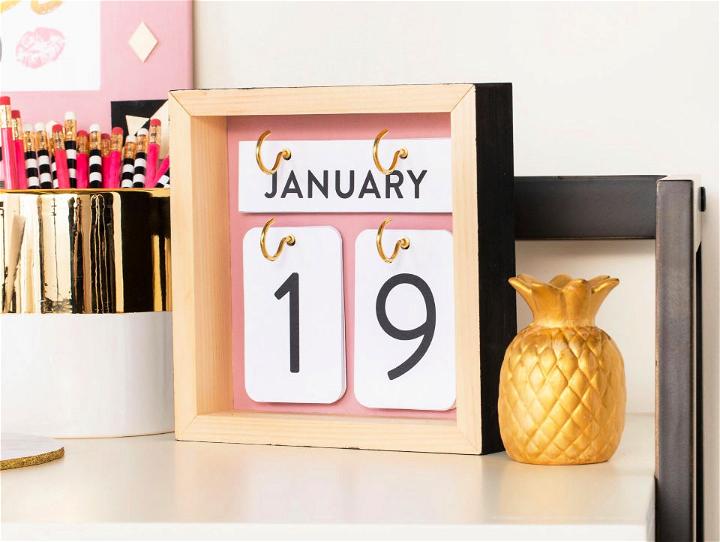 Here you need an intermediate skill level to build this modern desk calendar in just 30-40 minutes. It will style up any home or office desk and is to make with quite inexpensive and easy to find supplies. Grab a basswood canvas square, acrylic paint, white craft cups, and gold mug hooks. You also need a hole punch. Details here fun365
12. Wood Block Perpetual Calendar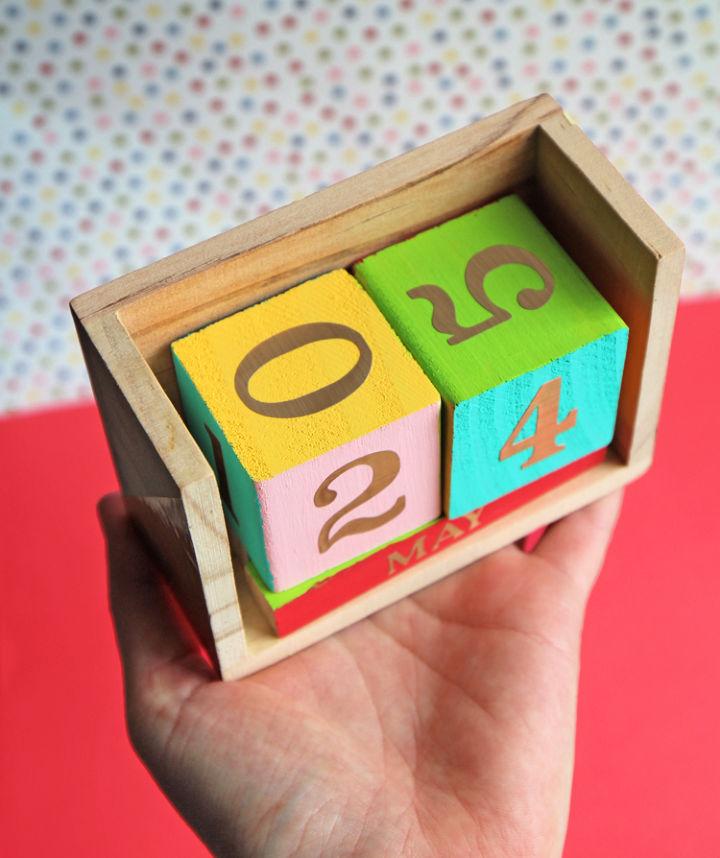 Sorting out the best gift for the Teacher's Day? Then why not make this perpetual woodblock calendar will help your teacher to keep track of all the important life events. Grab an unfinished wood block calendar, acrylic craft paint, transfer tape, stainless adhesive gold foil, blank cards and envelope set, and free calendar, and number printable to make it. Details here consumercrafts
13. DIY Chalkboard Calendar

Along with making you regular, this homemade chalkboard calendar will also remind you of those old school days. Build this calendar using one birch doorskin, clear vertical grain fir, gray primer, chalkboard paint, painter's tape, wood stain, and chalk, etc.. One can easily erase it to set up for a new month. Details here dunnlumber
14. How to Make a Desk Calendar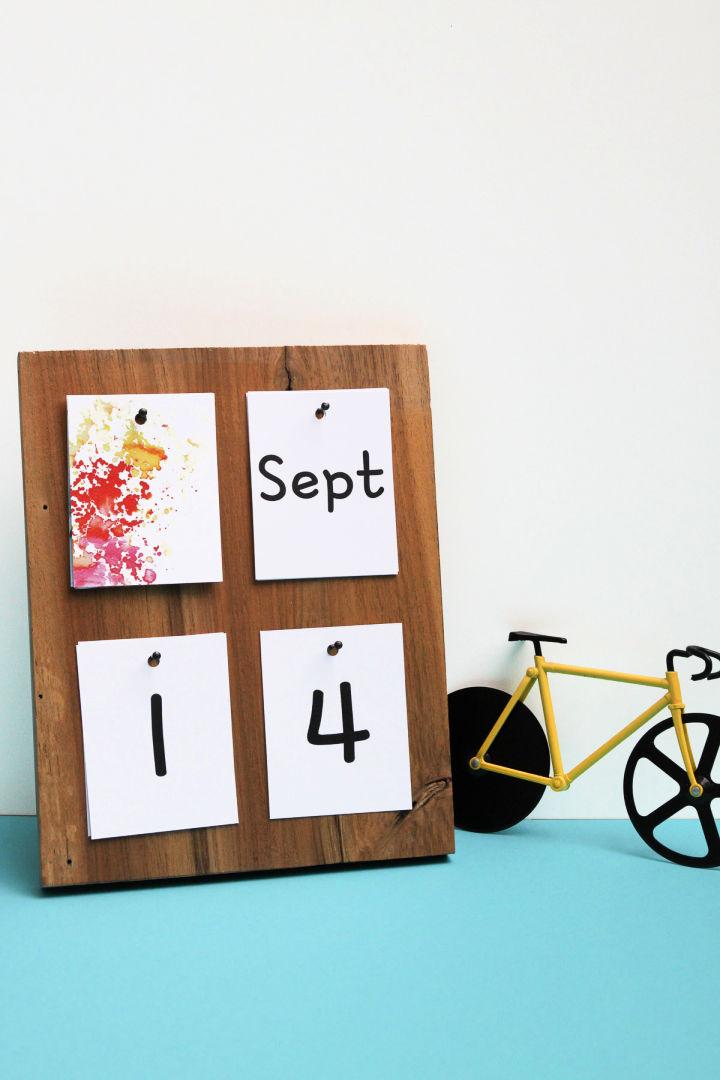 Keep track of some important family and office meetings by making this desk calendar, which will nicely display the due dates to you every day. Make this calendar using a wooden board, a hole punch, calendar printable, and magazine cut-outs. Further, you need the nails, hammers, x-acto knife, etc. to make it. Details here yeswemade
15. Back to School Magnetic Calendar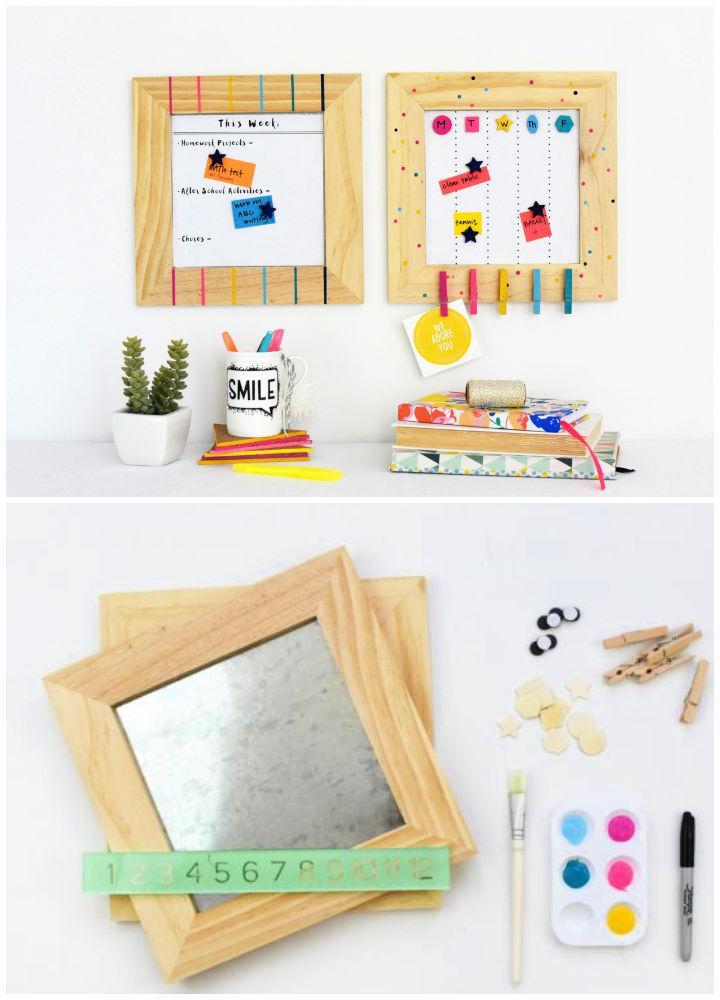 Want to impress your classmates while going back to school after the vacations? Then must make this magnetic calendar, great DIY Back to School Crafts, that is a breeze to whip up. Create this calendar using 2 unfinished wooden frames with galvanized metal, self-adhesive dot magnets, unfinished wooden shapes, washi tape, paint, and clothespins. Details here fun365
16. Wooden Chalkboard Wall Calendar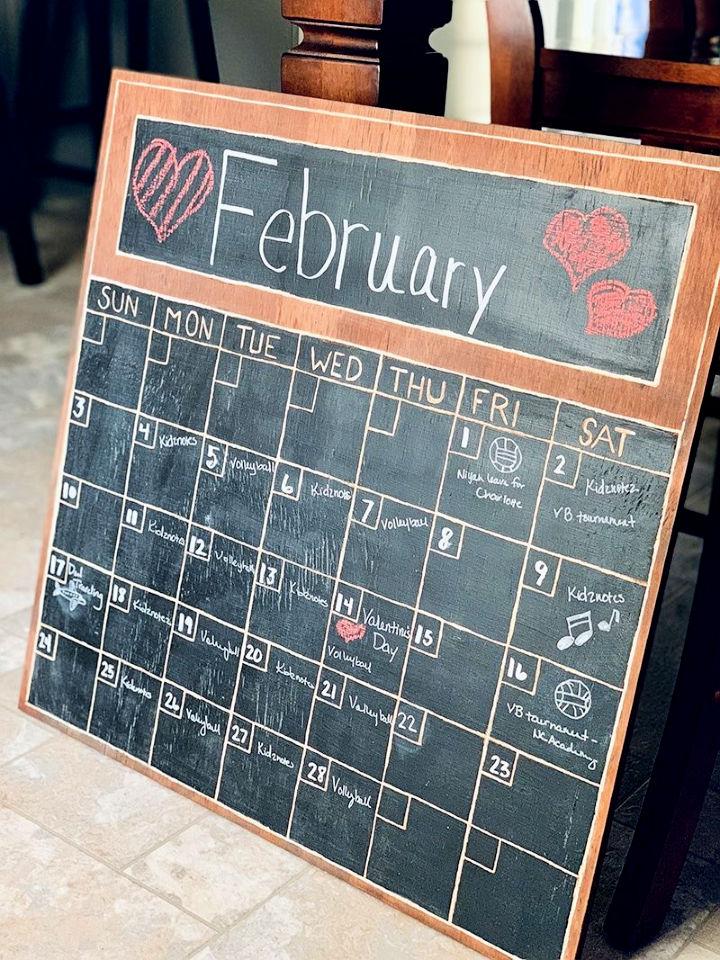 For a home command center, a calendar is vitally important. So, make this adorable and erasable calendar at home using a wooden board. Trace the calendar outlines, grid, and other rows for naming the months and days of the week. Before you get into construction, paint the board with chalkboard as per demands of your calendar. Details here kenyarae
It is important to have a calendar in order to keep track of the events and tasks that need to be done. It is also important to have a calender that reflects your personality and style.
Some people prefer the traditional wall calendars because they are easy to use, while others prefer calendars that are made from household material. The most common household material used for DIY calenders is wood, cardboard, papers, boxes, vintage suitcases, or even cereal boxes.
17. Printable Coloring Calendar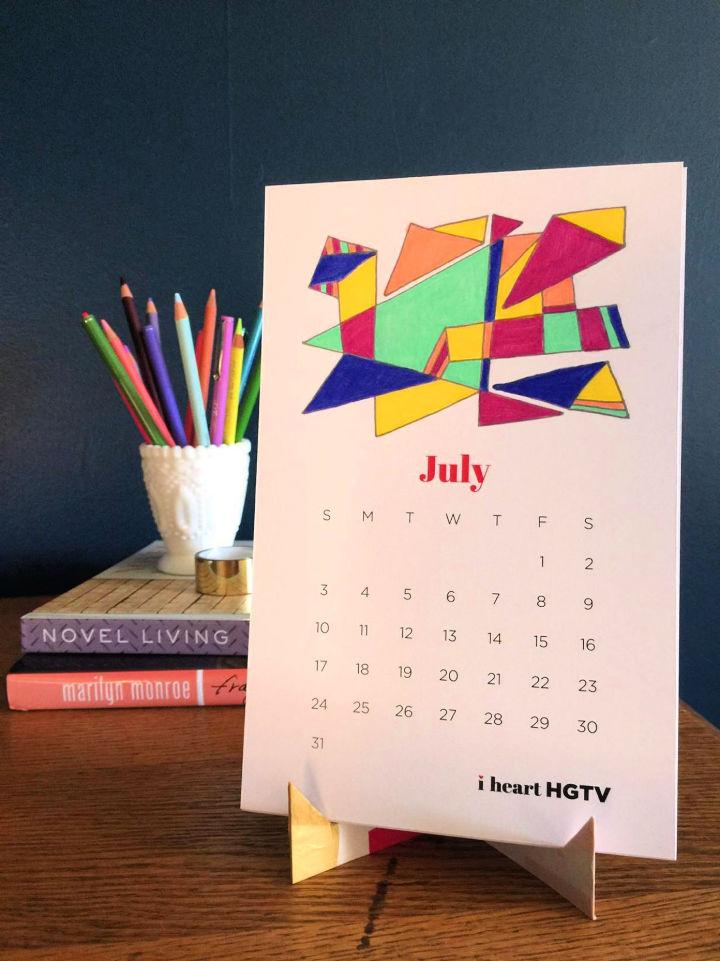 Are you a big fan of colorful things, then this colorful printable calendar will definitely grab your attention. Along with a printable calendar template, you need cardstock, craft knife, colored pencils, ruler, decorative tape, tissue paper, decoupage glue, and cardboard for the stand to make it. The design is elegant enough to make you say a big wow. Details here hgtv
18. Photo Flip Calendar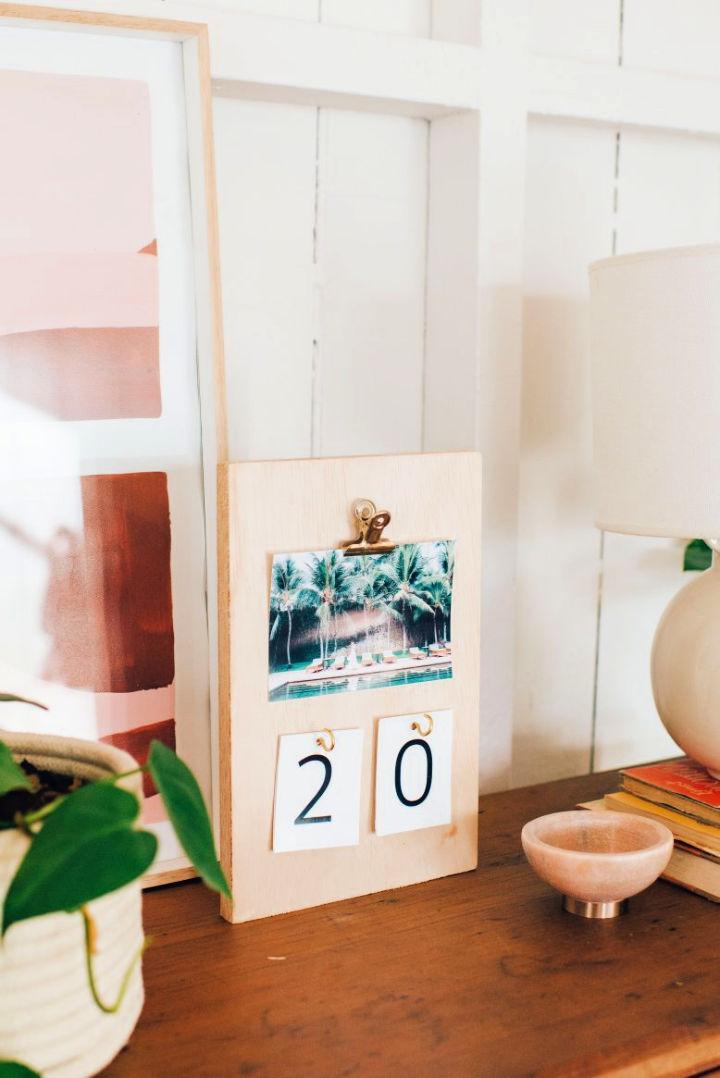 The photo flip calendar is one of the amazing DIY calendars ever made. They are preferred to bring a unique style statement to modern desks. Learn here how to make a one using photos of choice. You need a printer, photo paper, A4 size of plywood piece, binder clip, wall hooks glue, and hole punch to whip up this photo flip calendar. Details here collectivegen
19. DIY Children's Calendar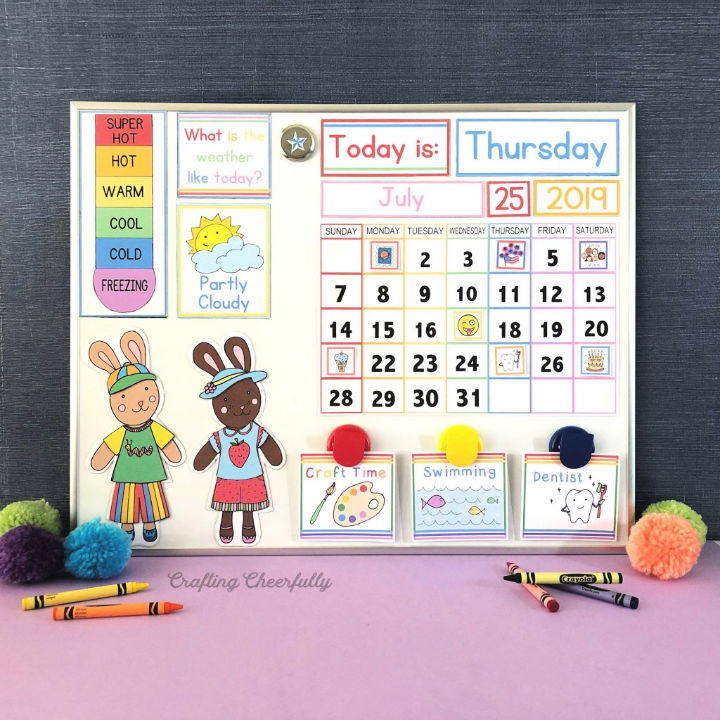 This calendar is cute, like your kids, and it is a pleasure to build with the printable. This is here a magnet calendar that features all the kids' favorite characters, even the cartoons. There are free printable for the months, days of the week, and also for everything you see in this calendar. So, you need the wooden frames with galvanized metal to make it. Details here craftingchee
20. Hand Lettering Calendar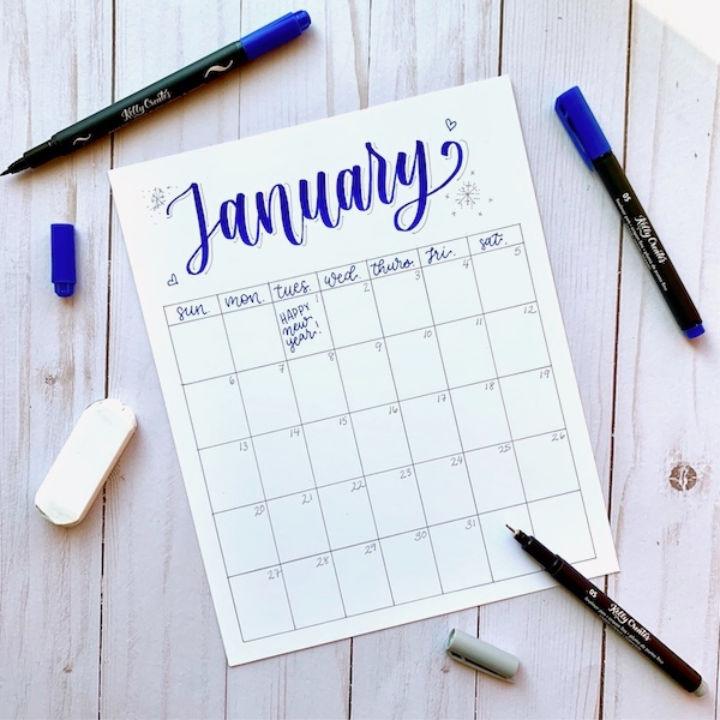 Get here the directions to make an instant beautiful hand lettering calendar in no time. Get the project paper pad, pens, fine liners in stock to whip up this lettering calendar. Further, you need a pencil, eraser, ruler, trimmer, and binder clips. Just cut down your papers to size and trace your calendar on them with a pencil and ruler. Details here kellycreates
21. Handmade Acrylic Calendar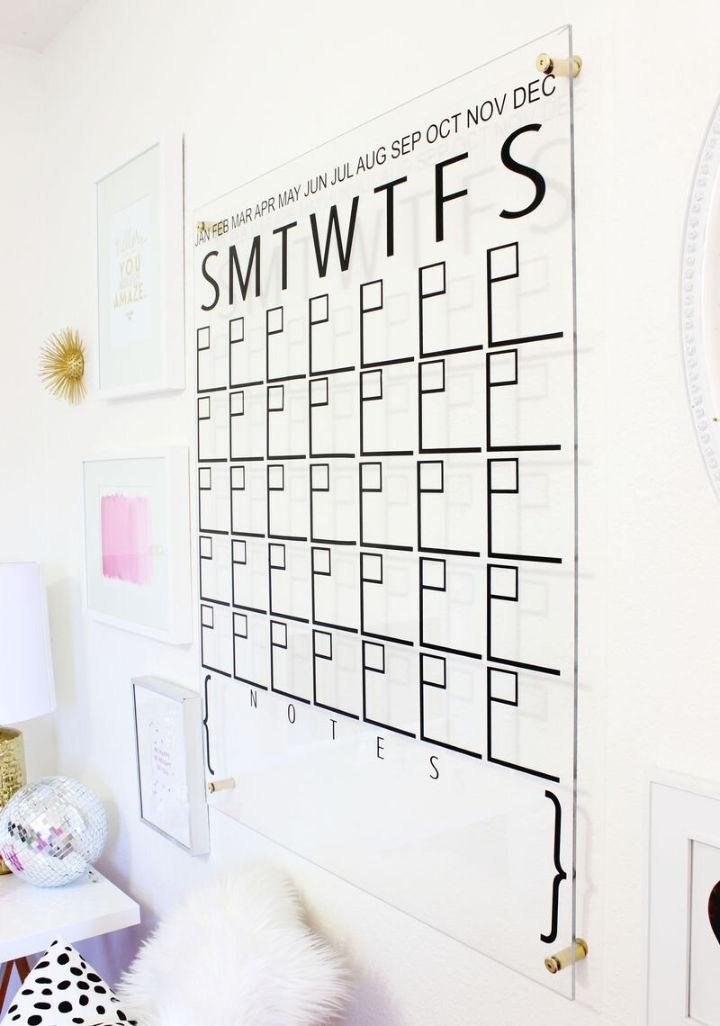 Do you strive for style in everything? The presenting here this stylish acrylic calendar to mount on the wall will get your skills praised. You need 36" x 30" acrylic sheet, brass-plated connecting bolts, washers, copper couplings, gold spray paint, black vinyl, and transfer paper to make it. Use the drill and drill bits to install this calendar on the wall. Details here abeautifulmess
22. Sticky Note Calendar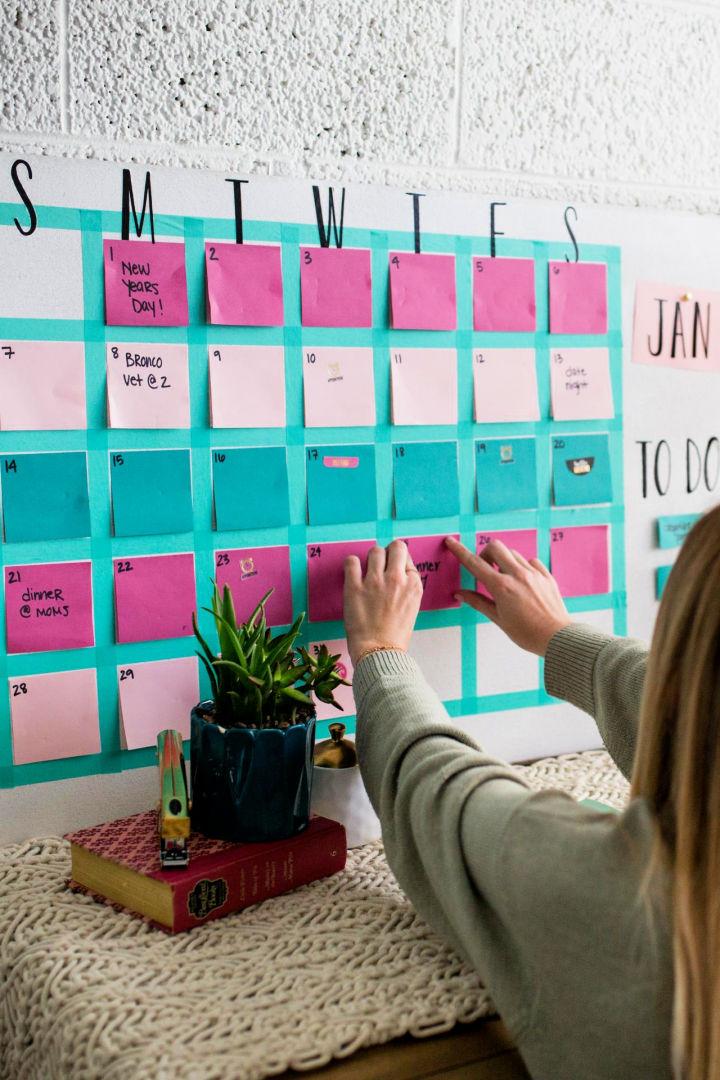 This calendar makes a stunning background and is quite something quick and cheap to whip up. Get this sticky note calendar made using the corkboard. Paint it with the white paint to create a gorgeous white backdrop, and next add the stick note squares on it numbered with your month dates. Further, you need alphabet stickers, marker, ruler, and washi tape to make it. Details here hgtv
23. Printable Photo Wall Calendar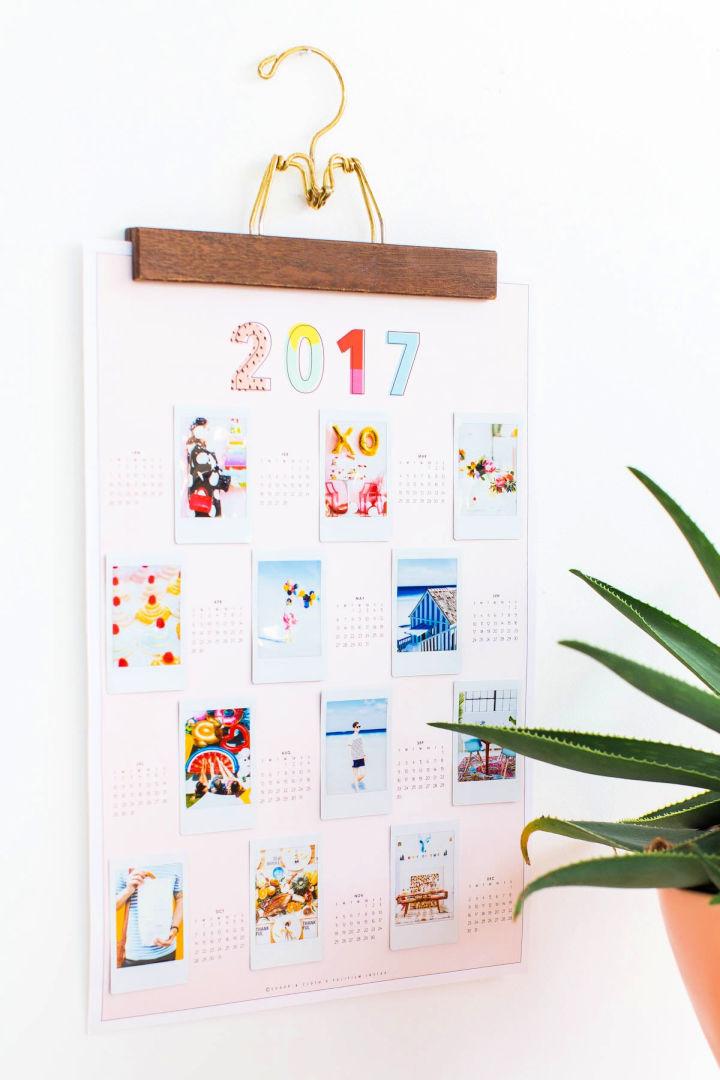 Display your photos on the wall while making this adorable wall calendar. Download the free calendar printable and then print them out. Use a clamp hanger to hang your calendar n the wall. Use the double-sided tape for your adhesive demands, like mounting the photos on the calendar. And you also need a pack of Instax mini film in this project. Details here sugarandcloth
24. Printable Photo Calendar

This printable photo calendar will make a great photography prop too while taking the pictures in perfect weather. Grab a calendar clip art, white printer paper, printer, and clipboard to whip up this photo calendar. This lovely calendar will complete in minutes and will surely organize your life events and routines. Details here marthastewart
25. DIY Acrylic Wall Calendar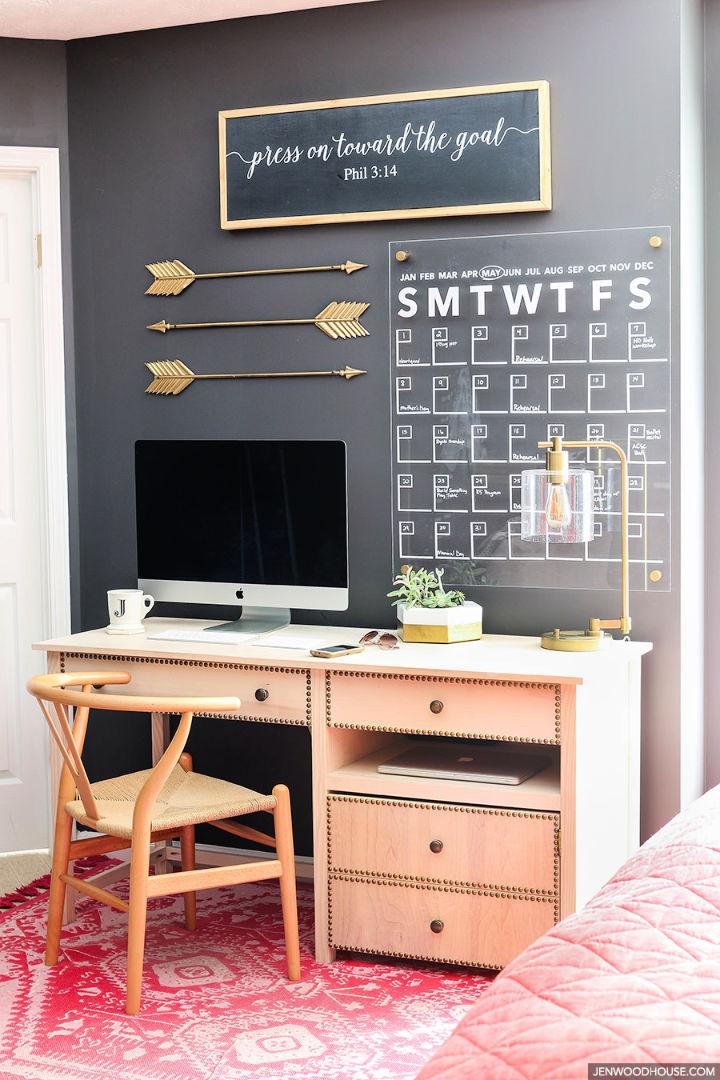 Change the way of mentioning dates in your home by making this acrylic wall calendar. Build this calendar using a 30" x 36" acrylic sheet. Use the silhouette machine, adhesive vinyl, and transfer paper to make the letters and alphabets. Further, you need the stainless steel sign standoffs, chalk marker, metallic gold spray paint, painter's tape, and drywall screws to make this acrylic wall calendar. Details here jenwoodhouse
26. How to Make a Calendar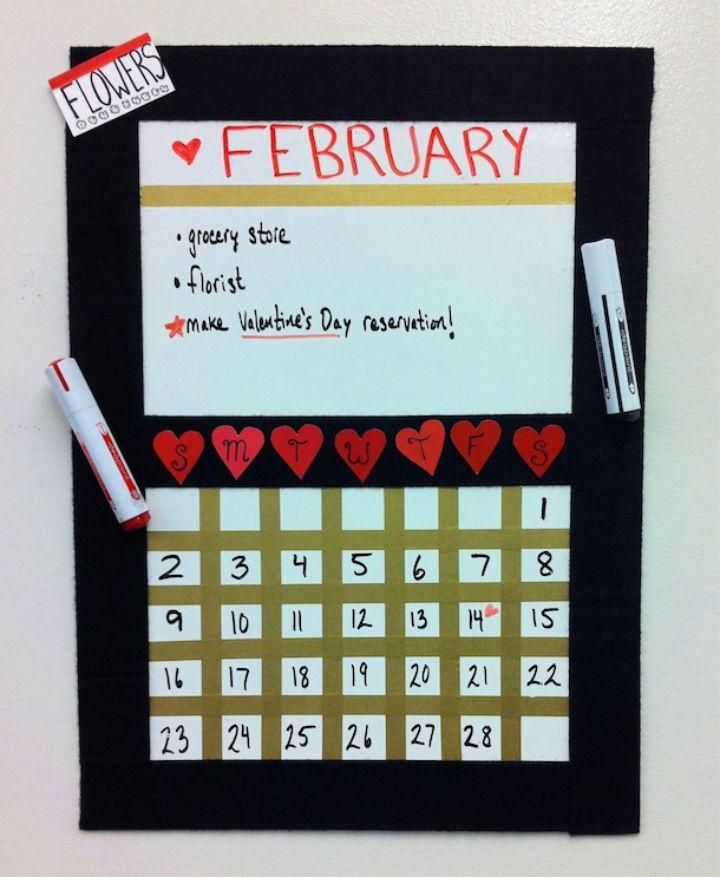 Learn here all the tricks of the trade to make an amazing calendar for your home using poster board and adhesive whiteboard sheets. Further, you need the Velcro, thin colored tape, dry erase markers, and colored cardstock or paint chips to whip up this sweet calendar will help you track your life events and routine meetings. The days of the weeks are mentioned in red heart shapes for a lovely effect. Details here velcro
27. Oversize Chalkboard Wall Calendar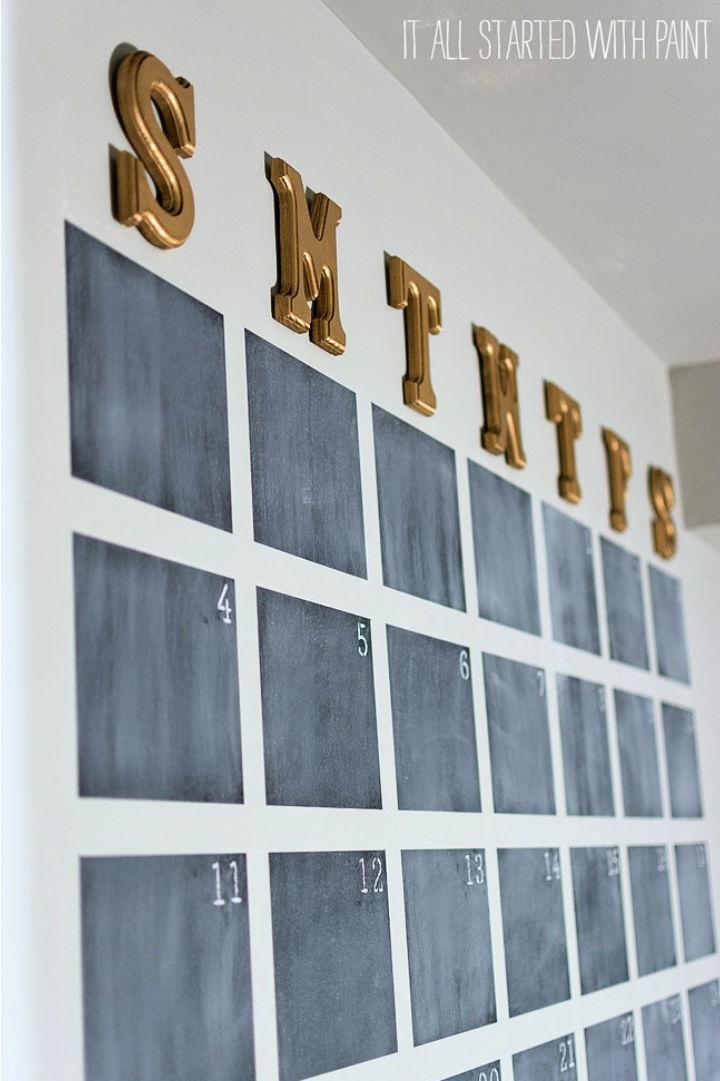 Get here tricks of the trade to build an oversize chalkboard wall calendar that can be erased to use again and again. Use the painter's tape and black chalkboard paint to paint the chalkboard calendar blocks on the wall in a decided area. Use the gold-painted wooden letters to display days of the week. One of the best DIY Wall Calendar ever made. Details here itallstarted
28. Paint Chip Calendar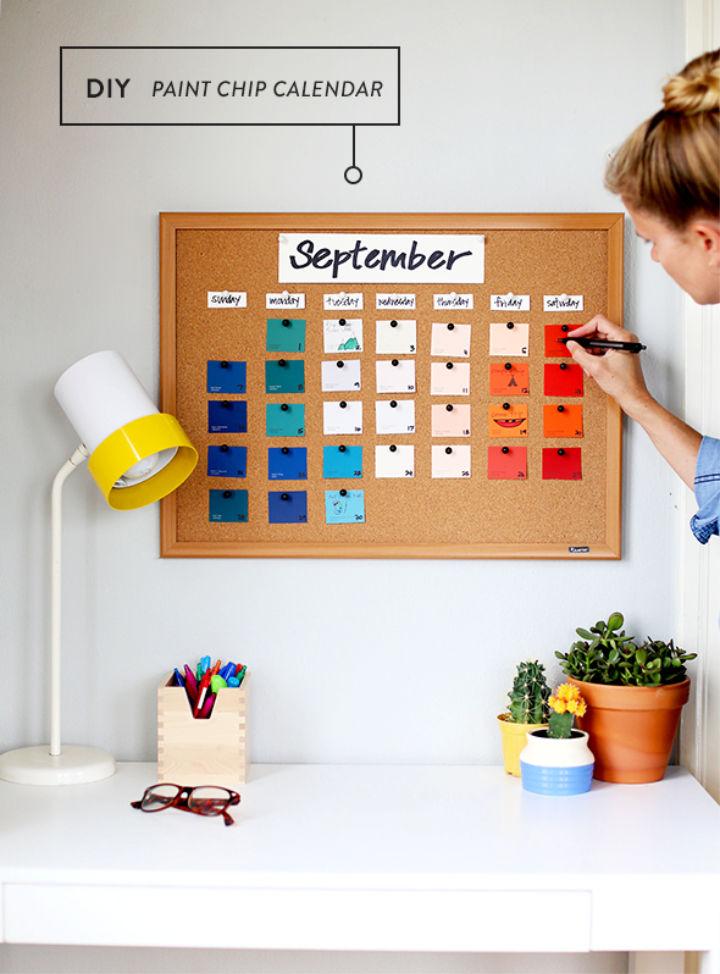 The paint chips are always colorful and can be repurposed for tons of different ways, even to make the wall calendars. Use the metal label holders to display the names of the week and next adhere to the paint chips on your selected board to display the colorful month dates. Use a marker to write dates, days, and month names. Details here sayyes
29. Chalkboard Tape Wall Calendar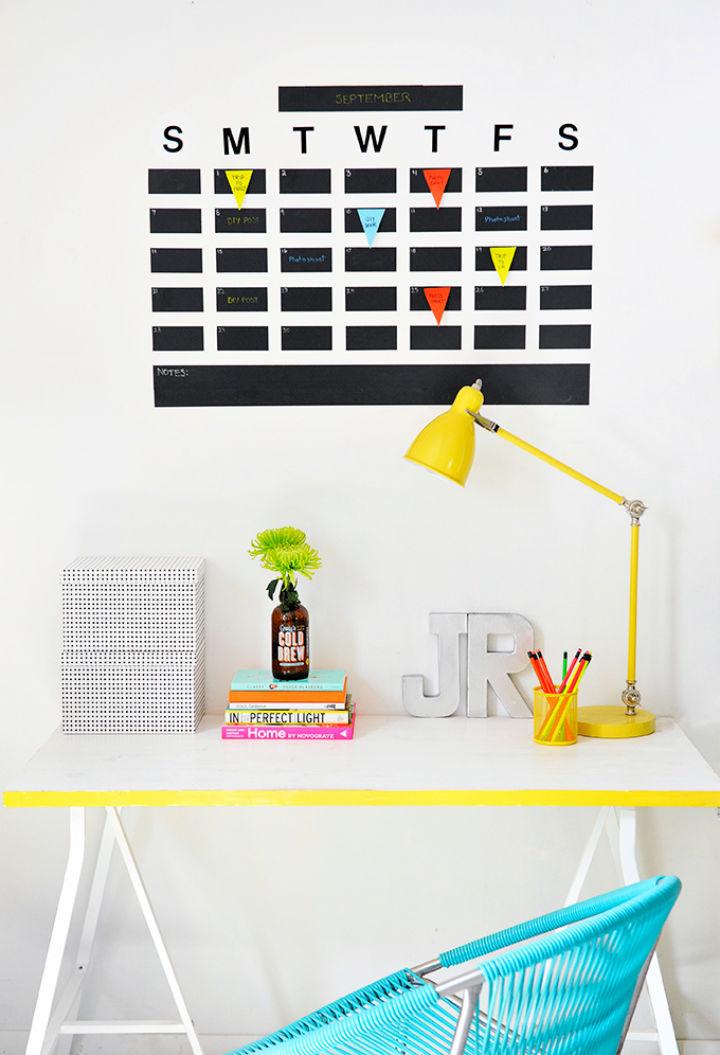 Build this instant beautiful calendar on the wall, will rock for the home command center, and also for the home office or study desk. Building this calendar will surely make you more productive as it will help plan your time to create routines of the day. Make this calendar using the chalkboard tape and with vinyl letters. Details here ispydiy
30. Free Printable Calendar 2020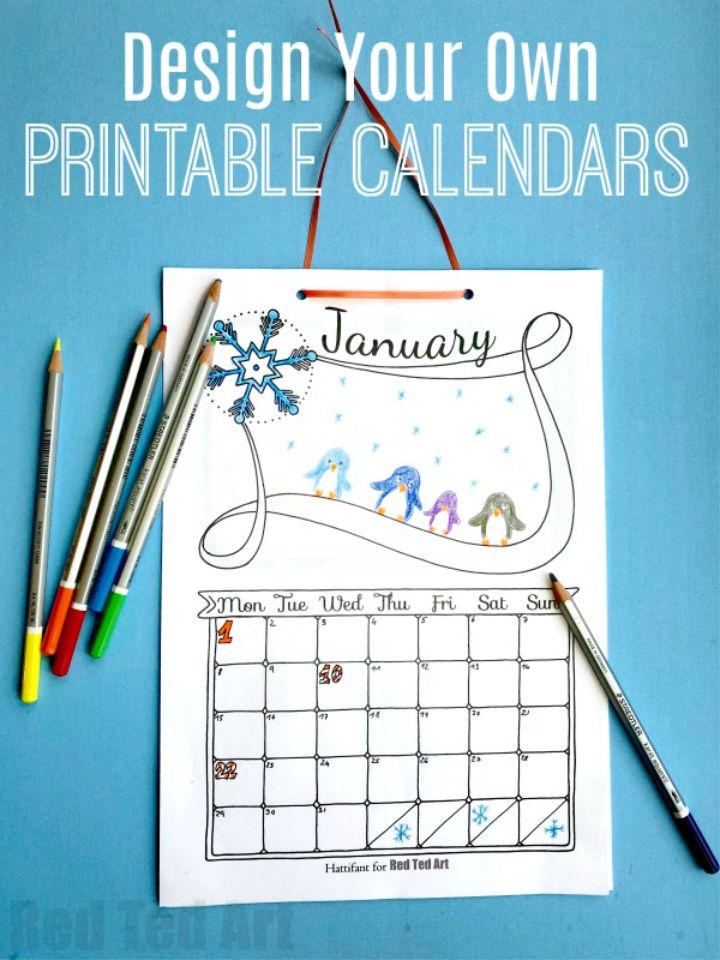 Get here the free printable to make an instant cute calendar for your space. Just print out the calendar on the cardstock or paper of choice and then start writing your dates and letters. Punch out holes in the top and then thread the ribbon into them to hang your calendar on the wall. Details here redtedart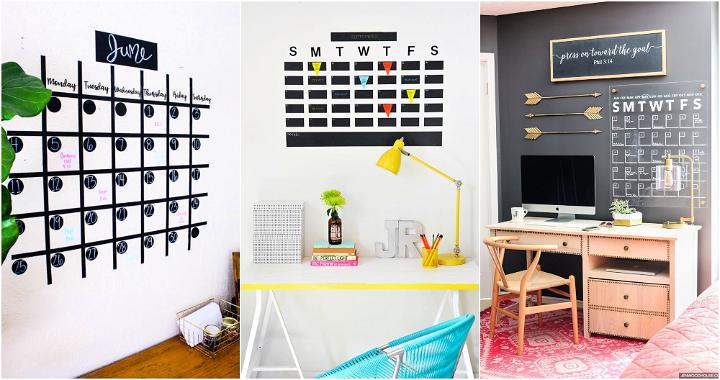 Conclusion:
Missing out on a calendar will make you miss out on something important in your life like the appointment, birthday, holiday, and other due dates. So, keep tracking the life events and create great routines with these homemade diy calendar ideas that are super cheaper than the market-bought calendars. The good news is that you can give a personal touch to these calendars so they will enhance the decor of your space, will compliment your style and will jazz up your study rooms and home offices too. A calendar is a big home command center staple and should not miss out in any way. These diy calendar ideas will help you with any type of calendar like a pro.