Are you willing to make some announcements for the big day? Then you must go with these 30 unique DIY save the dates ideas that are creative ways of telling your guests and friends that you are getting married. These unique save the dates will be the perfect pre-invites for any occasion and can be made super quickly in lots of different ways. From using thin and thick papers, your photos, and decorative envelopes, you can make lots of amazing card invitations that you can send 4-6 months before your wedding, so your guests will save those dates. The most important in these projects is to mentions the date and address, and there are lots of methods and styles to do so.
Browse this collection of 30 unique DIY save the date ideas that are great inspirations for you to invent the new and more unique card invites. From vintage to rustic to modern, this list shares all designs of pre-invitations, and you can choose from them according to your wedding theme.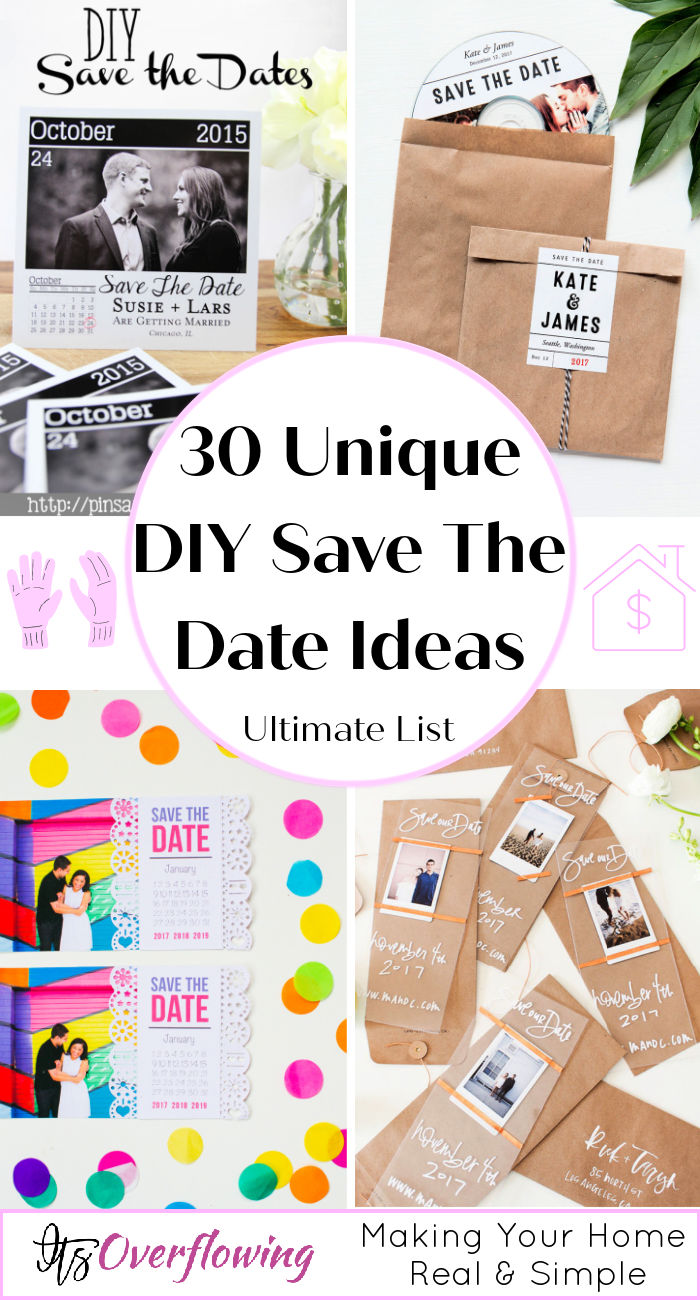 Cheer up your invites or cards and DIY save the dates templates by adding your photos in lots of styles. Like you can add your photo heads on the vintage doll print out in photoshop, print out your Instagram size photos to adhere to these invites, and also use your photo cutouts to make bizarre card invitation. Most of these projects are like a scrapbook, and they mostly involve creative stamping, gluing, cutting, and trimming. Jazz up your invites using watercolors, self-adhesive pearls, ribbon, and metallic cover stock. Learn more by taking a short tour of this entire collection of DIY save the date Ideas, will surely amaze you with the fabulous crafting talent.
1. Papel Picado Inspired Save The Dates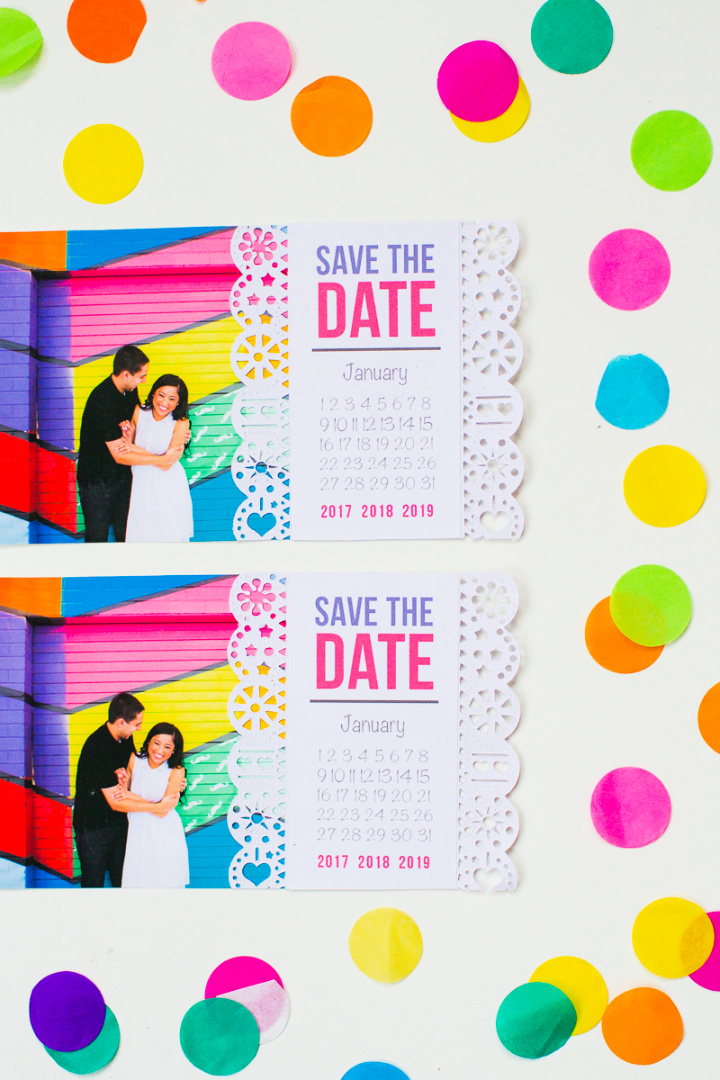 Show off your way to save-the-date with this Papel Picado inspired to save the dates. For this project, you need 6×4 size photos of you both, craft glue, Cricut, white card, and a Mexican die-cut template. One of the best pre-invitation cards to make at home in a few minutes. bespoke
2. DIY Page a Day Calendar Save The Dates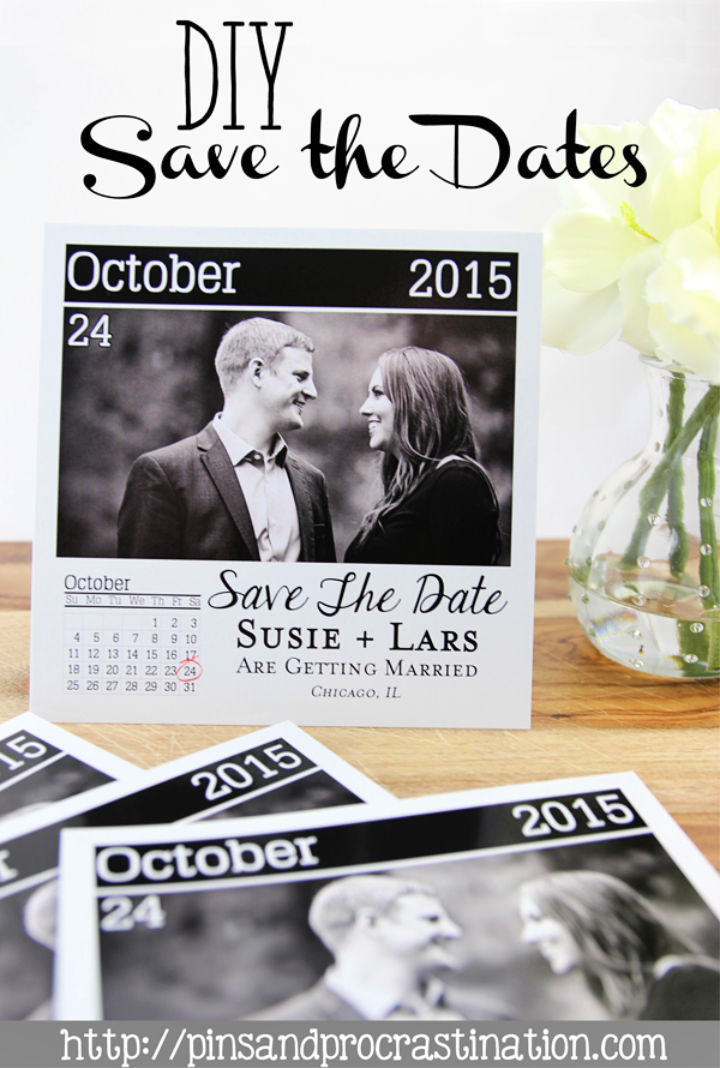 Use also the photoshop and your favorite printers to make outstanding save the dates cards. Design this DIY page a day calendar pre-invitation in photoshop with your favorite engagement photos and then printed it out with the date mentioned in a calendar style. Details here pinsandproc
3. Watercolor Save The Date Postcards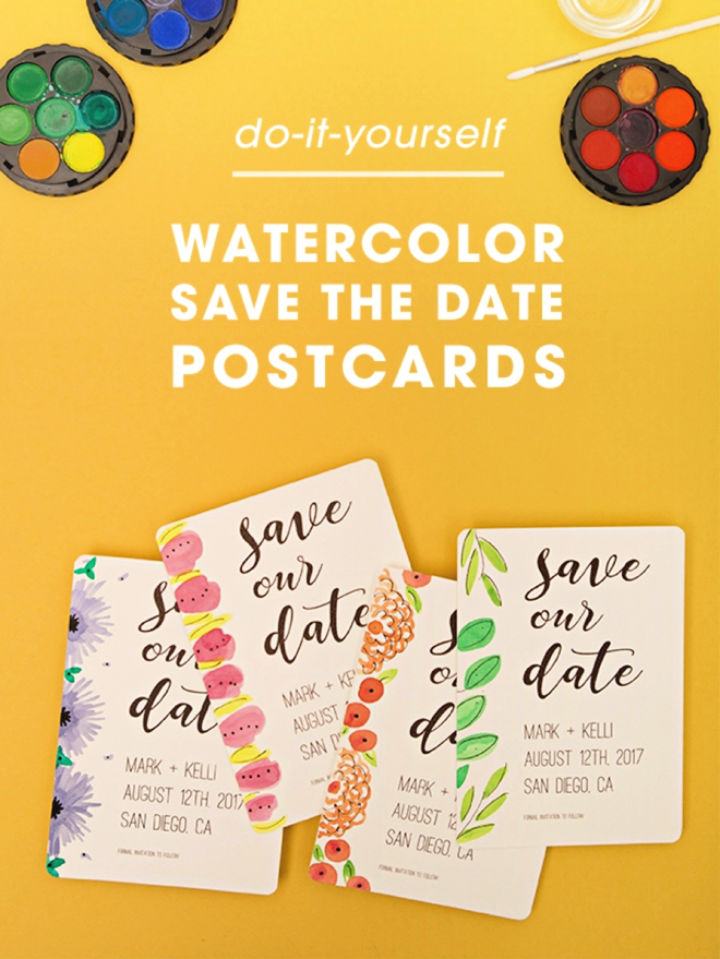 Use both of your printing and painting skills to design lovely save-the-date postcards will be loved dearly by all the guests you are planning to invite to your wedding. Print your letters on your 5×7 poster boards and then decorate it more using the watercolors and your favorite paint brushes. Details here somethingt
4. Thumbprint Save The Date Free Printable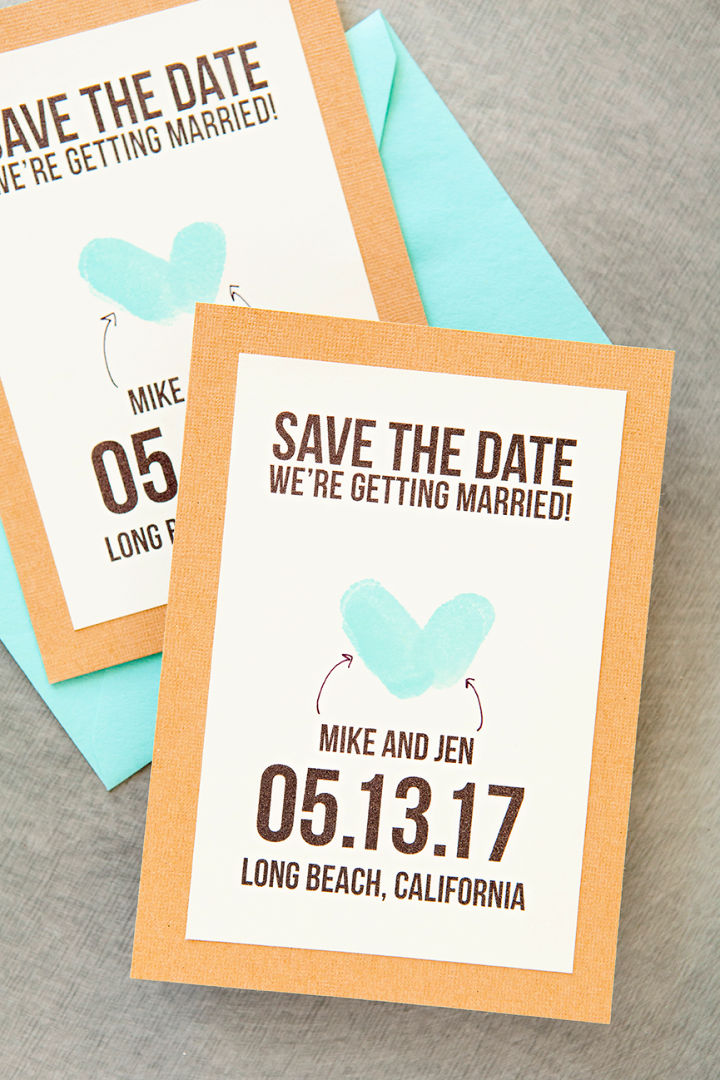 You can simply download the printable here to make a quick save the date, it comes with a thumbprint and looks more than cool. The dates and locations are mentioned in bigger letters. You can easily design and print out this pre-invitation at home. thebudgetsav
5. Wedding Save The Date Luggage Tags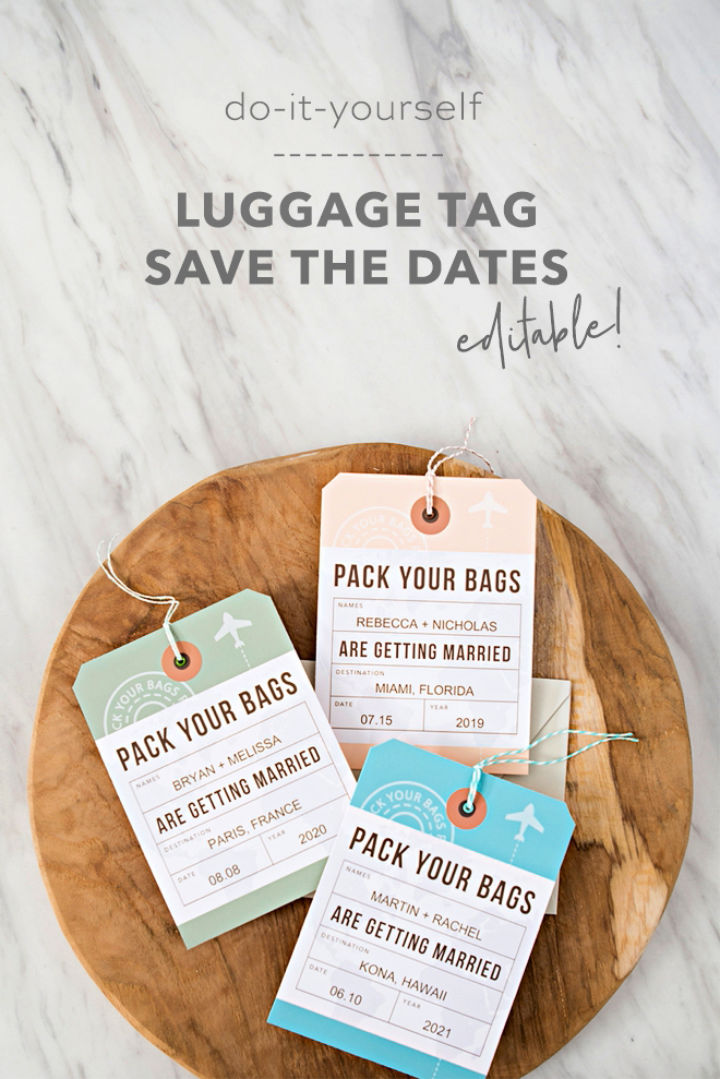 Willing to send your guest some official info of your wedding? Then do it in style using these save-the-date luggage tags, which will make it easy for your guests to be free at that time. Here you need an 8.5" x 11" white cardstock or photo paper, A6 size envelopes, hole punch, eyelets, twine, and luggage tag save-the-date pintables to do this project. something
6. Neon and Kraft Paper Save The Dates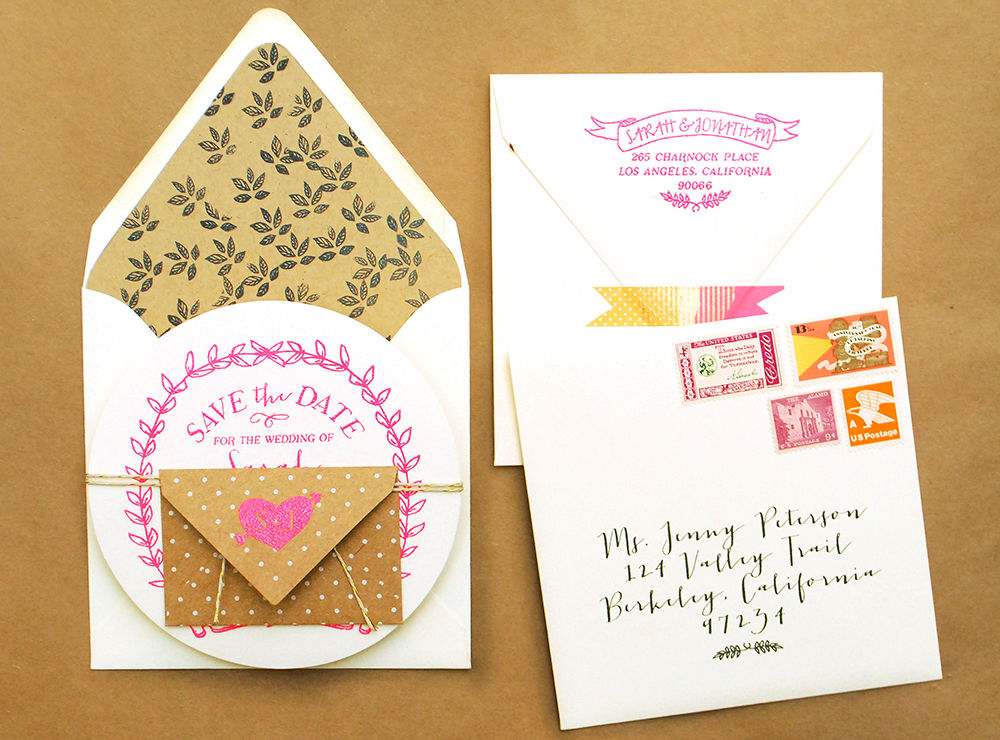 Do also the fun stamping and make lots of enchanting save the dates will surely impress your guests you are going to get in the loop for the wedding. Use the business, cards, envelops circular cards, and lots of polka dot, leaf, letter, and save-the-date letter stamps to do this project. Details here ohsobeautiful
7. Save The Dates using Fujifilm Instax Mini 70 Camera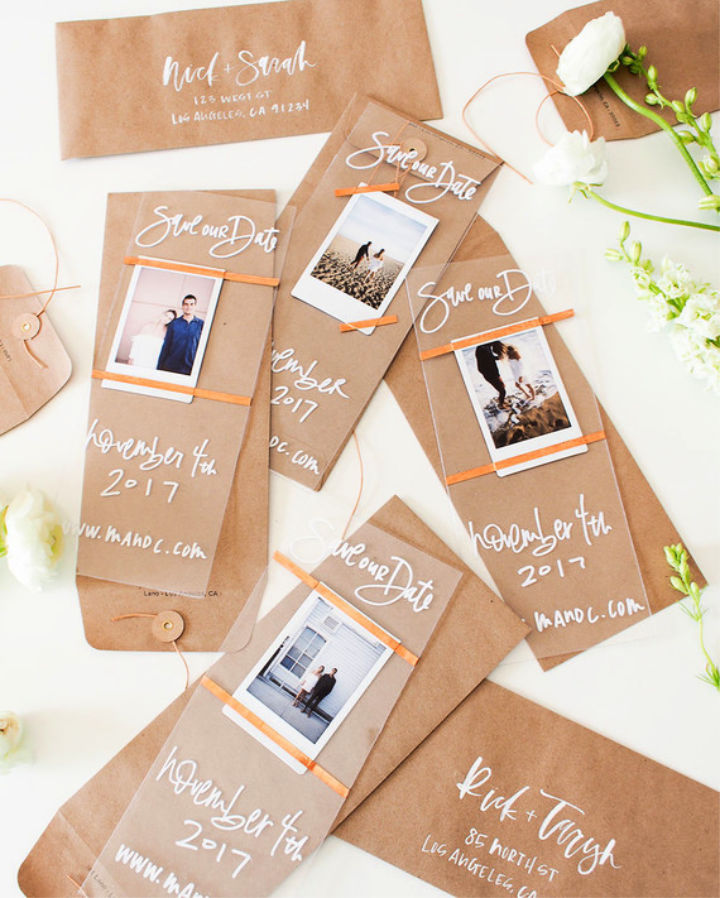 Make these more fascinating and cool-looking save the dates using 70 Mini Fujifilm Instant Camera, balsa wood sheets, silk string, double stick tape, paper for printed element, muslin bags, awl, white tags, and watercolors. A one of the best pre-invitation to announce officially, "you are going to get married soon". Details here 100layer
8. Botanical + Watercolor Save The Dates
Set the tone of your big day, the wedding day, by planning some cool save the dates. Make these botanical plush watercolor save the dates, will surely impress your guests at a very first look. Making this pre-invitation involves playing with different stamps too, like with address stamps and fern forest save-the-date stamp. Next, you need watercolors, paint and washi tape. ohsobeautiful
9. Beach Theme Save The Date Cards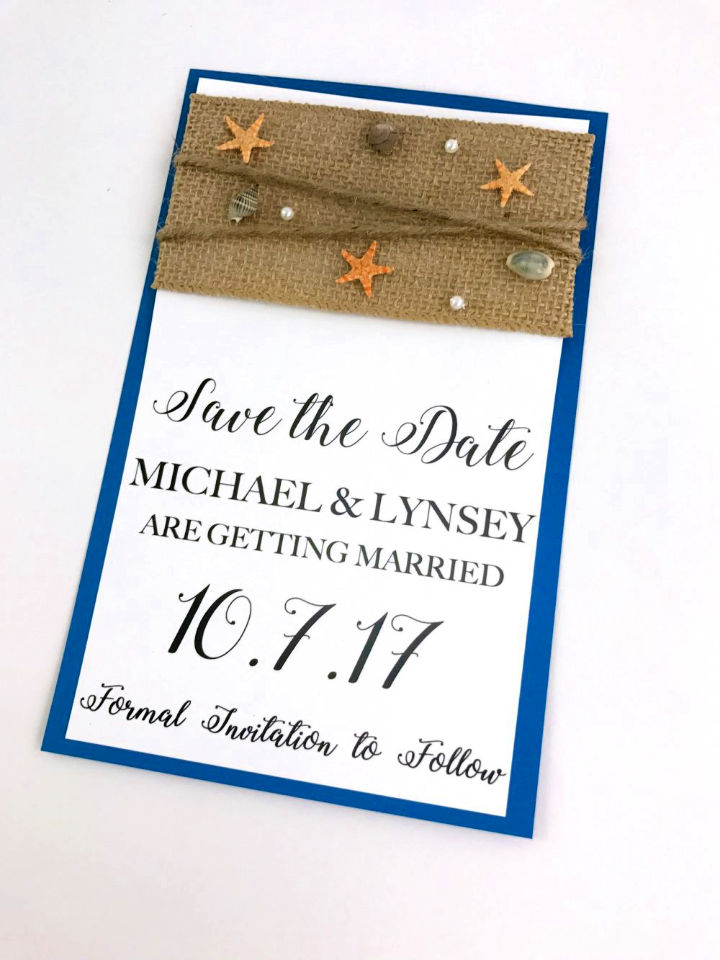 Make also the best nautical save-the-date cards at home. A great inspiration will be these beach theme save-the-date invitations; it will be a lovely way to announce your big day. Grab the cardstock in your wedding theme color, white cardstock, a template, assorted seashells, tiny starfish, pearl ribbon, and heavy-duty double-sided tape. Details here moscatom
10. DIY Magnet Save The Date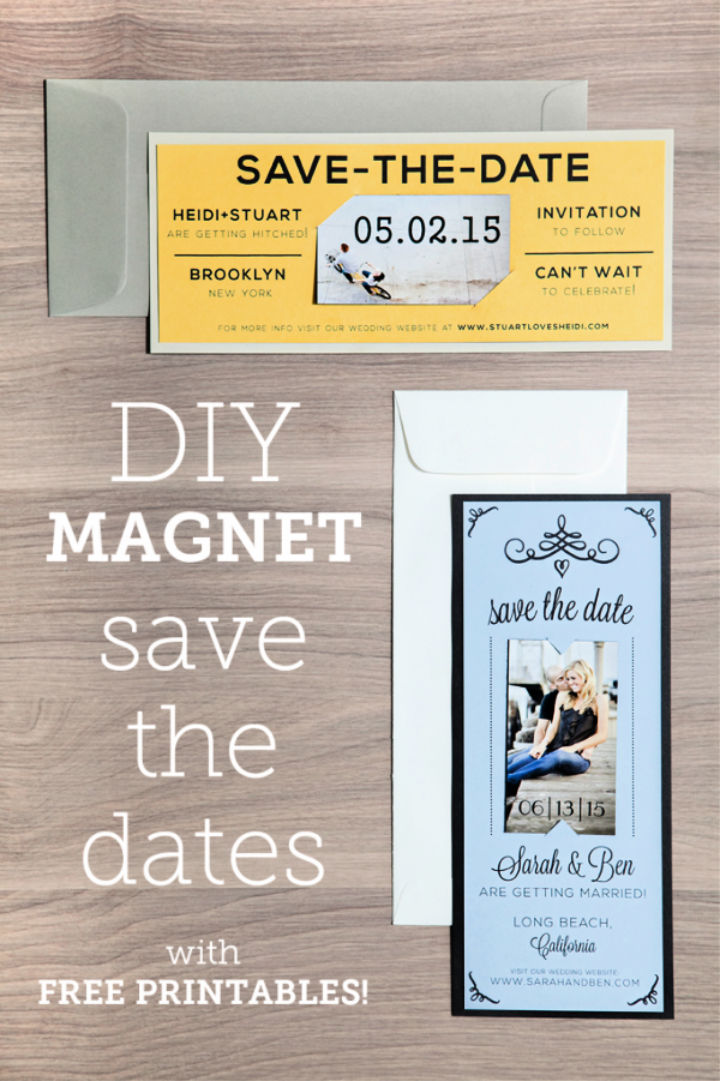 Show off with the style of announcing your wedding date using this magnetic save-the-date. Grab the business card magnets, 8.5" x 11" cardstock in choice of colors, 10 size note cards, 10 size envelopes, and scrapbooking adhesive, to make this perfectly cute pre-invitation. Details here thebudge
11. Palm Springs Mod Watercolor Save The Date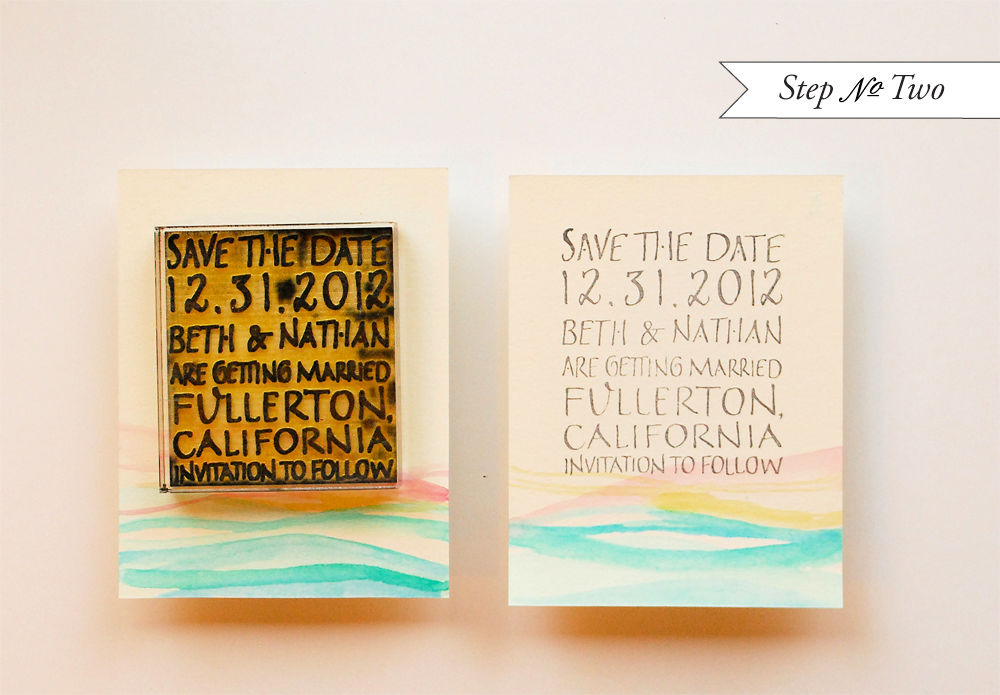 Head over to this another DIY save-the-date idea that involves using A2 card. Paint the watercolor lines on the A2 paper or card and then stamp the wedding date and address using stamps of choice. These invites will be liked by all in your family and friend's circle and will be super cheap to make too. ohsobeautiful
12. Instagram Photo Save The Date Invitation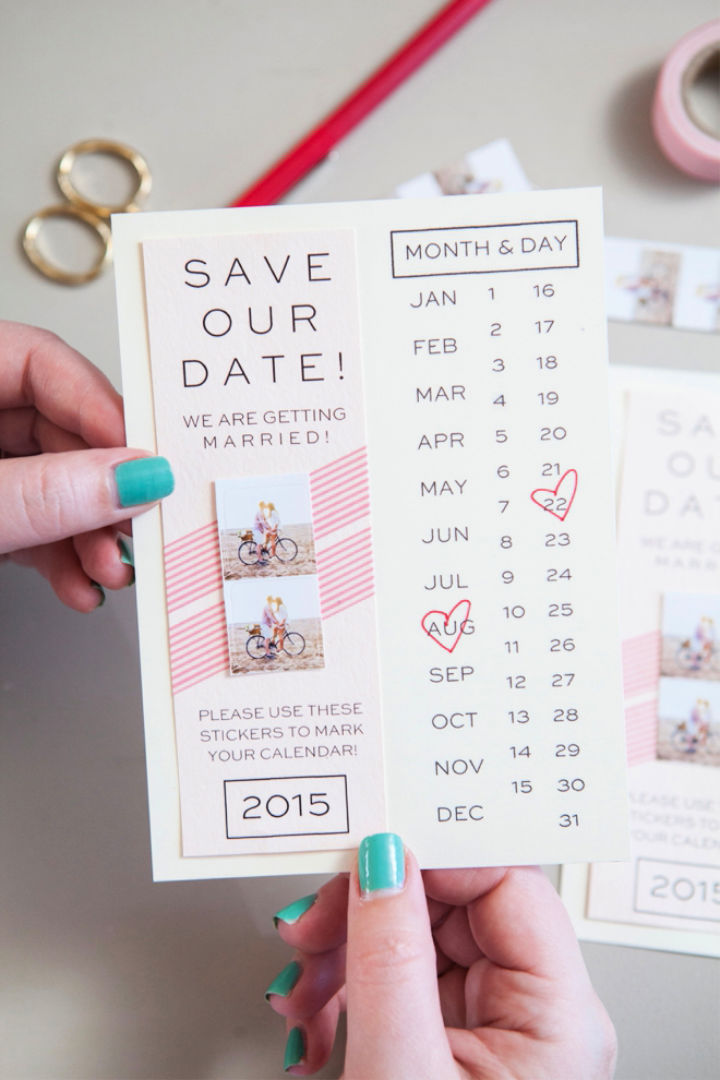 Arrest your guest under the spell of your wedding that is coming soon by sending this Instagram photo save-the-date invitation. Make it using 8.5" x 11" cardstock, A6 size envelope, print studio stickers, washi tape, paper trimmer, and glue dots. Details here something
13. Wooden Slice Save the Date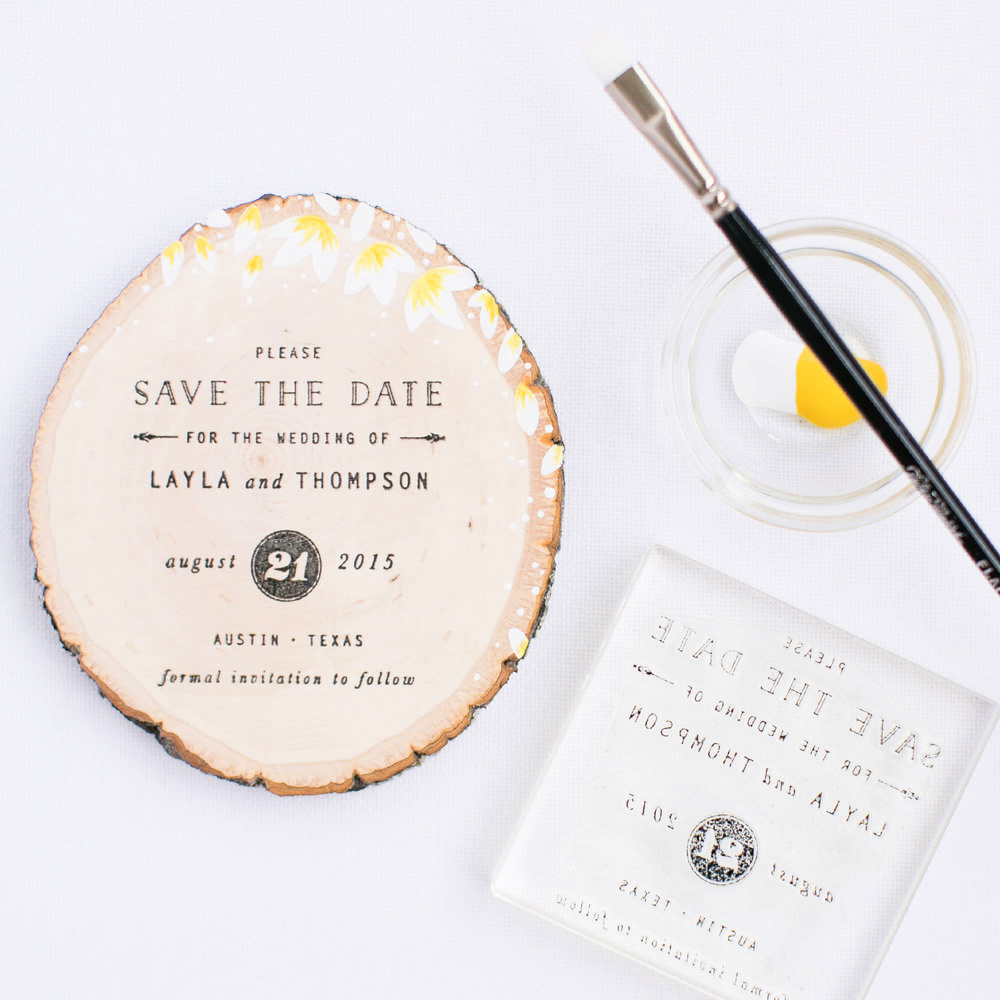 Use also the rustic wood slices to make great looking save the dates. Just grab a 4-5" wood slice coaster and then stamp it with your favorite save-the-date stamp, and here you go. Next, use the paint and paintbrush to adorn this wood slice save-the-date more. Details here prettypeas
14. Homemade Instagram Photo Save The Dates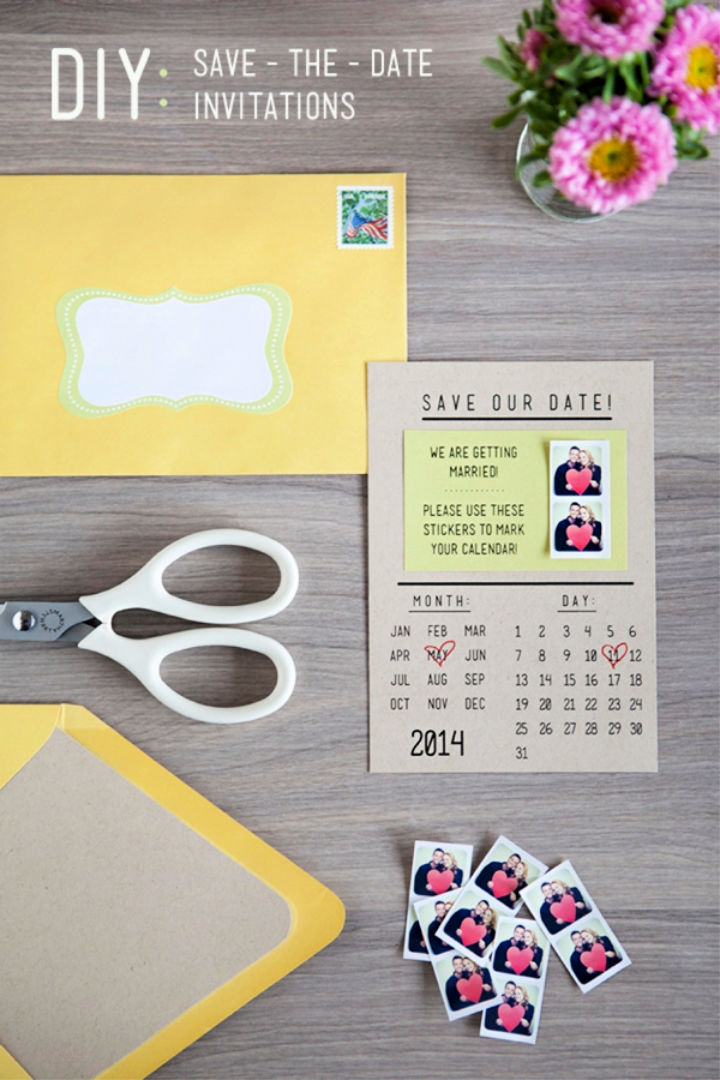 Amaze the people around you by sending this super cute photo pre-invitation. It will speak for your planned wedding date. Grab the cover weight 8.5" x 11" cardstock, text weight 8.5" x 11" paper from paper source, A6 size envelopes, sticky thumbs, paper trimmer, and darling stickers to make this Instagram photo save-the-date. something
15. Die Cut Save The Date With Cricut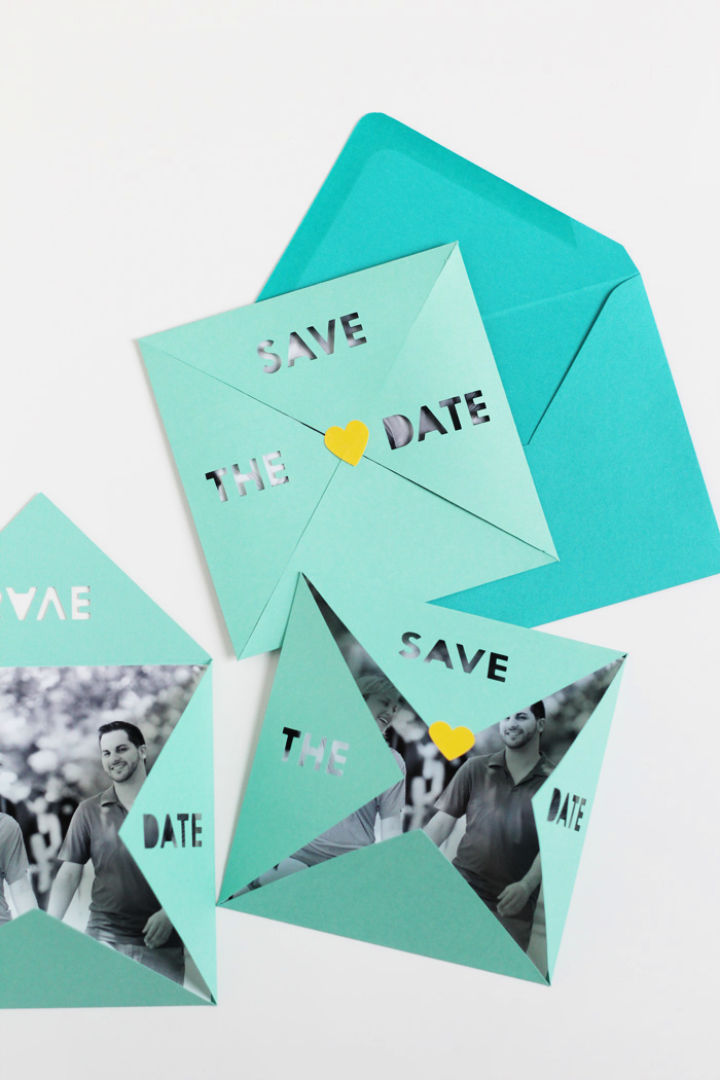 Make also super lovely and cute save the dates using the Cricut machine. You need 12" x 12" cardstock, 5" x 5" photo, fun stickers, envelopes, and Cricut scoring stylus to make this lovely save-the-date, will surely impress your guests and friends while given as sweet pre-wedding-invitation. michelle
16. Save the Date CD
This is where the age of tech, so go with the modern multi-media hacks to make super cool save the dates. A mind-blowing DIY save-the-date idea will be to make a CD having prints or covers expressing your wedding date. You need large papercraft bags, CDs with songs, CD labels, patterned twine, and labels. Details here evermine
17. Easy DIY Save the Dates
Use the watercolors and paint your own favorite art the cardstock and then stamp the wedding date and address to make lovely save the dates. This project will show you how you can save up to $150 on save the dates. A great DIY Save-the-Date Project that everyone can do with great ease. guitarandlace
18. Handmade Save the Date Cards Your Guests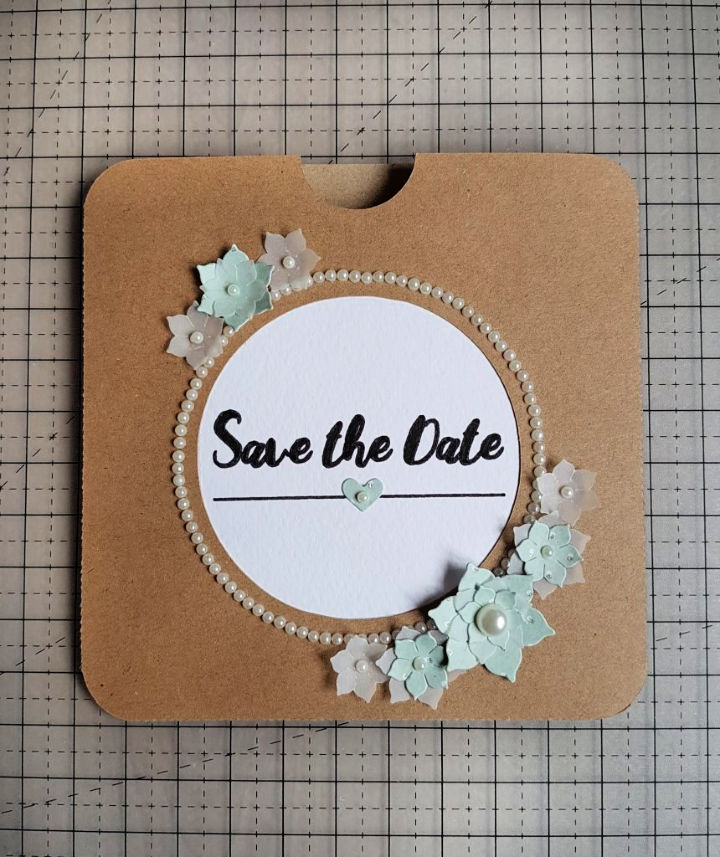 You will love making these save the date cards as they ware super cute and well adorned. You need ScanNcut machine, craft paper card 50xA4 sheets, assorted white pearl chain, and custom die-cut machines, etc. to make these save the dates cards, will surely leave a great impression on your guests. createandc
19. Paper Dolls Save The Dates
Spice up your pre-wedding invitation game with these save-the-date cards will surely impress at a very first look. Use the photoshop and adjust your photo heads on the vintage doll bodies and then add the address and custom wedding dates to make a perfect pre-invitation vintage card. Details here happinessis
20. Save The Date Dish Towels
There are tons of different ways to send out the pre-invitation of your wedding, and one is to make these save-the-date dish towels. Just grab the tone of dish towels and stamp them for the wedding dates and for custom botanical prints enclosing the wedding dates and quotes. Details here weddingchic
21. Pretty Save The Date Cards With Tags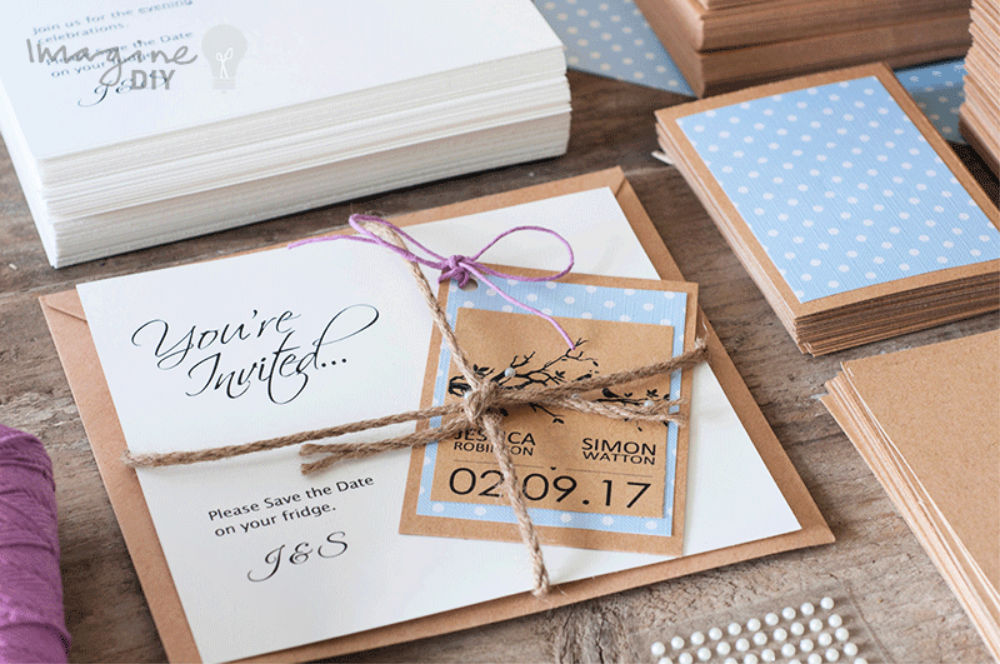 You need 1/2 sheet of matt off white card, 1/4 sheet of kraft card, 1/8 sheet of blue polka paper, self-adhesive pearls, dark pink hemp twine, and square kraft envelop to make these pretty save-the-date cards with tags. Finish your cards with the rustic twine wrap for a boosted visual. Details here imaginediy
22. DIY Bookmark Save The Dates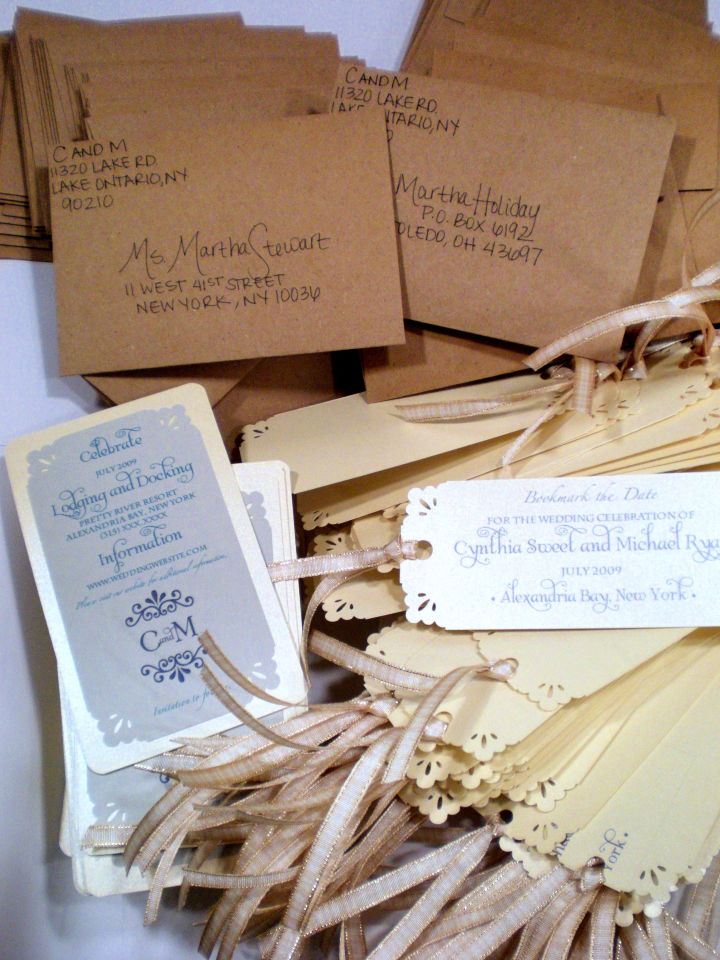 This DIY save the dates guide will give you all the details to make adorable bookmark save the dates in a cost-efficient way. You need corner squeeze punch, spools of 1/4" ribbon, a sheet of champagne metallic cardstock, recycled brown kraft envelopes, gray cover stock, books of stamps. elizabethan
23. Save The Date Luggage Tags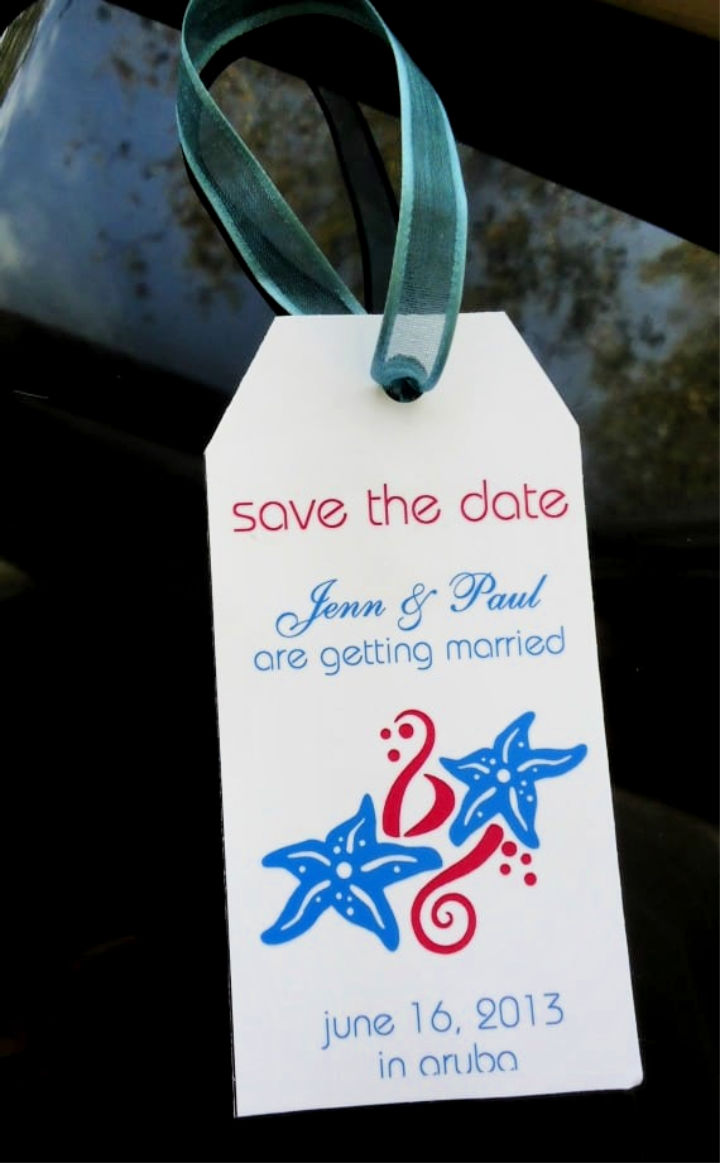 Impress your friends and family by with this surprising way of announcing the wedding days, the save the dates luggage tags. Here you need the metallic cover stock 8.5" x 11", Microsoft word, ribbon, and printer to make this luggage tag, will surely be an impressive wedding card invitation. destination
24. Save the Date Invitation Design With a Calendar Sticker
Make these pre-wedding-invites using the blank slim cards, envelopes, translucent vellum, twine or ribbon, glue or double-sided tape, and craft punch. A one of the best DIY save-the-date invitation design that looks like a gorgeous calendar sticker. Do make this invitation for your wedding details here lcipaper
25. Save The Date Banner
Let your guests take your wedding on a serious note by making this lovely wedding invite. Grab the A4 size card stock, printer, scissors, hole punch, 1.5-meter ribbon, metal eyelets, and eyelet punch. Decorate your save-the-date banner with glitter and watercolor. Details here brideand
26. DIY Destination Wedding Save the Date
You will love this save-the-date wedding pre-invite, which will surely go impressive to your guests. Beaucoup mini suitcases, confetti, address label printables, kraft label sheets, and 1.5" x 2.5" save the date cards. One of the best DIY wedding save-the-date ideas. Details here ruffled
27. Save the Dates and Save Money With Free Printable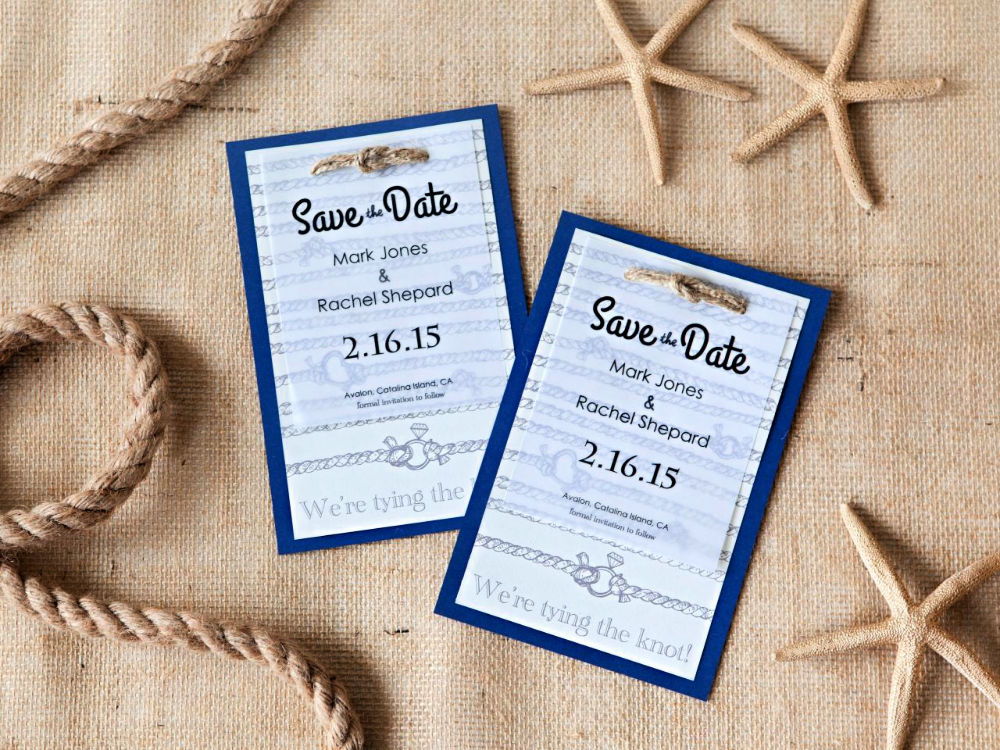 Here you have to do nothing in making the cool DIY Save-the-Date invites; just download the free printable that is just like the readymade pre-invites for you, then simply print them out. Do a little modification according to your wedding theme and date. Details here diynetwork
28. Scratch Off Save The Dates
Grab the white cardstock, pennies, freezer paper, metallic acrylic paint, liquid dishwashing soap, and envelopes, etc. to make this scratch-off save-the-date. One of the best DIY save-the-date ideas that will instantly please your guests and friends. So, do spice up your wedding these DIY Save the Date invites. marthastewart
29. DIY Save the Date Wording
You will love this way that will help announce your big day in a suitable and heart-winning manner. you will love the save-the-date wording here that will be a delight to read out and hence making more space in the heart of your guests for you. Time to impress others with your amazing wedding arrangements. Details here greenvelope
Conclusion:
Maybe you are ready to announce the date of your wedding that you have recently been planned. So, help all your guests and friends to make up their minds to attend the wedding by sending pre-invites. So, these simple DIY save the dates ideas come for a big rescue. They are quite inexpensive invites to make at home without getting a bit expensive. You can send these invites about 4 months before your wedding so your guests can easily note the dates to be free on those days. Making these unique save the dates will be a smart way to spice up your wedding. But making these wedding invites and notes, will cost you nothing, they are quite budget-friendly to make.
Related DIY Wedding Ideas