Pizza is the ultimate food love and everyone loves them in the family. Sometimes making pizzas can seem time taking and hard-working tasks but the pizza cravings still need to be satisfied. The solution to such a situation lies in these 10 homemade flatbread pizza recipe as they are super easy and fun to make and that too within the least of the time range. The Flatbreads are always available in the house resting in our fridge to come out as savior when the time is short for the dinner preparation. So take those flatbreads and fill them with your favorite ingredients to enjoy the instant made flatbread pizza recipe at home.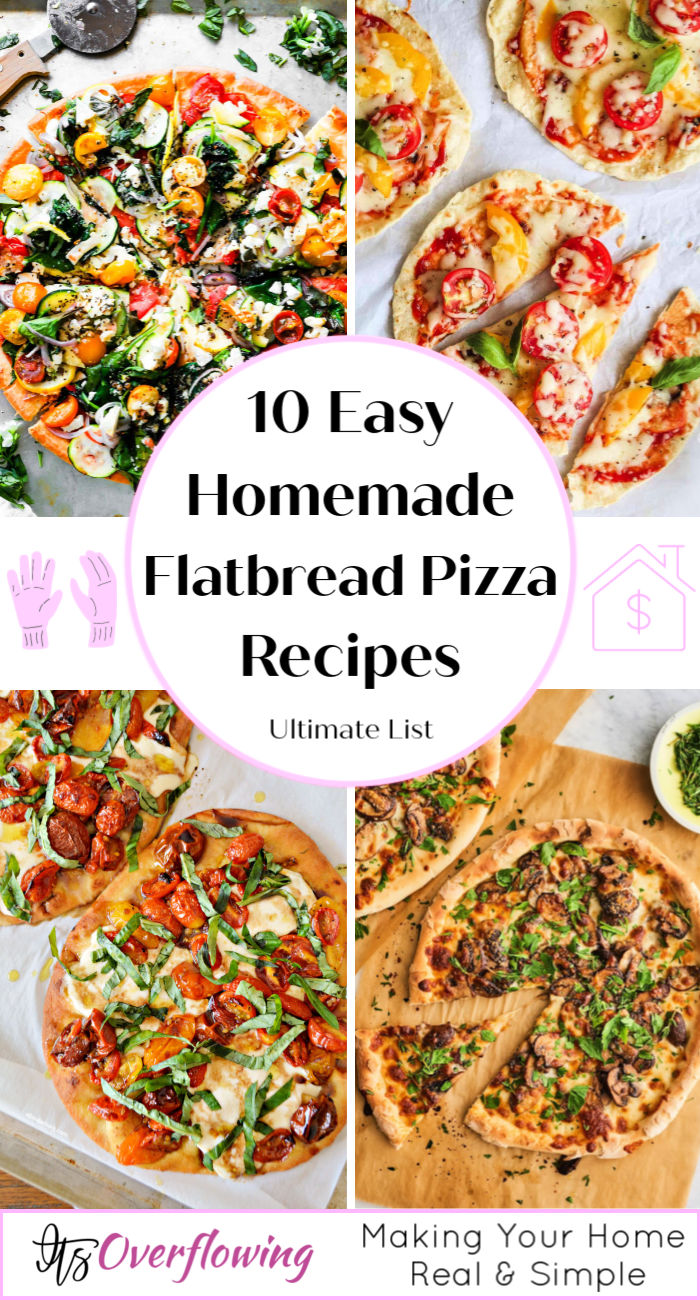 Not only these flatbread pizzas are tasty and quick to make but also super healthy for the whole family for carrying low calories. You can add more to the nutrition value and the taste of the pizzas by making the flatbreads at home. How to make flatbread? Skip milk and sugar while creating your own flatbreads to create a complete vegan flatbread with the least calories.
The flatbreads can be loaded with anything that you like the most like caramelized mushrooms, tomatoes, veggies, and more. Not only for the Friday dinners these 10 best flatbread pizza recipe roundups are perfect for the small parties with your friends. Check out the detailed recipes of each flatbread pizza recipe right below!
1. Caramelized Mushroom Flatbread Pizza Recipe
Make your friends happy at the weeknight party with this caramelized mushroom flatbread pizza, will make the best snack. Prep time for the recipe is 20-35 minutes, and cooking time is 35-45 minutes. 10-inch pizza will serve 4-6 members, and caramelized mushrooms with plenty of mozzarellas will please all age groups. thekitchn
2. Veggie Lovers Flatbread Pizza – Gluten Free
For all gluten-intolerants, this flatbread pizza will be a big delight. Loaded with veggies, the gluten-free pizza crust will rock your pizza nights. Along with the vegetables, add some proteins too on the top, it will be on the table just in 15 minutes as a healthy crowd and friend pleaser. cottercrunch
3. Easy 5-minute Flatbread Pizza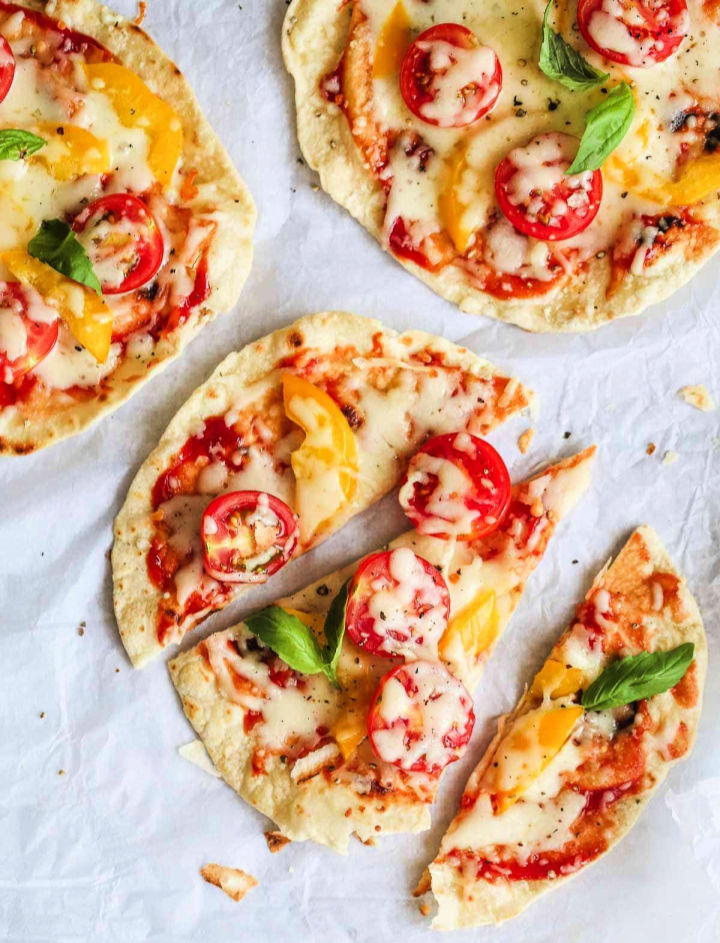 Planning the quick summer meals for your kids? How about making this 5-minute flatbread pizza? It will save a lot of money and cooking time and will there for the long-awaited hungry kids in no time. This vegan flatbread pizza recipe. Make your breads, spread base sauce and seasoning, and finish by adding loads of veggies along with grated cheese. littlesunnykitch
4. Flavorful Margherita Flatbread Pizza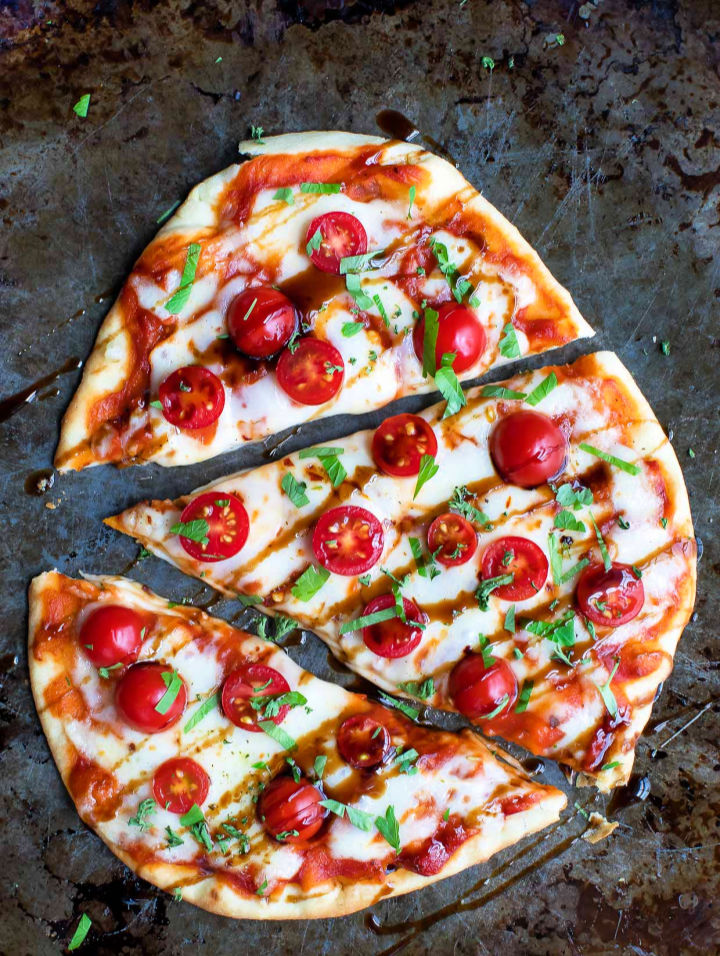 Don't puzzle at the busy weeknight meal plans. Just make this Margherita flatbread pizza, the best main dish to cook from the Italian cuisine, will be there for eating lovers in just 10-minutes. Add up a naan with pizza sauce, then with grated mozzarella cheese and halved cherry tomatoes etc.. peasandcrayons
5. Homemade Caprese Flatbread Pizza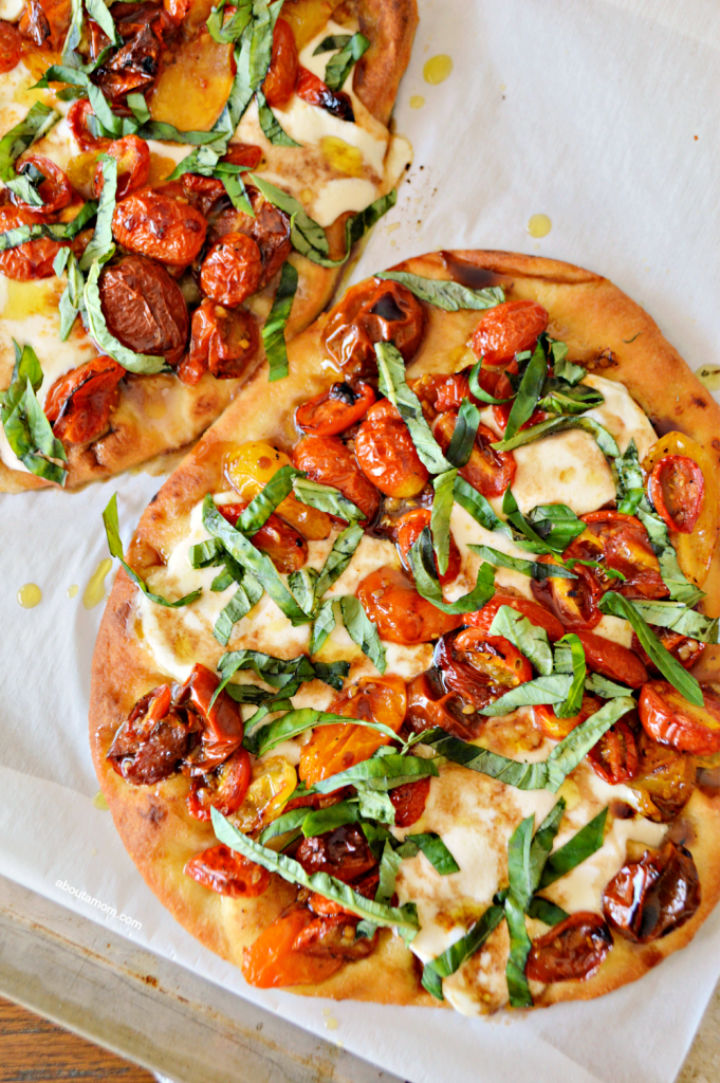 Willing to eat something wonderfully delicious with friends and family? So, this Caprese flatbread pizza should be added to your weeknight meal menus. The recipe involves a few easy-to-mix and fresh prep ingredients like roasted tomatoes, extra virgin olive oil, balsamic reduction, garlic, and fresh mozzarella cheese. aboutamom
6. Sun-dried Tomato Chicken Flatbread Pizza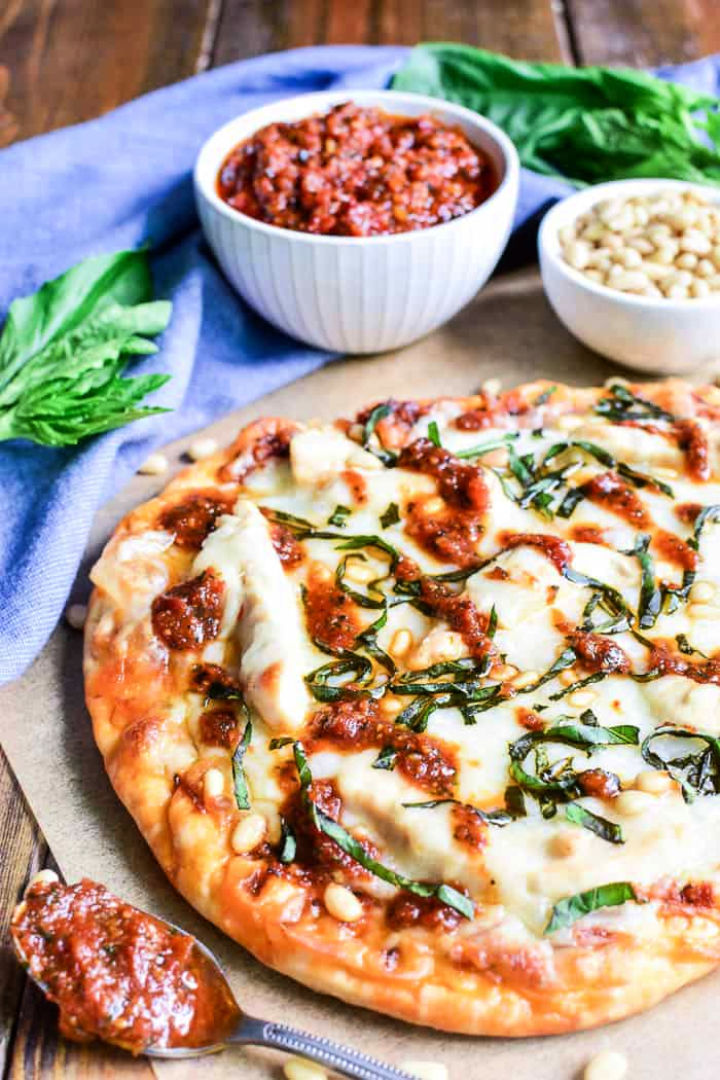 If you are dealing with the picky eaters in the home, then must cook this sun-dried tomato chicken flatbread pizza recipe will be making a delicious dinner for them. What makes this pizza a full pack of flavor is the sun-dried tomatoes, fresh basil, fresh mozzarella cheese, pine-nuts, and chicken. Make it serve as a snack and appetizer too. lemontreedwell
7. Supreme Flatbread Pizza Recipe
Entertain your family, friends, and kids in a home with this supreme flatbread pizza. Cut the flatbread at different angles if going to serve this pizza as a sophisticated appetizer. It will be a great entertaining recipe for lunch, and you should make it also when you need to impress the guests. theperfectport
8. Prosciutto Arugula Flatbread Pizza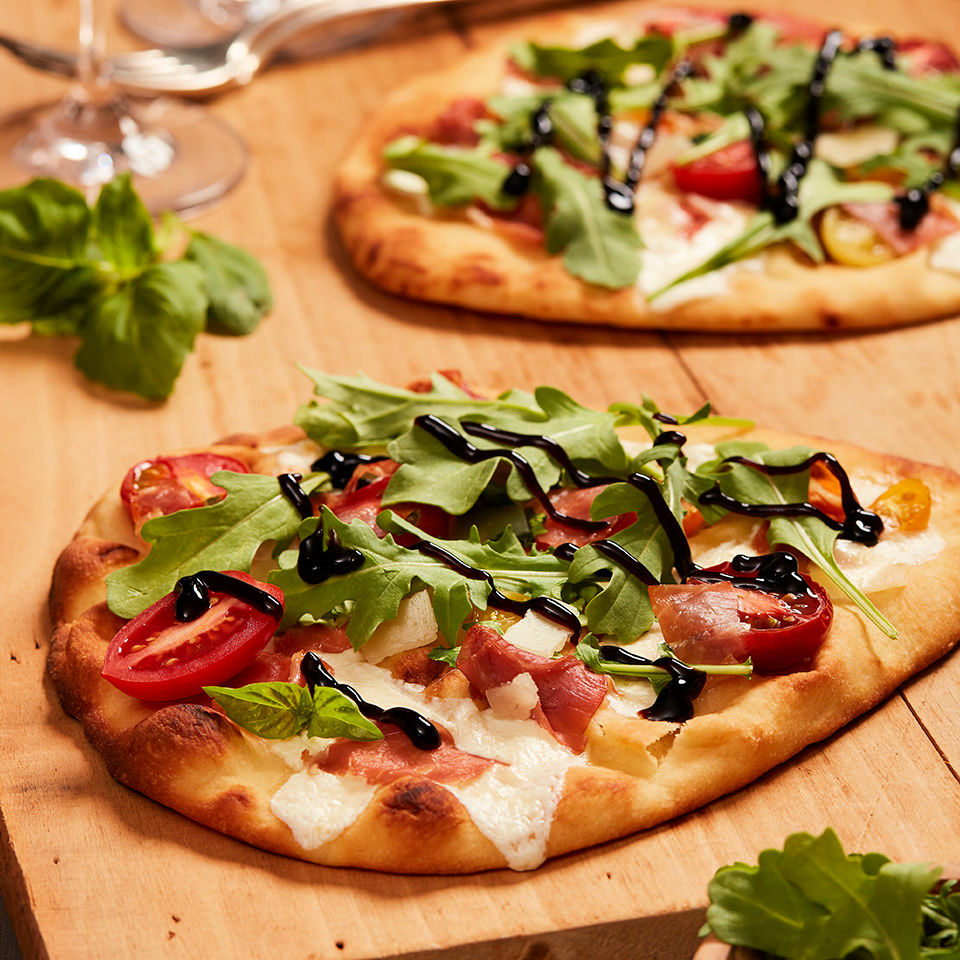 You will get ten out of ten to this 10-minute weeknight meal, the prosciutto arugula flatbread pizza. Make it using a tandoori naan and drizzle with balsamic glaze. Add also the fresh chopped basil, shaved parmesan cheese, halved cherry tomatoes, and prosciutto. lidl
9. 15 Minute Margherita Flatbread Pizza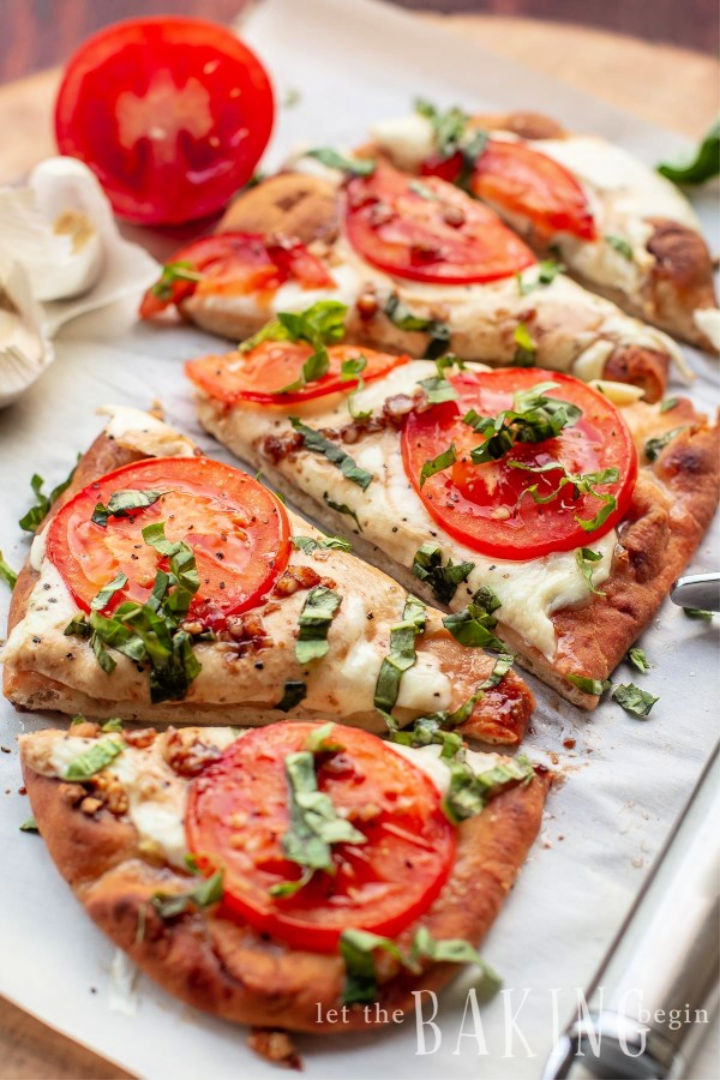 Cook delicious and yummy weeknight dinners and meals using the naan bread. This flatbread Margherita pizza will be a great choice, and with 15 minute cooking time, it will make an instant snack and crowd-pleaser recipe too. Also, try out this pizza with the pre-made crust. letthebakingbe
10. Vegan Bruschetta and Arugula Flatbread Pizza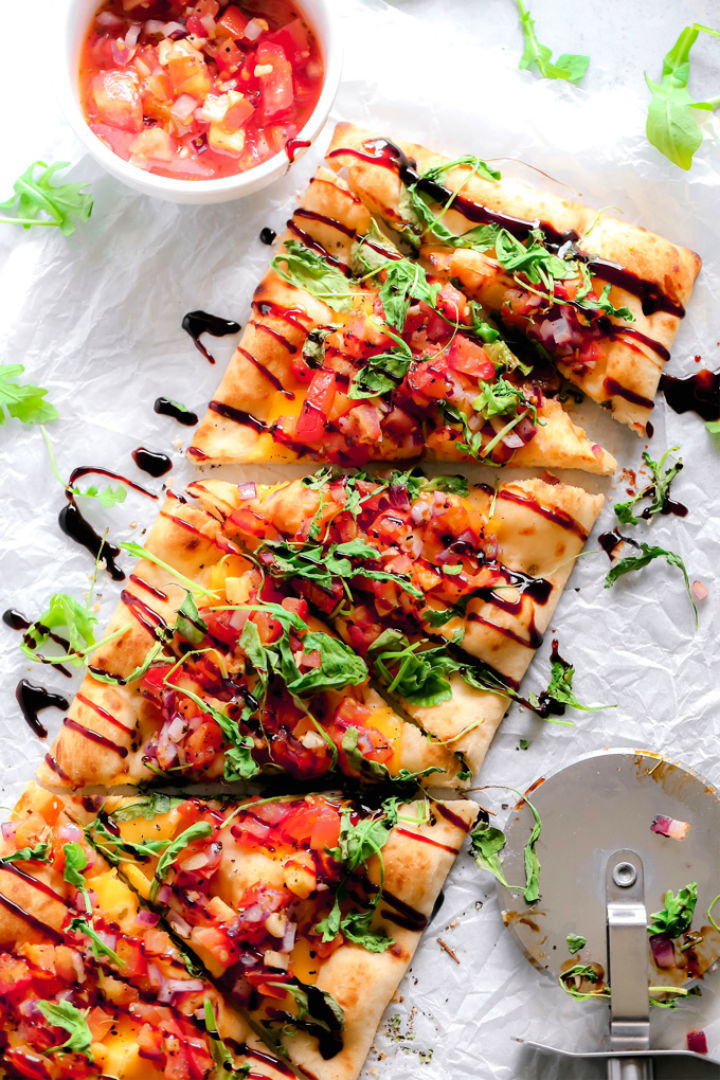 Plan out this homemade flatbread pizza recipe for a busy weeknight dinner, and it comes with high nutrition value. It will work up super quickly, like in 20 minutes. Cook this best vegan pizza recipe with melted vegan cheese and with a yummy combination of bruschetta and arugula. Add the balsamic glaze for a little sweetness. neuroticmom
Related Easy Recipes: