Looking for some circle skirt pattern and inspiration? You've come to the right place! March has finally rolled around! Do you know what that means? It means that the spring season is finally here! About time to flatter yourself with these lovely 38 free circle skirt patterns for sewing this summer! It's time to brighten up your gloomy spring and summer days by adding some lively colors and pizzazz to your life! Never worn skirts before? When is a better time to try than now? New-season! New you! Spice up your wardrobe with these free circle skirt sewing patterns this spring and learn how to make a circle skirt!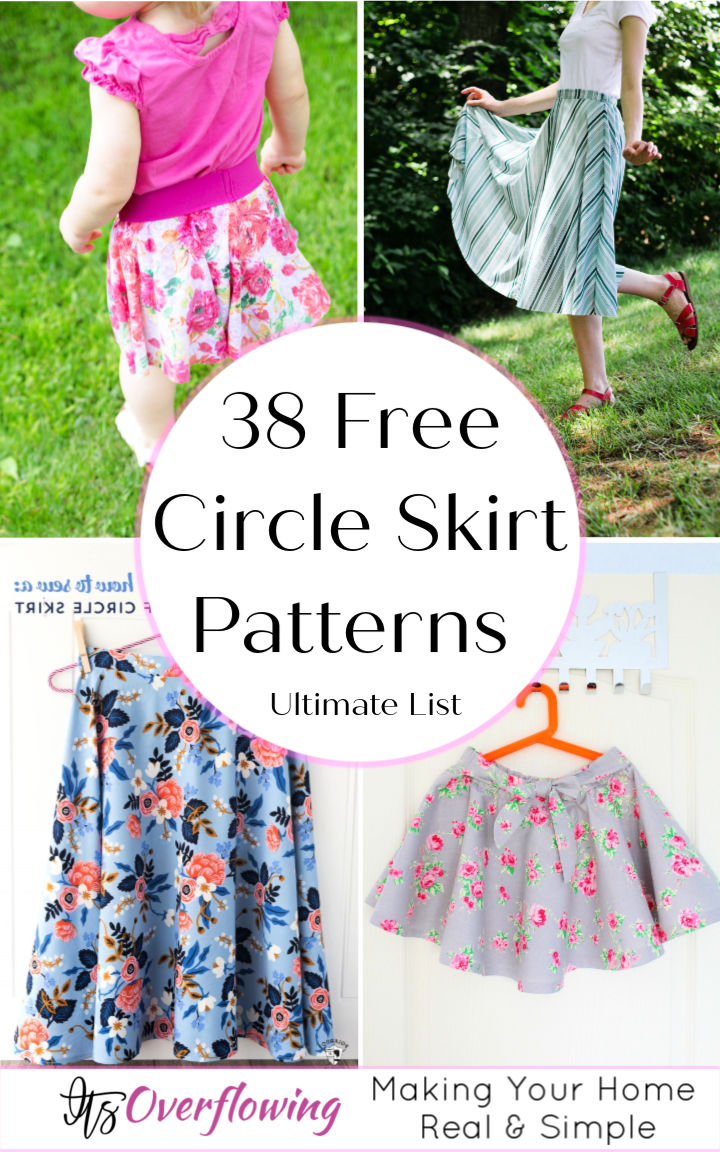 The skirts are so beautiful and feminine. They not only flatter you but also make you look very elegant! This article will cover all types of skirts you would ever need to wear! From circle skirts with pockets to some adorable skirt for your babies! Get a floral affair to get going there or a gold pleather charm, the choice is all yours.
And DIY circle skirt patterns are literally so many! In these circle skirt sewing patterns, you can find the ideal size charts and sewing guide for everyone. From the little girls to your grown-up best friends. So, let's just get started and learn how to make a circle skirt with free sewing patterns.
1. Free Circle Skirt Sewing Pattern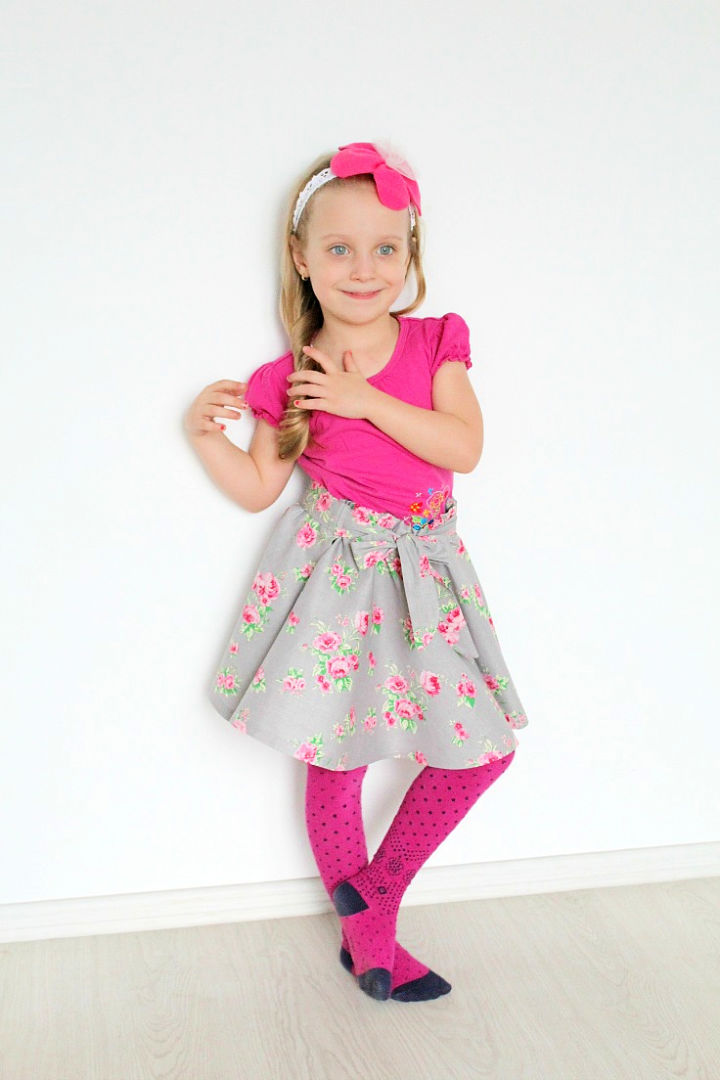 So you don't have much time on hand to whip up an outfit for your little girl? Here, check out this circle skirt sewing pattern to stitch a skirt in a hurry and in no time. You can make this full circle skirt from a single piece of fabric. Whip it up for her in no time with a long time flaunting added! theseamanmom
2. Quarter Circle Skirt Tutorial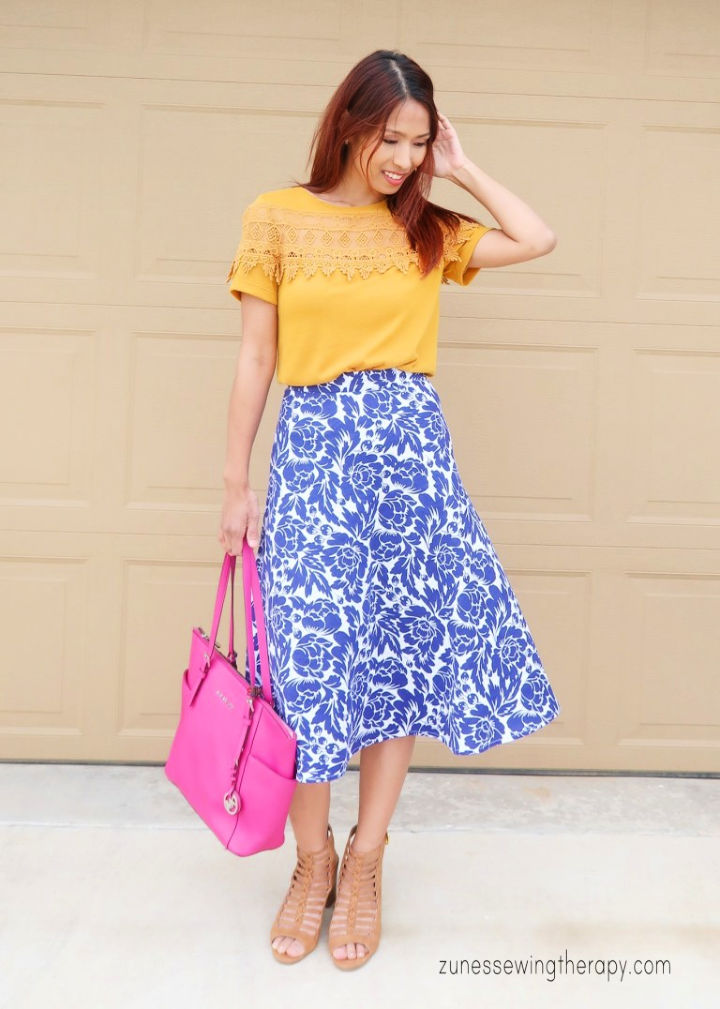 Are you excited to stitch up a skirt all by yourself? You are going to love its finished look. Also, it is worth to get flattered while wearing it. The pattern and tutorial will walk you through the whole sewing process! Just grab a few supplies like woven fabric, invisible zipper, thread, and sewing machine to whip this skirt up. zunessewingtherapy
3. Circle Skirt Pattern for Girls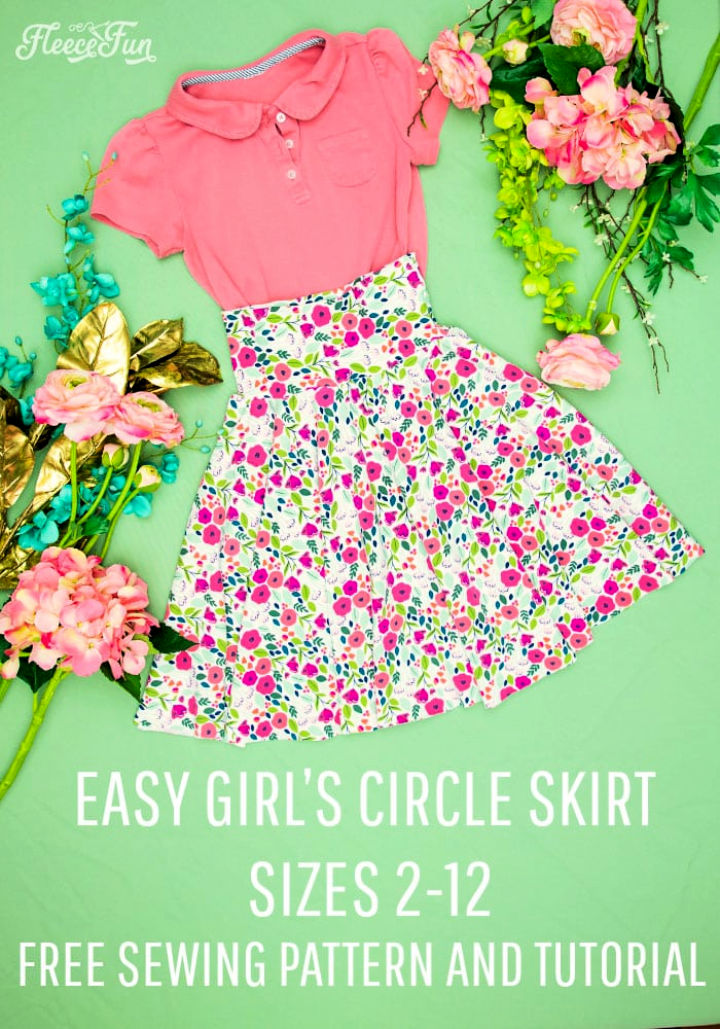 This pattern and tutorial are certainly going to make this skirt very easy to sew! It is stratightforward to stitch and too comfortable to wear. The soft and printed fabric makes it worth wearing on any formal event too! You will need 1 yard knit fabric, ¼ yard knit fabric with excellent stretch with scissors & needle. fleecefun
4. Simple Circle Skirt Pattern for Kids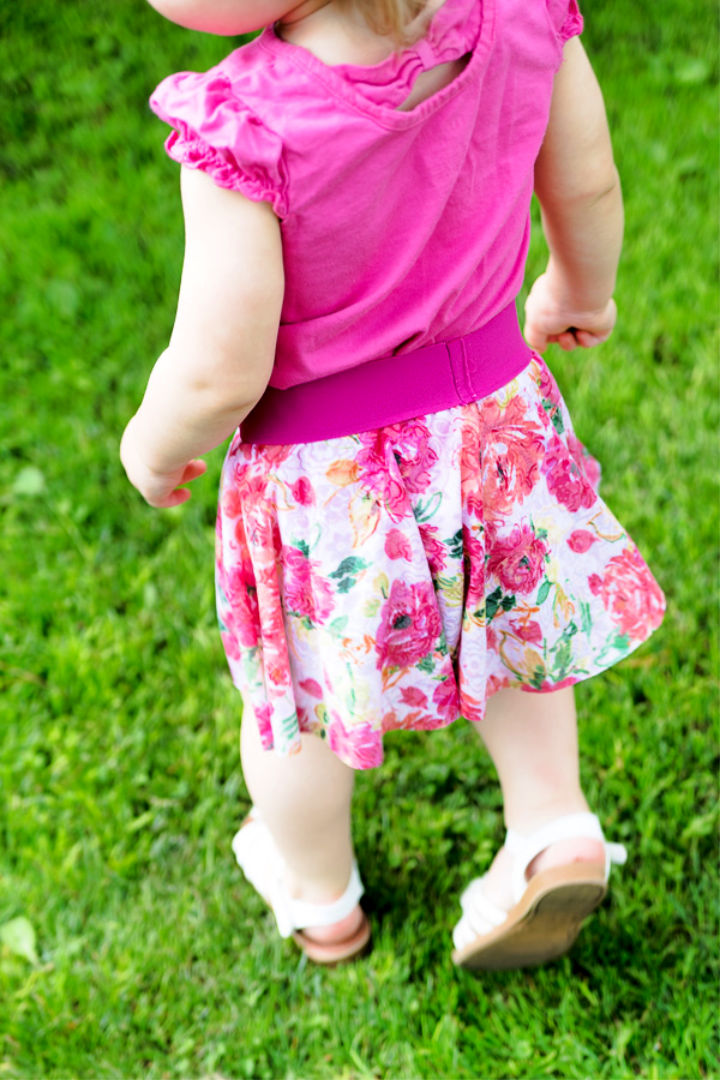 Having baby girls is a special kind of blessing. You can whip up their teeny tiny frocks or skirts even with the leftover fabric. Make this simple circle skirt with the most straightforward pattern available herein. It is easy to sew and make the cutest little skirt for your cutest little girl. crazylittleprojects
5. Gold Pleather Circle Skirt Sewing Pattern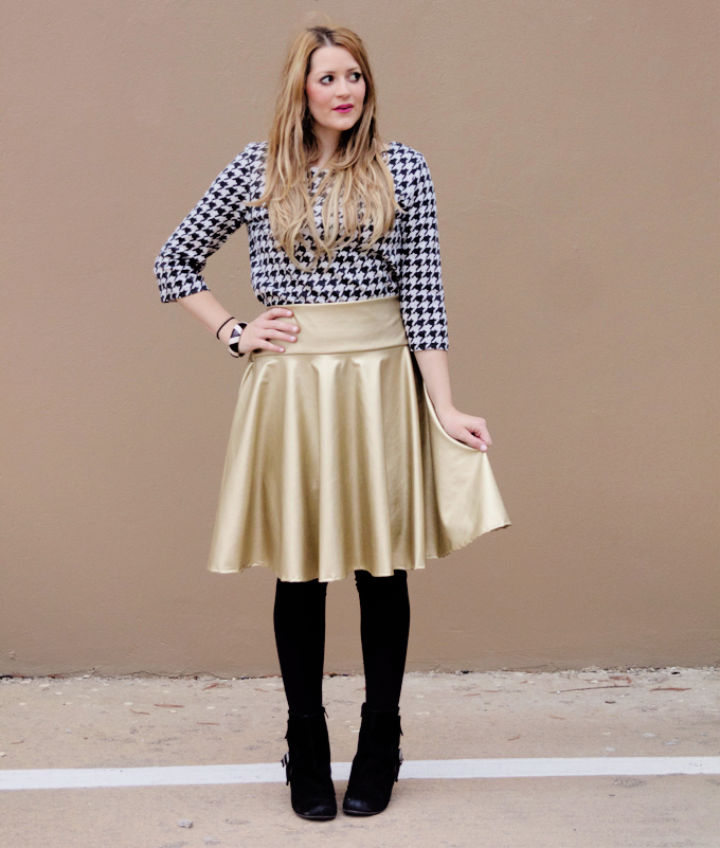 If you find the ready-made skirts in the stores way too expensive to afford. Then, you should sew one for yourself. With this given circle skirt sewing pattern, even a beginner level skill is enough. For this skirt, the material you will need is 2-3 yards vegan leather, thread, scissors, and machine. seekatesew
6. Super Easy Reversible Circle Skirt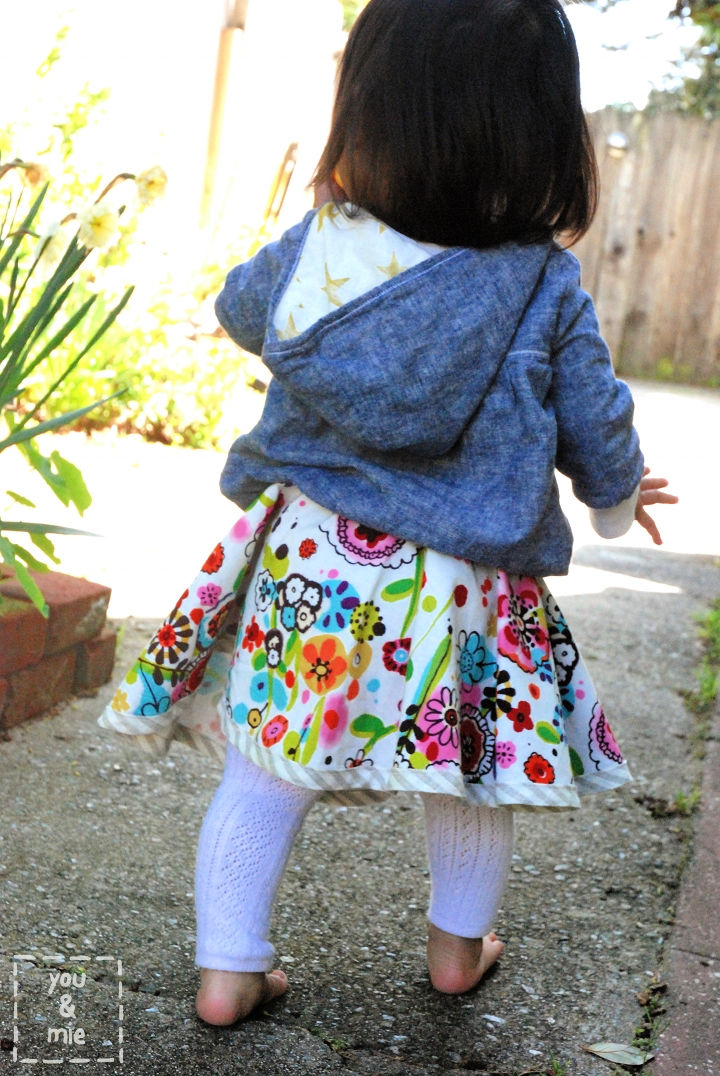 Let's begin to sew reversible circle skirt at home, very economically and with the perfect flair. Don't forget to grab the free pattern from the tutorial! To get started, you will need supplies like elastic, bias tape, safety pin, sewing essentials, and 1 yard of cotton fabric. youandmie
7. DIY Knit Circle Skirt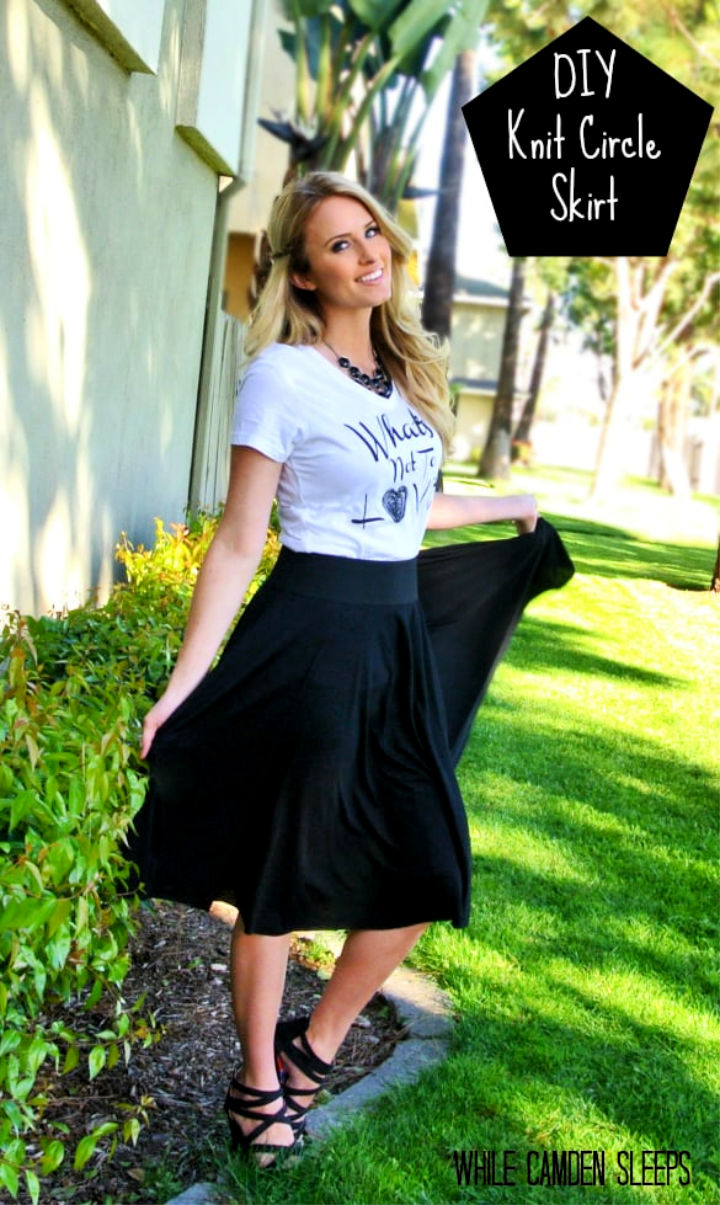 Who does not want to wear a trendy and stylish skirt that is totally trending things up nowadays? Plus, it will make you look awesome. This DIY knit circle skirt will go all formally and informally on your casual and formal events. You will look all fabulous in this skirt without a doubt. prettyprovidence
8. Layered Circle Skirt Tutorial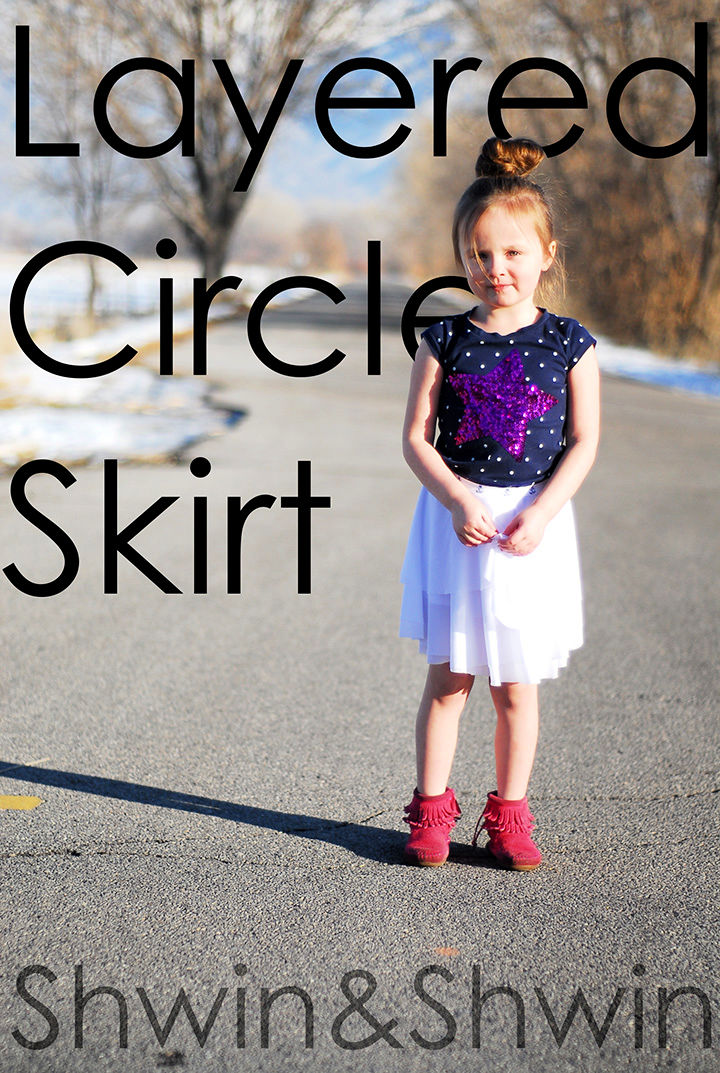 The best thing about making skirts for the little girls is that you can also use your precious pieces of leftover fabric for it. Which are usually too pretty to just throw out! This tutorial on layered circle skirt will instruct you how you can perfectly sew this circle skirt. You can sew one real soft and adorned skirt for your little one. shwinandshwin
9. Handmade Maternity Circle Skirt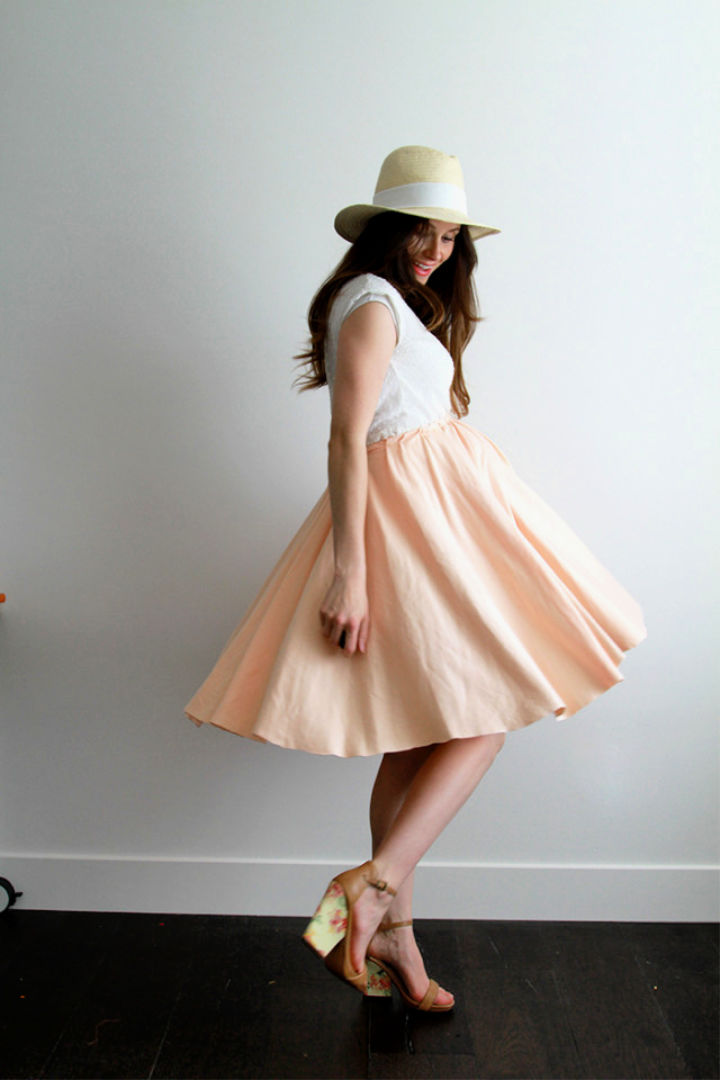 Why are you worrying if your clothes do not fit you anymore because of your pregnancy? Make this maternity circle skirt within an hour. It is the easiest and the quickest maternity outfit you can make to get through your maternity period. Get this full circle skirt pattern here! cottonandcurls
10. Ice Cream Social Skirt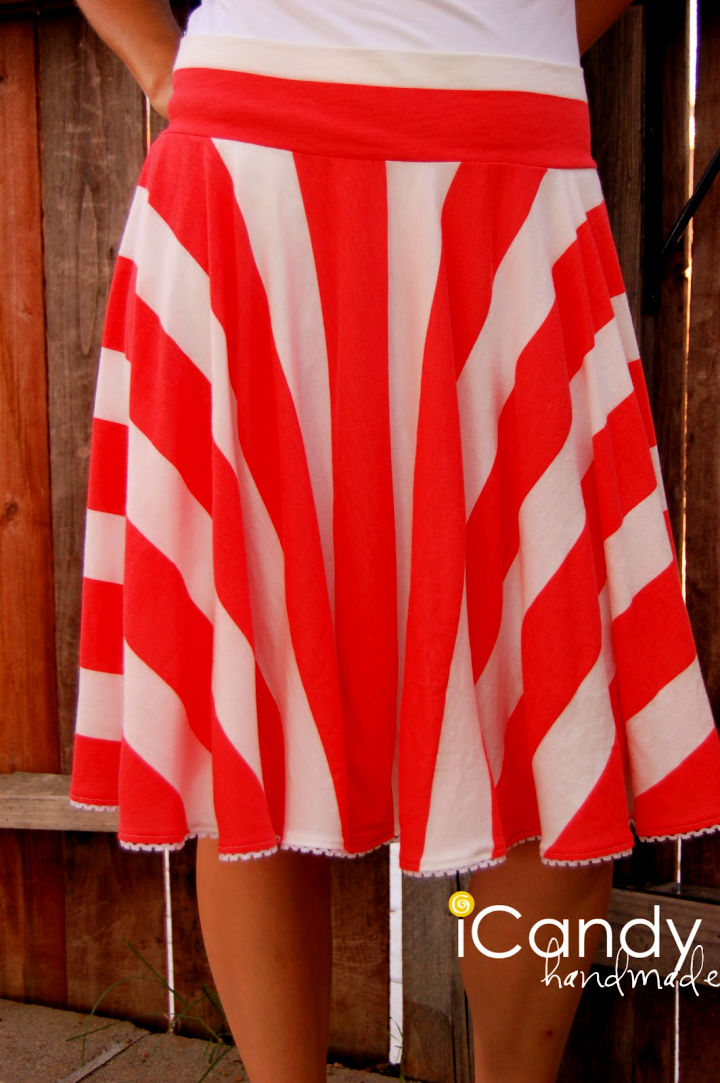 If you are up to stitching and sewing, then you must try this ice cream skirt for yourself or a gift to someone you love. Just grasp your supplies and start sewing this amazing skirt. You will need thread, pins, sewing machine, measuring tape, scissors, and 2-4 yard of fabric to whip up. icandy handmade
11. How to Sew a Circle Skirt
Learn how to sew a circle skirt! You will find the details in the tutorial that will help you to sew one like a pro, by yourself. Be the oh so stylish talk of the town! Enlist the supplies like measuring tape, pencil, scotch tape, 2-3 yard of fabric, and grab them to start sewing. polkadotchair
12. Homemade Sandra Skirt – Free Sewing Patterns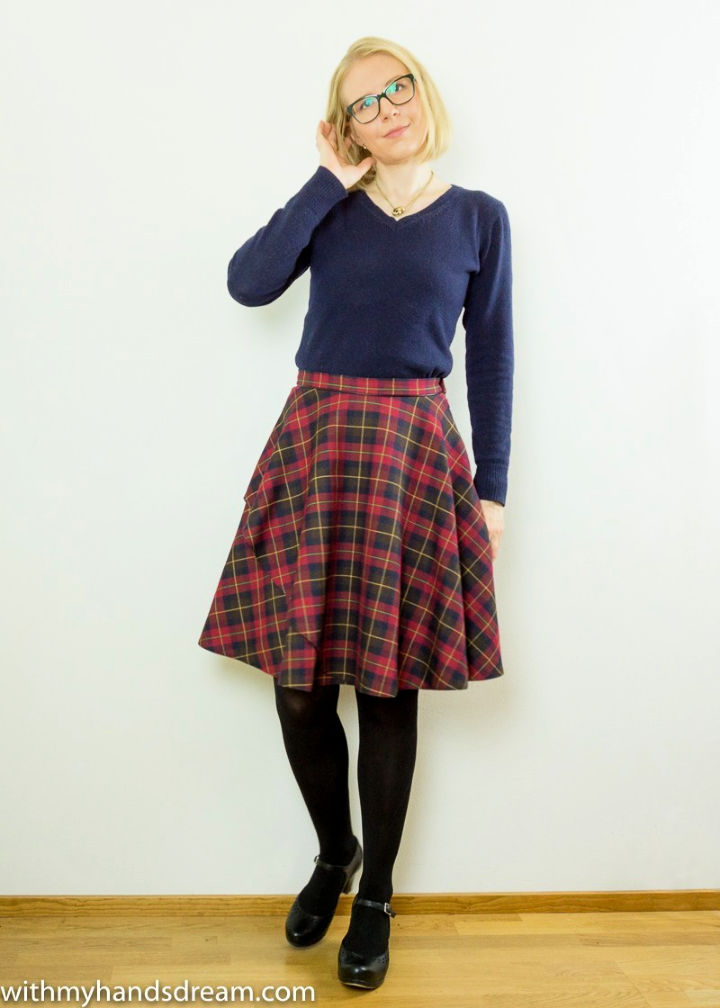 Why rush to the stores to buy an expensive skirt? Rather, make one for yourself all at such an insanely low-cost! Pair it with jeans or tights or whatever you find suitable. Let people make you feel all flattered! It is all super easy and fun to sew by following this free pattern in the link below. withmyhandsdream
13. Fat Quarter Circle Skirt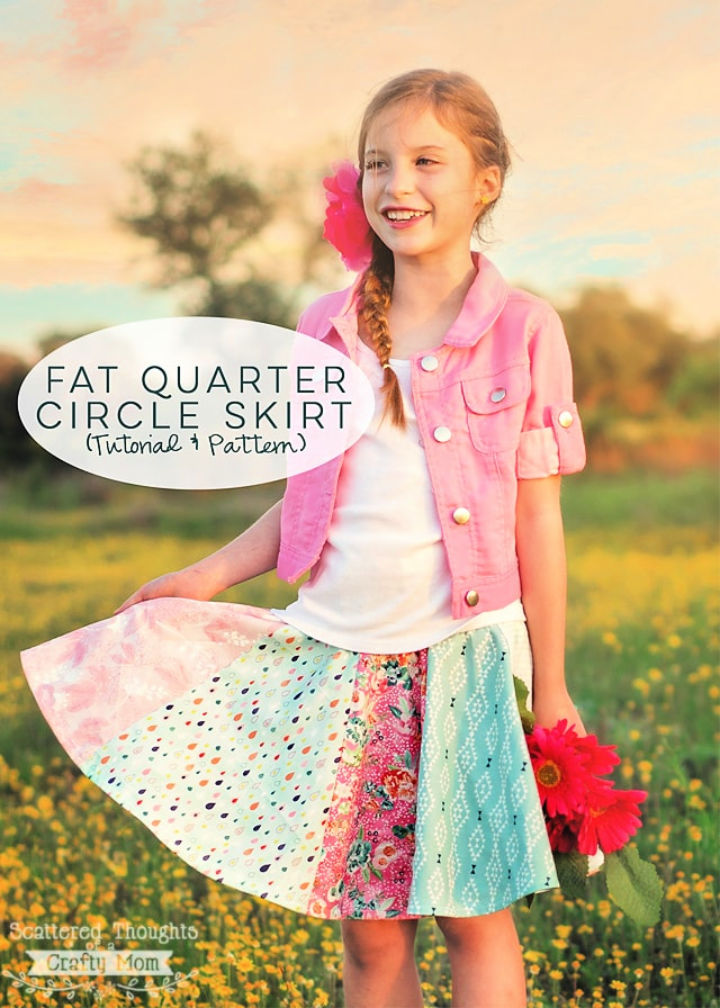 To sew this skirt is the perfect way to use the stash of fat quarters in an amazing way. It will turn out to be the best skirt for your little girls to wear on their prom functions at school. Plus, you will find it all easy, fun, and cost-effective to sew one at home. scatteredtho
14. Half Circle Skirt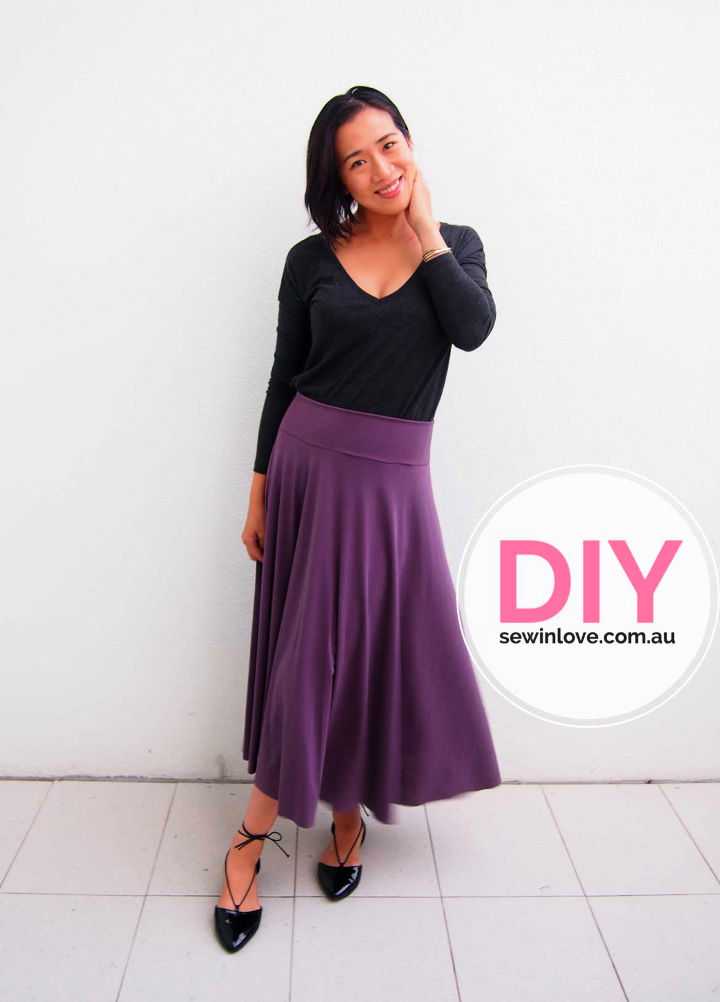 Check out this diy half circle skirt sewing pattern for you to whip up in just a few hours! It is super stretchy and comfy that you can even do some of the yoga steps in it. Wink! You will need 3-4 yards of fabric with a sewing machine, scissors, measuring tape, and needle to complete this skirt. sewinlove
15. Free Girls High-low Circle Skirt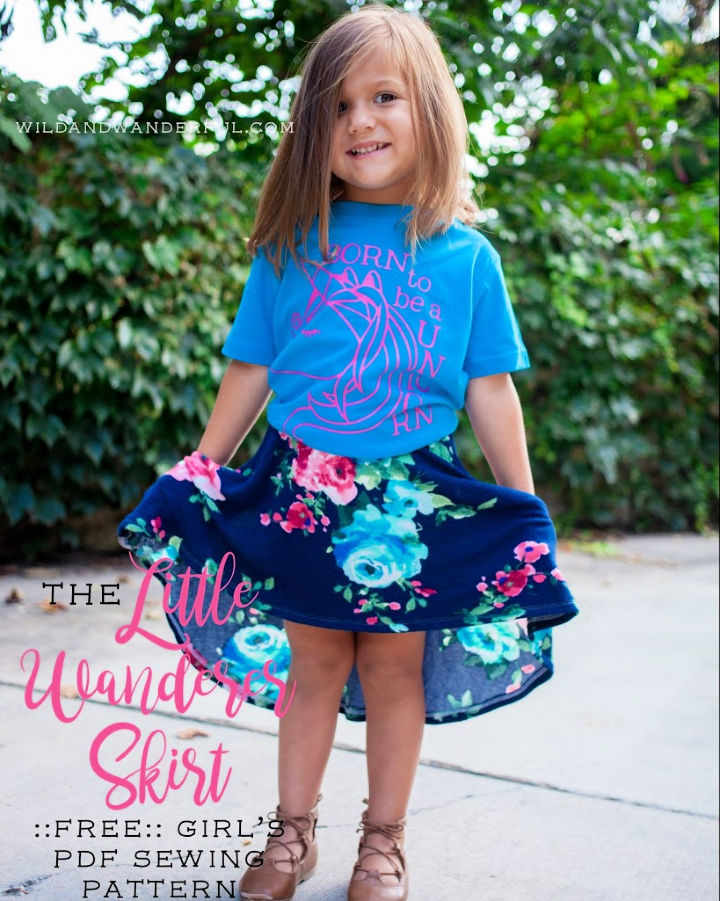 Seeing a little girl wearing this high-low circle skirt will certainly make her look more endearing. This free pattern is here for you to use it and sew one for your own daughter too. You are going to love it, and once you have finished it off, you will surely get the vibes of sewing one more. It is that simple to stitch! threadandgrain
16. Circle Skirt With an Elastic Waistband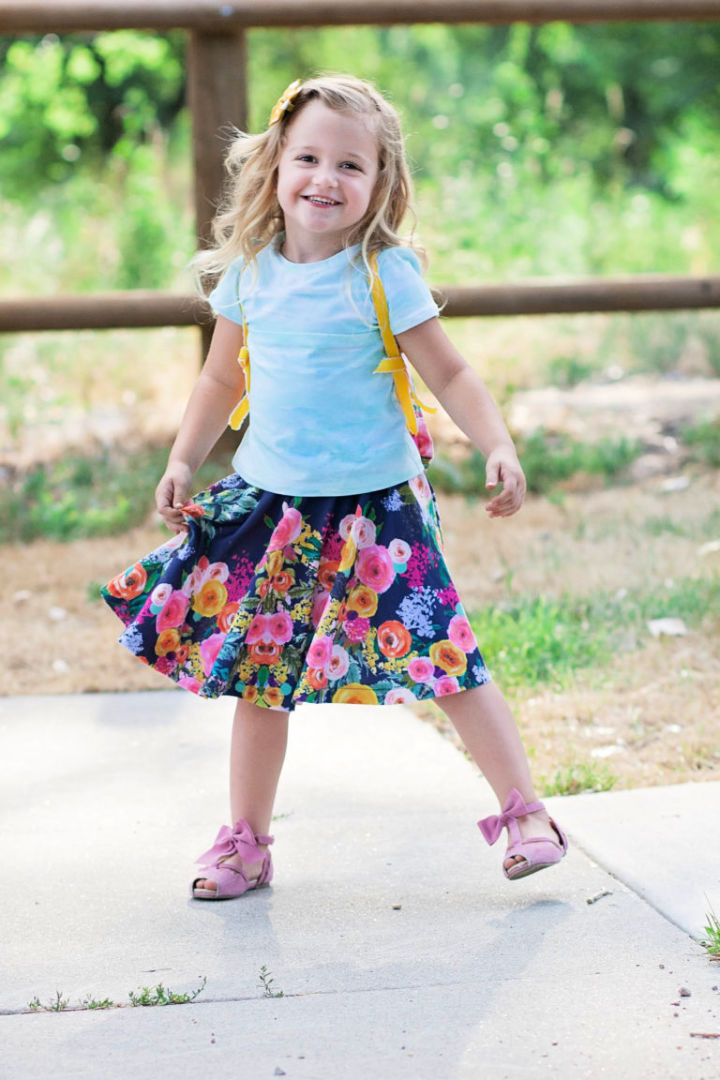 Have you ever wondered how to sew a circle skirt at home for your daughter? Here is this perfect, quick, and easy tutorial to help you make a circle skirt in any size you want. Start off by measuring the fabric to cut and finish by ironing the skirt. It is fun and easy! sweetredpoppy
17. Zipper-Free Half Circle Skirt Pattern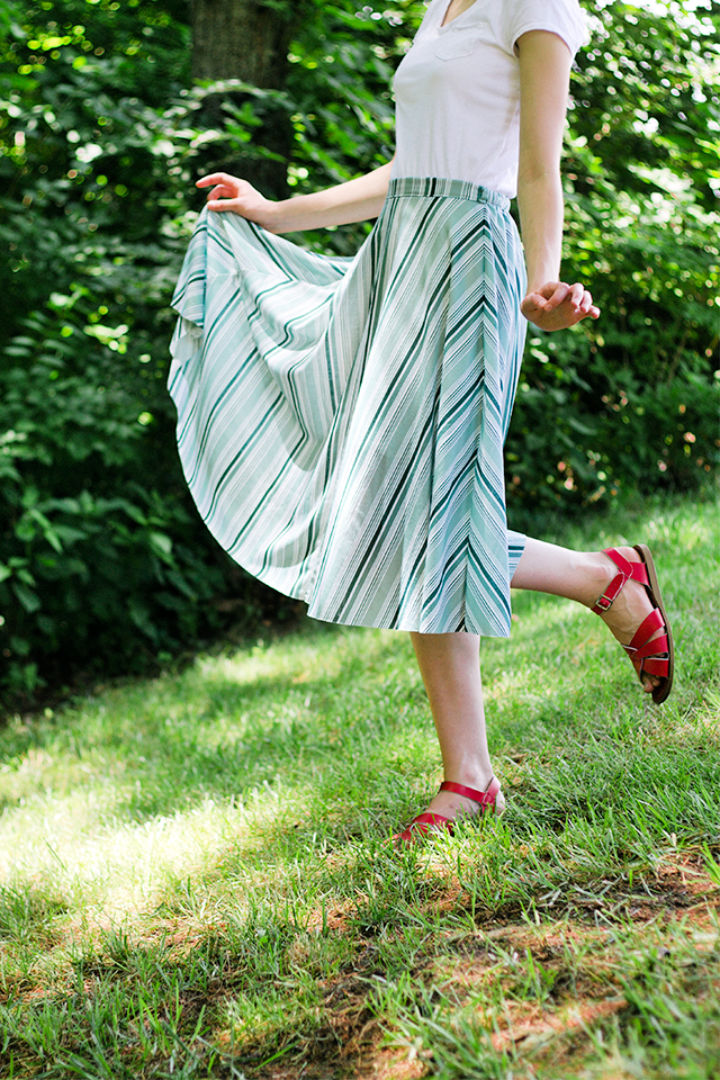 Hello dearies! Check out this circle skirt sewing pattern for a zipper-free half circle skirt. Perfect for you to wear it on any occasion. You can also pair it with your favorite jewelry so that you can slay the occasion with your swankiness. boyersisters
18. Circle Skirt for 18″ Doll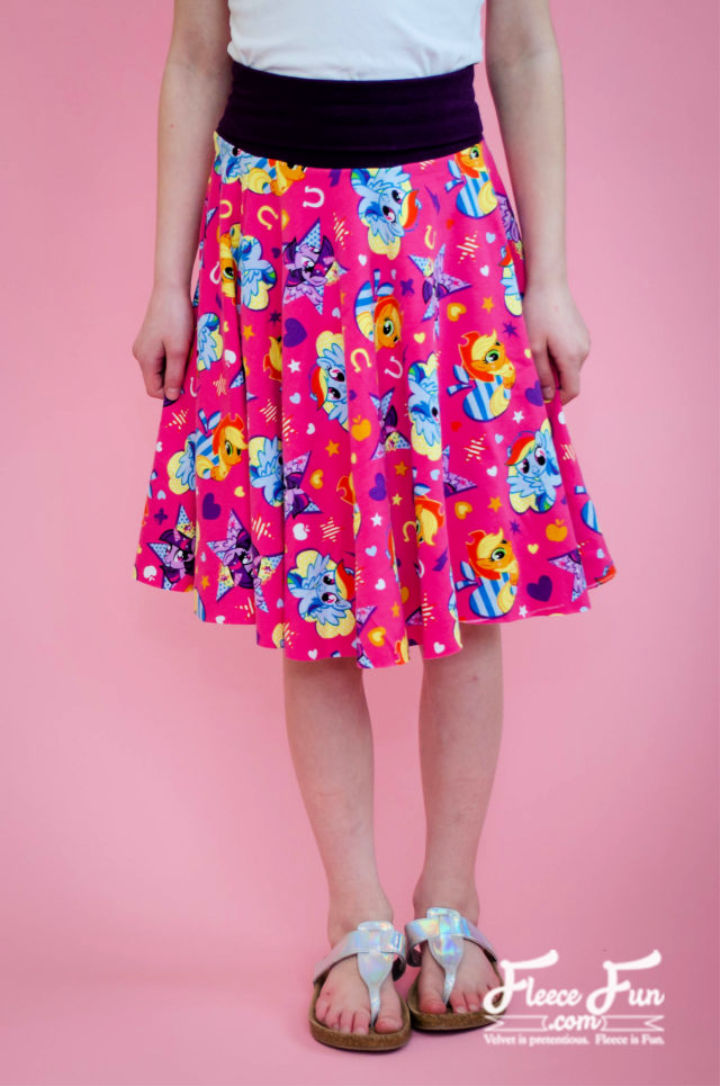 Yeah, your little princess's doll also needs to change its clothes! So why not to sew something for it too. Let's start by grasping your favorite fabric's leftover that has a good stretch and recovery and starts off by following the step-by-step instructions. graciousthreads
19. Mommy & Me Circle Skirts
What is cuter than this like mommy like daughter kind of matching and twinning of circle skirt? Try to whip it up at home by following the instructions in the link below. Also, you will need supplies like iron, coordinating thread, sewing machine, elastic, and 1-2 yards of fabric to go. fabric
20. Simple Half Circle Skirt Without a Zipper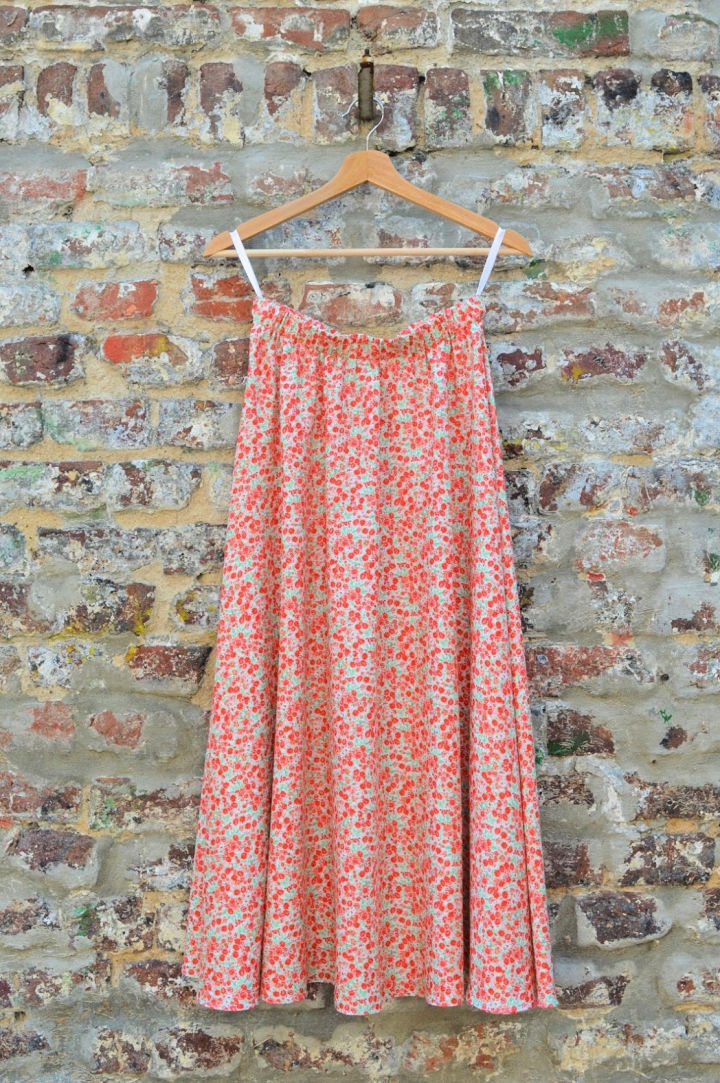 Do you have a spare blouse? How about you pair it up with a lovely circle skirt? This simple half circle skirt without zipper is the perfect one that you can sew within just an hour. Moreover, you can look all amazing and fabulous when you wear it, flaunting the blouse and skirt together. bernina
21. How to Make a Wax-print Circle Skirt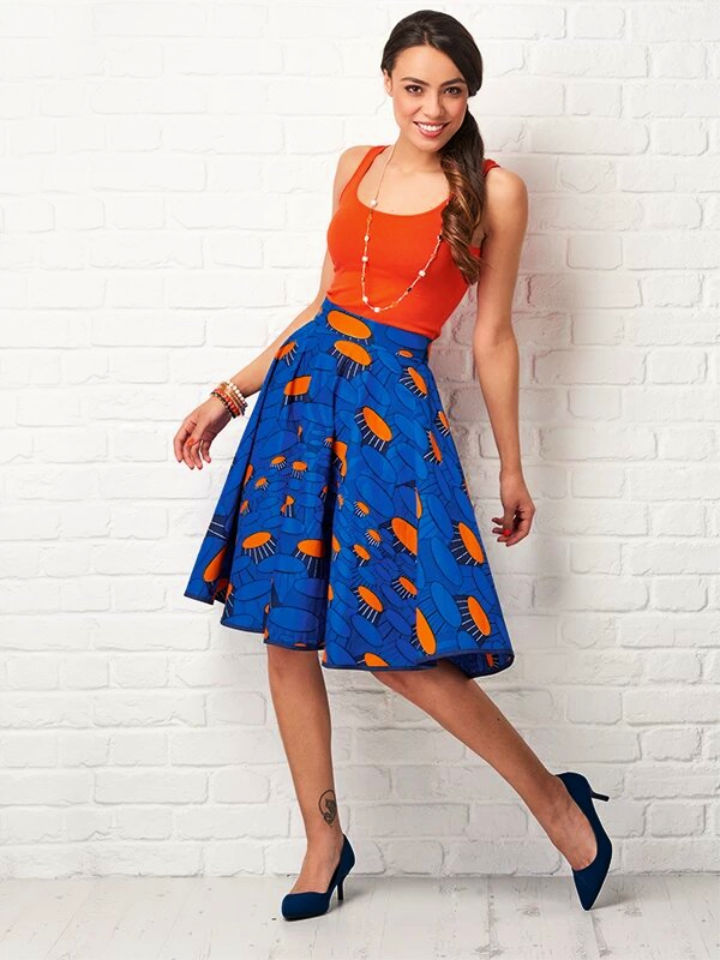 What a pretty skirt. Such a unique pattern with lovely color combinations. This will be your go-to circle skirt sewing pattern. It is not only super simple to make but also takes very little time and will be ready in seconds. gathered
22. Pencil Circle Skirts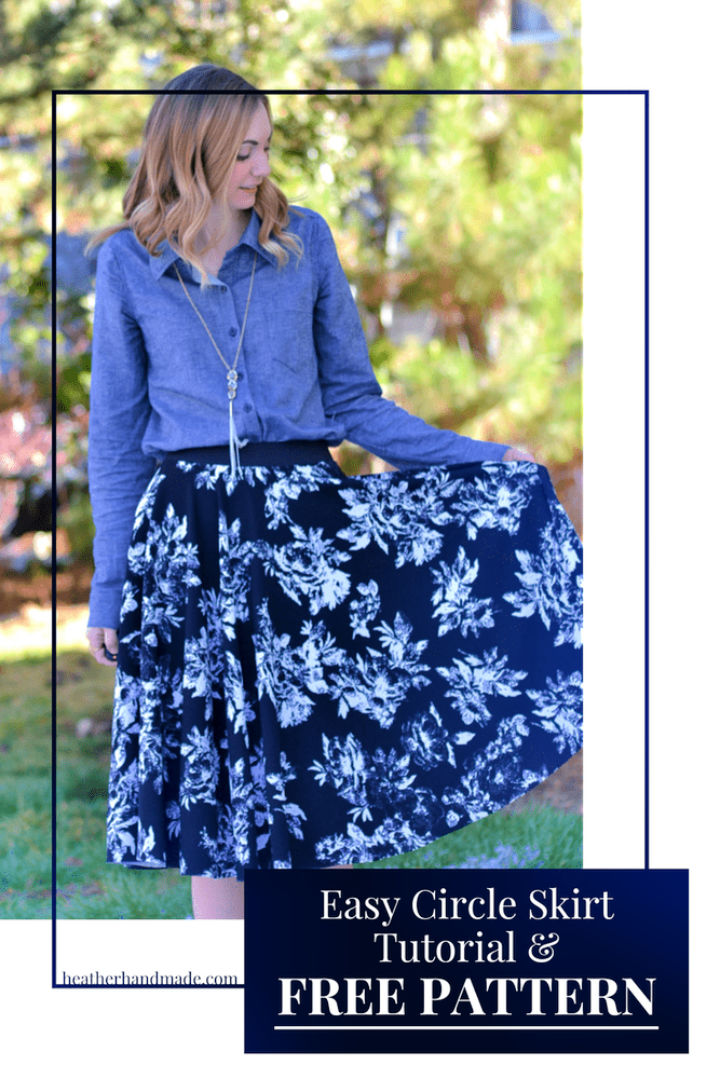 Pencil skirts are super cute and make you look super slim and beautiful. This is the perfect addition to your spring closet, as it has a very beautiful flowery pattern on it. It has a fantastic color combination with whites and navy blues. heatherhandmade
23. Square Circle Skirt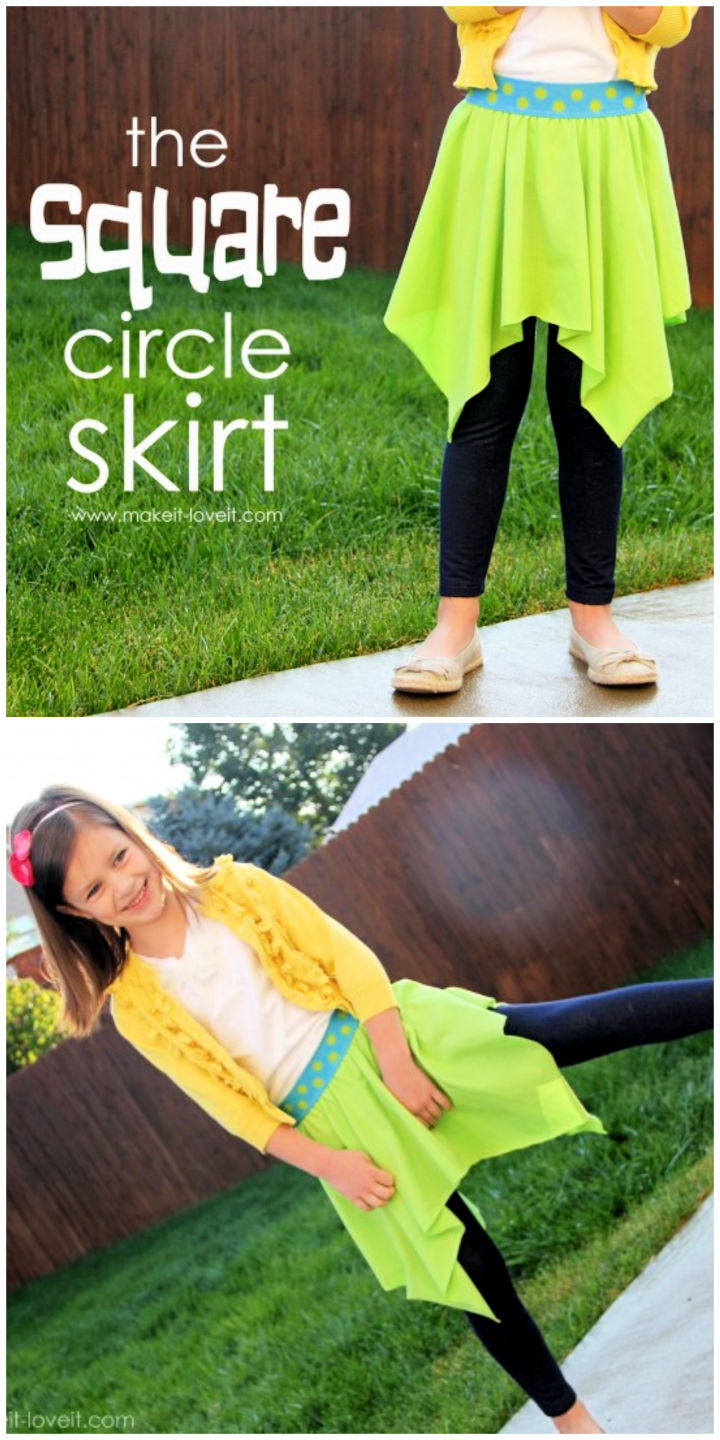 Neon colors can look very cute in the spring season! They are bright and vibrant and have a spring-like feel to it. This circle skirt sewing pattern is guaranteed to make your little ones look adorable! The perfect way to light up those dull days. makeit loveit
24. Half Circle Skirt With Yoga Waistband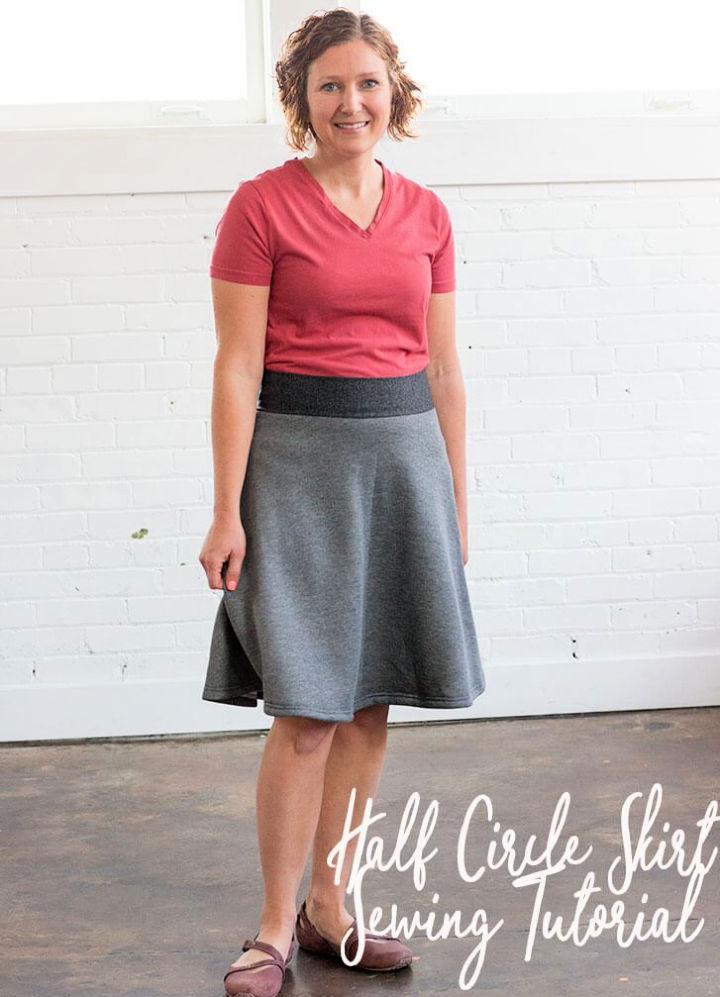 A sporty girl? Unfortunately, the people who are into the sporty type of dress are only left with sweatshirts and hoodies. This skirt is perfect for you if you want to spice up your day to day look and look a little girly for once! lifesewsavory
25. Tulle Circle Skirt Pattern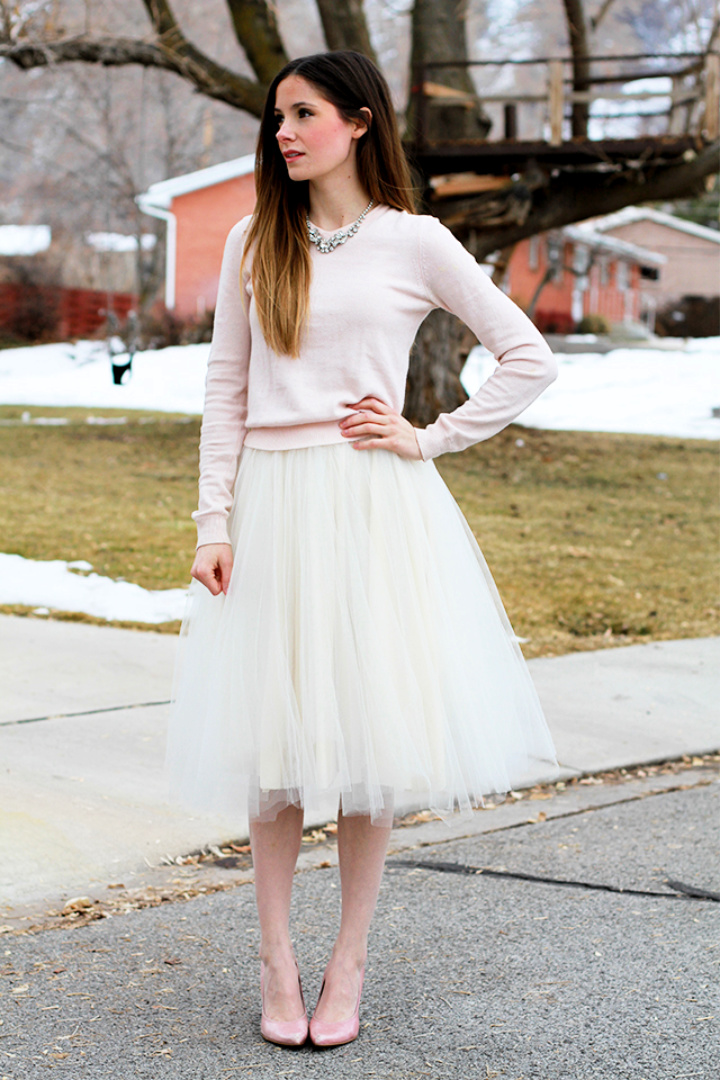 How beautiful is this tulle skirt! It is so fairy-like and stunning. It will certainly make you look like a princess! Don't know what to wear to that wedding you're invited to? Sew this beautiful pattern for yourself and get ready to look super stunning! cottonandcurls
26. Chiffon Maxi Circle Skirt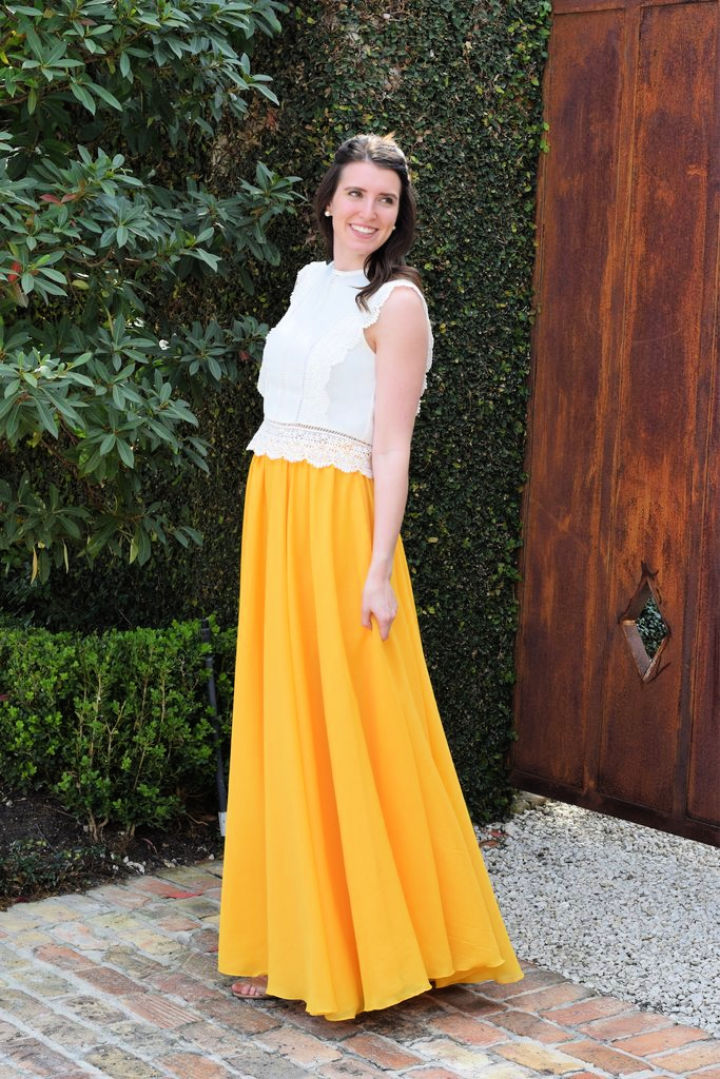 The yellow color is just a fantastic color for the spring and summer season. It adds a very happy and upbeat vibe to your day. Yellow is such a bright and vibrant color, it will surely put a smile on your fee just by wearing it! fabricwhole
27. How To Make a Circle Skirt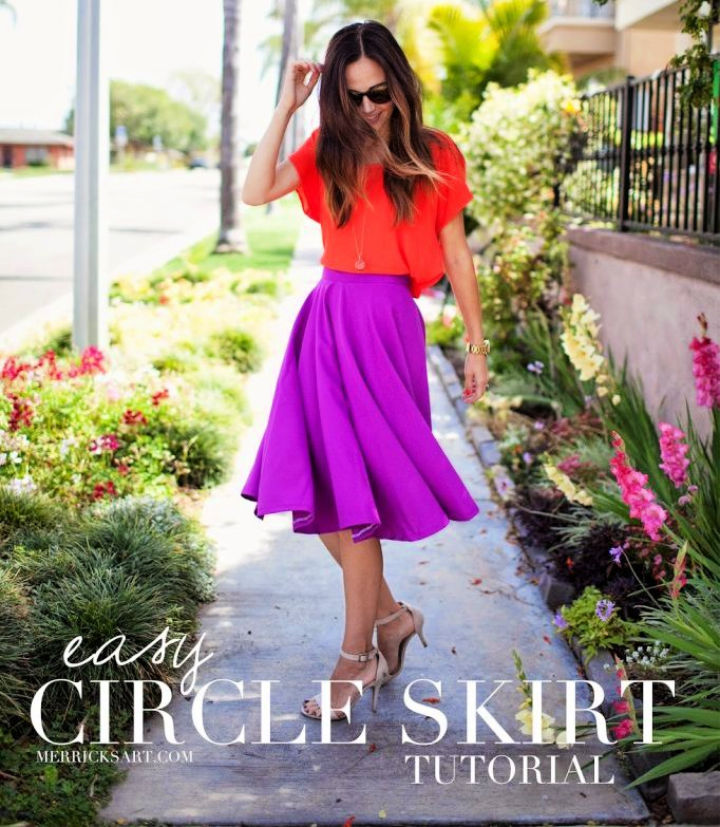 This circle skirt sewing pattern is just beautiful! It is short and simple. You can make this for yourself in any color. It will give you that perfect sixties vibe if you make it in a bright color. Colors like yellow, orange, purple will be the ones to choose for the sixties look. merricksart
28. DIY Tulle Circle Skirt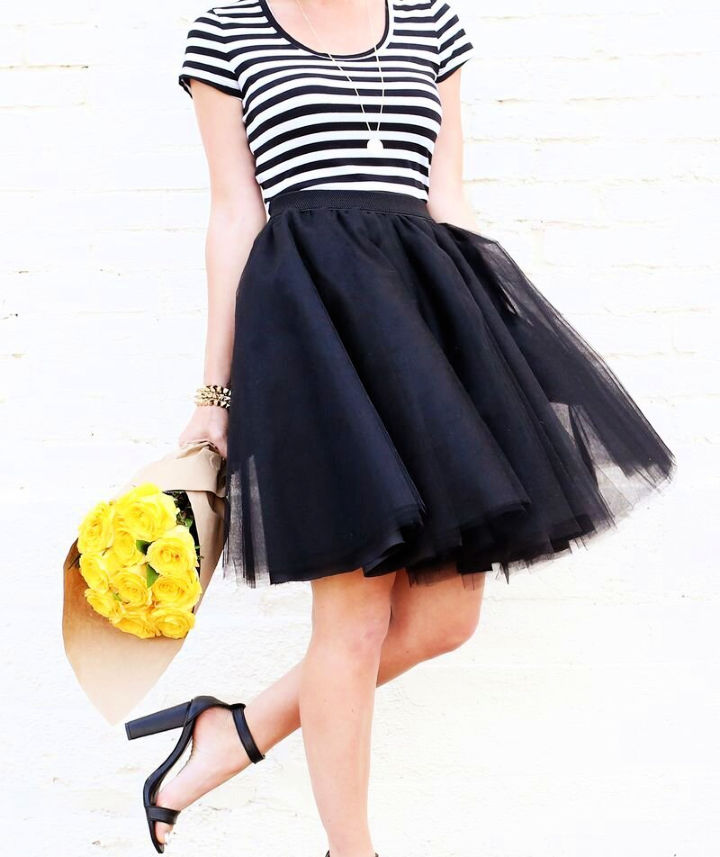 Tulle girls are very cute and feminine. However, they can be very long. Long skirts can be a little uncomfortable to wear as they keep getting stuck in your legs. To avoid this, you can use this fantastic pattern, which features a shorter length skirt! abeautifulmess
29. DIY Circle Skirt Patterns for Babies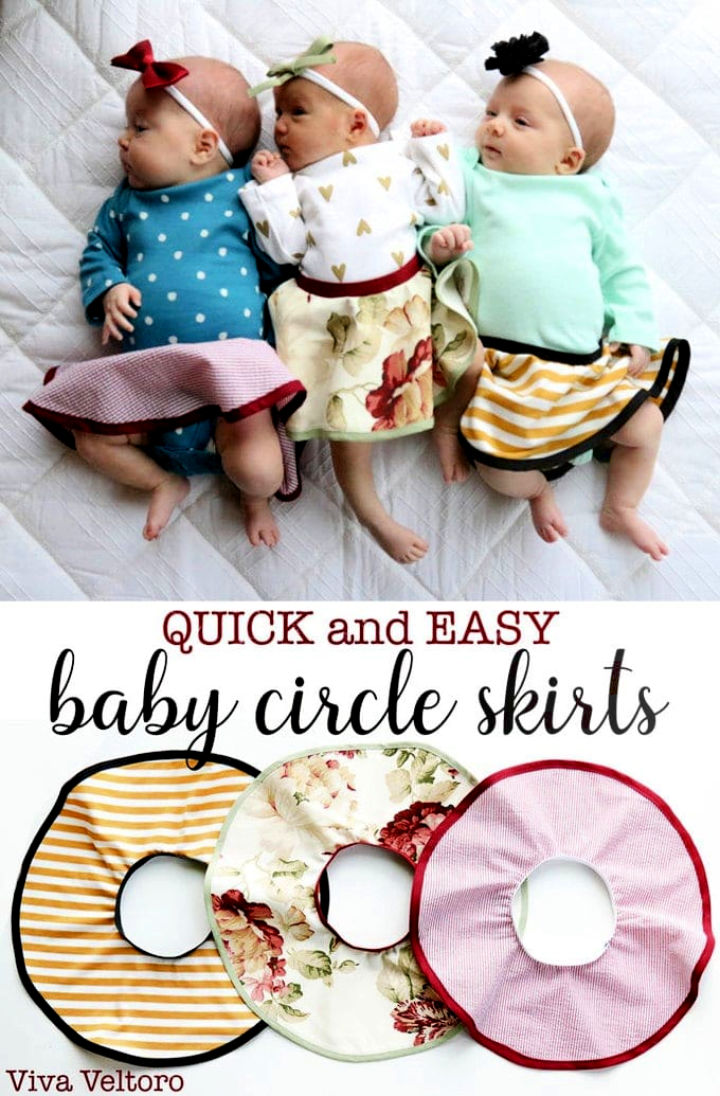 Why are babies always the ones who wear onesies? Make them this amazing skirt pattern so they can look super cute! Your babies will the most fashionable babies in the town! Make them in some bright and vibrant colors for the spring season. vivaveltoro
30. Sew a Circle Skirt With Pleats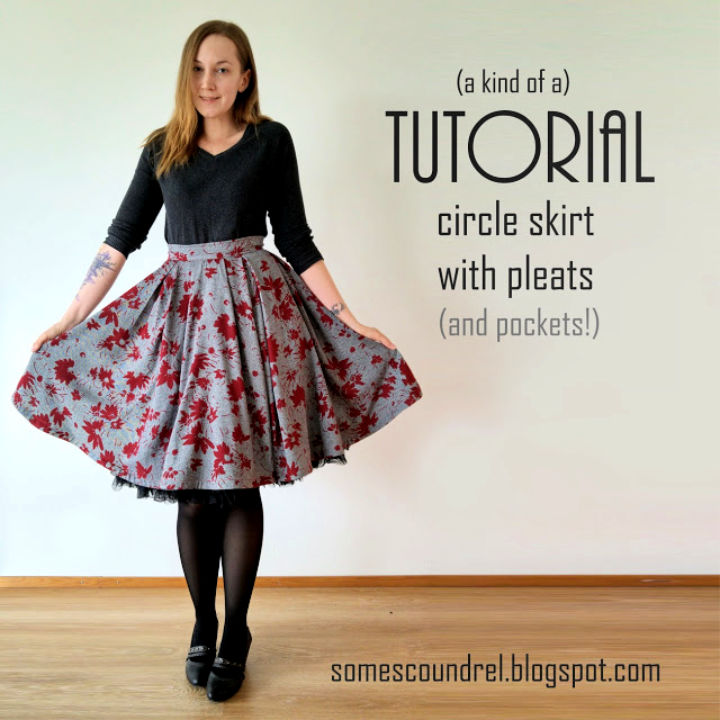 Such a pretty skirt pattern! It is very floral and girly. An amazing pattern to wear this spring season. It has a stunning color palette with grey as the base and red flowers on top. You will look at a 90's model in this one. somescoundrel
31. Double-layer Square Circle Skirt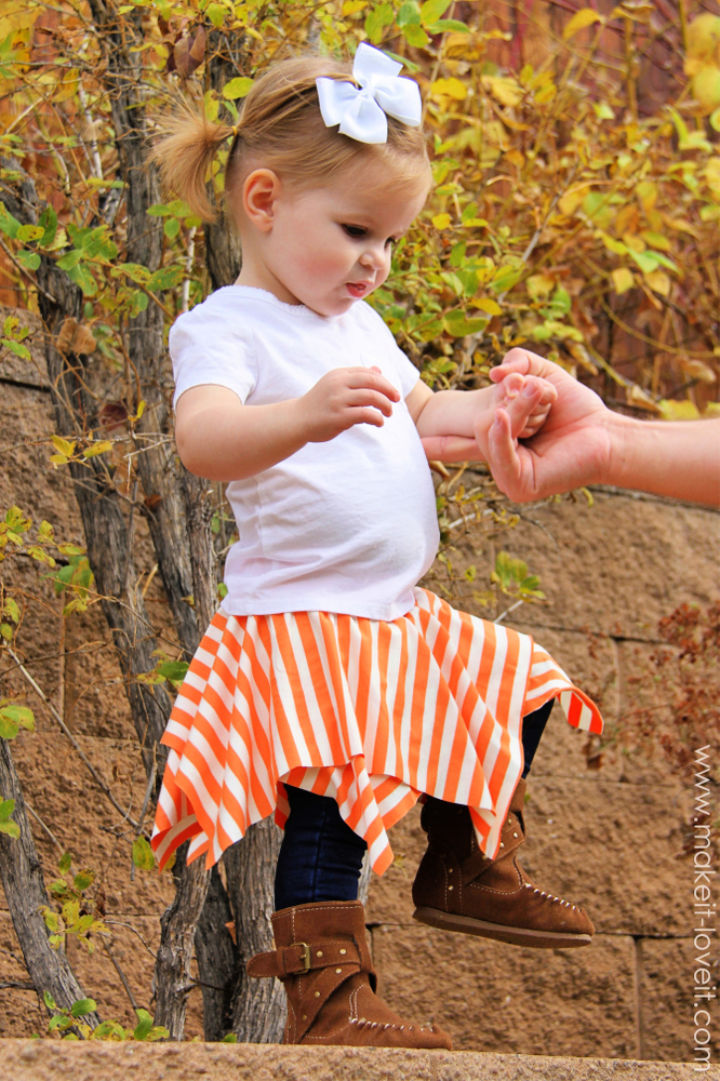 Orange and white-colored stripes? Yes, please! They will look super cute on your little ones. Imagine just how adorable they will look! You can pair a white top with it. It will be super comfortable as they will have bare legs in it and avoid getting too heated up. makeit loveit
32. DIY Half Circle Skirt With Pockets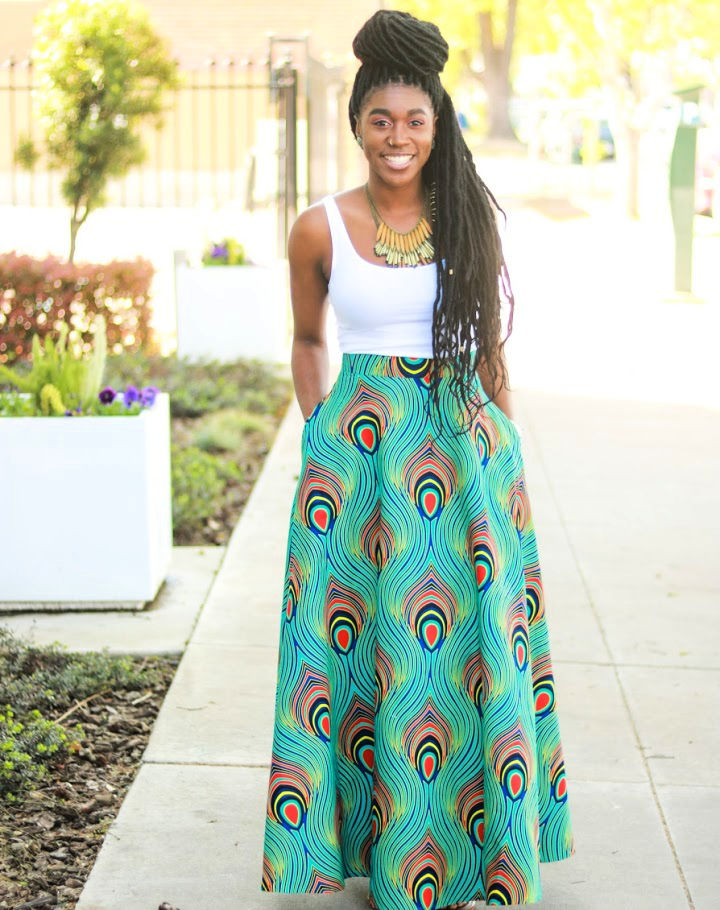 Such a pretty sewing pattern! Love peacocks? Why not make yourself this stunning pattern? It has beautiful shades of green and peacock-inspired printing on it. It is perfect for all the ladies out there reading this who prefer to dress modestly! montoyamayo
33. Half Circle Skirt Sewing Pattern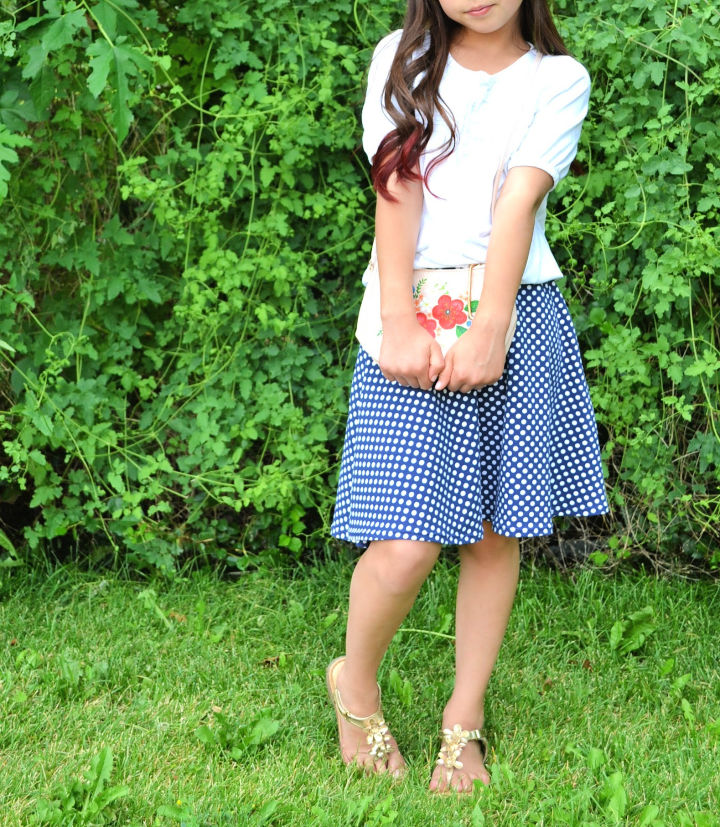 Can anyone ever say no to polka dots? Polka dots are just so cute! They can make any outfit go from a zero to a ten! Unless you have triphobia! This pattern has that amazing old-school vibe to it with the blue and white combination! tearosehome
34. How to Sew a Circle Skirt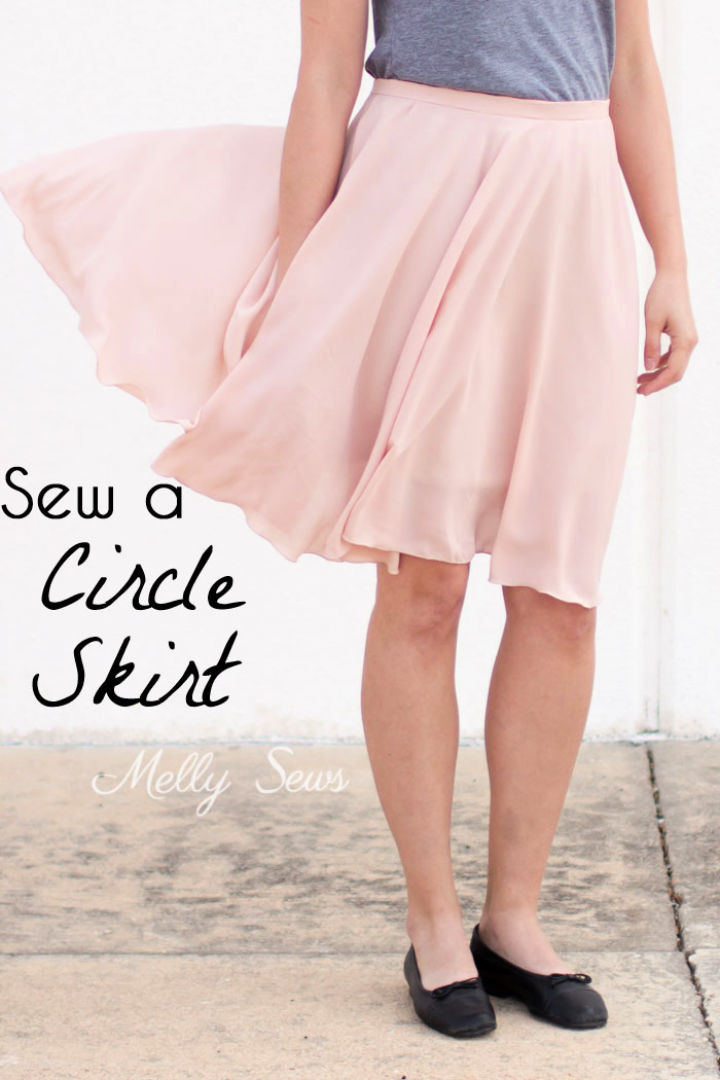 If you're into soft and pastel clothing, this clothing piece is for you! It is so girly and feminine! Since it has a unique type of fabric used, it will be super flowy! Want it to look casual? Wear it with a hoodie or t-shirt! A great skirt! mellysews
35. Circle Skirt In 20 Minutes Or Less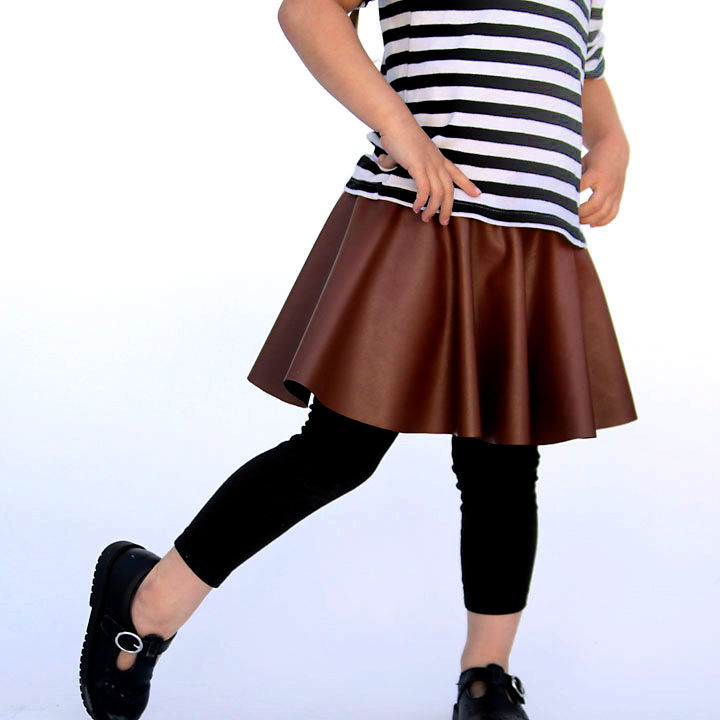 Sometimes all you need is a quick fix! Don't know what to pair with that basic white t-shirt? Want to make your full-sleeved polo shirt look a little girly? Make yourself this circle skirt sewing pattern in less than twenty minutes! itsalwaysautumn
36. Full Circle Skirt Pattern With Tulle Overlay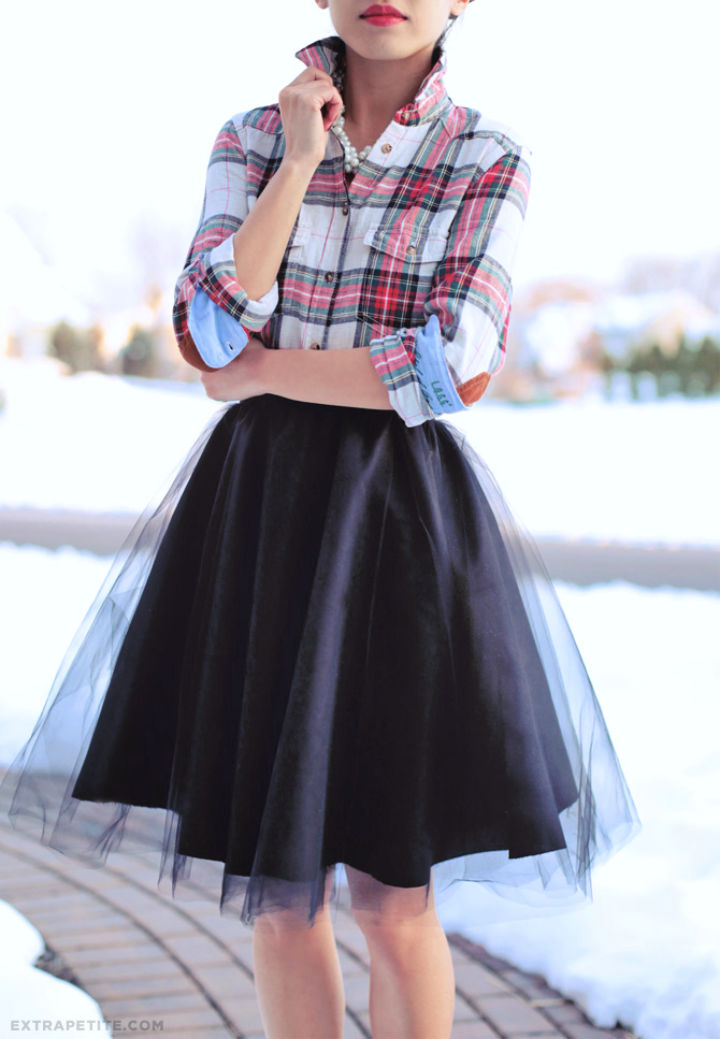 An overlay on top of a tulle skirt? What an idea! Tulle skirts alone can be so beautiful! Want it to spice it up? Use this full circle skirt sewing pattern to do so! You can make it in almost any color! However, the best colors to go for when making a tulle skirt are black and white! extrapetite
37. Sew Your Own Circle Skirts
Such a great staple piece to have in your closet is a leopard printed skirt! You can make it in a cheetah pattern too! The best about these types of skirts is that you can just wear them when you're on the go! A leopard-printed skirt and a black t-shirt? Amazing! curvysewing
38. Stylish Full Circle Skirt Sewing Pattern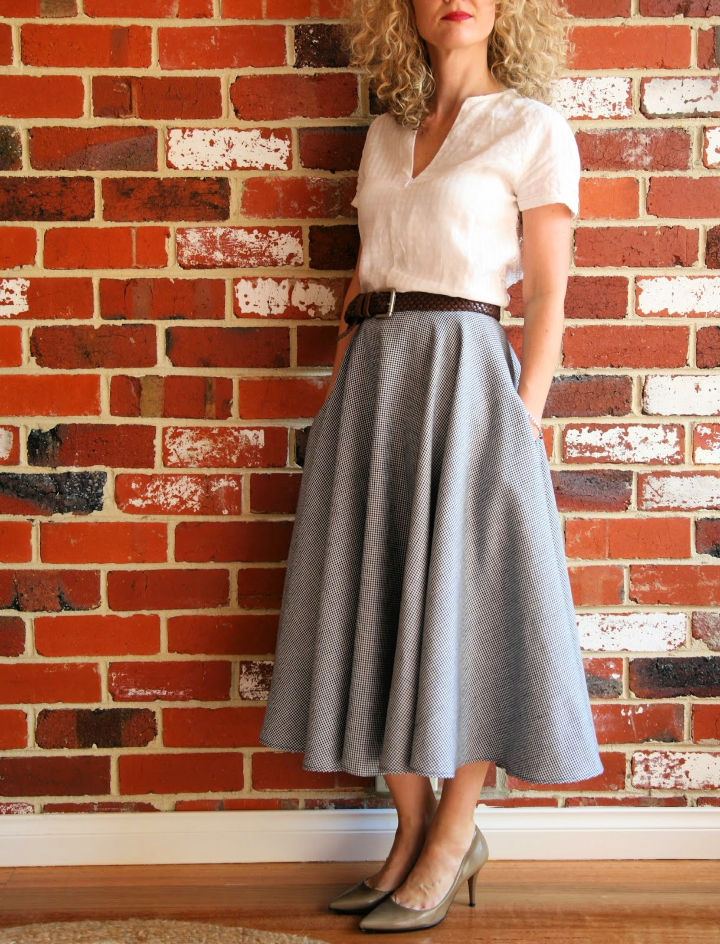 Such a stylish skirt! It is amazing how this skirt is modern and vintage at the same time. It looks like something Marilyn Monroe would wear. However, it is modern at the same time! Wear this to bring out the businesswomen in you! tessuti
Windup!
Skirts can really flatter any body shape and body size! So what are you waiting for? Have a day off from your daily chores, and dedicate some time to yourself and start this guide on how to make a circle skirt for free. Play some classical role, drink some tea, and sew yourself these amazing circle skirt patterns! You won't regret making a circle skirt for yourself! It would feel great to not spend so long on finding an outfit!