Get your backyard, garden, and any indoor and outdoor look extra calming by adding a hammock. No need to buy a cool one. Just go with these 15 easy DIY hammock ideas that helping to build any kind of hammock you are looking for. Lying in a hammock help with muscle aches and improve the quality of the sleep and is one of the most famous summer outdoor luxurious. The DIY has made to live this luxury without the high cost, just check out the simple solutions for a building a hammock at a fraction of cost. From freestanding hammocks that come with a hammock stand, to those that hang between the tree stems, you are going to get free plans, step-by-step instructions, diagrams and tutorials for all.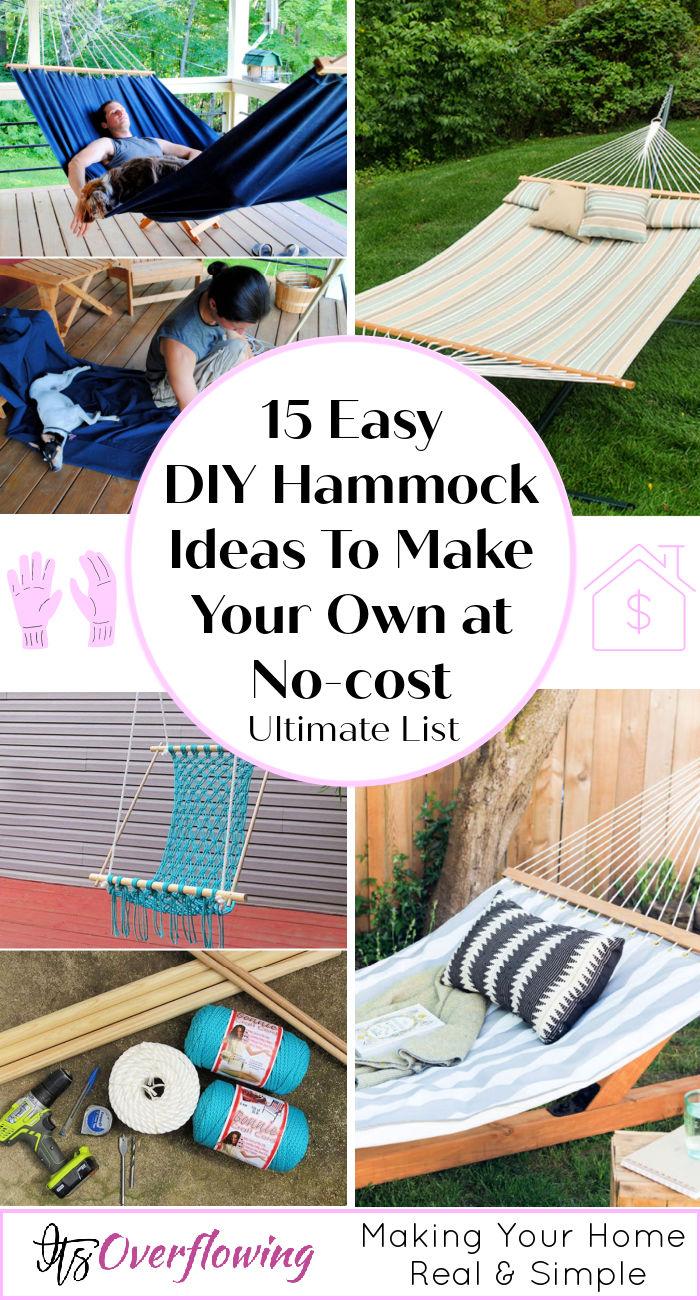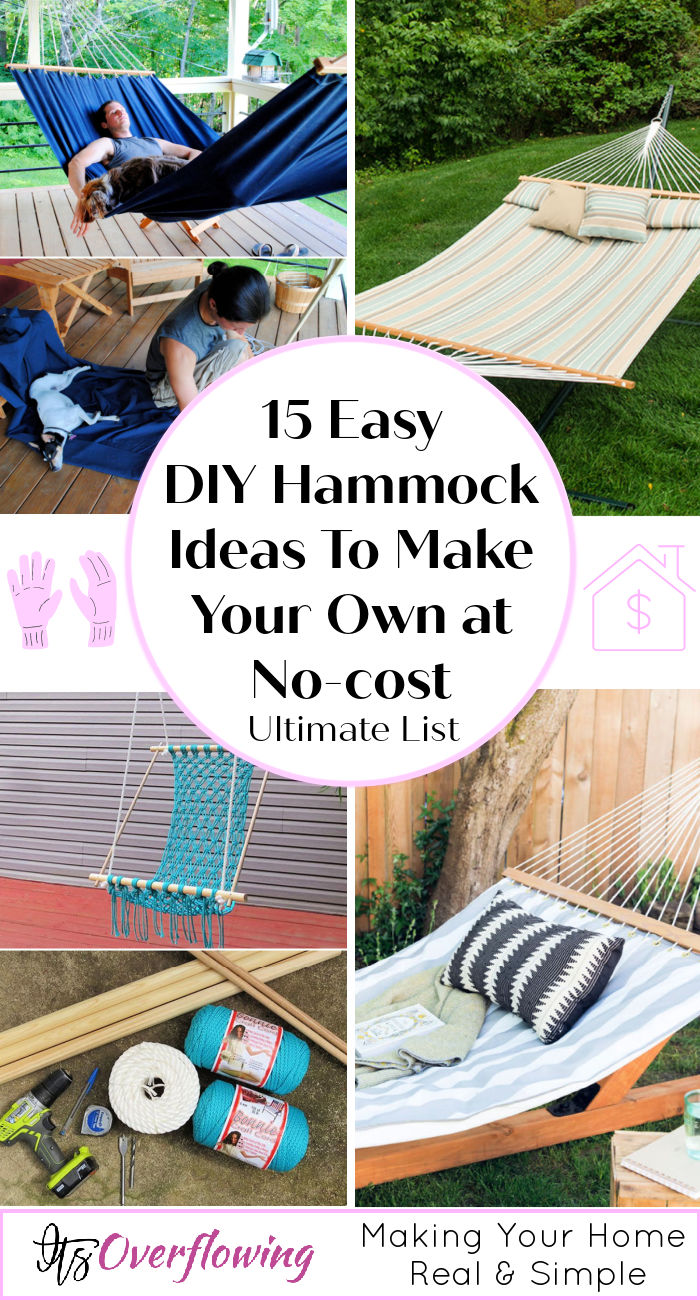 See all lovely readymade designs by taking a tour of these 15 easy to make DIY hammock ideas that are sure to be the best swinging beds at your outdoor to enjoy daydreaming, afternoon naps, book reading, and the lovely outdoor weather. Hammocks are no more a dream due to higher market prices, just start building them your own.
Repurpose the old fabric and fix a quick DIY hammock in the kids' playrooms for stuffed animal toy storage. Build a luxurious hammock with a freestanding frame, drop cloth, and durable rope. Use also your art of knotting to make a hammock without using any fabric, knot the heavy-duty rope to weave your own hammock textile. You will get all the tips and tricks here to build a pro-style hammock, and you will also be amazing with the hammock hacks based on recycled items. Browse the entire list of these easy DIY hammock designs to see some super cute cat hammocks too.
1. DIY Lazy Day Hammock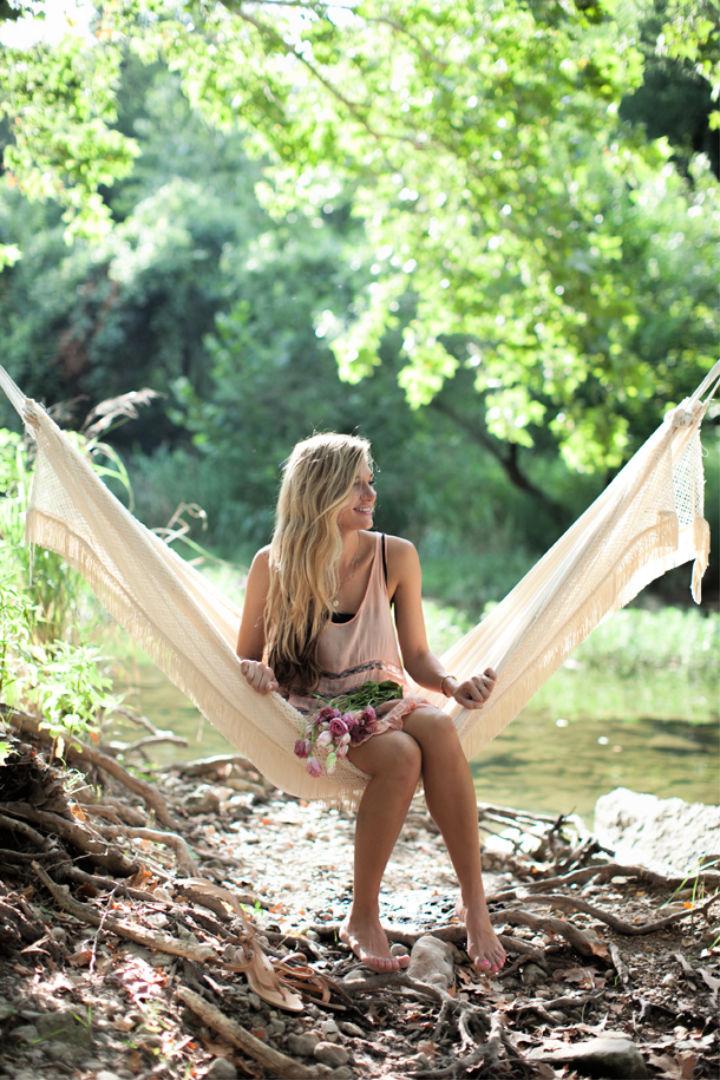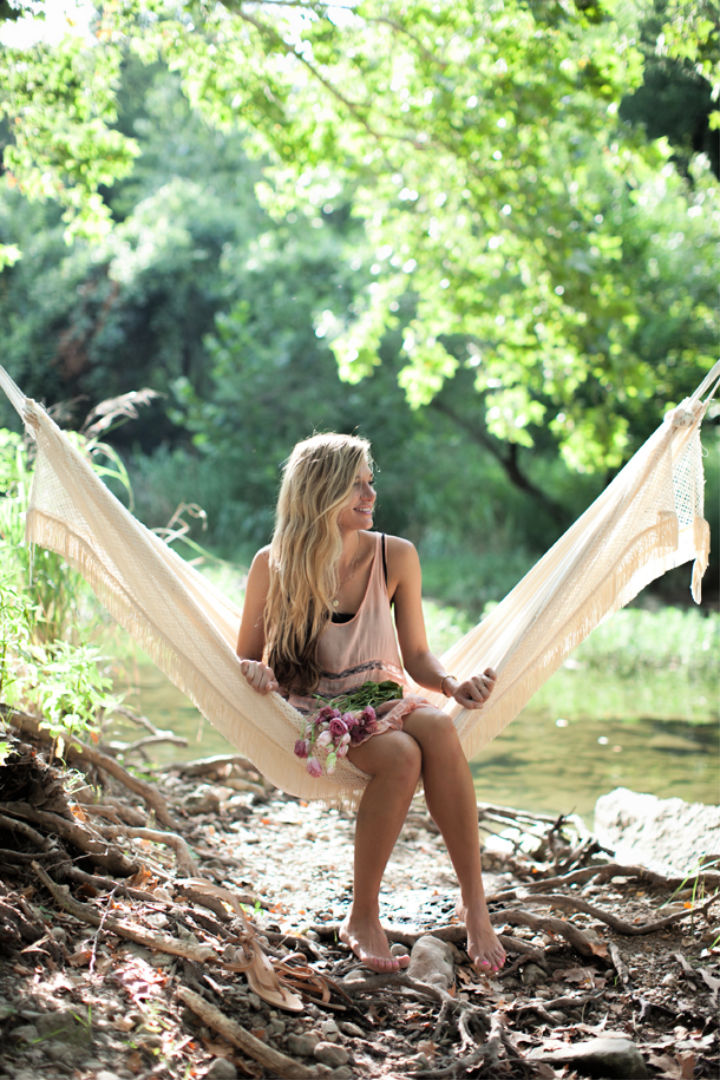 Help yourself with muscle aches by sleeping or relaxing on this lazy day, hammock. Just grab any old piece of fabric like a bedspread, bedsheet, or a durable curtain to make this hammock. Simple tie the rope lengths to both sides of the fabric and then tie them around the trees. Details here camillestyle
2. Handmade Outdoor Hammock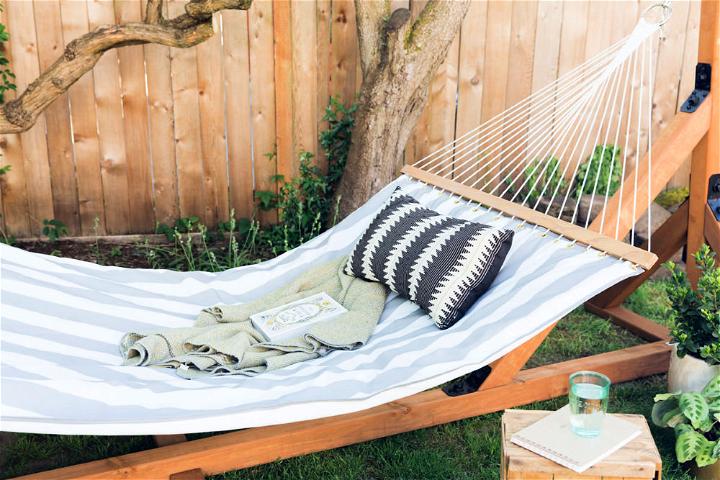 This DIY hammock no need for the tree stems. It has its own freestanding stand or frame that you can also drag to anywhere outdoor to enjoy your hammock. Here you need 1x2x10′, rope, durable outdoor fabric, polyester batting, stainless steel rings and sewing machine, etc to build this outdoor hammock. diy dunnlum
3. DIY Summer Hammock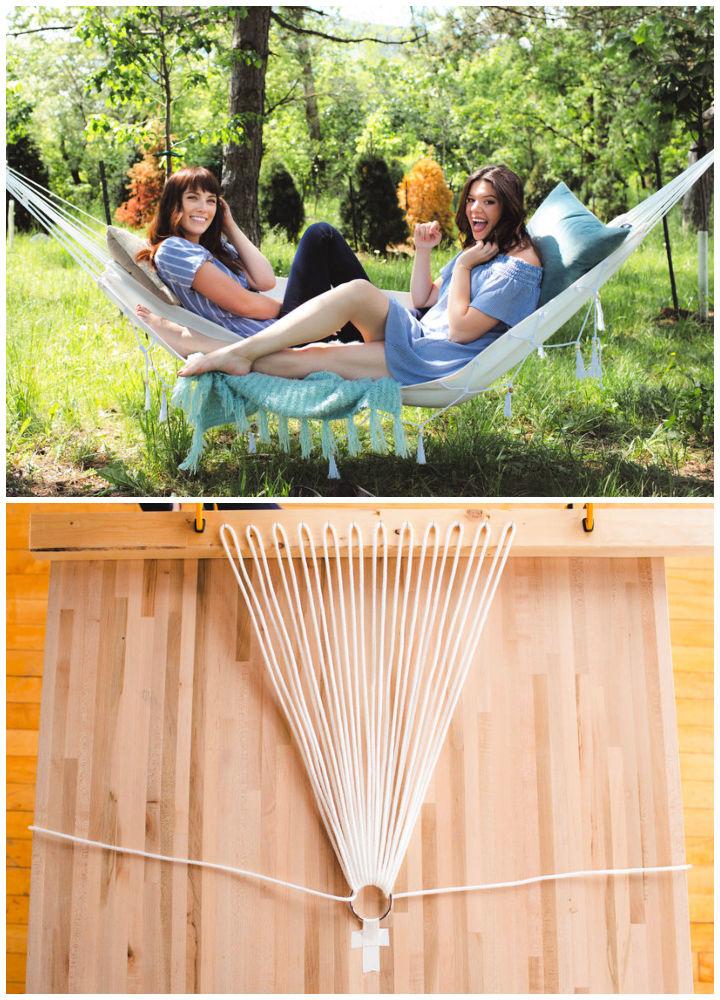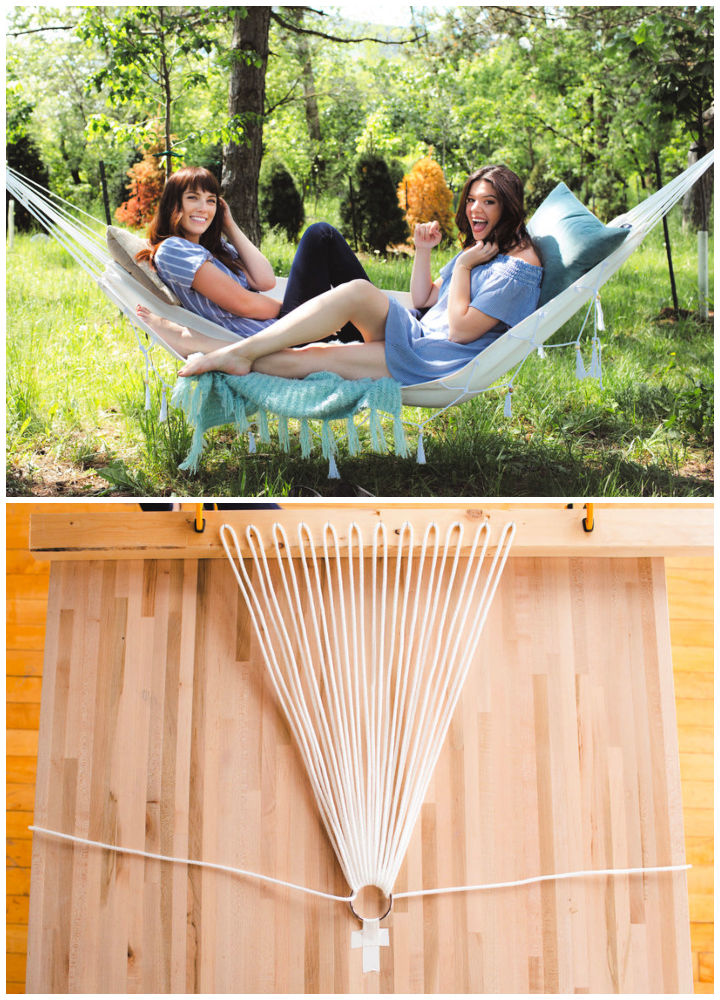 Live the summer luxury by installing this DIY summer hammock. It will work up super quickly and is quite something quick and easy to install. Grab the outdoor canvas material, fabric cord, metal ring, braided poly rope and wood to build this DIY summer hammock. Details here thesorrygirl
4. Macrame Hammock Pattern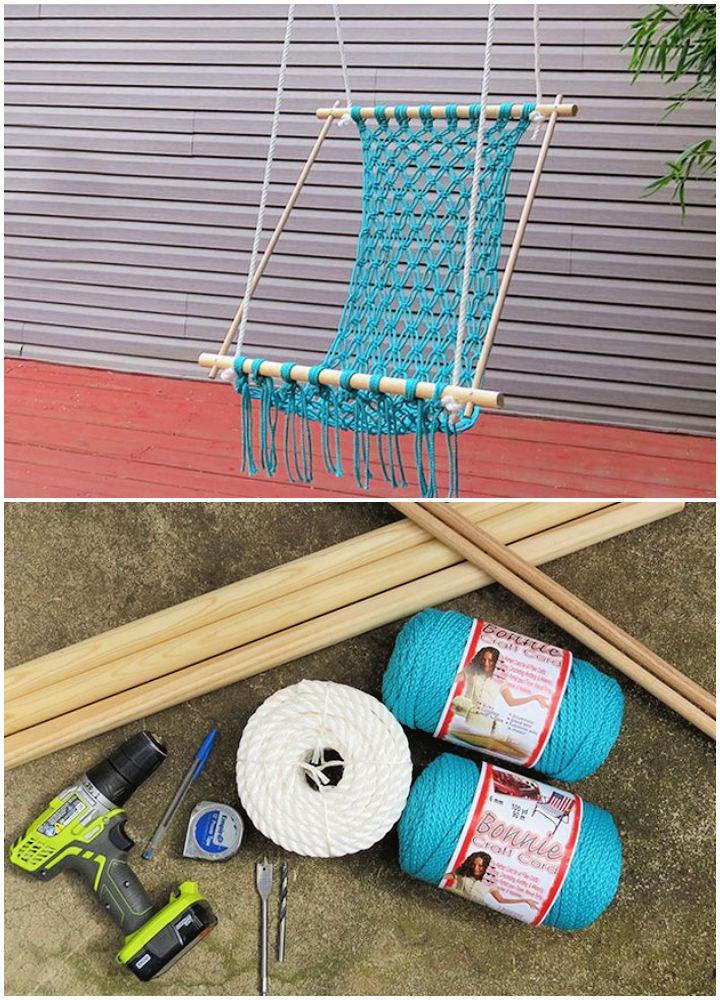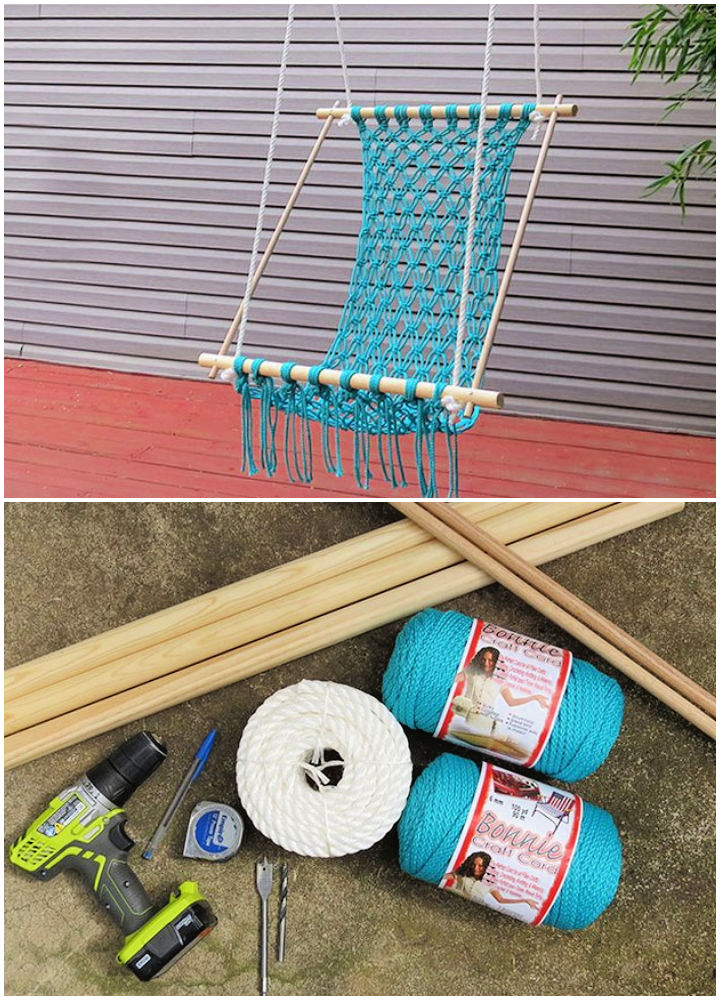 Use your art of knotting also to install durable and lasting longer hammocks without getting a bit expensive. First, build the hammock frame using slim and thick wooden dowels and then tie the heavy-duty rope onto the thick hammocks and start knotting. Get this hammock in the air using a heavy-duty rope. Find this easy hammock pattern on hunker
5. How to Sew a Hammock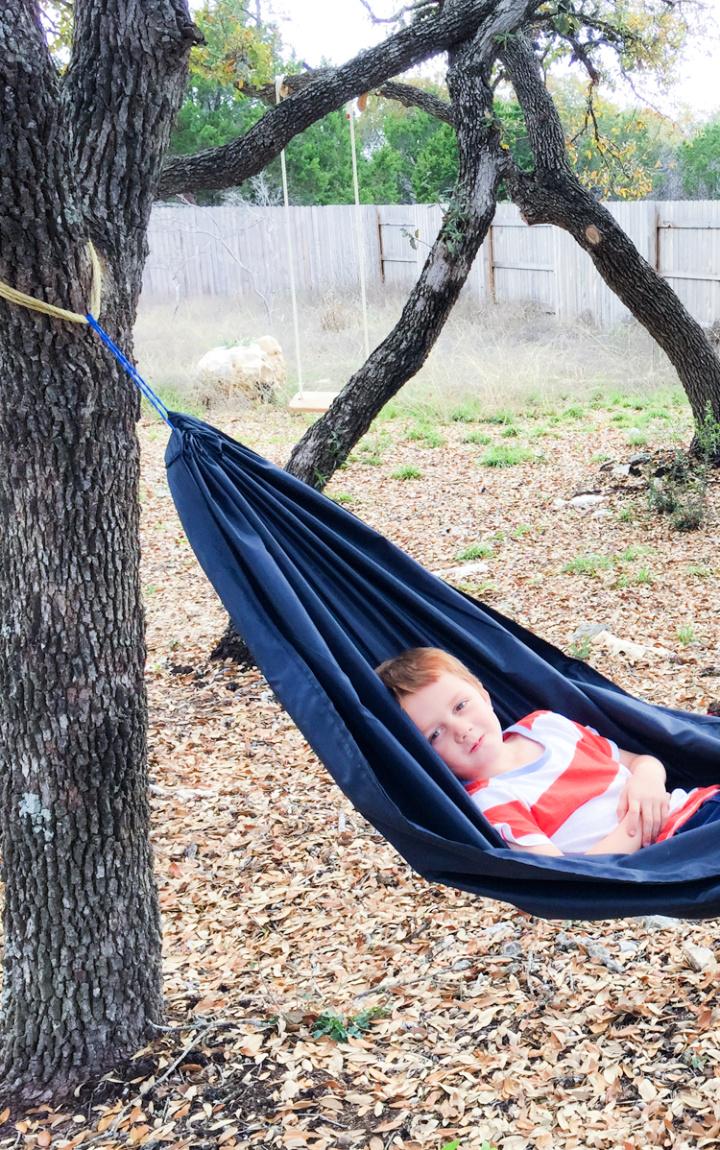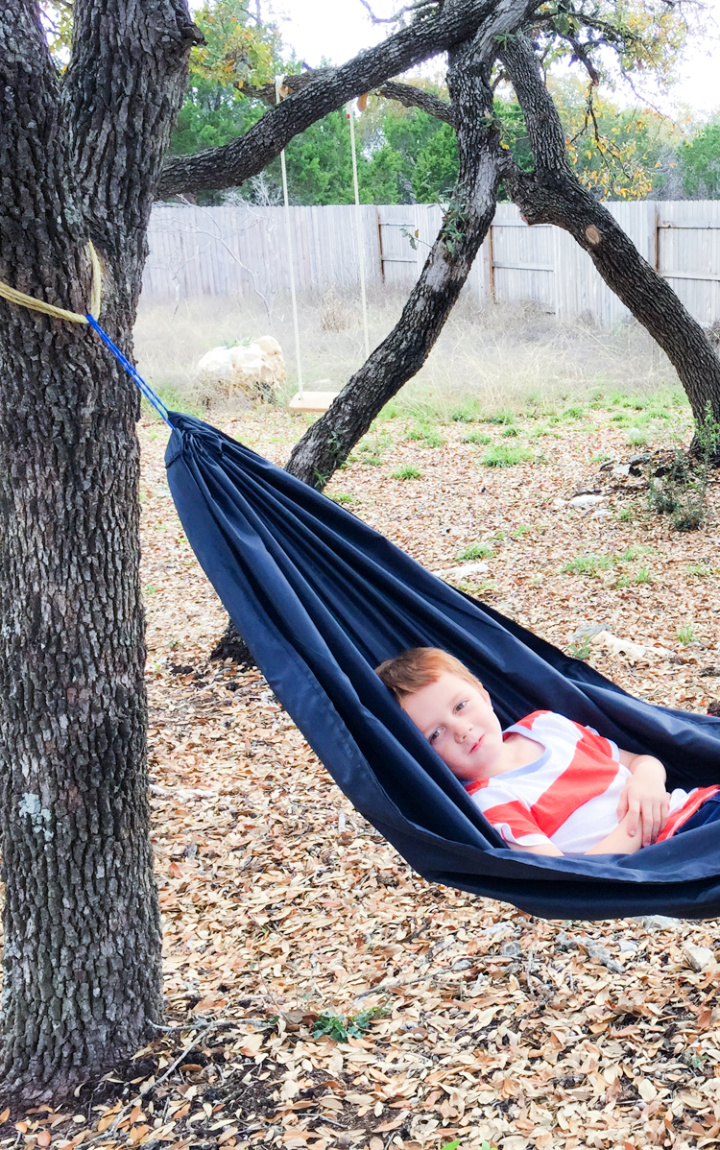 Get here free instructions about how to sew a hammock-like a pro. Here you need 3 yards of ripstop nylon outdoor quality fabric, and 2 yards of heavy-duty rope to build this hammock will be the real summer fun. It will definitely improve the quality of your sleep. This project will complete in 10 minutes. Details here livefreecreati
6. DIY Hammock Using Drop Cloth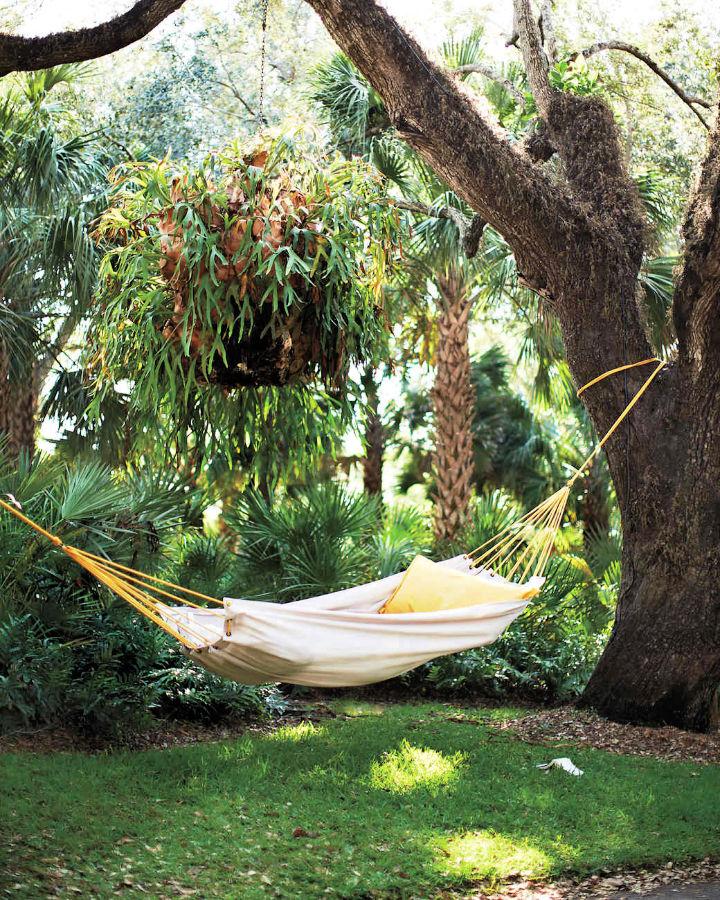 Hammocks are of the best summer outdoor entertainments and they help you relax instantly. So, gets an instant relief from stress by building this hammock using drop cloth. Grab the 6′ x 9′ drop cloth and sew your hammock with it. Install grommets and thread the rope in to bring it in the air. Details here marthastewart
7. DIY Hammock for the Deck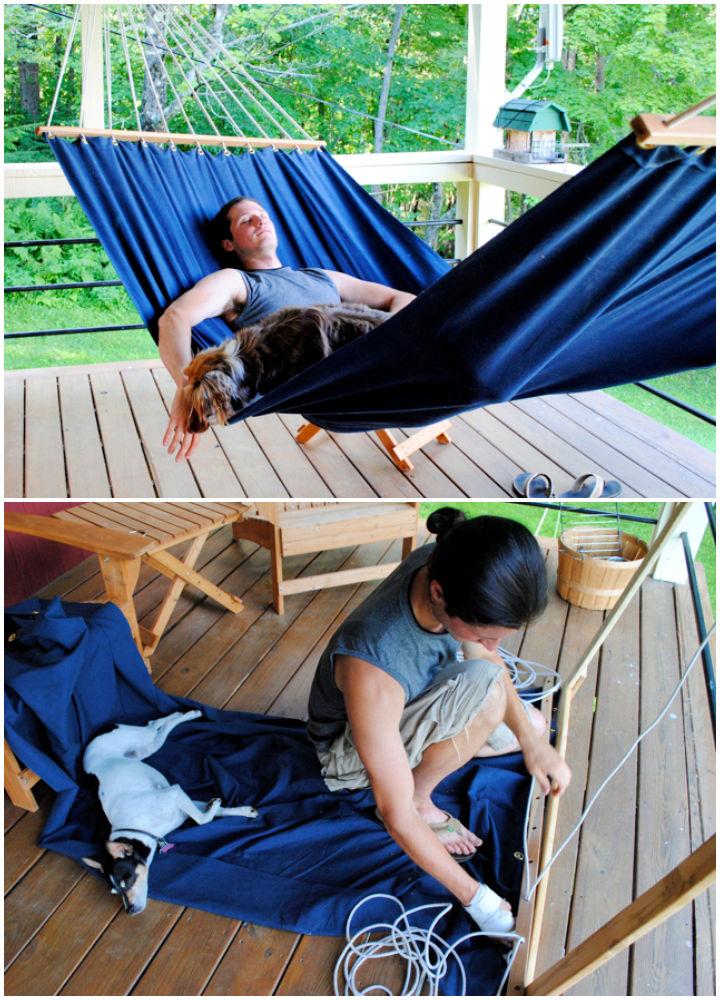 Willing to install a hammock this summer to enjoy the hot days to fullest? Then get here free tutorial about how to sew and install a hammock. Grab 3 yards of heavy-duty outdoor canvas fabric, 20 grommets, 2 hardwood beams having 1.25" thick x 2" wide size and length should be equal to your hammock. You need 100′ of quarter-inch rope for this hammock project. littledogvint
8. Stuffed Animal Storage Hammock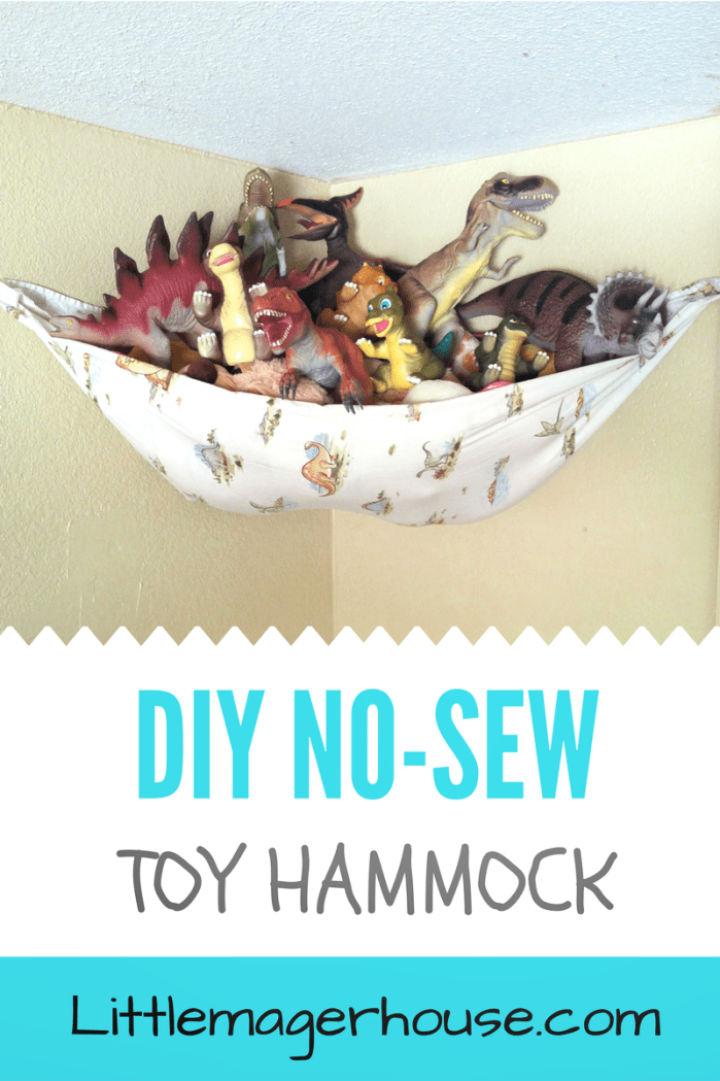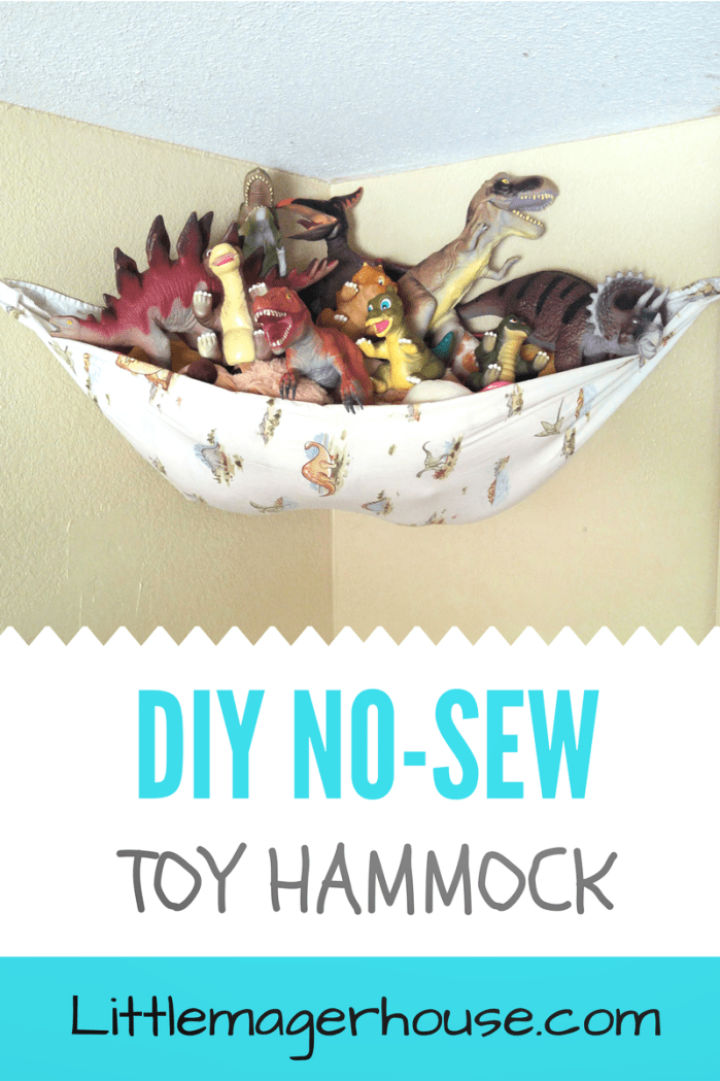 Hammocks are not just for the outdoor summer fun, they can be your next most amazing toy storage option too. Just recycle old fabric from home and then tie rope to both of its ends. Hang this hammock up in the air in kids' playrooms and let it hold the stuffed animal toy stock. Details here littlemager
9. Simple Summer Hammock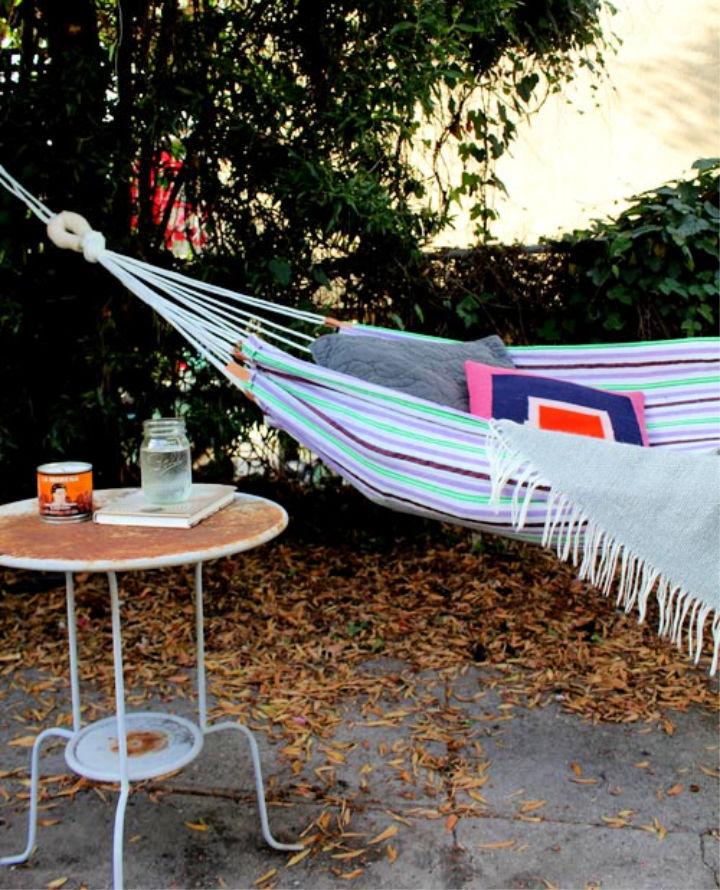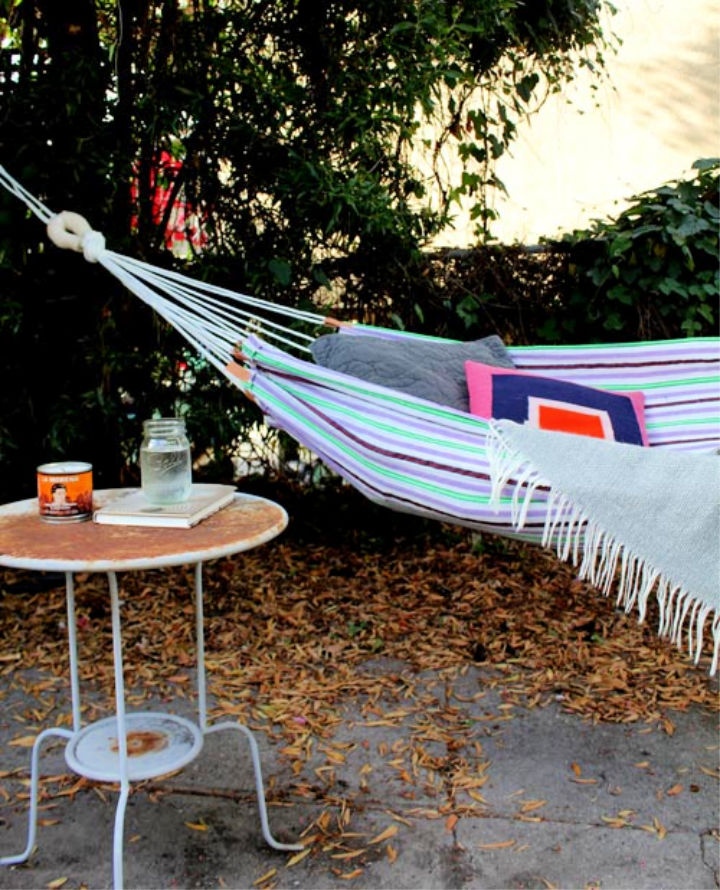 Improve your blood circulation and focus this summer using these easy hammock ideas. Make it using cotton beach towel 40" x 80", 1" leather strapping, heavyweight cotton muslin or canvas 4" x 40", rope, zip ties, and cotton twine. This simple yet beautiful hammock will also make a beautiful gift. designsponge
10. DIY Hammock with Macrame Knots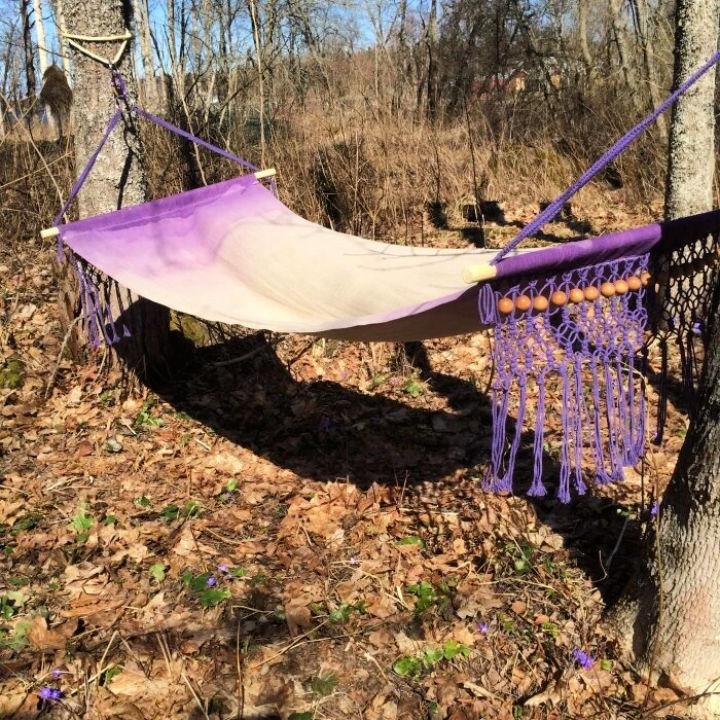 If summer means to you enjoying the hammocks then do get here free plans to build a nice looking summer hammock. Grab the 40 x 100 inches of linen for making hammock. Use 4 metal rings and 2 carabiners to install the hammock rope and build this hammock to enjoy the summers more. royalhammock
11. Sunbrella Fabric Hammock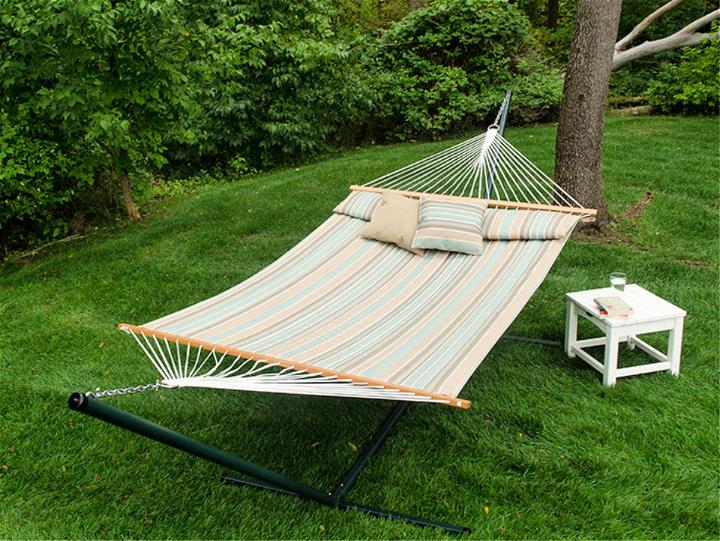 Building a hammock may be challenging with a freestanding frame. But build a lovely one by following the super easy step-by-step instructions. You need 340 ft of Dacron Leechline Rope, 2 stainless steel 3D rings, 12ft of 3/4" polyester, dowel rod, 1 wood pallet, and 3 strands of rope to make this Sunbrella fabric hammock. Details here sailrite
12. Canvas Drop Cloth Hammock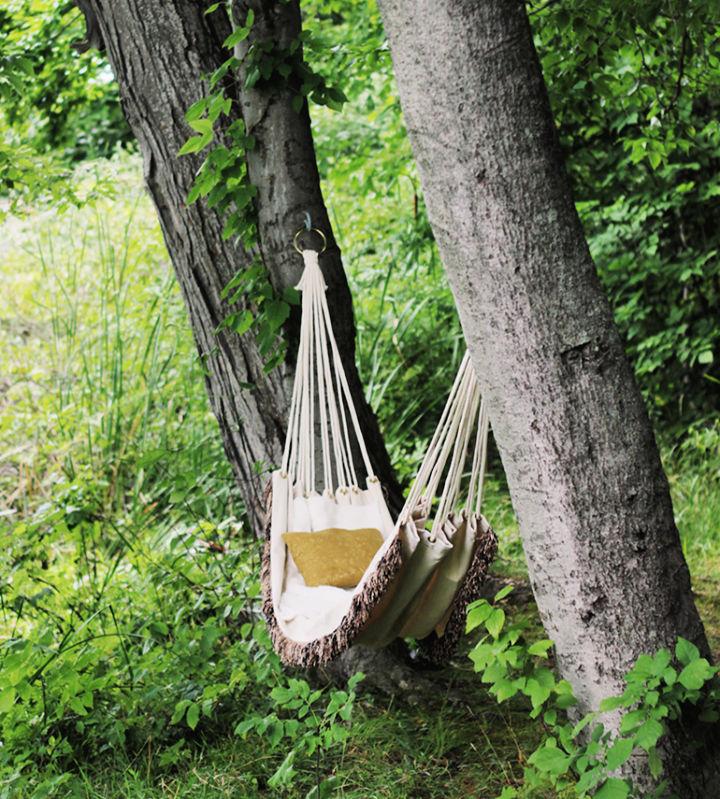 Do easy sewing projects and sew the best hammocks for your outdoor. Sew the canvas drop cloth to build this hammock. Next, you need grommets, grommets kit, rope, 3 yards of trim, and carabiner with sufficient weight capacity. Cut a 4′ x 7′ piece of drop cloth to sew this hammock. Details here themerrytho
13. DIY Chair Hammock in an Afternoon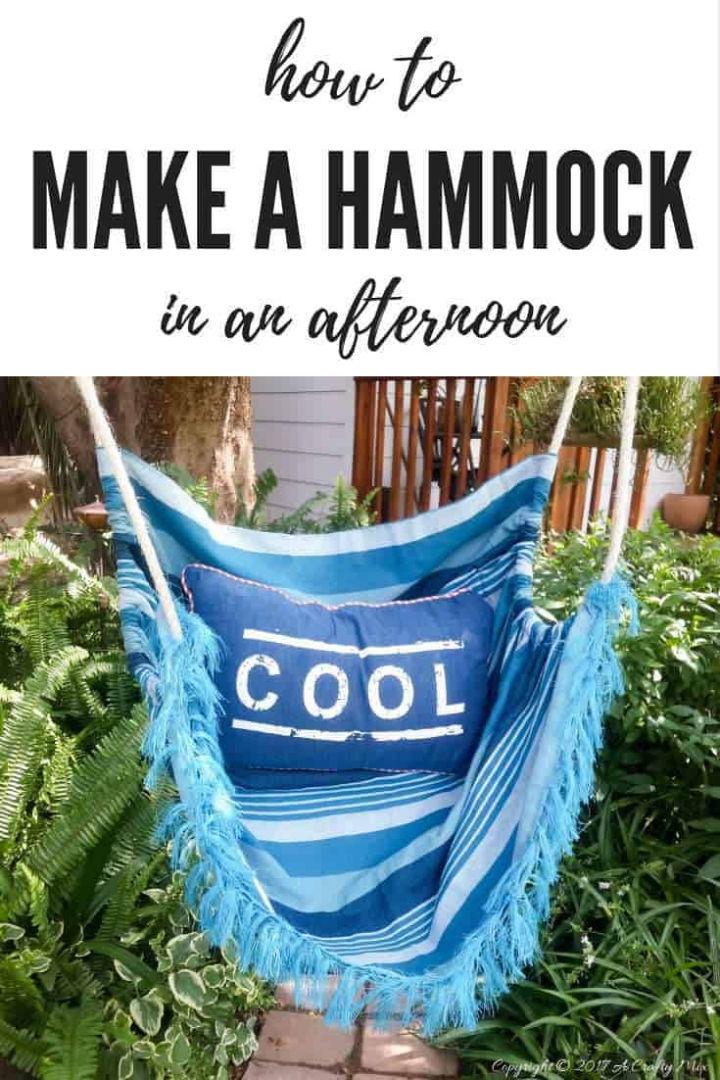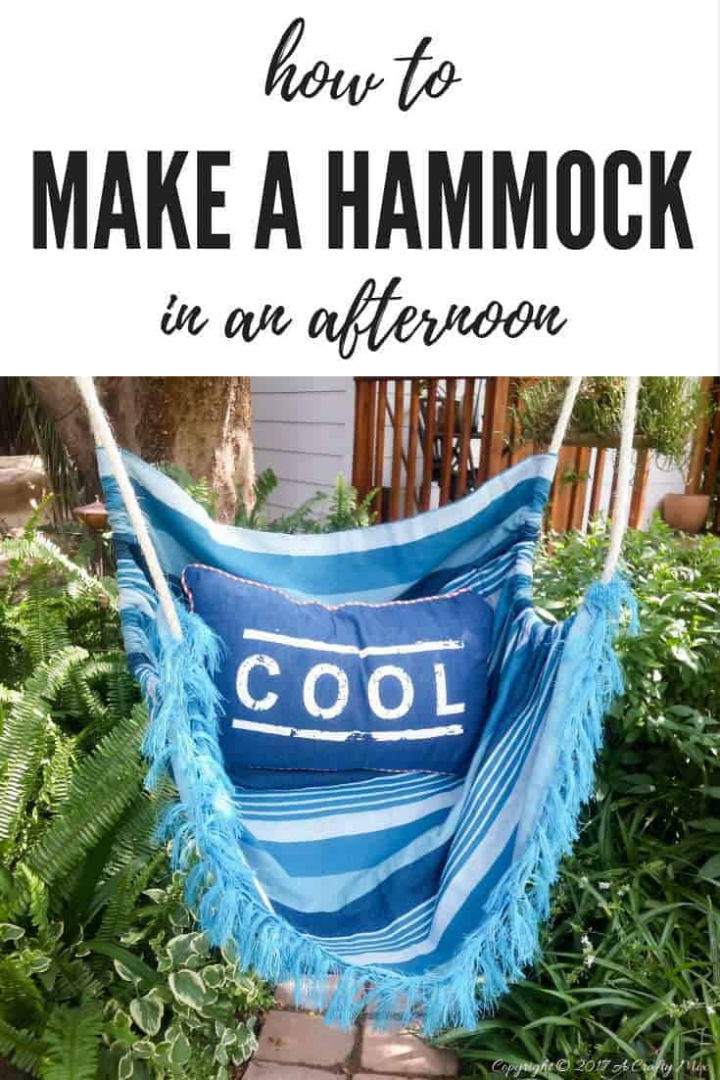 Willing to build a chair hammock instantly like in an hour? Then get the DIY hammock chair tutorial for here. Build this DIY hammock chair will cost you just $15, and you will be built this luxury in less than 60-minutes. Grab 6m of sisal rope cut in half, 1 throw 55" x 71", a drill, sewing machine, and 43" of wooden bar with 2" diameter to build this hammock in an afternoon. acraftymix
14. Modern DIY Cat Hammock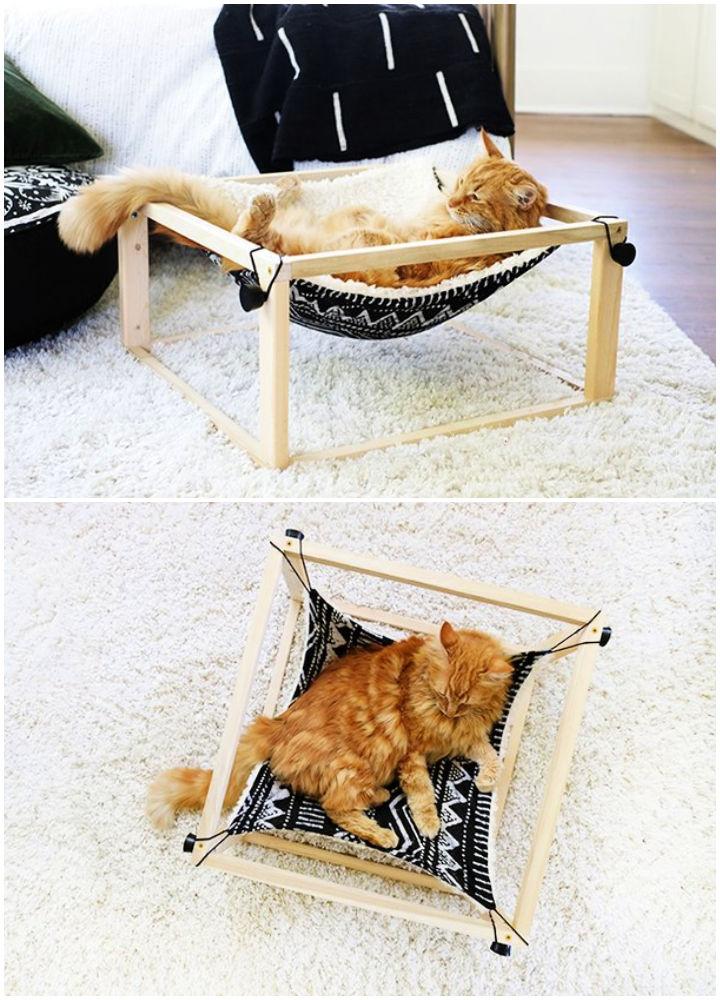 Also, build super fun-making hammocks for your cats will surely make them live the luxury. Build first the square frame for cat hammock using a 13′ length of 1/2" x 1/2" square dowel and a 3′ length of 1/2" x 2" pinewood length. Sew the hammock using2 different types of fabric. Details here hunker
15. How to Make a Cat Hammock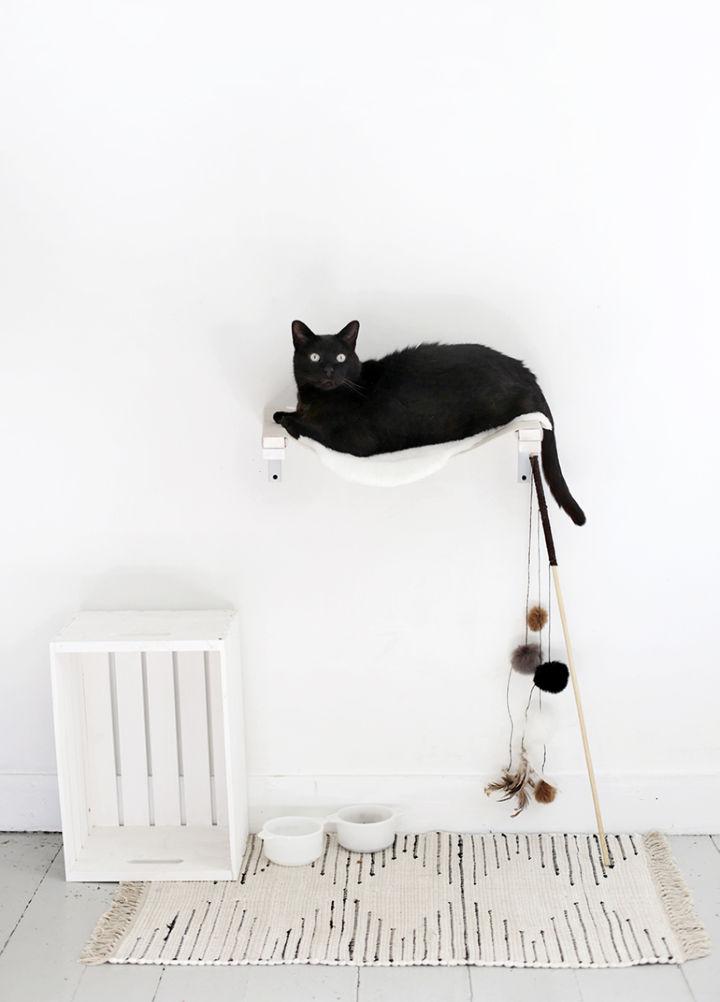 Again build this DIY cat hammock for a cat will be the real luxury for your cat. You need 1" x 4" x 8′ wood and canvas to make this sweet cat hammock. Sewing this hammock will be an Easy Sewing Project, and you need brackets to install it durably on the decided location. Details here themerrytho
You must try these hammock ideas for camping! Also, check this ultimate guide to converting a Van into a DIY Camper for Life on the Road. With information on design, construction, legalities, and component suppliers.
Conclusion:
Nothing can beat the value of comfort that you get after lying in a hammock, the real summertime luxury. However, hammocks cost you big, but with these easy DIY hammock ideas, you will be able to build a durable and stylish hammock in a budget-friendly way. It will help get your entire backyard calming and will be a great fun feature to add to your outdoor for kids. Repurpose the old wood and old fabrics and even the old rope from home to build most of these hammocks at a zero cost price.
Related DIY Projects for Beginners on Budget