Apple cider Vinegar has various healthful properties and qualities. You will be surprised to know that it is a perfect remedy for so many diseases. This roundup of 15 quick and easy homemade apple cider vinegar recipes can make you take care of yourself and your health better! Sure, you can go for commercial apple cider vinegar, but it can cost you pretty much! Therefore, we have gathered these 15 homemade apple cider vinegar recipes for you to get benefit from and save money as well. Not just by not buying apple cider vinegar but also growing your immunity! You are welcome to try every recipe because they are all oh so easy to make and well also darn good to sip onto! These homemade apple cider vinegar recipes are bound to give your taste buds quite the sour treat that you are certainly going to enjoy.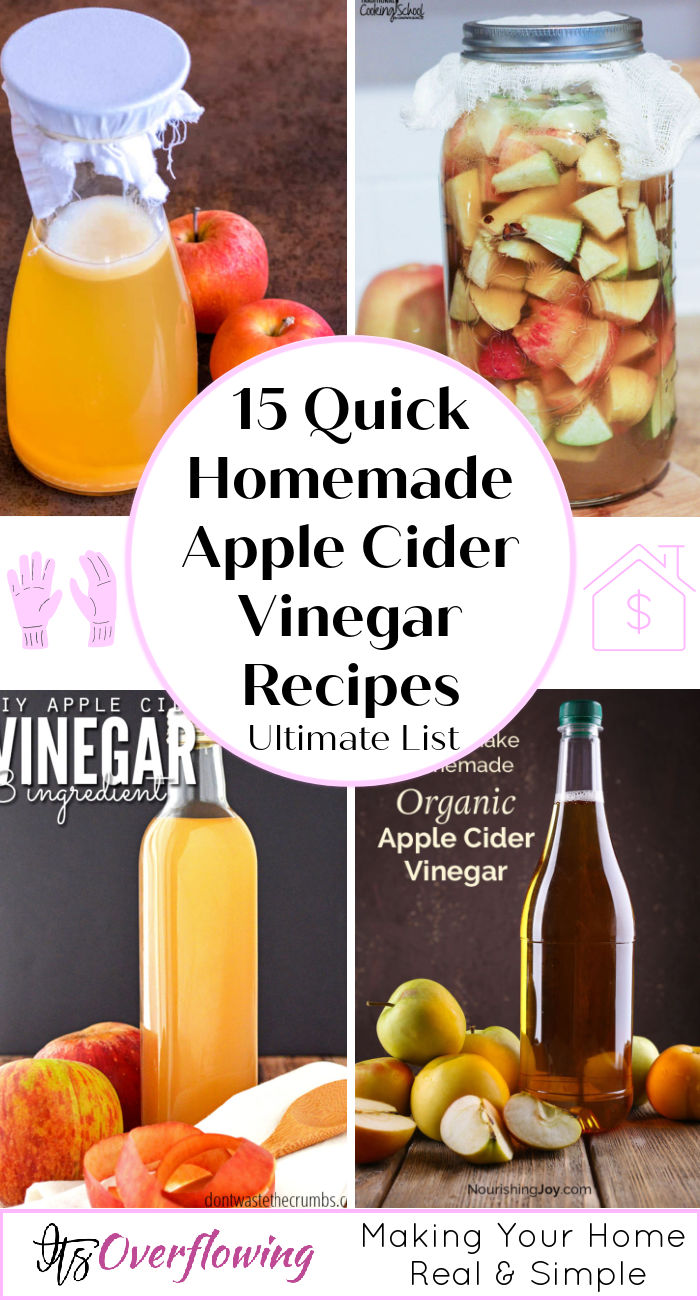 Another added benefit with homemade apple cider vinegar is that it minimizes any chance of taking any contaminated products! Plus, the preparation time for making this apple cider vinegar will be hardly 15 minutes, and you can preserve it in your refrigerators for later use as well. These recipes don't even require any professional chef skills! All recipes are beginners friendly to try. You can make a jar of apple cider vinegar from scratch! How to make apple cider vinegar? The basic ingredients will mostly include some apples (for sure), some coffee filters, or sugar, and water. With, of course, a few more added supplies! So, give a quick look at these fantabulous recipes. Exploring through them, you can surely whip up some tasteful homemade apple cider vinegar recipes in jars or bottles.
1. Homemade Apple Cider Vinegar Recipe
Spice up your after meal time with this apple cider vinegar! Bring this healthy and nutritional drink into your daily routines! The homemade apple cider vinegar recipe can easily go for 32 servings, at least! Ingredients required are 3 medium apples, 2 cup water, and 2 tablespoon sugar. Keep tasting it for the desired level of acidity! tasty
2. Make Raw Apple Cider Vinegar at Home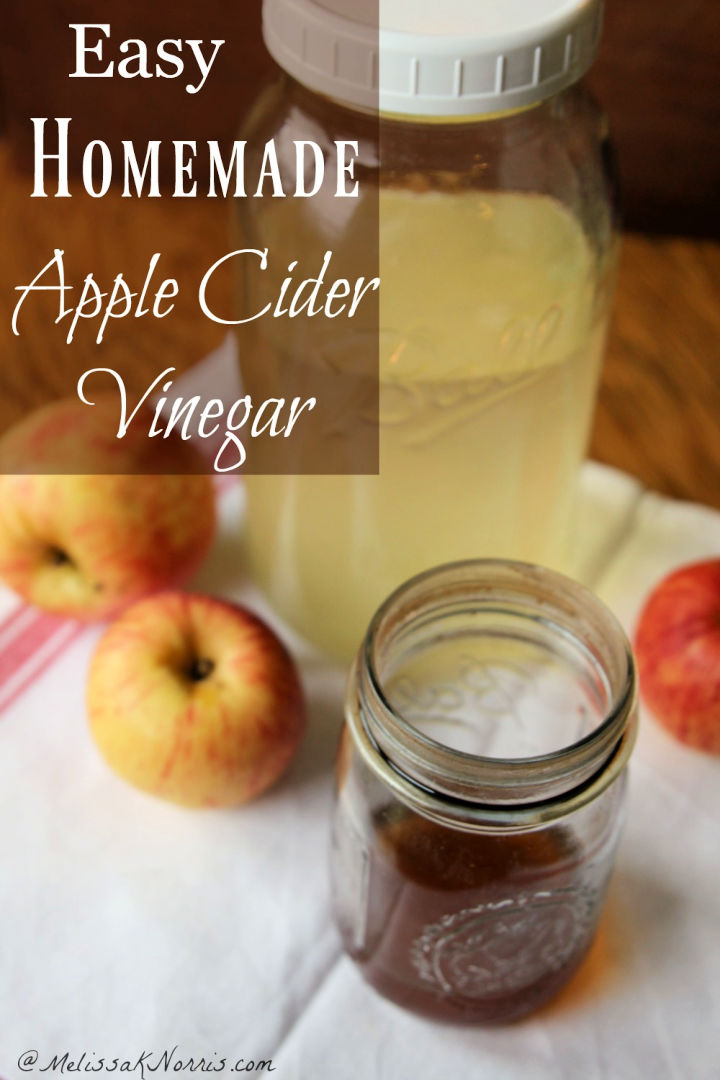 How about whipping up some raw apple cider at home? It is insanely easy to make! It has numerous benefits too! Isn't it amazing? You can save quite many dollars on health insurance and commercial cider also, this way. Ingredients you will need are apple peels, cores, scrap pieces, mason jar, and band coffee filter. melissaknorris
3. Homemade Apple Cider Vinegar from Scraps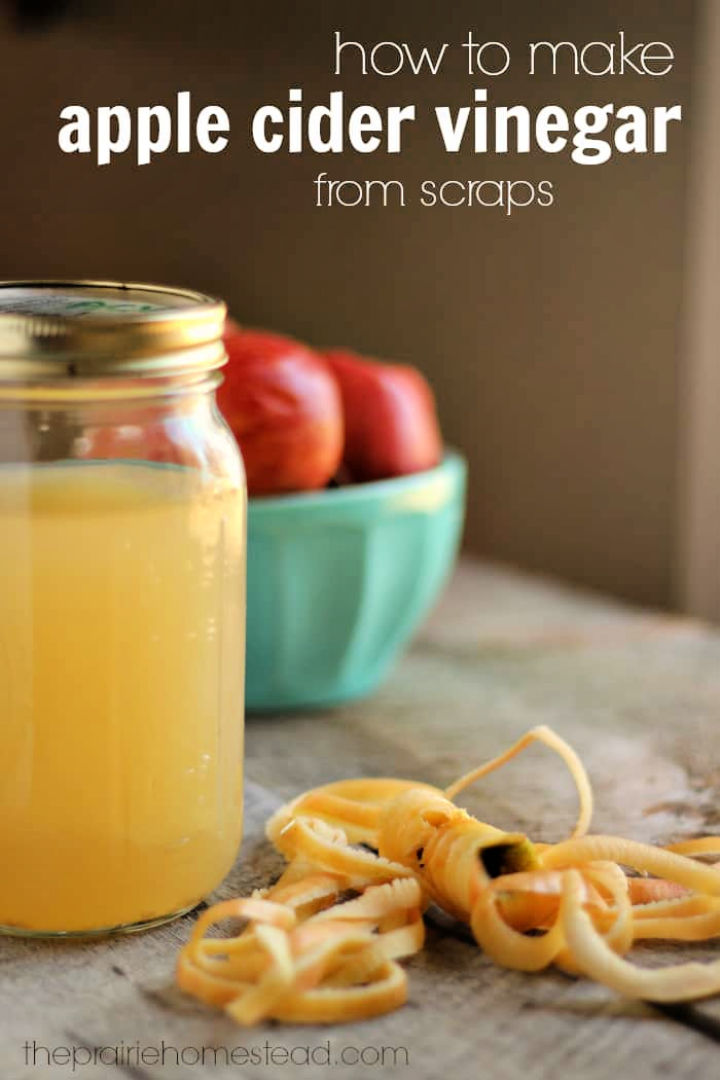 Learning how to make apple cider from scrap at home is one of the most natural things to make. But if you have had any trouble making it, here are some tips for you to follow. Also, check the ingredients to grab from the grocery shop and start making it. You will just need some apples, sugar, and water to get started with this project. theprairiehomes
4. Homemade Apple Cider Vinegar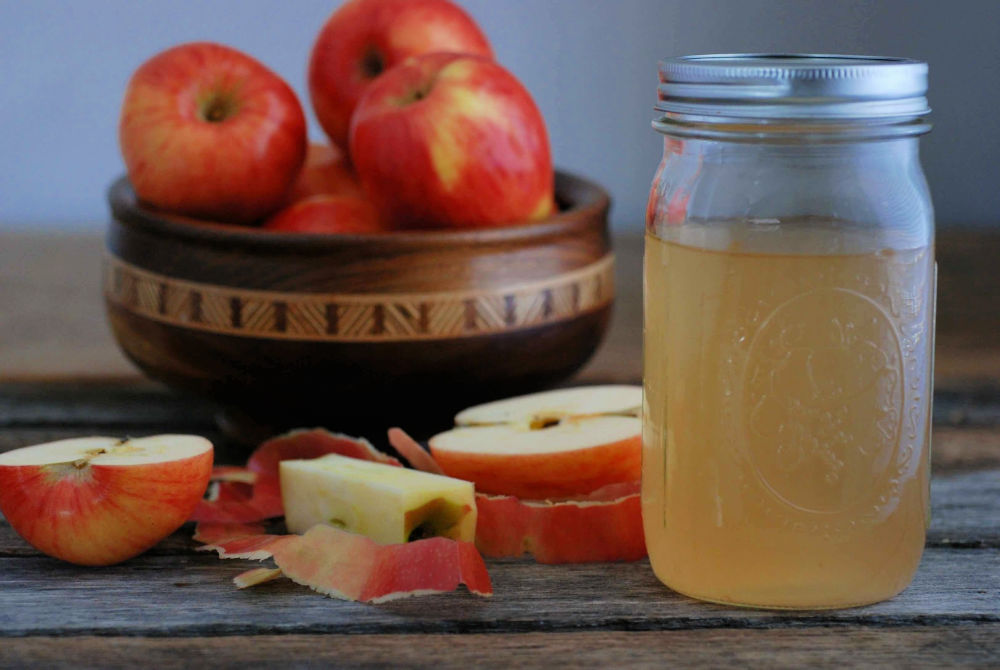 You know there is a saying that an apple a day keeps a doctor away? Well, you can minimize the doctor visits even more by adding in a cup of apple cider in your daily lives! Make homemade apple cider vinegar recipes with a few ingredients that would already be available at your home like apples, water, and sugar. Check out the preparation method too! stemilt
5. DIY Apple Cider Vinegar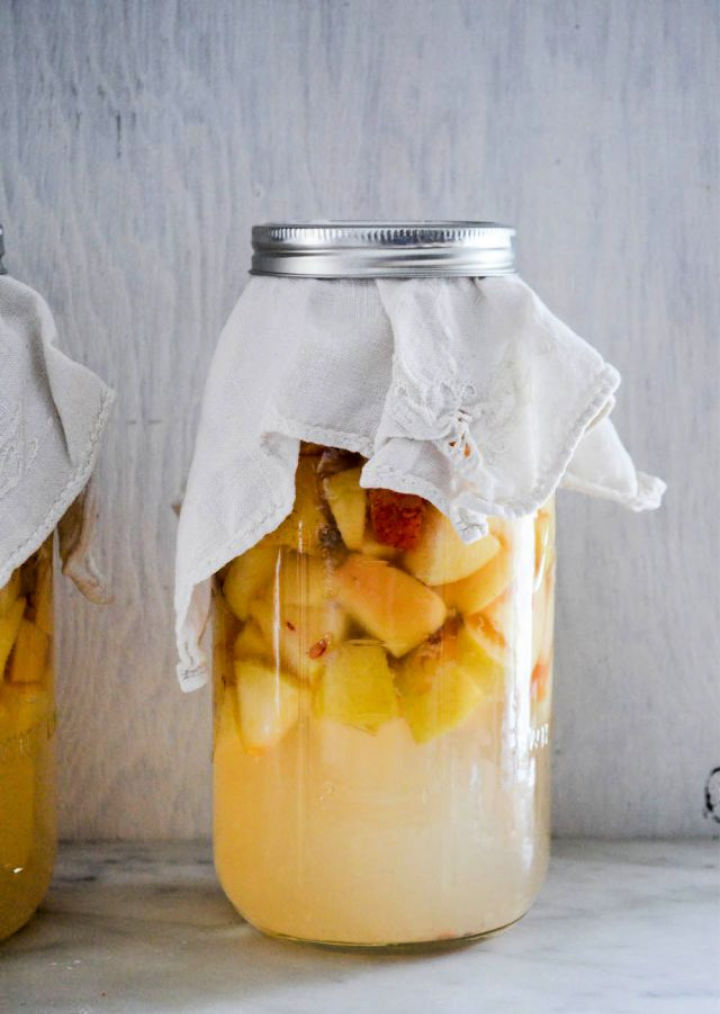 Why rush to stores when you can totally DIY apple cider vinegar at home? It is too simple to make with just apple, sugar, and water. You can also store it in the refrigerator for like 2 weeks. If you face any trouble making it at any point, just follow the tips and instructions to get through it without any worries! injennieskitchen
6. Make Your Own Apple Cider Vinegar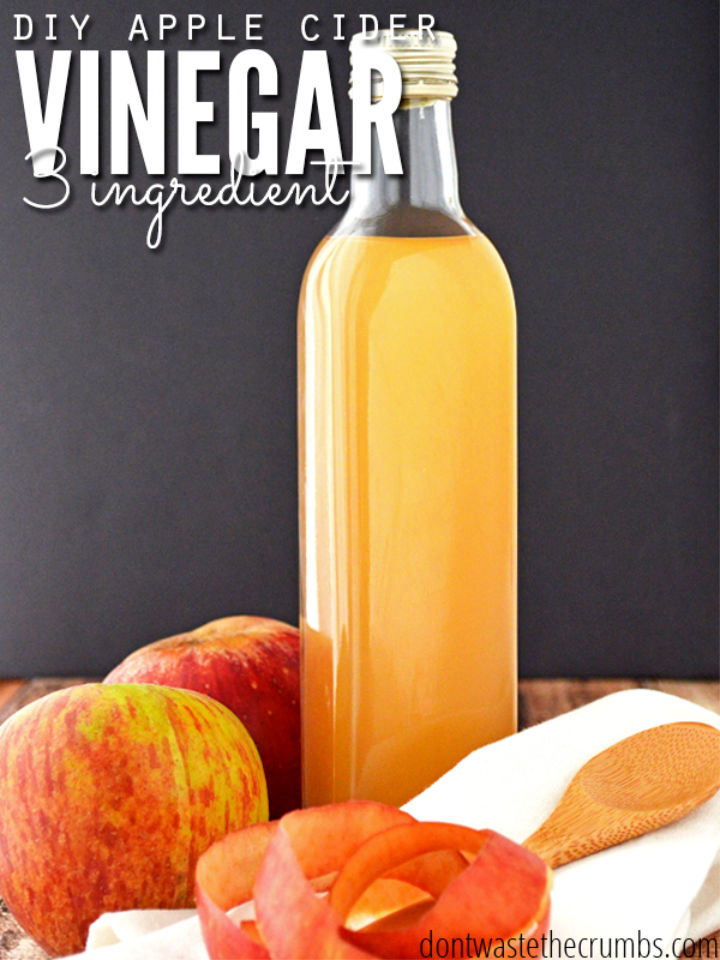 Avoid wasting apple scrap and try making this homemade apple cider vinegar instead! This easy-peasy tutorial will certainly be a big help! The recipe is quite simple and easy! It uses some apple scrap, sugar, and water. It can be a perfect detox for your body and, at the same time, help boost your immune system. dontwastethec
7. Apple Cider Vinegar Recipes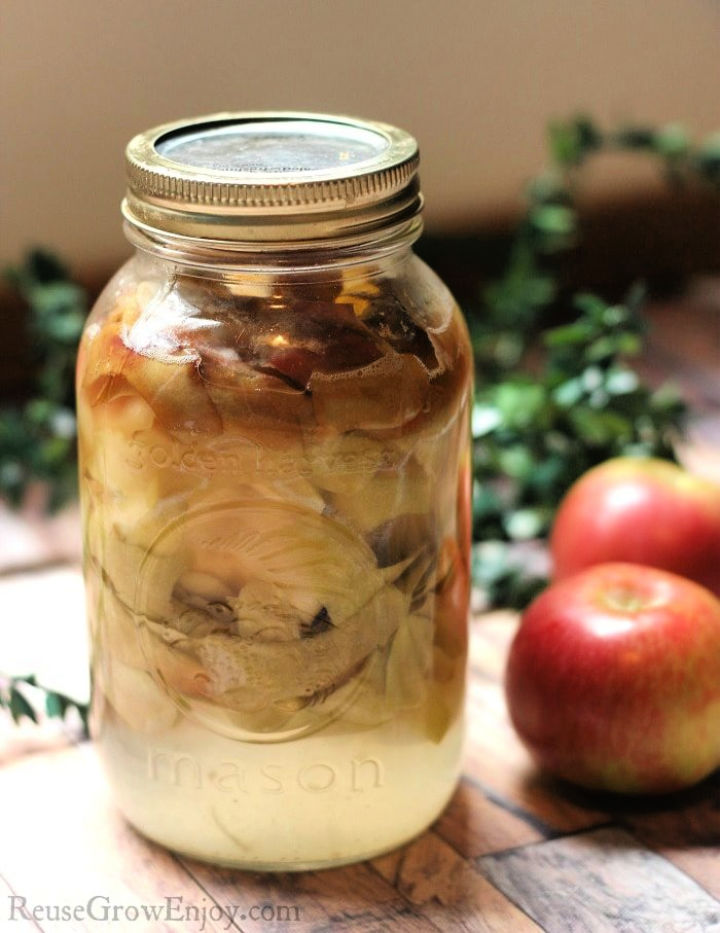 Apple cider vinegar can be helpful in quite a lot of ways! It can be a perfect facial toner, immune system booster, a detox elixir! As well as be beneficial for people struggling through joints problems. Why not make it a more economically available remedy? Do that with the detailed recipe in the link below! reusegrowenjoy
8. Easy and Frugal Apple Cider Vinegar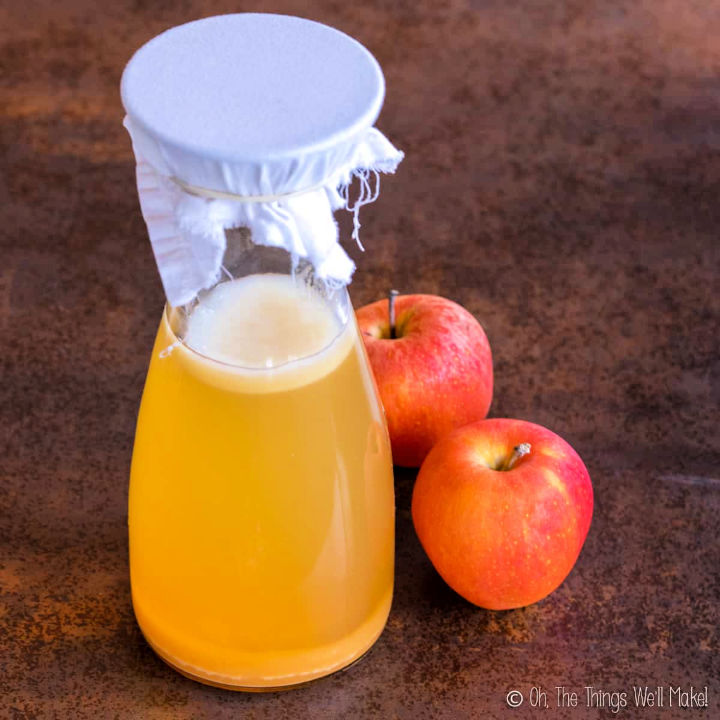 Do you have trouble fighting off nail fungus? Apply some apple cider on it to get rid of this problem. It totally works. So, try making it at home, because it's way too easy and pennywise. Moreover, you can save it in your fridge for later use. Grab the recipe and the preparation method in the link below. thethingswellma
9. Inexpensive Homemade Apple Cider Vinegar Recipe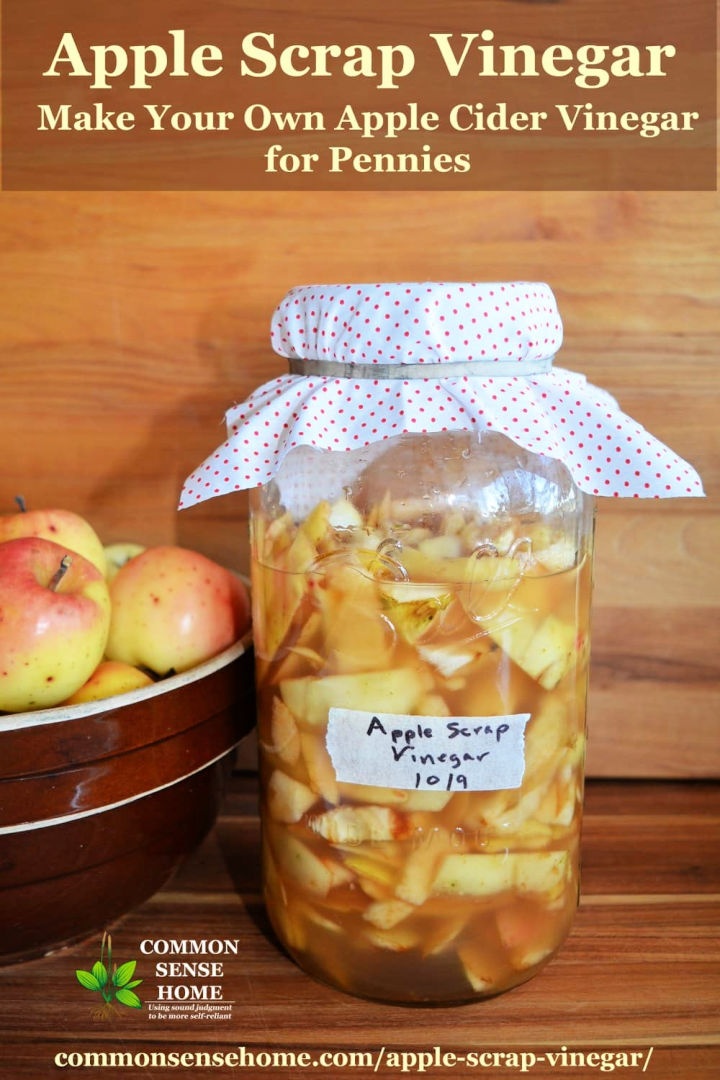 Whipping up some apple cider vinegar is truly just a piece of cake. Also, it is insanely inexpensive, quick to get finished, and save so many more bucks! It will be a perfect home remedy for numerous health issues. Grab the ingredients like apple scraps, sugar, raw apple cider vinegar, and warm water to make this tasty vinegar. commonsense
10. Homemade Organic Raw Apple Cider Vinegar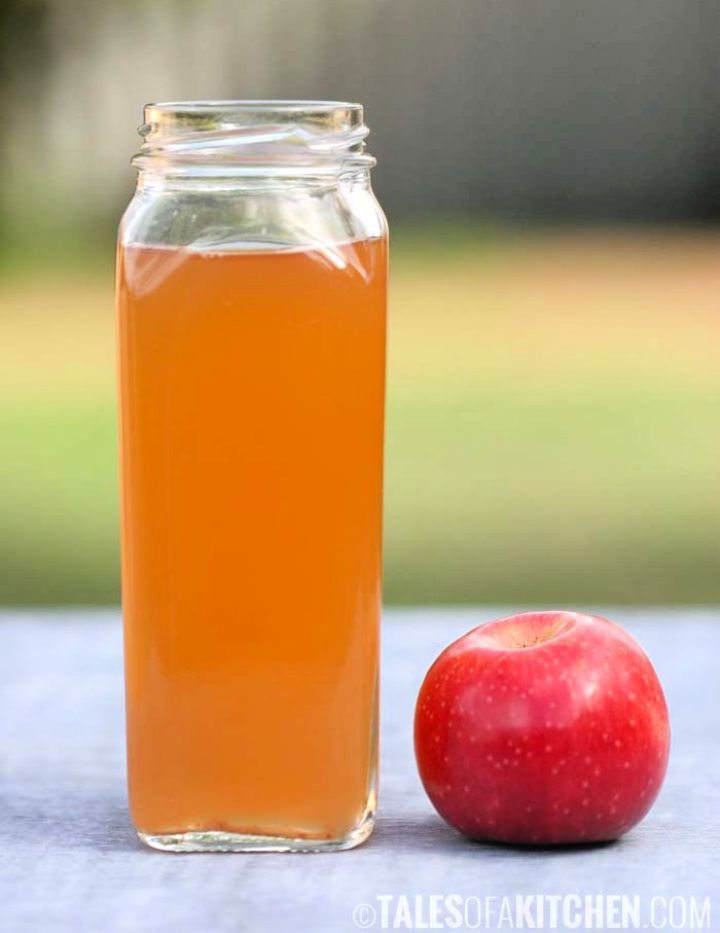 Turn apple scrap into apple cider vinegar. It is not going to taste good, but it also comes with quite a handful of health benefits! It's preparation time varies between just 5 to 10 minutes. And it can be preserved in your fridge for like 2 to 3 months. Can you believe that?! See for yourself in the link below. talesofakitchen
11. Homemade Apple Cider Vinegar (ACV)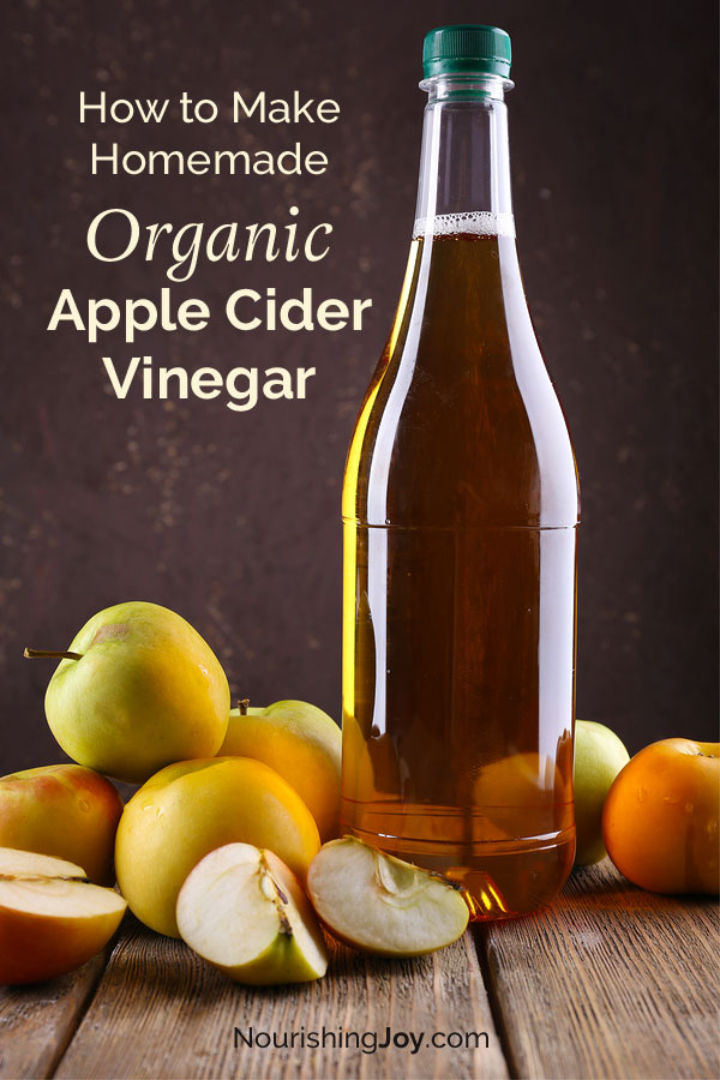 Give your taste buds a treat with this hot cup of apple cider! Yes, you can make some cider at home too! With just some chopped apple, honey and lukewarm water. You can even make a bottle of this for a newly moved-in neighbor and bring in the most thoughtful house warming gift! nourishingjoy
12. How to Make Apple Cider Vinegar from Apple Cider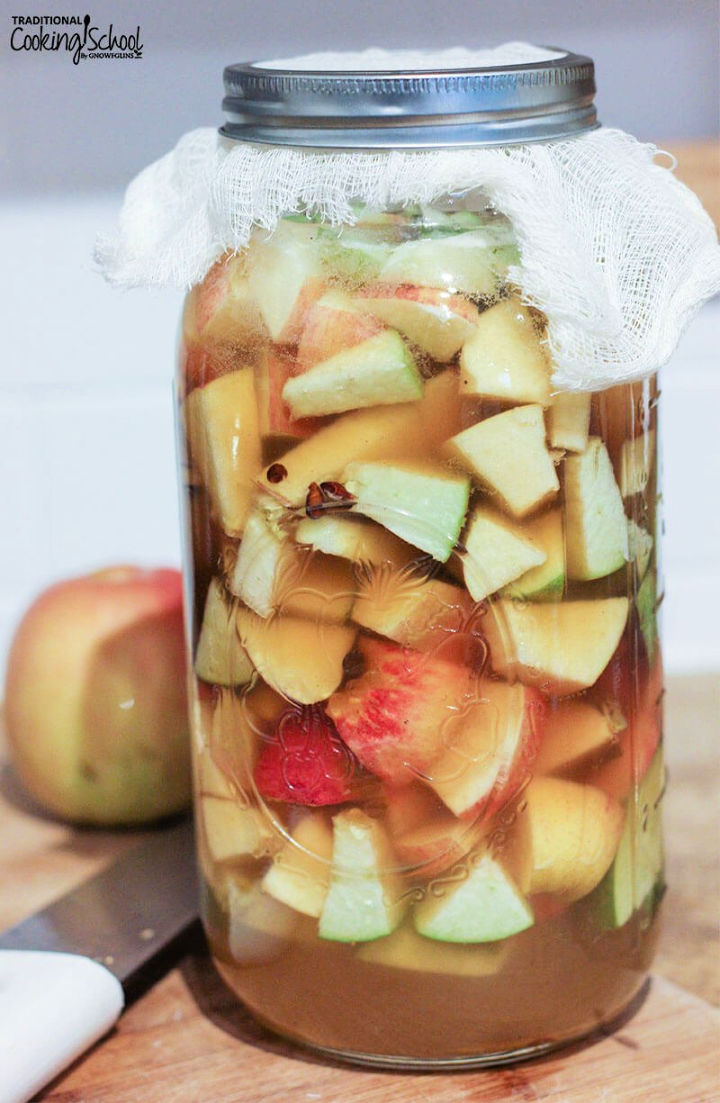 Mastering yourself is whipping up a jar of homemade apple vinegar will probably be one of the most straightforward kitchen tasks you will encounter. With the ingredients and the instructions herein, you can nail this project in just a few minutes. Besides simple to make, it is also too yummy to taste! Give it a try at home. traditionalcook
13. Easy DIY Apple Cider Vinegar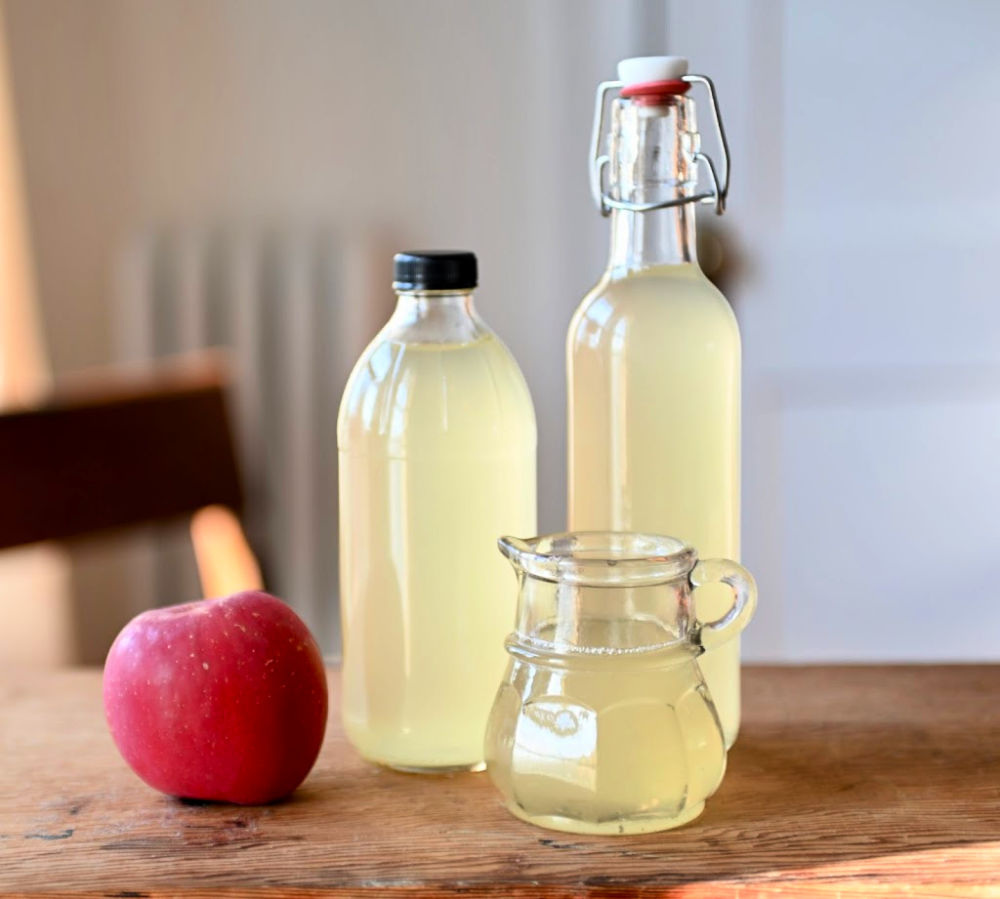 Making an apple cider vinegar is not that huge task as it might seem to you! All you need to use is some raw honey, lukewarm water, and apple fiber. It has phenomenal and versatile advantages. Also, it can bring a pleasant and sour taste to freshen up your mood, any time! gourmetveget
14. Easy Homemade Apple Cider Vinegar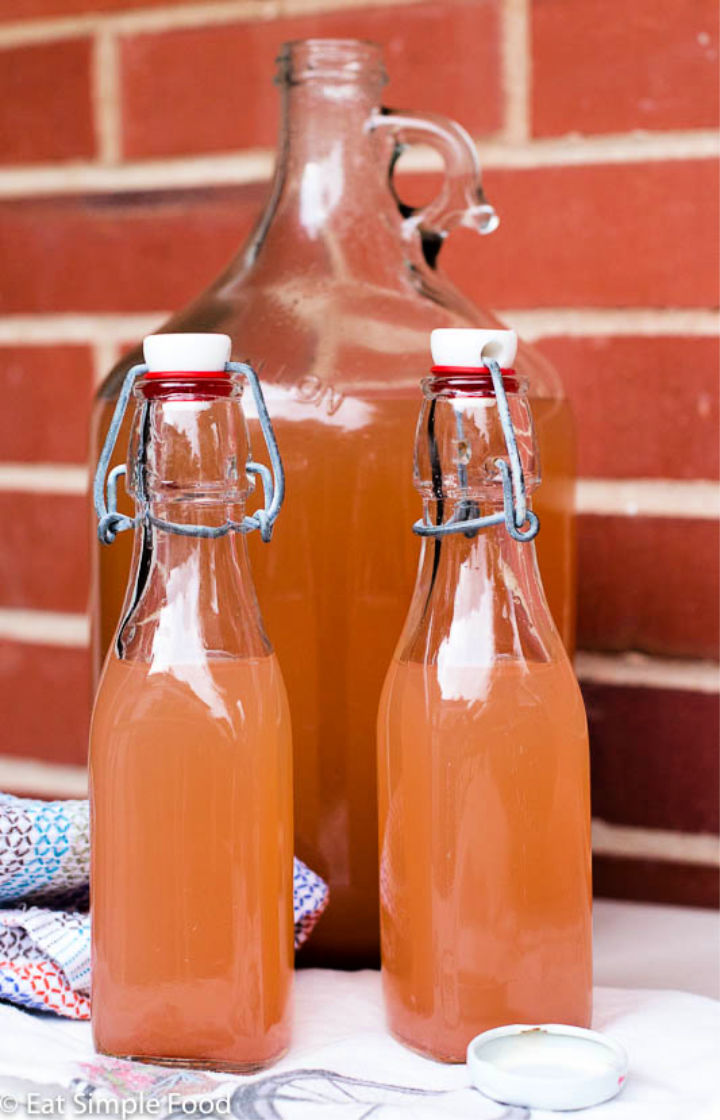 Keep your health game strong by using these good bacteria in the form of apple cider vinegar. You will not fall sick as often as it may seem likely! If you use this vinegar on a daily basis. Head over to the tutorial for making homemade apple cider vinegar and see some amazing results on your health and body. eatsimplefood
15. DIY Apple Cider Vinegar at Home
This easy homemade apple cider recipe is laced with old fashioned goodness made on the stovetop. Serve it with green tea, soup, or your favorite alcohol. It will enlarge the level of taste and jazz up the flavor as well. To make this, vinegar takes apples, sugar, cinnamon, and pumpkin pie spice. Also, don't forget to click the link below for details! themamasgirls
Conclusion:
Every time we go and visit the supermarket, we all get attracted to those huge and flavorsome looking bottles of apple cider vinegar! Sure, they can last for the whole family, but have you ever thought about how much more fun it would be to whip up some apple cider vinegar recipes instead? We bet not! But these apple cider vinegar recipes must have peeled off that thought with a brand new motive to make your own bottle of apple cider vinegar this time!
Related Quick and Easy Recipes