Home is where your heart is! Happy Friday!!! It's time for another Dreamy Dwelling Home Tour. Remember my friends that owned this amazing Mid Century Rancher!?! Those 2 have this exceptional charm for remodeling the old 90's structure. This dreamy 1920's remodel tour will have you craving to move and get started with the décor all over again. If you have kid's, this place is going to be an eye candy for your kids and you alike. So much space, so much room to add more texture and what not!
They sold the Mid century Rancher two years ago, moved into an even older home and added their amazing style throughout! I am so excited to show you their Stunning 1920s Remodel — it's on the market in Fort Worth if you're looking — it won't last long (and at the end of the post I'll tell you how you can make it your own)! But before that, let me walk you through how they have made very inch of this place highly "functional". While at the same time, oh so peaceful and spacious. So, let's just get started. Hold on to your dream horses and let's take this exquisite tour.
Remodel House Outdoor Look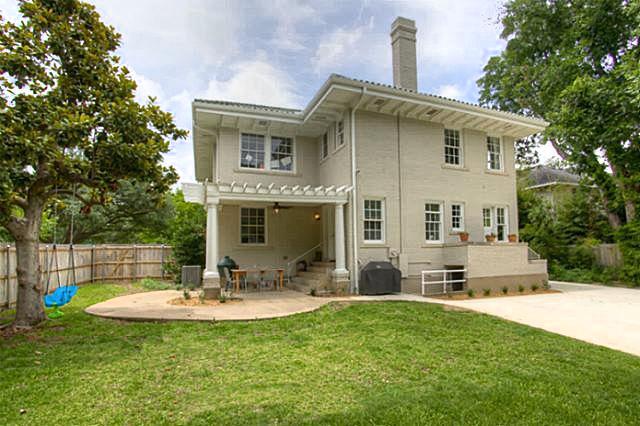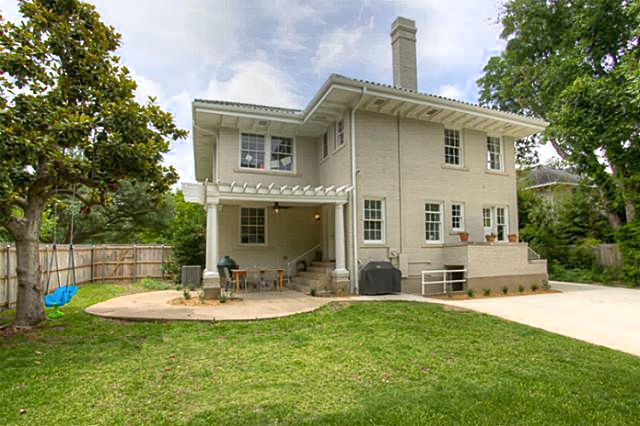 One quick look at this entry and I feel like looking at a beautiful, of course mid-sized castle! Looks absolutely stunning with those huge windows and that proud chimney. Certainly a beautiful entry – with exquisite exterior and interior!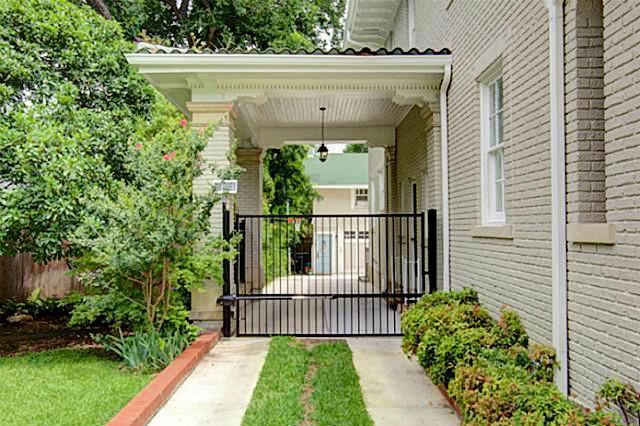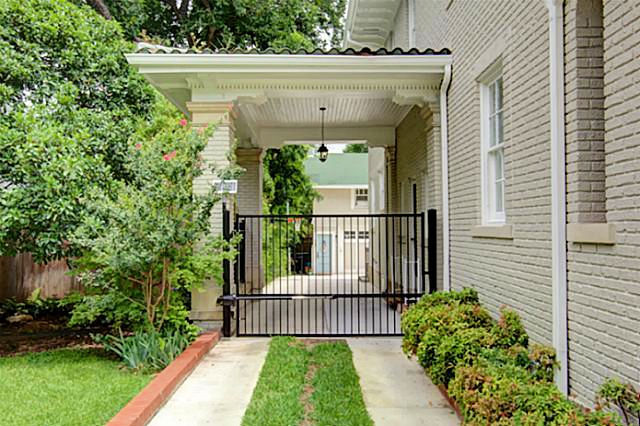 The pathway to your heavenly abode! With a breezy green enchanted sides and midway. If you are a plant mom or love gardening, this is going to be your favorite place to meditate.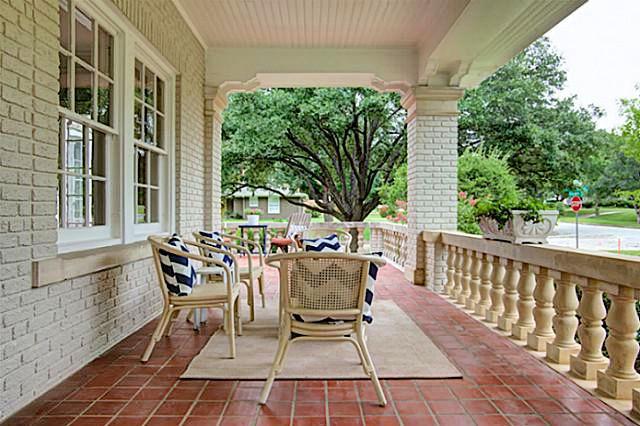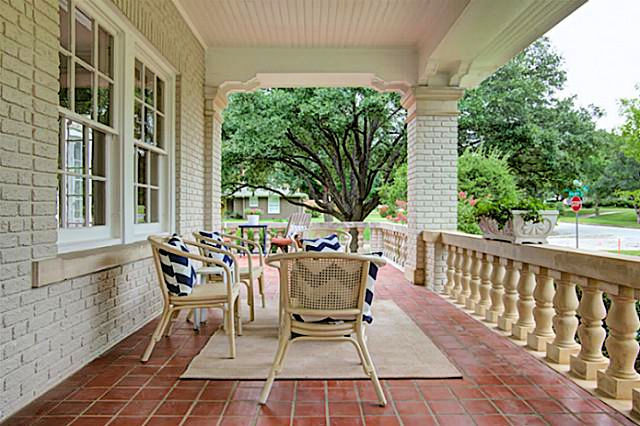 Behold the whimsical results of an extensive renovation! A perfect safe place for your family to gather around, enjoy some evening snacks. A deep, slightly bright colored exterior porch.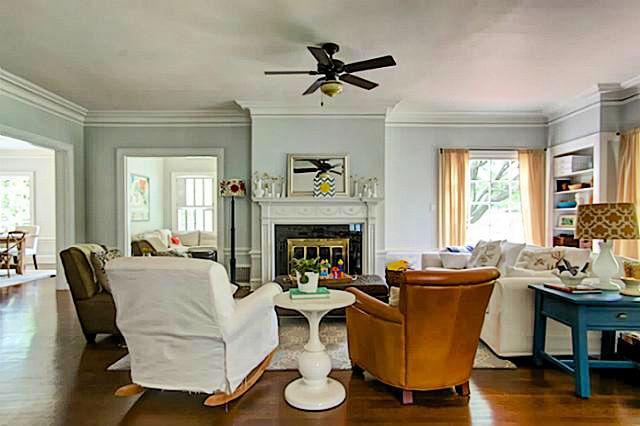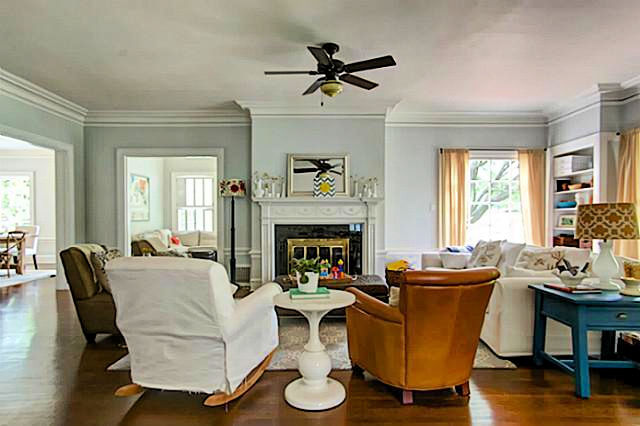 Gray Owl was one of my top paint picks and seeing Sarah's house back, it was confirmed. I love this close up pic of her mantel! Look at how royal it just looks, right.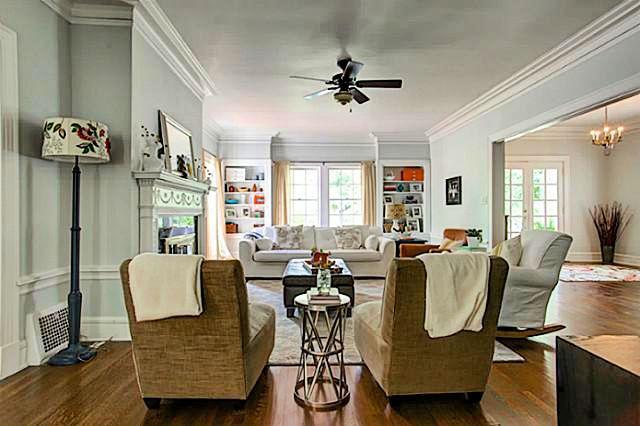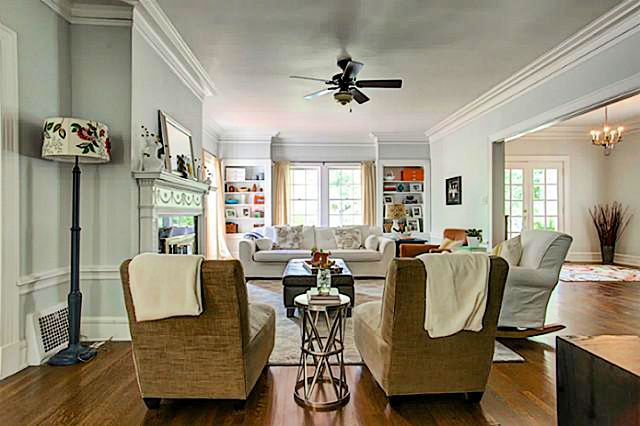 Those hardwood floors are eye candy throughout this open floor plan. Plus, one thing that's to die for; the perfect lighting. Brightening up the whole interior.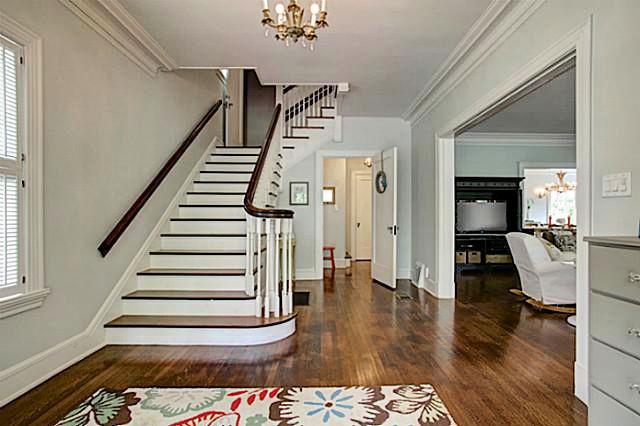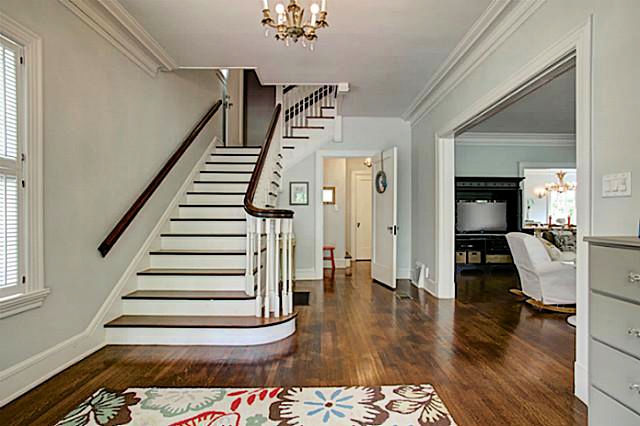 The absolutely mind blowing testament of minimalism and full of texture pavement to style!
Sunroom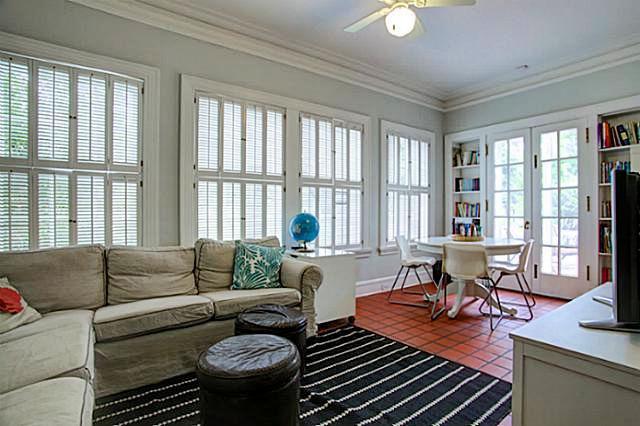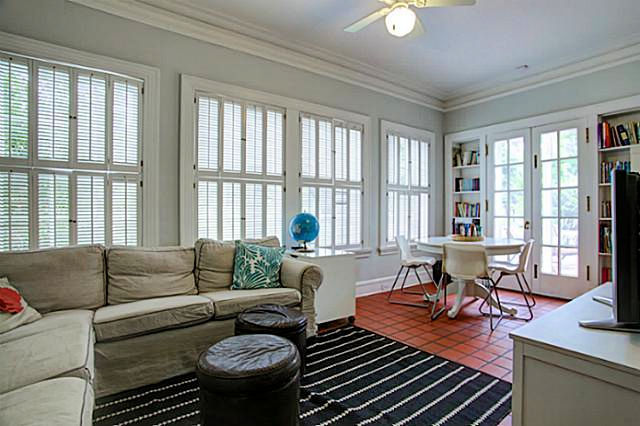 The sunroom is used as their home school room — great setup, right! It offers so much light in the room. Making it the ideal haven to abode all seasons and enjoy rains and sun shines alike.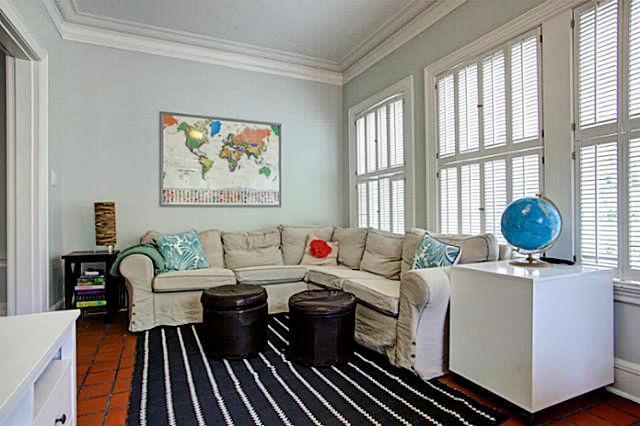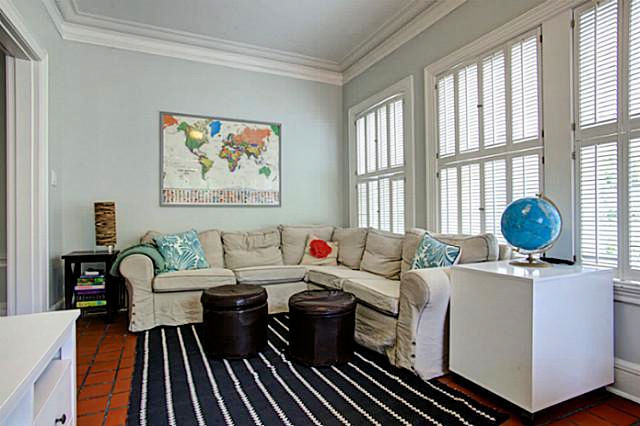 You may remember that table from their last house — a Restoration Hardware Farmhouse Salvaged Wood table…with two 15 " extension leaves. The chandelier came with the house — love it! The dark rug goes well with the light interior. Focusing on everything individually.
Kitchen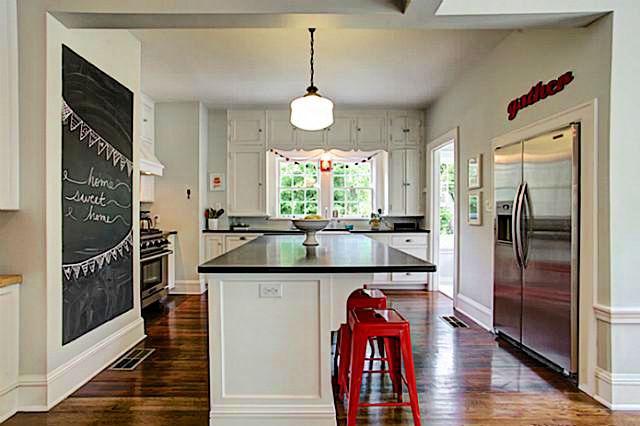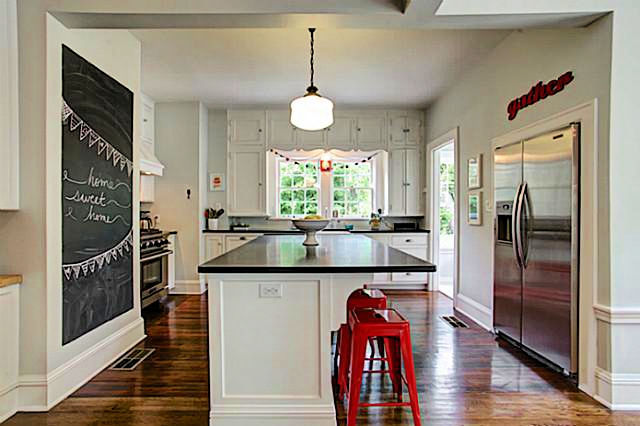 And now for the kitchen of my dreams! Check out those red stools, that farmhouse look alike chalkboard wall paint.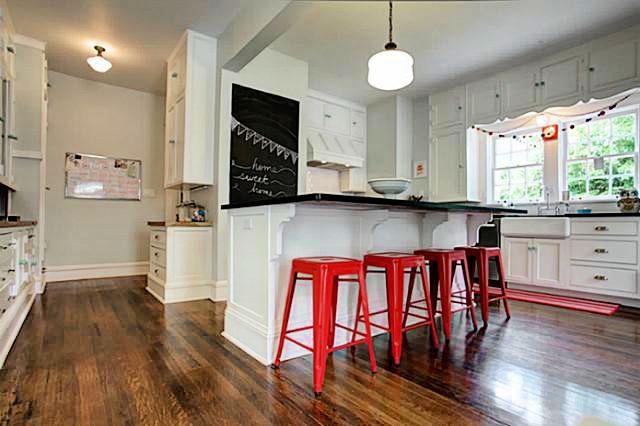 Farm Sink, Soapstone Counters, 36″ Stainless Steel Commercial Range, Huge Island, Chalkboard Wall — and that huge window to let all the light in!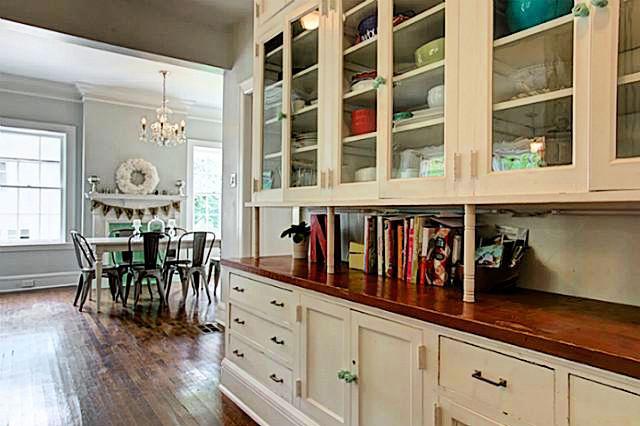 Built-in desk, Huge Hutch and Large Pantry. I love how they have utilized and maximized every nook and corner. More of a multi-purposed treatment, yeah?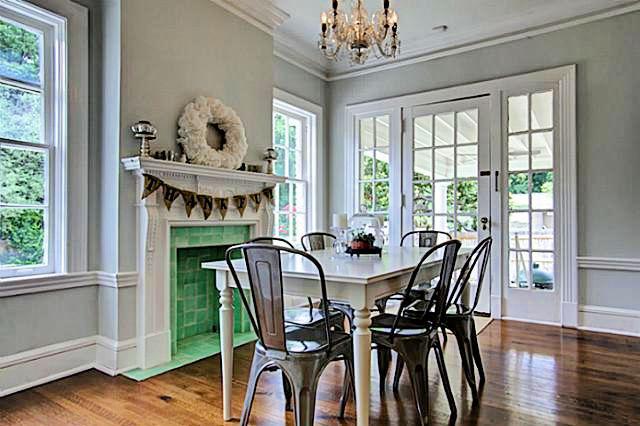 A fireplace by the kitchen nook is totally dreamy — this is one of three fireplaces in this beautiful home. Check out these lovely glass doors! Such a 1920's vintage #feels.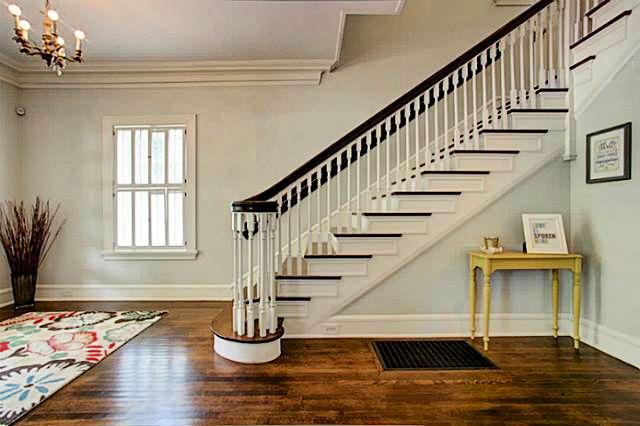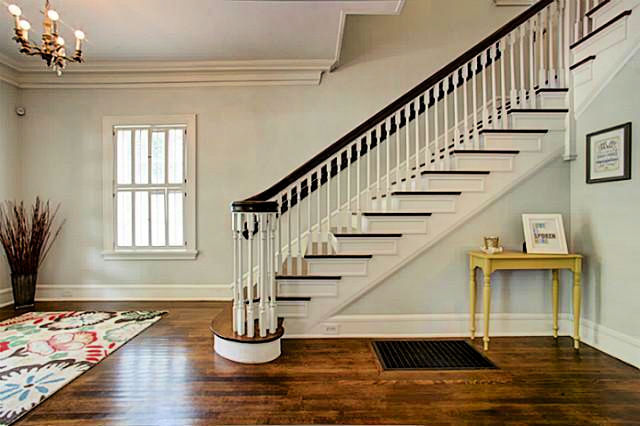 Two beautiful stairways lead to the bedrooms upstairs. One simple under the stairs table space and a perfect corner to satisfy your minimalistic decor spirits.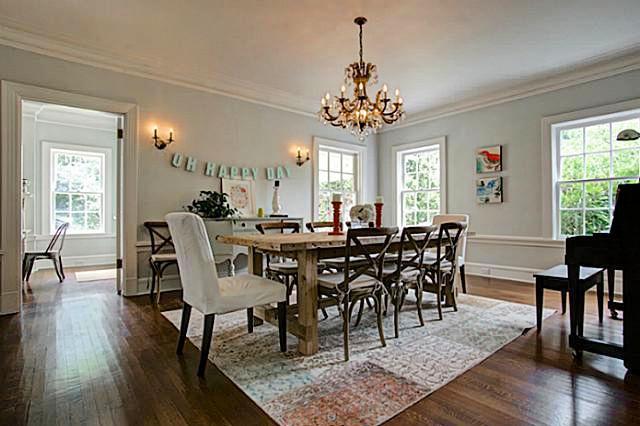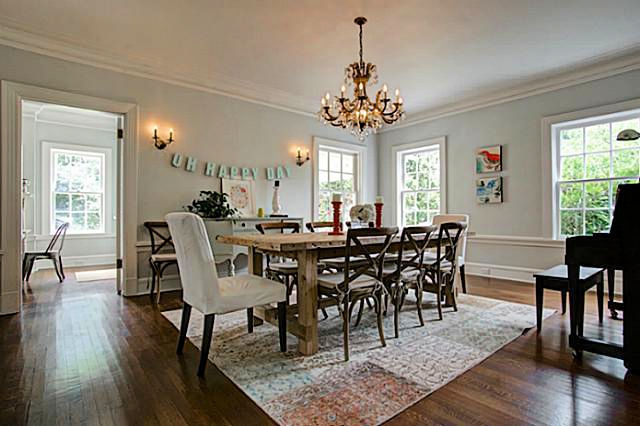 A lovely, large family dining room. With those huge glass windows, letting the light in where it's most valued. A perfect and dreamy chandelier with a charming piano table at the end. Picture your flawless family evening yet?
Bathroom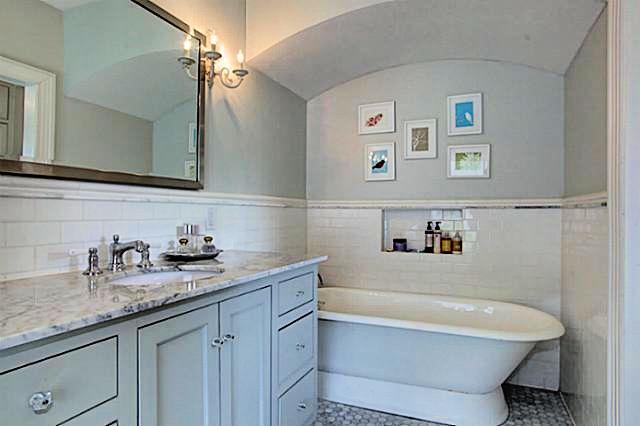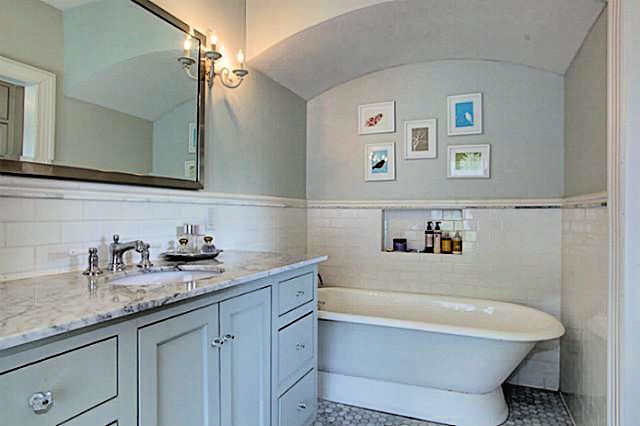 The update on the master bath is beautiful and so timeless! It has the absolute farmhouse and minimalism appeal.
Fireplace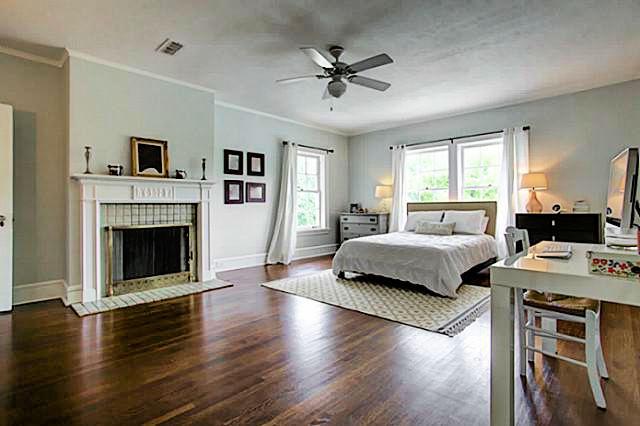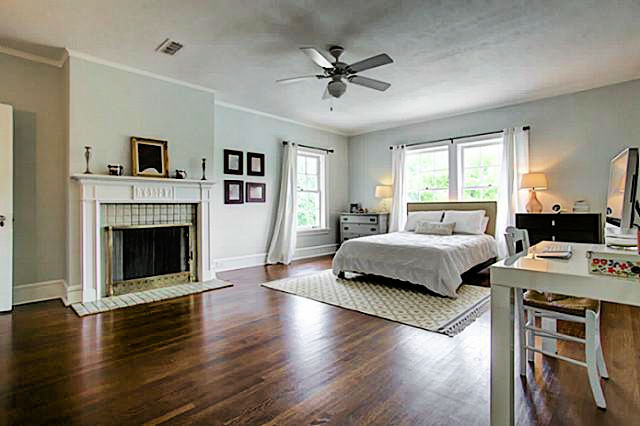 The master suite is huge — loving the tiles surrounding this fireplace! The huge windows behind the bed can be mood boosters on any dull day.
Looking for the best fireplace mantel ideas? We've collected our favorite fireplace mantels, fireplace designs, and fireplace photos right here.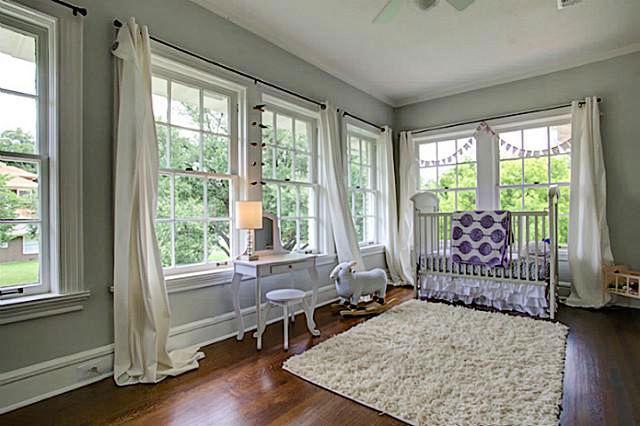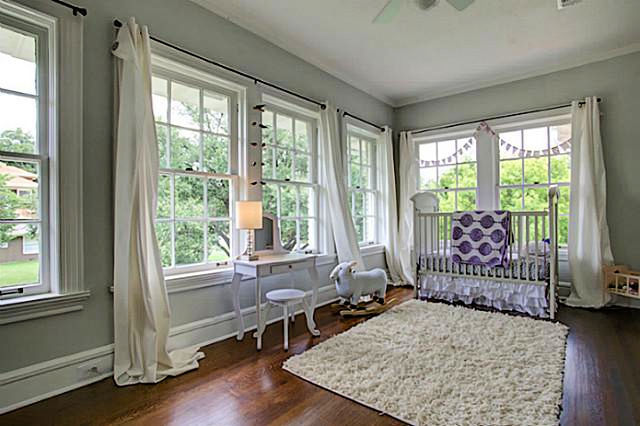 One year ago, God blessed their family with a precious baby girl from Ethiopia – isn't her nursery dreamy! I love it absolutely. With so much room to play, learn and walk around in later years.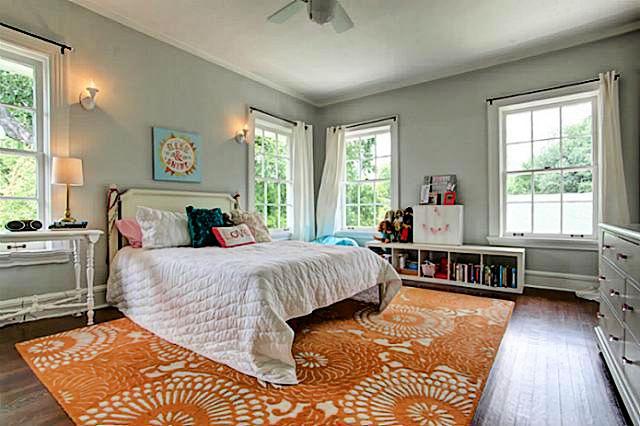 Big sister has a beautiful bedroom, too! Check out stunning floor shelf? Way to keep all the books, makeups and pretty much everything at one corner.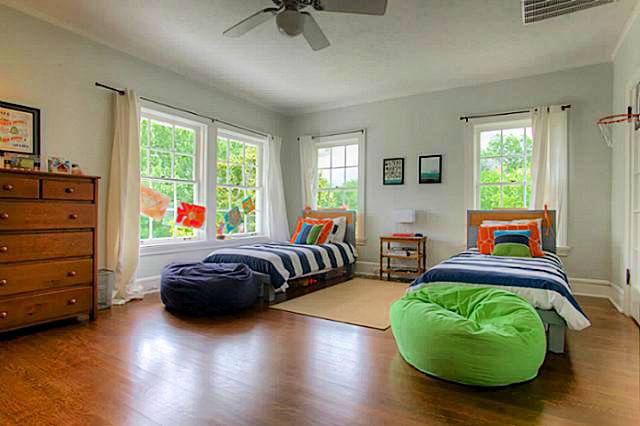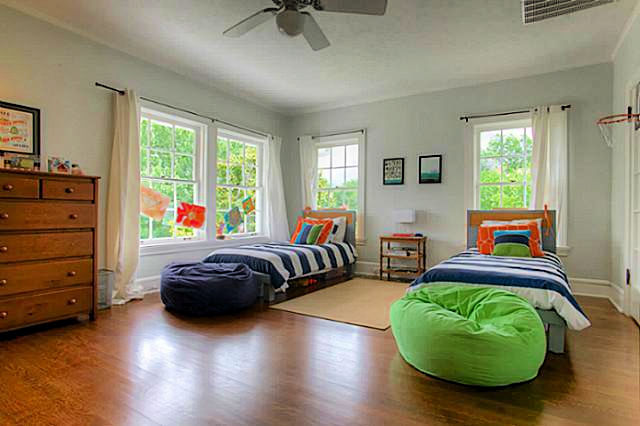 And the boys space is great, too! All these rooms are so large! So, this rules out any chances on fighting for more space. Love how they have managed it so well.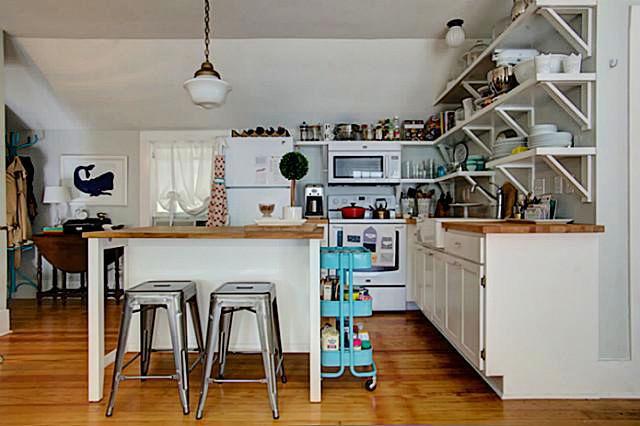 I saw this apartment when they first purchased the house. Isn't this just the dream space to manage everything?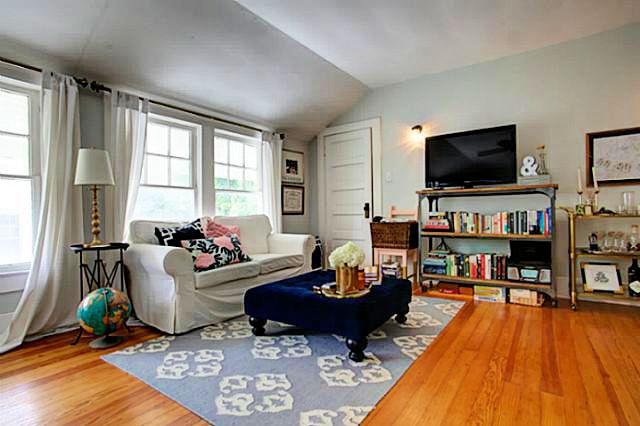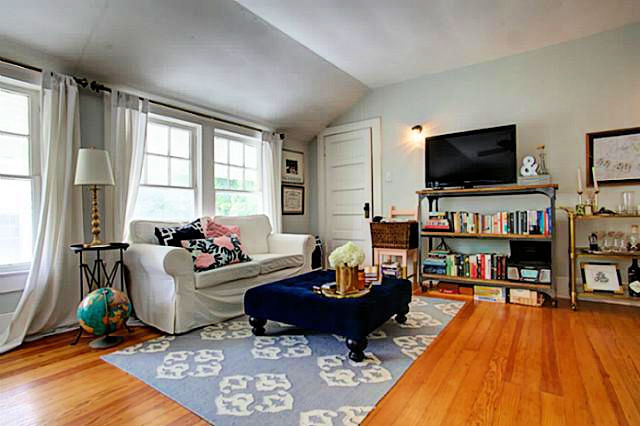 They gutted it completely and with their amazing vision created a space that is so incredibly functional!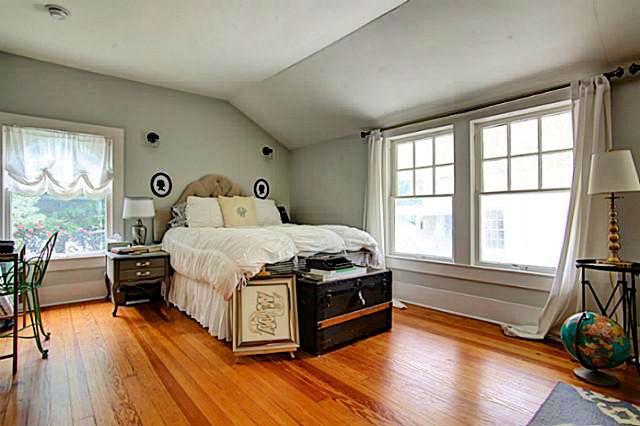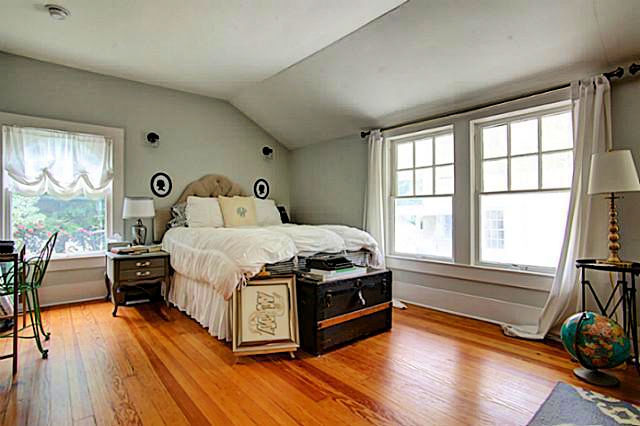 And totally warm and beautiful! I especially adore how much light and hope this whole house offers in almost each and every nook and corner,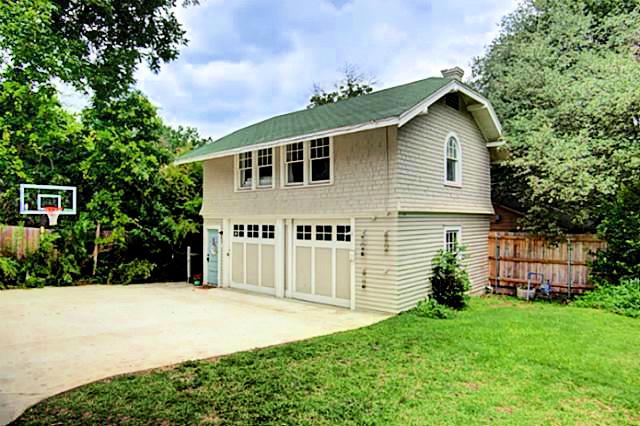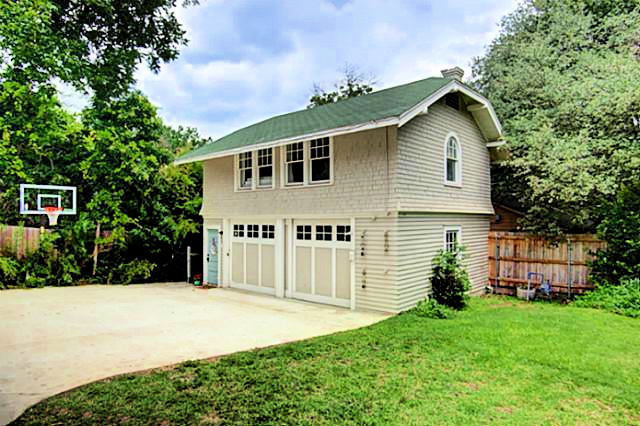 Beautiful house, right!?! There's more!!! A garage with barn doors AND a great 400+sqft apartment including a kitchen & bath above. So, it's lovely haven for everyone! They even have this lovely playtime sorted out for boys. Check out that basketball court on top.
So, what's your favorite room!?!? Truth be told, I already feel excited to even give you this promising tour.
Want to make it your home? I bet you do. So, why wait? — check out the listing here! And move into your dream home, today.
Related DIY Projects